Lionel Messi: Barcelona Star Has Risen To Be Best Player in the World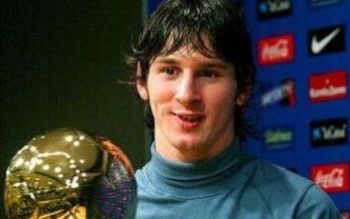 "Every great has a tendency to influence his team, like (Michael) Jordan with the Bulls. Messi is the best. We wouldn't trade him for anybody.", said Pep Guardiola.
And he is undoubtedly right. If Michael Jordan is the king of basketball, Lionel Messi is definitely the king of football right now. He is the current best player in the world by a huge margin and at 23 he is already regarded by many pundits as one of the best players in history.
However, Messi's life, especially his early life, was far from a fairytale. Let's take a look at Messi's path and at how he became the best player on the planet.
Early Life
Messi was born on 24 June 1987 in Rosario, Argentina. He started showing great interest in football from an early age and at the age of five he started playing for a local football club coached by his father. He showed so much potential that by the time he was eight he moved to one of the most prestigious youth academies in Argentina, that of Newell's Old Boys.
Three years later, Messi kept showing tremendous promise, but unfortunately he was diagnosed with a growth hormone deficiency and his family couldn't afford the expensive treatment.
Fortunately for the Argentinian prodigy, FC Barcelona, who was already scouting him, learned of his problem and decided to help out and put the life of Leonel Messi back on its rightful track. Messi soon signed with Barcelona's youth team and moved to Spain for his treatment. Messi is grateful to Barcelona, who pretty much saved his football career, and has vowed to stay at Catalunya for the rest of his career.
Barcelona Youth Squads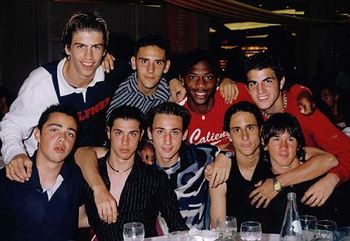 La Masia - Class of 2002
After recovering from his growth deficiency problem, Messi started playing regularly in Barcelona's youth squads and he was so impressive that he was quickly promoted to Barcelona's B squad, where he scored 35 goals in 30 games and was promoted by Rijkaard to the first team.
In 2002, he played in the Barcelona youth team along with Cesc Fabregas and Gerard Piqué. That team is said to be so impressive that they always destroyed all their opponents.
"When I spoke with [Cesc] Fabregas' mother when she brought him here at the age of 16, she said always when they came home they won by six, seven, eight, or nine because always they had in the same team, [Gerard] Pique, [Lionel] Messi, [Cesc] Fabregas. You are not surprised.", said Arsène Wenger.
Messi was the brightest star and was immediately promoted. By that time, many speculated that he had the talent to write a name for himself in the football world, but few knew just how great he was going to be.
Early Years at Barcelona's First Team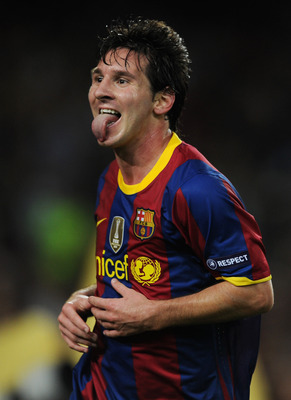 Jasper Juinen/Getty Images
Messi made his official debut for the first team in a friendly match against Porto on 16 November 2003 (at 16 years and 145 days).
Less than a year later, he made his league debut under Frank Rijkaard against Espanyol on 16 October 2004 (at 17 years and 114 days), becoming the third-youngest player ever to play for Barcelona. On May 1 2005, he became the youngest player ever to score for Barcelona in a league match. In the 2004/2005 season, Messi only played seven matches and wasn't exactly influential in Barcelona's league title.
In 2005/2006 he scored eight goals in 25 matches and formed a very good duo with Ronaldinho. However, an injury sidelined him for the late part of the season and it was Ronaldinho who led Barcelona to the league and Champions League double.
In his first two seasons, Messi was steadily integrated in the first team but he showed glimpses of his immense potential.
Breakthrough Years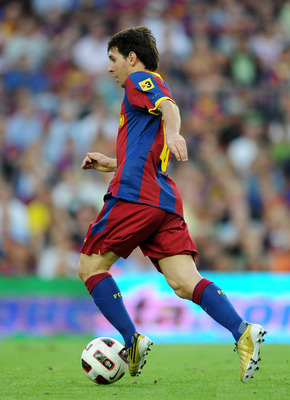 Jasper Juinen/Getty Images
2006/2007 was Messi's breakthrough season. Two moments defined the season for Messi: the hat trick against Real Madrid and the goal of the decade against Getafe - a copy of Maradona's goal of the century - one of the moments of the decade in world football.
Barcelona failed to win trophies that season and Messi only scored 17 goals, but he still managed to come second to Kaka in the Player of the Year award.
In 2007/2008, Barcelona failed to win trophies again and Messi only scored 16 goals but he was second in Player of the Year award again, even if players like Torres (third) had far better numbers.
By that time, many pundits and past legends like Franz Beckenbauer believed that Messi was the best in the world and deserved to have won the award, despite Cristiano Ronaldo's excellent season.
It was only a matter of time, though...
Becoming The Greatest Player On The Planet; Comparison To Maradona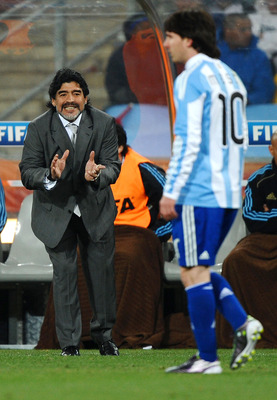 Laurence Griffiths/Getty Images
Ronaldinho left Barcelona in the summer of 2008 and Messi became the undisputed star of the team.
Under Guardiola, Messi had two absolutely magical seasons. In 2008/2009, Messi inspired Barcelona to the most successful in football history, scoring 38 goals along with countless assists. With Henry and Eto'o, Messi formed arguably the best attacking trio of the past decade. The three combined to score an impressive 100 goals during the season.
He swept pretty much every individual award and finally won the Fifa Player of the Year award, by the largest margin ever.
In 2009/2010, he was even more impressive. He scored 47 goals in 53 matches, including several hat tricks. In the quarter-finals of the Champions League, he did the unthinkable by scoring four goals (!) in a match against such quality opposition as Arsenal. After this match, many pundits started considering Messi as one of the best players of all-time, up there with Pelé and Maradona. Even Arsène Wenger, on the receiving end of the Messi show, was forced to recognize Messi's sheer brilliance.
Just like in 2007 and 2008, Messi is one of the favorites to the Fifa Ballon d'Or award despite having failed to win the Champions League and the World Cup, which is a testament to his greatness (usually, players who win these competitions are a lock for the award). He'll have to compete with Sneijder and his teammates Xavi and Iniesta, but many believe he should win the award again. We'll know pretty soon...
At 23, many put him in the same word as Maradona, widely regarded as the best player ever. If Messi keeps this up, he might become the greatest player of all-time once he finishes his career.
International Career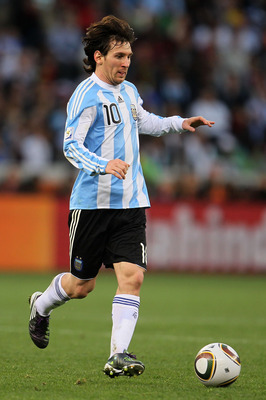 Chris McGrath/Getty Images
Messi's career for Argentina hasn't been as brilliant as in Barcelona.
In 2005, Messi was part of a team that won the 2005 FIFA World Youth Championship in the Netherlands. There, he won the Golden Ball and the Golden Shoe, scoring in the last four of Argentina's matches and netting a total of six goals for the tournament.
In the 2006 World Cup, he became the youngest player ever to play for Argentina in a World Cup tournament. By scoring against Serbia, he also became the sixth youngest goalscorer in World Cup history.
In the 2007 Copa America, he led Argentina to the final and scored a fabulous goal in the semifinal against Mexico, one of the best goals of his career.
In 2008, he once again played a vital role in Argentina's Olympic gold medal.
After that, things started getting more difficult for Messi. He failed to perform at his usual level in the World Cup 2010 qualifiers and in the World Cup itself and people in Argentina started to question his commitment. Messi was the best Argentinian player in the World Cup, but, by his Barcelona standards, he was from brilliant.
He'll certainly be back in 2014, trying once again to lead Argentina to the World Cup title. If he wins the World Cup with Argentina, there will be no further doubts: Messi will sit among Pelé and Maradona as one of the all-time greatest.
Recognized Greatness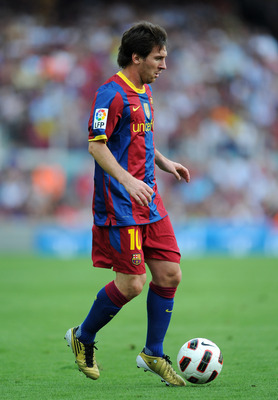 Jasper Juinen/Getty Images
Ever since Maradona, there had never been such a consensual best player in the world as Messi. Only Barcelona and Messi haters think otherwise. Among his fellow players and managers, there is little doubt about it. Let's look at some quotes:
"Messi is out of this planet, I would say he is so far ahead of the rest of the players playing right now and I would say historically as well. There are not words to describe him." - World Cup winner in 1978 and fellow countryman Ossie Ardiles
"Messi is starting to come to Maradona's level and with his size people are going to compare them. They've every right to, he is without doubt the best player in the world at the moment." - Liverpool legend Ian Rush
"It's not up for debate, it's just wrong. We are looking at a player in Messi who, when he retires, may very well be the best player to have graced the game. How can he be compared to anybody currently playing." - Diego Milito
" It's nice that people put me up there, but I think Lionel Messi is the best in the world. The things he can do with the ball are unbelievable and he is scoring a lot of goals as well. He has been fantastic again this year. He is the best player in the world." - Wayne Rooney
"To me, Messi is better than Maradona. I play with him, I see him every day, and to me he is the best. Maradona has been the best player in history and for me, Messi is even greater than he is. He is young, but has already won a lot of things; to me, he is better" - Pedro Rodriguez
"Apart from our own [players] I preferred Messi. Each game he played he made 20 chances to score, he is a phenomenon." - Vicente Del Bosque
"For me he [Messi] is the best player in the world by some distance. He is not always in the game, but when he is, he is really dangerous. Once he is on the run with the ball he is unstoppable. He's the only player in the world who can change direction at such a pace." - Arsène Wenger
"Messi is in a different world. He is the best player in this football-world, without any doubt."
- Arjen Robben
"I think that everyone will say the same things about him," the Frenchman told uefa.com. "You just have to watch him and enjoy the show he is putting on game after game for Barcelona. He makes the difference most of the time. In particular, he is always going forwards. He never passes the ball backwards or sideways. He has only one idea, to run towards the goal. So as a football fan, just enjoy the show." - Zinedine Zidane
"Messi is quite simply the best player in the world by a huge margin." - Pep Guardiola
Teammates, fellow players, famous managers... everyone recognizes Messi's genius. Like Zidane said, we, as football fans, show enjoy the show and watch as Messi becomes one of the best, if not the best, players of all time.



Keep Reading

FC Barcelona: Like this team?