Squared Circle: WWE Hell In a Cell 2010 Thoughts and Predictions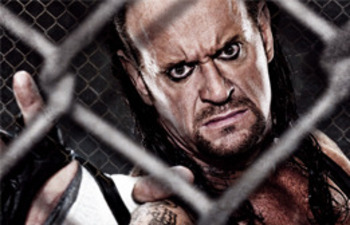 Thanks to Smackdown airing live this week there are no spoilers but it means there is a high chance of an incomplete predictions list. I don't really have the time on Saturday or Sunday to work on this article anymore. For this I apologise.
Hell in a Cell was one of those matches that used to be very rarely showcased to put over the fact it was a match used to end a feud. Before 2009 when this match became just another gimmick to sell a PPV there has been some classic matches but in all honesty it was a product of the attitude era.
The matches were meant to be violent and gruesome. Today's PG era of WWE doesn't allocate a match such as Hell in a Cell. Whilst there is still a novelty from having a cage that has a roof, hence truly no interference from the outside, in the end we just get regular no DQ matches inside a smaller area.
I could go onto about how every match will not be contested inside the Cell but I think we have to be glad WWE don't allocate the gimmick to every match.
Let's take a look at the first match...
John Cena Vs. Wade Barrett
If the only stipulation for the match was that if John Cena loses he has to join Nexus it would pretty much give this match a clear cut ending. After all, WWE's top face (questionable) can't join the biggest heel faction in the WWE today. Or can he?
The other side of the story is that if John Cena wins, the Nexus are no more. With the group fading in numbers this would be the most sensible option for them to take. Yet if Cena was to lose and join their ranks it would put a whole new spin on the angle and revitalise it.
Now there are three facts I can mention that could make Cena losing on Sunday a possibility.
1) Randy Orton can be currently considered the top face in the company. With the pops this man receives it goes to show he is very popular. It is also very rare to see an episode of Raw where he ends up worse for wear. Recent booking has been putting Orton in better situations than John Cena.
2) If dirt sheets are to be believed, so not likely but possible, with a recent large decline in ratings for Raw it is possible John Cena's run as a face is coming to an end. After all, while the other money making efforts are important, if WWE cannot keep viewing figures up for their flagship show then they will struggle in the future.
3) Currently the poster for the PPV in three weeks, Bragging Rights, is Miz themed. Yet if you think back there was a poster before this that had superstars from Smackdown and Raw facing off. More importantly the Nexus logo was integrated into the N of the title. Arguably the poster has been changed because WWE's plans have changed. Or it could have changed because the poster gave away the result of the match.
The first week doesn't tell too much about what may happen in this feud. Cena vs. Barrett was planned for the main event yet, despite having no confirmation from a GM or authority figure, Barrett changed the match to a handicap gauntlet match with all members of Nexus. Cena won by DQ when they all attacked and after chasing them off with a chair the match was announced.
Next week the two kept their distance on Raw but there were promises of a collision on the live edition of Smackdown.
My gut always tells me Cena is going to win but I really think WWE are going through with him joining The Nexus. Cena needs a story like this to get something fresh into his character. It would be interesting to see how it all fits into his Never Give Up gimmick. Would he work his way to becoming their leader? Or maybe he could take them out from the inside? Either way WWE should have Cena join, he doesn't necessarily have to become a heel but more of a face forced to do bad things.
Winner: Wade Barrett
Diva's Championship: Michelle McCool(c) Vs. Natalya

Well this match, as I type up my predictions, is not 100% confirmed. I am purely going on that local advertising says this match is go.
If so then personally there isn't much to be said about it. Michelle McCool will not lose the Diva's championship. When the day comes that someone new holds the belt Layla is going to be the sacrificial lamb.
There is not a story to this beyond Natalya winning a battle royale and getting the match.
I would have usually gone with a DQ lose if it was anyone but McCool. No matter how much of a heel she is meant to be she always get a pinfall victory over other (more powerful) Divas.
Winner and Still Champion: Michelle McCool
United States Championship: Triple Threat Submissions Count Anywhere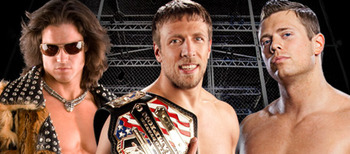 The rematch between Miz and Bryan was needed. If anything to restore prestige in the US title. Showing that Miz wants the championship back is a good move by WWE. If done correctly it will help not only the championship but Bryan's WWE career.
On the plus side of this feud, Bryan no longer has generic rock music. Oh no, he now comes out to Flight of the Valkyries... odd choice but you know music isn't everything. Bryan also had a strong showing against Edge a week ago and despite only winning by DQ came over for better.
My own personal niggling problems with this feud is Alex Riley and Michael Cole. With Riley he is yet another example of why NXT is completely redundant. What is the point of having a contest to earn a WWE contract if you're only going to sign who you want anyway? Also Miz has signed him to a personal contract. Does the GM just sit back and let wrestler do the hell they want these days?
With Cole he does his job as a heel convincingly. He gets on my nerves and gets me cheering the faces over the heels. But the problem is that he is Michael Cole. Just like his commentating skills he is restricted to repeated phrases. Just like "Vintage", heel Cole spouts out about Bryan being a Vegan or not owning a TV.
Jerry Lawler also killed Cole's credibility into two questions a couple of weeks ago. He stated "Why does that matter?" and "How can you be a critic of his ability when you have never stepped into the ring?". This is why the heel commentator should be a wrestler and the colour commentator.
Sure Lawler made some stupid comments back in the day as a heel. Claiming The Rock should be disqualified when fighting in a cage match being one of them. But when he judged someone on their ability at least he held weight in his criticisms.
Cole being a play-by-play means he does most of the talking out of the two. Being heel means most of the talking is pro-heel and anti-face. Combine the two negative reasons from before and you have a weak commentating system.
The Miz and Riley's attack on Bryan a couple of weeks ago highlighted Cole's weakness as a heel. When the attack was going on he was never going to condone it but had the inability, that Lawler had when he was a heel, to say enough is enough. Instead he sat their quiet with Lawler having to comment on the whole segment himself.
Next week John Morrison was randomly added to the feud to give something extra. But when the match was announced as a Submissions Count Anywhere, why bother? Morrison isn't known for his technical expertise and neither is The Miz. I know it's great to have a submission based wrestler back in the company but don't go too far to promote him by exploiting other wrestler's weaknesses.
I think being a submission match means it pretty obvious who will win and that is the one who has a submission finisher.
Winner and Still Champion: Daniel Bryan
World Heavyweight Championship: Kane(c) Vs. The Undertaker (Hell In a Cell)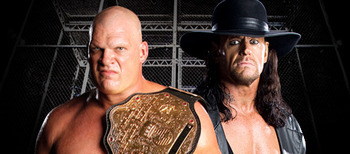 Oh yes! This match has been shifted into retro. As I predicted last month Kane defeated The Undertaker leading to the Deadman having a crisis of confidence. Also as predicted (although I had it down for Survivor Series) the return of the urn was made. What I did not expect though was the revival of the relationship between The Undertaker and his manager Paul Bearer.
Obviously WWE hopes its fans have a memory shorter than five years because back in 2004 Undertaker buried his manager alive in cement. Why is he back on his side? Poor writing will never tell.
The return on the other hand was nicely executed. It was unexpected and kept on the hush, hush.
Since Smackdown is live and I don't have the time afterwards to write up anymore about this PPV I'll give my opinion on who is going to be victorious.
I think it's safe to say The Undertaker will win the World Championship on Sunday. With all this effort gone into Paul Bearer's return and the whole loss of powers story it just seems destined to be Undertaker's day. As much as I would love for Paul Bearer to turn on Taker for what he did back in 2004 I don't think that's going to happen. Especially if this truly is Taker's final run in the company.
Winner and New Champion: The Undertaker.
WWE Championship: Randy Orton(c) Vs. Sheamus (Hell In a Cell)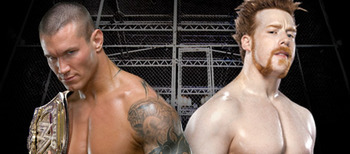 Sheamus, why did you not come out the Raw after Night of Champions and say "I have a rematch clause."? That way we would have gotten round your stupid reason for a rematch where we can all say "But you did this."
Sheamus going on about how Orton doesn't deserve the championship because he never beat him one on one means he just talked down his own previous title reign. I know Orton brought up this point but it still doesn't help get Sheamus over as a championship worthy contender.
So the first week these two did very little... a little talking and an RKO later we were done for that episode of Raw.
Next week saw Sheamus make a run in during Orton's match against Chris Jericho. It was unsuccessful.
I think Sheamus is due a clean victory but to do so now would be at the expense of the prestige of the WWE Championship. Yet for some reason I feel that Orton only won the belt so that the feud between himself and Sheamus could be extended a little longer. It is obvious that when Triple H comes back he will fight the Celtic Warrior and that the title may be the thing to get the feud in top gear.
Winner and New Champion: Sheamus
Up Next...
Actually five matches is usually what is announced at a PPV so hopefully I haven't left too much out. There will obviously be one or two unannounced matches but I can't help that.
Next up is the Smackdown vs Raw PPV (ironically in the same week as the video game gets a release) called Bragging Rights. Why they can't do this at Survivor Series is beyond me. What makes even less sense is the fact they are back to back. Two team based PPVs in October and November.
Last year Smackdown won the best of three series between the brands 2-1. US Champion The Miz was the only Raw victor when he defeated I.C. Champion John Morrison. The Smackdown Divas defeated the Raw Diva's in a six-diva tag match. Finally Team Smackdown (led by Chris Jericho and Kane) won a Fourteen Man Tag match against Team Raw (led by DX) to take home the Bragging Rights trophy. Will Raw be able to win this time or will Smackdown make it two in a row?
Only time will tell as in three weeks (remember when there was a minimum of four weeks between PPVs?) as the events will play out.
This is Squared Circle signing off.
Keep Reading