Monday Night Football According To Madden 11: A Saints-49ers Madden Live Blog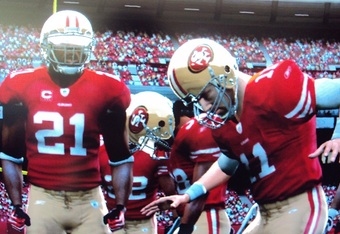 Frank Gore and Alex Smith Break It Down For the 49ers in Pre-Game At Candlestick Park

So, we all know Madden has been the best selling sports video game of the last twenty years, but do we know if the game can put on it's swami cap and predict tonight's Monday Night Football match up between the New Orleans Saints and San Francisco 49ers?
For this live blog, I'll be simulating the action, watching as a spectator.
For your viewing pleasure, the most recent update is at the top, the latter updates below it.
So sit back, grab something to drink, and enjoy some digital football analysis!
Thanks for following along tonight, I hope you enjoyed the Madden Live Blog of tonight's Monday Night Football match up between the New Orleans Saints and San Francisco 49ers!
Let me know what you thought of the blog, any questions you have, or suggestions for next week's game.
PS, the real game is on ESPN right now, Saints are winning 9-0 with 3:34 to go in the 1st.
Thanks everyone, have a great night.
Final Notes and Stats:
Saints 31, 49ers 6.
Saints

Brees: 152.1 Rating, 14-20 for 360 Yards and 3 TDs.
Thomas: 6 Rushes, 20 yards, 4 catches, 104 yards, 1 TD.

49ers
Smith: 7-12, 73 Yards, 0 TDs 0 INTS.
Gore: 13 Rushes, 125 Yards and 1 TD.
:05 Frank Gore runs it up the middle, no gain. Mercifully, this game's over.
:11 Singletary calls a timeout. Must be telling everyone where to sit on the bus so he doesn't have to look at them. This loss was embarassing.
:13 Saints sack Alex Smith on the 49ers 21. Loss of 7. 3rd &15 coming up.
Astounding Fact? Vernon Davis and Michael Crabtree have a combined zero catches. ZERO.
:19 After an Alex Smith run, Singletary calls a timeout.
:31 Brees and Saints airing it out? Brees nearly picked by Nate Clements. Saints punt, 49ers get the ball on their 18.
1:09 49ers hold the Saints, get a 2nd down stop. 3rd & 5. Clock is running.
1:59 Saints running out the clock, eating 40 seconds off the clock with each Thomas run. Not looking good, Niners fans.
2:46 Pierre Thomas scoots through his offensive line's gap and gets a first down.
3:39 After another sack by Sedrick Ellis, the Saints force the Niners to punt on 4th & 25.
4:05 Bringin' down the house! Sedrick Ellis and the Saints sack Alex Smith. 3rd and 18 to come.
4:50 Alex Smith tosses it to the sideline, finding a free Frank Gore, who runs for a 16 yard gain.
:10 2nd & 10 from the SF 36, Alex Smith flings it in there to Jason Hill. First down, Niners. Things like that need to happen more often.
1:12 Frank Gore gives the home crowd something to cheer about, a nice 12 yard run.
1:23 Brees to Reggie Bush, screen play left. Bush has blocking..one man to beat....ENDZONE.
52 yard touchdown pass to Bush gives Brees 339 passing yards and 3 touchdowns.
Saints 31, 49ers 6.

2:03 Brees hits an open Pierre Thomas in stride, for a 28 yard pass to the New Orleans 48,.
2:22 Niners defense is getting no pressure against Brees, and he seems comfortable in the pocket.
2:38 The 49ers try for a two point conversion, but miss Josh Morgan over the middle of the field.
Saints 24, 49ers 6.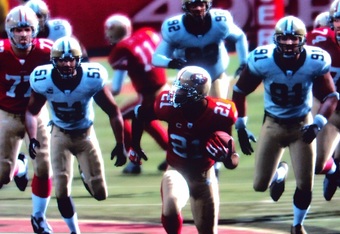 Frank Gore Doesn't Need To Look Back Behind Him On This 77 Yard Touchdown Run, But He Does Anyway, As If To Say "Are You Still Trying To Catch Me?"
2:38 Following the kickoff, the first play from scrimmage Frank Gore hits the turbo button and scampers 73 yards for a touchdown!
Gore Now has over 100 yards rushing.
As Garrett Hartley put the PAT up, Collinsworth notes from the booth

"Brees wasn't wanted by anyone but Miami and New Orleans. I bet you New Orleans is really happy they got this guy. They have tons of faith in his ability to lead this team and do what they need him to do to win ball games"
This article is
What is the duplicate article?
Why is this article offensive?
Where is this article plagiarized from?
Why is this article poorly edited?

New Orleans Saints: Like this team?