New York Giants Vs. Indianapolis Colts: Live Blog, Stats, Analysis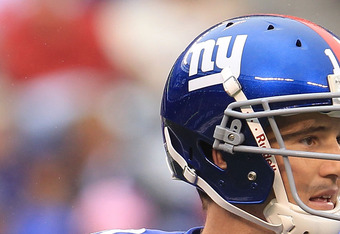 Chris McGrath/Getty Images
Giants: 0 Colts 17 - First Quarter

Manning Bowl II. Here it finally is. No more of the media killing it. The mainstream media story may be who the better Manning is tonight, but the real story is clearly with the two teams.
Peyton holds the 1-0 advantage with the victory coming in 2006 (the year the Colts won the Super Bowl) with the Giants falling just short in their impressive fourth-quarter comeback attempt.
Now it's 2010, and both teams come off very interesting week one performances with questions surrounding both teams.
Are the New York Giants as dominant on defense as they were last week which reminded many of 2007, or were the Carolina Panthers just that weak of an opponent? If you read my post earlier in the week you know what my take is, and the Panthers pitiful performance today only strengthens my belief that they are a potential 2011 top-pick team.
The Indianapolis Colts also come into this matchup with noticeable question marks. Is their offensive line as ineffective as they proved throughout the preseason and week 1? Can their defense stop the run?
Yes, they are without safety Bob Sanders, but they really have to be used to that now.
The one certainty that we do know is that at 8:30 p.m. we will witness the beginning of a great game.
Please leave your comments below for your impressions or to let me know how insightful I am or just to let me k how much of an idiot I am (which seems to be the popular belief).
Sorry all. Keyboard stopped working. Follow the link below. Will be set by Tuesday.
Follow this: http://bleacherreport.com/articles/467558-new-york-giants-vs-indianapolis-colts-live-blog-stats-analysis
Blog stopped. keyboard issues.
Eli losses the ball. Colts ball.
Two minute warning. The Giants haven't had anything going on offense. I thought it was going to be a close offensive battle, but the Giants haven't been able to do anything.
Eli to Steve Smith for the first. About time.
Delay of Game - Giants. This just keeps getting worse.
Now the Giants start the running game when they're down by 17. I honestly don't know why Gilbride still has a job in the NFL.
Coefield is sick of the Colts running game blowing through the line getting a loss of yardage.
Vinatieri makes the field goal to put the Colts up 17-0.
I was worried that the Panthers weren't any test for the Giants last week, and so far it's unfortunately true.
Donald Brown is looking pretty impressive. Even in Tuck's grasp he gains a few extra yards.
Tuck is back in the game.
The Colts are running it down the Giants' throat. I've never wanted Goff in the game so much before.
Tuck needing medical attention. He's down on one knee. It doesn't look too serious, but who knows. San Diego's Ryan Mathews was carted off the field earlier with an ankle injury and returned in full pads on the sideline. He didn't play though.
Powers was down by contact. Jacobs 15-yard stupid penalty awarded to the Colts.
That's one thing you don't do - give Peyton Manning fewer yards to work with.
The interception was pretty much another one off a Giants' receivers hands.
Coughlin challenges if Powers was down by contact or not. He doesn't look happy, but does he ever?
Eli throws deep for Smith. Tipped to and intercepted by Colts Jerraud Powers. Jacobs called for a penalty after a block on player clearly out of bounds.
I don't know why the Giants are avoiding the run. Oh yeah, it's because Gilbride is calling the game.
Aaron Ross with more blown coverage on Dallas Clark. 50-yard touchdown for the Colts.
Colts - 14; Giants - 0
The Colts have already run the ball 13 times this game. That might not seem high this early, but that's the same output as last week on the ground.
Kiwanuka looked to over pursue, but ended up saving the 1st with the tackle on Addai up the middle.
Manning with no chance on third down their. Seubert didn't even get any pressure on Freeney there. Maybe Andrews should be in.
There's the second Manning parents spotting.
Giants keep Beckum in to block. I guess you can't only have him in on passing downs or that would be too obvious.
Surprised Gilbride realized that.
And there we go. Jacobs for a good five yards for the first.
The Giants did have a solid 8-yard run, but they haven't run much still.
That's why Beckum is in the league. He didn't get anything, but he fought regardless.
This article is
What is the duplicate article?
Why is this article offensive?
Where is this article plagiarized from?
Why is this article poorly edited?

New York Giants: Like this team?