Jacksonville Jaguars Vs. San Diego Chargers: Live Blog, Stats, Analysis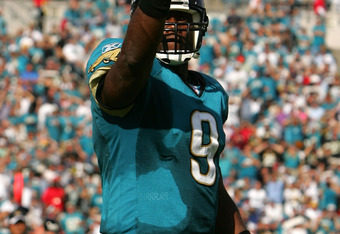 Sam Greenwood/Getty Images
Welcome to another Beautiful Sunday with a Jaguars-Chargers game that is sure to be thrilling. I will be posting my thoughts on the game here, and you can comment as you like I will try and check...
Garrard just got put back in on the goalline... Thats not fair to McCown. But Garrard does throw a Touchdown. No QB controversy folks, the Jaguars are sticking with Garrard. Don't get down on this Game Jaguar fan's, its still a beautiful day, and next week will be a different story. Have a great day I am out!
All this talk about how the Chargers are a deeper team this year is nonsense. Call me in 10 weeks and we'll see how they look. They looked great today against a super sloppy Jaguars team that had 6 turnovers. Lets see how they do against competition that doesn't kill itself...
Well, the Jaguars will probably score a garbage time TD, but it won't matter. The Jaguars started fast and sloppy, and ended up getting blown out. The unbalanced gameplan to pass so much might have worked, if Garrard could have executed, but its clear he didn't.
Time to look forward to next week versus Philidelphia, Jaguars should do better at home, but if Vick is starting this could be a long day. Hopefully Reid makes the dumb decision to start Kolb...
No one is even trying anymore. backups for the jags too..
Backups are in for the Chargers... No more fantasy points for those of you. I disagree with the annoucer 2-3 is a slow start, and if their division didn't suck, they would pay for it.
Chargers just going to run down the clock at this point...
I have to take back the comment about the Chargers not dominating, they have dominated since the middle of the second quarter when they got their third TD.
Theres a lot of starting QB's being benched today: Young, Campbell, Garrard. Interesting day...
I am begining to sound like a Garrard-basher, and I am not but there just isn't many positives from his play today...
In fact, Garrard pretty much has himself to blame because the recievers are making catches, he just wasn't getting them the balls.
At least Mike Sims-Walker is looking decent in this game, so is Lewis..
Ironically Garrard still threw for 63% completions even with the 4 interceptions. I am not sure whether that is a positive or not..
Chargers kick coverage looking much better this week. Underwood hasn't been able to do a thing...
That would be my overall assessment, Garrard lost the game, and Rivers took advantage disspite early problems..
Rivers has definitely been the difference in this game. Or Garrard, depending on how you look at it. This is the difference between Garrard and an elite QB, Rivers bounced back from the interceptions, Garrard got worse...
Rivers with a huge TD bomb to Floyd over Mathis, Maybe McCown and Garrard can take notes on how to place a ball where only your guy can get it on the deep pass
The Jaguars are getting in the backfield but the Chargers have adapted and are taking advantage of the second-level..
Well he didn't look so good on that last run when he was stuffed...
Tolbert looks good, he is gonna play Matthews to the bench if he keeps this up...
In other news, this win should help the Chargers ticket sale issues right?
Even though McCown is starting now, I do not think he will start next week. Garrard is a much better option at home, but has been shaky on the road the last few years.
McCown almost threw a TD to Underwood, but Underwood drops the ball. The pass was underthrown but Underwood had a chance and didn't make a play...
The Chargers pass rush has looked good also..
McCown or McGowen (joke) almost threw an interception. The Chargers don't look like they miss Cromatie at all right now...
Sims-walker clotheslined but no penalty...
To his credit McCown is putting together a good looking drive, but so did Garrard before he threw the interceptions..
This article is
What is the duplicate article?
Why is this article offensive?
Where is this article plagiarized from?
Why is this article poorly edited?

Jacksonville Jaguars: Like this team?