Jacksonville Jaguars vs. San Diego Chargers Live Blog: Play-by-Play Analysis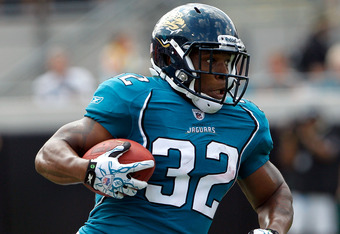 Sam Greenwood/Getty Images
Jacksonville Jaguars vs. San Diego Chargers live play-by-play analysis is done. Check out B/R Featured Columnist Jack Harver's real-time reactions from the game that was blacked out in the San Diego market.
CHARGERS 38, JAGUARS 13 (Final)
Last score: Three-yard TD catch by Jacksonville WR Mike Sims-Walker.

Thanks for tuning in, folks.
...and we're done. Meanwhile, the Texans have tied up the Redskins at 27-27. Might as well cheer on a Houston loss, Jaguars fans, if you've got the heart left to do it.
Correction: "Junk-time TD!" The celebration of junk time itself, for those so inclined, started at the end of the third quarter.
Junk time! Garrard to Sims-Walker. Maybe Del Rio was trying to salvage a few points for his own fantasy team.
Looks like 0.1% of you started Mike Tolbert in ESPN fantasy leagues. That was awfully smart of you.
Football fans, mourn the turnovers.
Jaguars fans, take a good, long look at this loss. Second-year starters aren't rookies, but they're definitely not seasoned vets, either. There will be more lapses like this before this team truly arrives.
Chargers fans, enjoy your win. Philip Rivers is top-notch, the offensive line is better than the Chiefs and the Monday-night weather made them look, and the defense is downright predatory. Mathews got hurt, but Tolbert looks like a decent fill-in.
Remember when he and Garrard had the same TD-to-INT ratio, way back in the first half? Garrard threw two more picks, finishing 14-of-22 for 170 yards in a little over three quarters of action.
We have a Billy Volek sighting. Rivers seems content to rest on his 22-of-29 passing for 334 yards and three scores.
Turnover on downs. Given plenty of time, McCown checked down to hit TE Ernest Wilford short of the gain line. That was poor, but it wasted a few more seconds than just taking a knee.
Fourth and 8 in the red zone, and Jacksonville will go for it.
Fantasy owners will want to take note of which Jacksonville starters have stayed in the game for garbage-time stats. Jones-Drew and Garrard left early in the fourth quarter, but Sims-Walker and Lewis have been busy inflating their numbers against a contented San Diego defense.
It's been fun in the sun for the Chargers today. Absent the double-whammy of horrible weather and Kansas City's triple coverage on Antonio Gates, their offense has been rocking and rolling.
Touchdown! Malcom Floyd was several steps behind Jaguars CB Rashean Mathis, who had zero help up top on the play.
Points to Jaguars LB Russell Allen for attempting to strip the ball loose. There's a little over eight minutes to play; might as well practice taking the ball.
The Chargers won't gain any ground in the AFC West. If present results hold, Denver, Oakland, and Kansas City will also be winners this week.
Turnover on downs. Underwood has been a step ahead and a half-second late all game, which actually makes him one of Jacksonville's better offensive players on the day.
Whoa. A blitzing nickel corner just beat the pants off Jacksonville OT Eugene Monroe, forcing McCown to check down. The Jaguars will go for it on fourth down with 10:28 left to play.
In their past three West Coast trips, including today, the Jaguars have been outscored 102-9.
Even with McCown in, don't jump to the conclusion that there's a QB controversy. Rashad Jennings is also in at RB. Are you prepared to discuss a RB controversy?
Tolbert's second score of the day. At this point, Ryan Mathews' fantasy owners have to wonder whether their high draft pick will get those goal-line touches if/when he returns to action.
Touchdown! Tolbert cruises in from a yard out against the Jaguars' gassed defense. Maybe they're ready to catch a flight home.
Antonio Gates doesn't block like a tight end—or, rather, he blocks like a modern TE. Very receiver-like. It's smart, because you don't want your top receiving target throwing himself into haymakers, but it's nothing Mike Ditka would recognize.
This article is
What is the duplicate article?
Why is this article offensive?
Where is this article plagiarized from?
Why is this article poorly edited?

Jacksonville Jaguars: Like this team?