Miami Dolphins Week 2 Recap: 10 Things We Learned vs. the Minnesota Vikings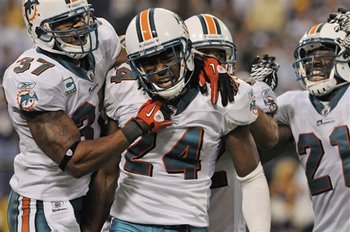 For the first time since 2002, the Dolphins are 2-0. By no coincidence, they are once again driven by a dominating defense.
The 2002 Dolphins defense was anchored by an all-star cast of Sam Madison, Patrick Surtain, Zach Thomas, and Jason Taylor. Eight years later, they are led by a rag-tag group of Cameron Wake, Vontae Davis, Chris Clemons, Randy Starks, Koa Misi, Jason Allen, Yeremiah Bell and Karlos Dansby. Who would have thought?
Although all is well on the defensive front, Miami's offense made its second straight rather troubling showing. Ricky Williams and Ronnie Brown ran impressively well against a stout Vikings run defense, but fumbles and a ridiculously conservative passing attack nearly cost the Dolphins a win.
Pros and cons aside, the Dolphins are still on pace for a 16-0 record, and as always, there's plenty to learn from Sunday's game.
The Dolphins Are Still Far Too Conservative, Not Doing Their Part To Win Games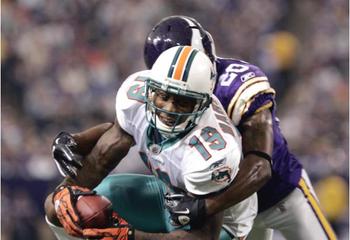 I don't like to scream at the television. I have never done it and, given that I live in a dormitory with a roommate, now is not an ideal time to start. But after two regular-season games, the Dolphins offense is tempting me. I mean really tempting me.
Miami's first play from scrimmage featured a gorgeous 46-yard connection from the arm of Chad Henne to the hands of Brandon Marshall. It was picturesque and surely hinted that the Dolphins were going to conduct an aerial raid on a weak Vikings secondary, right?
Wrong.
For the second straight week, the Dolphins offense refused to go for the big play and instead relied on short passes and a relentless rushing attack to produce points. For the second straight week, the offense struggled to move the ball late in the game because the opposing defense was keen on Miami's unwillingness to keep them in check with anything risky.
The defense granted the offense countless opportunities to expand the lead, but Miami proceeded to go with three unsuccessful rushing attempts against arguably the league's best rushing defense.
The Dolphins' conservative second-half offense almost cost them a win on Sunday. If it weren't for a truly remarkable defensive performance, Miami would be 1-1 right now.
The Dolphins Still Have an Elite Offensive Line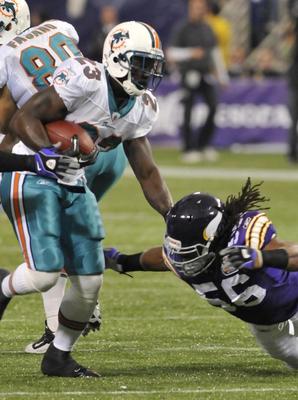 Or, at least I think they do. Either that or the Vikings front seven just had a very bad day.
I'll bet on the former, considering this Vikings' unit has been one of the NFL's most dominant units against the run over the last four or five seasons.
One year after boasting the league's fourth-best rushing offense, the Dolphins played musical chairs with their offensive linemen, eventually settling down with three new starters for 2010. Concerns were abundant, but they paved the way for 120 rushing yards and a Dolphins victory.
By the way, if linemen can have signature games, Jake Long just had his. The left tackle absolutely shut down All-Pro Jared Allen.
Jason Allen Is Cementing His Spot in the Starting Lineup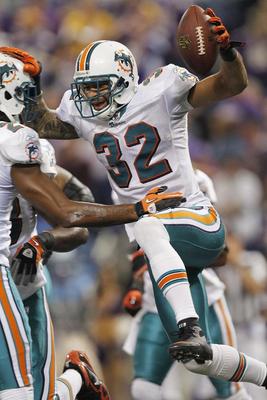 Somebody must have bought Jason Allen a shovel this summer, because the man is digging himself out of irrelevancy and into the spotlight in Miami.
Allen, formerly the subject of Dolfans' disgust and carrier of one of the biggest bust label's in franchise history, got his second straight start on Sunday, racking up two crucial interceptions.
Despite Bernard Berrian making him look like a rag doll on a handful of occasions, Allen is mounting a truly incredible comeback story.
I think it's time we start to slowly—emphasis on slowly—peel the bust label off of Allen.
Sean Smith Is Doing Little to Reclaim His Starting Job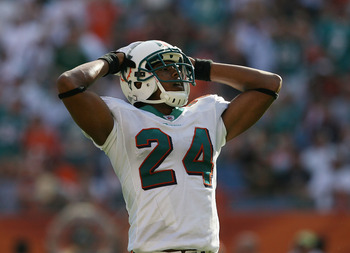 Doug Benc/Getty Images
Although Jason Allen's promotion initially appeared to be nothing more than a motivational ploy to boost Sean Smith's performance, Smith is yet to show any signs that has progressed from his rookie season.
Smith was completely burnt by Vikings tight end Visanthe Shiancoe on a third down early in the game and looked mediocre throughout his scattered appearances.
He filled in admirably while Vontae Davis was briefly sidelined, but he will have to start taking some initiative and making some plays if he wants to reclaim his starting role.
Clifton Smith Needs To Break a Long Return If He Values His Roster Spot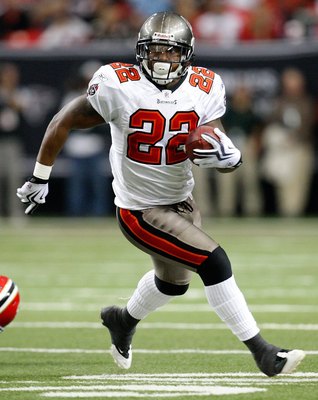 Kevin C. Cox/Getty Images
Uncomfortable with granting rookie Nolan Carroll or running back Patrick Cobbs kickoff return duties, the Dolphins signed former Pro Bowl return man Clifton Smith just days prior to the start of the regular season.
In Miami's first two games, Smith has returned three kicks for an average of roughly 11 yards per return.
Having a home-run threat on special teams adds an entire dynamic for which opposing team to prepare. This horrible production, however, is not what the Dolphins want out of Smith. If he continues to slack, the team will cut him and turn those return duties over to Carroll or Cobbs.
The Dolphins Front Seven Is Scary Good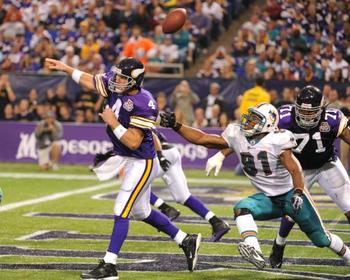 Despite amassing only two sacks on Sunday afternoon, Cameron Wake & Co. continued to establish themselves as a fearsome unit, seemingly capable of making plays whenever they need to.
The Dolphins laid a slew of "remember me" hits on Brett Favre throughout Sunday's game, specifically on third downs when the front seven morphed into beasts and ravaged their way into the backfield. They of course made a season-altering stop on Adrian Peterson clinch a victory.
Miami's defense, specifically the front seven, won this game.
Wake also continues on a path towards a breakout season at linebacker and could easily be this year's Elvis Dumervil, thanks in large part to Mike Nolan's scheme.
Brian Hartline Is Back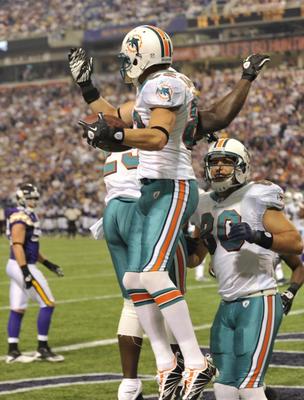 Brian Hartline pulled his greatest disappearing act against the Buffalo Bills in Week 1. The sophomore receiver, expected to build on a solid rookie campaign of 506 yards, registered zero catches despite Chad Henne's 34 pass attempts.
Critics were aplenty after his ghostly performance, but Hartline responded with three receptions for 28 yards, including the Dolphins' only offensive touchdown.
Hartline is not a game-breaker, but he is a great compliment to Brandon Marshall. If Hartline can keep producing, even at the modest level he did on Sunday, defenses will have more trouble preparing for the Dolphins.
Miami Still Can't Stop Opposing Tight Ends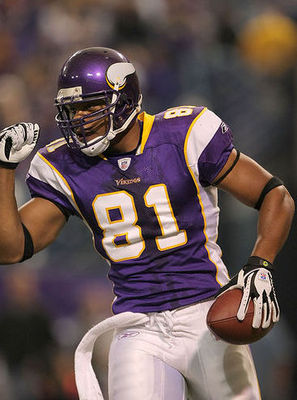 One of Miami's well-documented struggles from the 2009 season was its inability to contain opposing tight ends. The Dolphins surrendered huge performances to Dallas Clark, Jeremy Shockey, and Kellen Winslow, among many others.
The arrival of Karlos Dansby soothed some of the outstanding concern due to the linebacker's ability to match up physically with virtually any tight end the Dolphins will face.
Still, tight end Visanthe Shiancoe was Minnesota's leading receiver on Sunday, racking up six receptions for 86 yards.
Miami must begin to formulate some schemes to contain tight ends, especially considering they will face the likes of Jermichael Finley, Heath Miller, and the Patriots' young and athletic duo in the coming weeks.
The Dolphins Defense Is on the Cusp of Great and in the Early Stages of Elite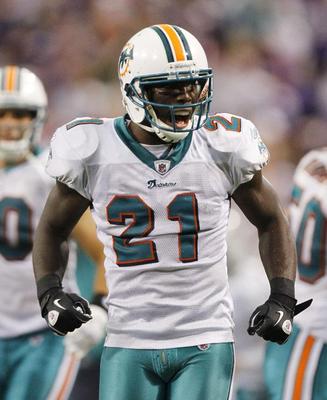 The Dolphins put a lid on the Buffalo Bills' anemic offense in Week 1 and finished the week ranked first in overall defense. One week and one true test later, Miami's defense might not still hold that No. 1 ranking, but they did not budge very far.
Their ranking will slip considering Adrian Peterson's 145-yard rushing performance and Brett Favre's 225 yards passing. But Miami's defense still racked up three interceptions, two sacks, and a defensive touchdown that eventually won the game for the Fins.
Vontae Davis has made tremendous progress from 2009 and is starting to look like he could be a cornerstone for this defense for a very long time. Meanwhile Chris Clemons, Koa Misi, and Cameron Wake are all exceeding expectations and leading the Dolphins.
The Dolphins Want Chad Henne to be Chad Pennington, But It's Not Working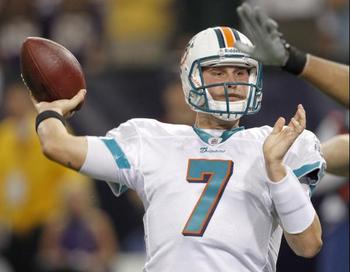 Chad Henne attempted only 15 passes against the Vikings on Sunday, and it's beginning to look like this coaching staff wants Henne to be Chad Pennington rather than let him utilize his cannon arm. Henne threw short check-down after short check-down and, while he is yet to turn the ball over, this game plan almost cost the Dolphins the game.
Pennington was such a perfect fit for Miami in 2008 because his bread-and-butter was efficiency and safety. He did not turn the ball over and he had one of the NFL's highest completion percentages. This was only perfect, however, because Miami had very limited skill at wide receiver and were driven by a powerful running game.
But Henne is not Pennington. Henne is blessed with an incredible arm,and he, unlike Pennington, has an arsenal consisting of Brandon Marshall, a matured Davone Bess, and a speedy Brian Hartline.
Sunday was a perfect opportunity to let Henne loose against a suspect Vikings secondary, but the Dolphins opted to keep him and the passing game caged.
At some point, head coach Tony Sparano and offensive coordinator Dan Henning must let Henne air it out. Let's just hope it does not take a loss to convince them to do so.
Keep Reading

Miami Dolphins: Like this team?