Nobody, Not Even the New York Mets, Wanted Jose Bautista—Until Now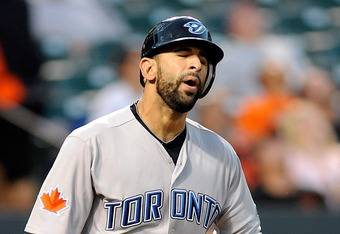 Greg Fiume/Getty Images
At the trading deadline in 2004, Jim Duquette, the general manager of New York's most beloved team, the New York Mets, acquired right-hander Kris Benson from the Pittsburgh Pirates.

In exchange, the Mets sent Ty Wigginton, minor league right-hander Matt Peterson, and infielder Jose Bautista to the Pirates.

Except in rare cases, it is impossible to predict the twists and turns of a baseball player's career. When the Mets included Bautista in the Benson trade, Jose had fewer than 200 major-league plate appearances, and had not hit a home run.

The Mets were not the only team to send Jose Bautista away.

In 2004, Bautista was a member of five teams (Baltimore Orioles, Tampa Bay Devil Rays, New York Mets, Kansas City Royals, and Pittsburgh Pirates, although he never played for the Mets).

Bautista was originally obtained by the Pirates in the 2000 draft, but the Baltimore Orioles picked him up in the 2003 Rule 5 draft. Nothing to worry about.

In June, 2004, the Tampa Bay Devil Rays selected Jose off the waiver wire from the Birds. Nothing to worry about.

Twenty-one days later, the Kansas City Royals purchased Jose's services from Tampa Bay. Still nothing to worry about.

Jose was picked up by the Mets for minor-league catcher Justin Huber, and the Mets then sent Jose to Pittsburgh in the Benson trade.

Bautista appeared in 500 games with the Pirates from 2004-08, He batted .241 with a .329 on base average, and 43 home runs while a Pirate.

The Pirates had seen enough. They sent Bautista to the Toronto Blue Jays for catcher Robinson Diaz in Aug. 2008.

Last season, Bautista played the outfield, third base, and on occasion, was the Blue Jays' designated hitter. He batted .235 with 13 home runs in 336 at bats.

The most home runs Jose Bautista ever hit in a season was 16 with the Pirates in 2006, but in 2008, while with the Pirates, he hit five home runs in nine games during interleague play.

In Sept. 2009, there was a preview of coming attractions. Bautista hit 10 home runs during the last month of the season.

Jose Bautista has 49 home runs as of Sept. 18, 2010. Runner-up Paul Konerko has 37 home runs. Albert Pujols leads the National League with 39.

In the "Year of the Pitcher," Jose Bautista has surpassed the great Barry Bonds with respect to the greatest increase in home runs hit in a single season during his career.

Bonds went from a high of 46 in 1993 to 49 in 2000 to 73 in 2001, so one can say the increase is either 27 (73 from 46) or 24 (73 from 49).

Jose Bautista has gone from a high of 16 to a new high of at least 49, for an increase of 36.

Isn't it fascinating?


References:

Jose Bautista at Baseball Reference

LEE JENKINS. (2004, July 31). Mets Make Two Trades to Keep Hope Alive. New York Times (1923-Current file),D1. Retrieved September 19, 2010, from ProQuest Historical Newspapers The New York Times (1851 - 2006). (Document ID: 1059264542).
This article is
What is the duplicate article?
Why is this article offensive?
Where is this article plagiarized from?
Why is this article poorly edited?

Toronto Blue Jays: Like this team?