Manchester United vs. Liverpool: Live Blog, Play-By-Play and Analysis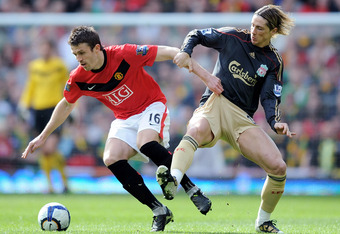 Don't worry; I don't think Carrick is playing today.
Michael Regan/Getty Images
It's dark and early here on the western coast of America, and in roughly 20 minutes Manchester United and Liverpool will battle on the English Premier League's fifth matchday.
Both teams have relatively stuttered in their respective starts to the campaign. Liverpool especially, who sit in 16th place on just five points; United are third with two wins and two draws.
Sometimes these emotional derbies turn out to be real stinkers; sometimes they're truly epic clashes. Here's a glass of orange juice toasting to the latter.
Kickoff at 5:30 AM PST, 8:30 EST, 1330 BST, or four years from now if you live in the Andromeda galaxy.
Line-ups coming shortly. Sit back, relax, or stand up and be nervous. The Reds clash in 15 minutes.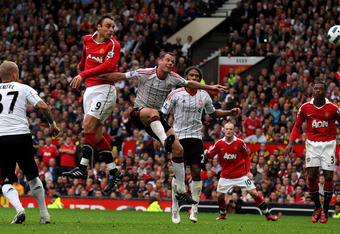 Follow me on Twitter. I post just the right amount.
I was going to commit seppoku if Liverpool tied it up again. Instead Berbatov's goals are put to good use and the better side takes the three points. Take care everyone! Check in here every week for United play-by-plays.
How often do Liverpool play so badly but almost get by because of Gerrard? Probably very often. But not even he could save them today. Their whole team was just bad. Johnson and Gerrard were the only two who shouldn't be ashamed of themselves. Sir Alex is definitely relieved, as am I.
Berbatov's first hat-trick for United comes against their biggest rivals. He opened up scoring with a masterclass bicycle kick before heading home twice each side of half-time. Awesome, awesome stuff from the Bulgarian. The first half was slow and boring, but the second half was very exciting.
Anderson and Rooney play keep-a-away from Liverpool along the left touchline. They waste some time and the Brazilian gets fouled. Rooney does more of the same and United pass the ball around until Webb blows the whistle! Thank all the lords in the Universe, Manchester United hold onto their lead and win 3-2.
Two minutes left and Liverpool have the ball. Johnson hoofs it forward to no one in a classic Liverpool approach. Van der Sar wastes little time with the goal kick, he's clearly on the take. United pass it around.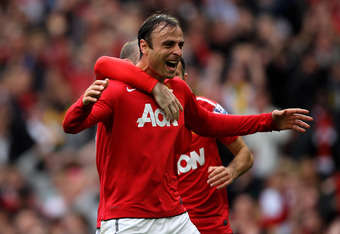 Three minutes left as the clock ticks down. Millions of observers across the world are all very nervous. United control possession, though. Gulp.
Four minutes added according to our underground sources.
Gibson and Anderson enter as Sir Alex subconsciously tries to blow the game. Berbatov is substituted after scoring thrice against United's most hated rivals. This is Anderson's first bow of the season. Agger is penalized for holding O'shea's shirt inside the home side's penalty area. "Anderson shits on Fabregas," how out-dated is that song?
Welcome to the Berbatov bandwagon, everyone. I've been driving it for a several years now.
Berbatov gets his first United hat-trick! Scholes found O'Shea out wide and his cross is won competitively by the Bulgarian. Awesome sauce. Whee. 3-2 United. Cracking game.
Giggs will need a lot of rest this season. Rooney drives a cross into the box. Nani dives to no avail. Liverpool struggle but clear. Old Trafford gets louder.
Macheda enters and replaces Giggs. Agger comes in for Liverpool. 20 minutes remaining.
Ferguson, as is his awesome tendency. tells Owen to warm-up only to introduce Macheda. A little ruse there from the old Scot. Evra gives it to Rooney in a good position but he forces another pass.
Giggs attacks on the left until Pulsen intervenes. Rooney drives a ball out right. Nani chips in a left-footed cross from the right side and Reina claims it comfortably.
Rooney has done little today. What I want everyone to ask themselves is this: How good is the player? He can't dribble past anyone, create space for his shots, out-muscle larger defenders or out-pace most more athletic ones. Look at his skills, not his image. Average day for him thus far.
He'd probably be more likely to dive and over-elaborate if he didn't score two goals in the last ten minutes, though. 76 minutes have past. United build up slowly again.
The home side pass the ball around their backline. Poulsen concedes a throw. Evra goes in hard on Gerrard who doesn't complain about it. Liverpool free kick.
What's the deal with Johnny Evans? He was so good two years ago but has rarely excelled above average since. The penalty he conceded was poor defending.
United have crucially given up another lead this season. Gerrard put his shot between O'Shea and Fletcher in United's wall and Van der Sar was stranded. How they are equal in this match is just pure cosmic randomness. Gerrard and Berbatov are each on hat-tricks. 20 awesome minutes left.
Oh, good God. Gerrard slots home the free-kick and it's 2-2!
O'Shea fouls Torres just on the edge of United's box. Close range free kick for Liverpool. O'Shea got beaten for nothing there. Torres has been crap all game but pops up in the right positions at the right times as a good striker does.
This game is a helluva lot better now. Nani does some twinkle toes into the box but no. Scholes tackles on the halfway line and now Webb books him for kicking the ball away. Obligatory yellow card for the red-haired lad. We're two-thirds of the way through.
Nani is apparently scratching his back on the turf as he contrives to exaggerate another pseudo-foul.
This article is
What is the duplicate article?
Why is this article offensive?
Where is this article plagiarized from?
Why is this article poorly edited?

Manchester United: Like this team?