Five Things We Learned About Clemson In Their Overtime Loss to Auburn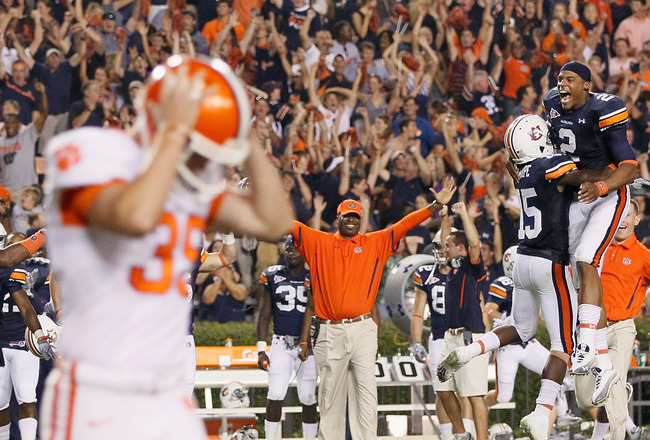 Kevin C. Cox/Getty Images
Clemson fans have been here before. Games like the one played at Auburn on Saturday night usually turn into nail-biting affairs that Clemson comes away from on the wrong side of the score.
Armchair quarterbacks or just plain passionate fans like myself can always point to a few make-or-break plays that, should they have swung in Clemson's favor, just may have made the difference between glorious victory and agonizing defeat.
Looking back just minutes after the OT loss to Auburn, here are five immediate thoughts on what we learned about this Clemson team.
Dabo Swinney Is The Right Man For The Job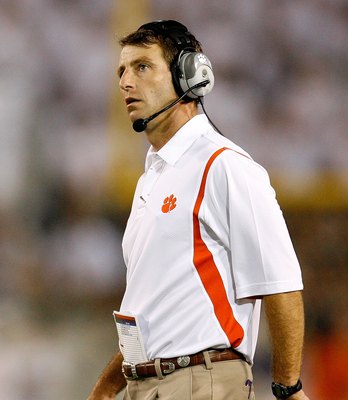 Kevin C. Cox/Getty Images
Like many Clemson fans, I was a tad skeptical of the Dabo hire when Bowden was canned two seasons ago. I wanted a big name like a Gruden or Muschamp to make Clemson truly stand out nationally.
But looking at recent big games, I've been thoroughly impressed with how well Swinney has had Clemson prepared.
Coming into the Auburn game, I wasn't very confident in how the offense would perform against an SEC defense or how the defense would stack up against a big rugged QB like Cam Newton.
Clemson came out of the chute with a touchdown-scoring drive and basically manhandled Auburn for much of the first half. Aside from the third quarter, Swinney outcoached Gene Chizik in the game.
The blocking schemes that never worked for screen plays under Bowden worked tremendously well against Auburn. The defense was inspired and not the least bit intimidated.
A loss is still a loss, but Dabo had a game plan and for the most part, it worked well.
Clemson Did a Great Job With Their Schedule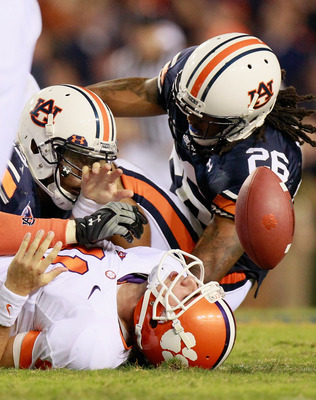 Kevin C. Cox/Getty Images
In past seasons, the Tigers schedule was completely horrendous in that there would often be tough physical opponents scheduled back to back or bye weeks placed where they made no sense.
The worst example of this was back in the 2006 season when Clemson played a nationally televised home game against then top 15 Georgia Tech, only to turn around and play another top 15 team in Virginia Tech on the road the following Thursday.
This year, Clemson started with two weaker opponents at home (North Texas and Presbyterian) and then went on the road to play Auburn.
Knowing the physicality that would be present at the game, the AD and football staff made a great move in scheduling a bye week next week to give Clemson two full weeks to prep for a home game with Miami.
The Tigers Are Doing Just Fine Without C.J. Spiller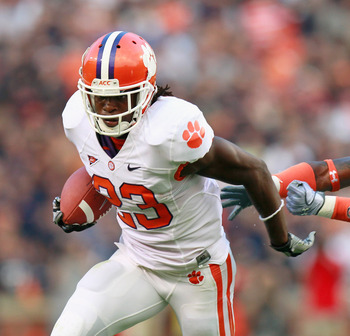 Kevin C. Cox/Getty Images
You wouldn't know it Saturday night that Clemson was trying to fill in for a previous stud in the backfield.
That's because Andrew Ellington and Jamie Harper have put on their own show, one called the "New Storm" referencing the "Thunder and Lightning" nicknames from James Davis and Spiller.
Ellington rushed for 140 yards on 22 carries and one touchdown versus Auburn. Jamie Harper had two touchdowns of his own, both on the receiving end.
His score late in the first half that put Clemson up by 17 was a highlight-reel catch only the quickest and most sure-handed athletes make.
The good news is that Clemson will have both of these kids for the next few years. Should be fun to watch.
Cupcake Games Tell Us Very Little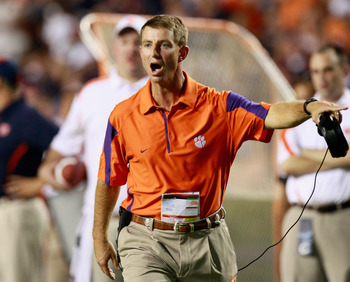 Kevin C. Cox/Getty Images
Leading up to the tilt with Auburn, all we had to go on about this year's Clemson team was the performances they had against two lower level opponents.
Looking at the stats of those games, you'd think the Tiger defense that was talked about all preseason may have been over-hyped. They proved against Auburn they were the real deal.
It wasn't until Auburn's final drive of the first half that they finally surpassed the 100-yard mark in total offense.
Cam Newton was picked twice, and the running game for Auburn was stifled much of the game. It was the third quarter that padded stats for the Auburn Tigers.
Offensively, the big plays were still there to some degree like they were against North Texas and PC, but Clemson actually had better clock control against Auburn, extending drives via play action screens and strong runs by Harper and Ellington.
Simply put, the way a team performs against a low-level opponent is never a great barometer for how that team will play down the road.
Tonight's game was a fair measuring stick, one that Swinney and the staff can go with and determine strengths and weaknesses.
Clemson Will Be Bowl Eligible at The End Of The Year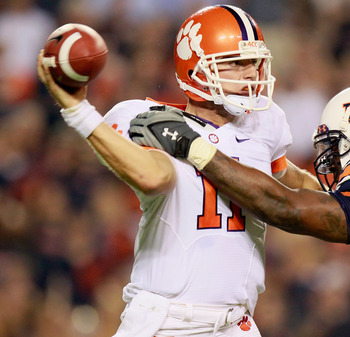 Kevin C. Cox/Getty Images
For some of you this may be a foregone conclusion. For myself, I had questions of bowl eligibility going into the year.
Looking at Clemson's schedule now, it sets up fairly well, seeing as how the rest of the ACC seems rather inept at proving to be quality teams.
Clemson will have to win those "gimme" games like Maryland, Wake Forest, and NC State.
They'll also need to win one or two of the "toss ups" like UNC, Boston College, or Florida State.
I think we saw a team tonight determined to prove themselves worthy of the next level.
They're not there yet by any means, but Tiger fans have to feel after last year's ACC title game appearance that this train is on the right track.
Keep Reading

Clemson Football: Like this team?