Ryan Mallett: 10 Reasons He'll Be a Top Pick In 2011 NFL Draft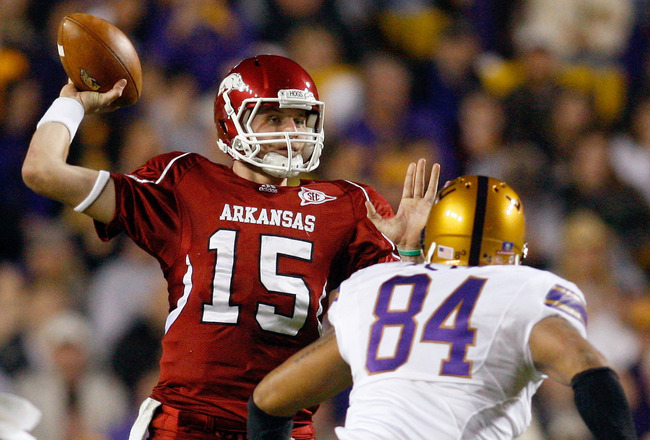 Chris Graythen/Getty Images
Ryan Mallett led his Hogs to yet another win this season over the Georgia Bulldogs, and this junior from Arkansas is looking ready to join the NFL.
Mallett is a Heisman Trophy contender as well as the quarterback of arguably one of the best teams in the SEC, and he would make an excellent addition to many teams in the NFL.
What makes Mallett so great?
Here is a list of ten reasons that Ryan Mallett will be a top pick in the 2011 NFL Draft.
10. He Could Win The Heisman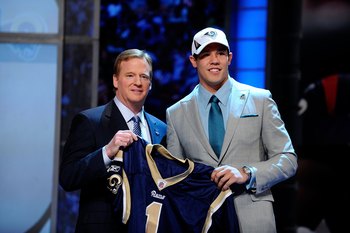 Jeff Zelevansky/Getty Images
While winning the Heisman does not guarantee a first round draft pick (just ask Jason White) many recent Heisman recipients have been drafted very early on.
Mallett has a definite shot at winning college football's most coveted award, and doing so will make him even more attractive to teams throughout the NFL.
9. The SEC Is an NFL Factory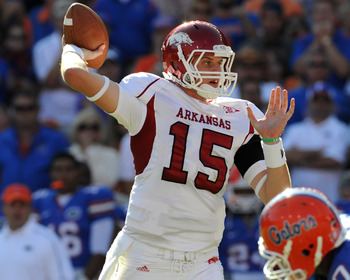 Al Messerschmidt/Getty Images
Ryan Mallett plays in the conference that produces the most NFL-ready players.
The SEC is stacked with NFL-caliber talent, and Mallett will just add to the list of SEC players that take their football careers to the next level.
8. Arkansas Is Undefeated So Far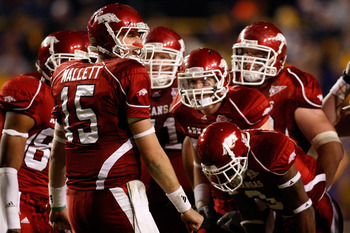 Chris Graythen/Getty Images
Mallet has led the Razorbacks to three straight wins to start the season, and Arkansas is looking to be a top contender in the SEC this year.
Currently ranked No. 12, Arkansas has defeated a strong Georgia team, and they will have another chance to shine against No. 1 Alabama next week.
7. Some Teams Are Hurting at Quarterback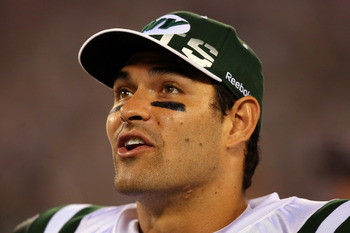 Andrew Burton/Getty Images
There are plenty of NFL teams that could make great use of Ryan Mallett's talent.
A few teams come to mind:
The Cleveland Browns, the Kansas City Chiefs, the Buffalo Bills...
And the New York Jets.
6. He's Good Under Pressure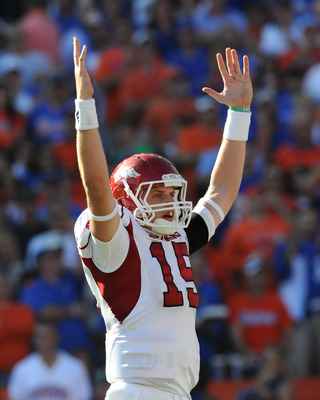 Al Messerschmidt/Getty Images
Even when the going got tough during today's game against Georgia, Mallett remained, cool, calm, and collected.
He led the Hogs to a last-second touchdown to keep the game from going into overtime, and Arkansas added another win to their record.
5. Accuracy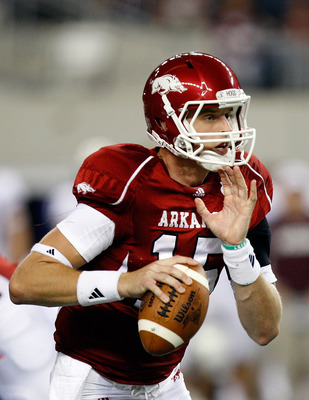 Ronald Martinez/Getty Images
Mallett is extremely accurate in his passing game, completing 294 of 402 passes during his career. That's a 73.1 percent completion percentage.
With only two interceptions this season (and none against SEC opponents), Mallett is very precise when hitting his targets.
4. Leadership
Ronald Martinez/Getty Images
Leading one of the best offenses in the SEC?
No problem for Ryan Mallett.
He has impressive command of the Arkansas offense, and his instincts allow him to quickly consider his options and make the big plays.
3. SEC Competition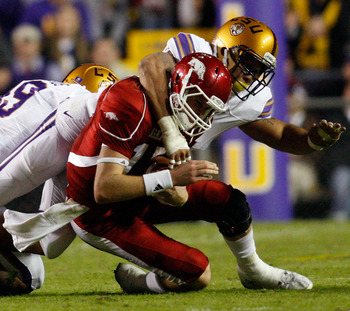 Chris Graythen/Getty Images
We know that the SEC produces more NFL players than any other conference, and this creates the competition that Mallett needs to prepare to enter the league.
Even the weakest teams in the SEC could compete with the best teams in other conferences, and playing these teams every year will get Mallett ready to tear it up in the NFL.
2. His Size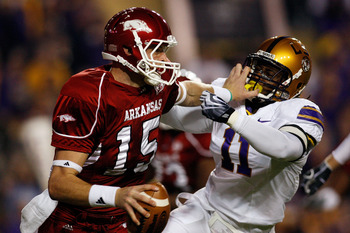 Chris Graythen/Getty Images
Ryan Mallett is a big guy, and big guys are harder to take down.
He stands at 6'6" and 283 pounds, bringing more power to the quarterback position.
1. The NFL Is a Passing League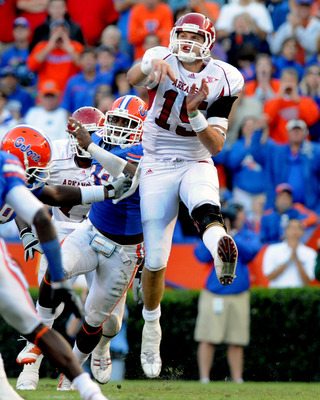 Al Messerschmidt/Getty Images
NFL teams need quarterbacks who can throw the ball. Period.
And Mallett can do just that.
With 3,627 passing yards last year and a projected 4,206 yards this year, he definitely has the passing talent to thrive in the NFL.
Keep Reading

Arkansas Razorbacks Football: Like this team?