USC Trojans VS. Minnesota Gophers: Live Blog, Stats, and Analysis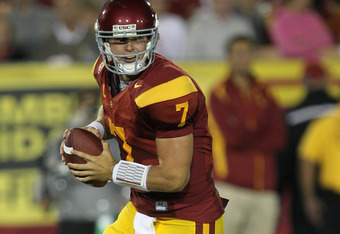 Stephen Dunn/Getty Images
USC Trojans vs. Minnesota Golden Gophers in College Football Action.
Good afternoon everybody. This is Featured Columnist Jordan Loa here bringing you a live blog of USC vs. Minnesota.
It's a great afternoon for college football, and we'll see if USC has their defensive woes fixed.
The game comes on in about 20 minutes or so on ESPN, after the Georgia vs. Arkansas game wraps up.
Look for analysis, stats, and all the big plays from today's game.
Enjoy the game!
This has been Featured Columnist Jordan Loa doing a live blog of USC vs. Minnesota college football action. Thanks for sticking around with me and have a good night!
Make sure you follow USC as they take on the Washington St. Cougars next Sat.
USC finished the game with 408 total yards. The leading rusher was Allen Bradford, who ran for 129 yards on 13 carries and one TD.
That's the game. Gable wrapped up the game with a 10 yard run. The final score is 32-21 USC.
That's the game, after Gable rattles off a 10 yard run. The final score is still 32-21 USC.
Weber finds Gray for a 20 yard touchdown with 11 seconds left to make the score 32-21 USC.
The Gophers are just trying to build confidence within their quarterback and receivers and take that confidence into next week's game.
Weber completes a 20 yard pass for a first down.
USC has seven penalties for 71 yards while Minnesota only has two penalties for 20 yards.
Lane Kiffin is challenging the ruling on the field, only to have his challenge reversed.
Bradford just fumbled with 1:18 left to play in the fourth quarter.
USC has 203 total rushing yards today.
LB Chris Galipo intercepted Weber and returned it the 44 yard line. The interception makes three total turnovers for the Gophers today.
USC's Chris Gallipo sacks Minnesota's Weber for an 11 yard loss.
USC is now deep in their own territory and having to punt after a wild pass from Barkley.
USC is penalized yet again for a 15 yard chop block penalty, making it second and 26.
It now looks like USC will try their best to run the clock out and get outta here as quickly as possible.
RB C.J. Gable is now the fourth RB to play today.
Weber's pass falls incomplete, and the Gophers punt to the Trojans.
The Pac-10 is 16-7 against the Big Ten since 2003.
Bradford now has 127 yards on 12 carries for one TD. He's averaging 10.6 yards per carry.
Allen Bradford broke free for a 56 yard touchdown run, making the score 32-14 USC.
USC has converted four of eight third downs.
Bradford stopped for a two yard loss, making it second and 12.
If you're Minnesota, it's very important that they stop USC's run and force them to punt. Otherwise, this 12 point lead is about to get a lot bigger. But it doesn't seem like the Gophers have answer for the Trojans' running attack.
This article is
What is the duplicate article?
Why is this article offensive?
Where is this article plagiarized from?
Why is this article poorly edited?

USC Football: Like this team?