Arkansas vs. Georgia Football: Live Blog, Stats, Analysis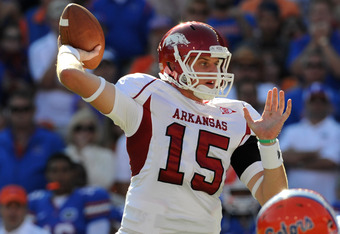 Arkansas QB Ryan Mallet
Al Messerschmidt/Getty Images
Featured Columnist Donovan Colby Lanham here, live blogging the Arkansas-Georgia football game as we get to see whether Georgia is able to bounce back after the disappointing 17-6 loss to the South Carolina Gamecocks, and see Arkansas in action to see whether Mallet can take Arkansas to the SEC Championship this year.
Join me for the next few hours as we talk the talk from X's and O's, to the SEC, to the Heisman Trophy, to the female reporters, we've got it all here.
________________________________________________________________________________________
3:25 p.m. ET. Another nail biter in the books, with a victorious Arkansas prevailing over the persistent Georgia Bulldogs, with the defensive secondary of Georgia being their downfall, and the Arkansas defense coming through in the clutch. With that, I bid you farwell. This is Featured Columnist Donovan Colby Lanham, signing off
3:21 p.m. ET. And it's over!!!! Mallet and Arkansas scored in the last seconds to win by a score of 31-24. Mallet puts up 380 passing yards in the win. If that's not an elite QB. Mark Richt's seat is growing hotter by the minute in Athens. The first time in his career he is starting 0-2. Arkansas has shown with this road win that they are truly a force to be reckoned with in the SEC.
3:18 p.m. ET. Safety took a bad angle, and Georgia collapsed in their zone defense. mallet has exposed Georgia's poor secondary play with less than twenty seconds to go...
3:15 p.m. ET. TD Arkansas!! Ryan Mallet to Greg Childs!!! The stadium has gone quiet, save for the Razorback faithful. mallet is truly the real deal. Showed great poise, leadership. He is truly the leader and play maker of that offense. He's got the arm, size.
3:12 p.m. ET. Whoa!! Big sack by the Arkansas defense. He came and BOOM! the running back didn't pick up his block, and Murray paid the price. Punted away with 47 seconds left, Arkansas and Mallet have the ball, with two time outs.
3:10 p.m. ET. Key third down coming up for the Georgia offense here. What's coming here? Run, Pass?
3:07 p.m. ET. 4th down already, GA about to get the ball back for an opportunity to win. This works in favor for Richt, who is really needing to save his job and get away from the hot seat. Arkansas needs their defense now more than ever.
3:03 p.m. ET. TD Georgia!!! Tie Game, 24-24! Ealey actually holds on to the football to score, unlike last week against SC. This is truly the game of football. Georgia has mounted a big come back, and have gathered all the momentum.
3:02 p.m. ET. Good pass for the third down conversion for first and goal by Georgia. The stadium is going crazy, the noise is unbelievable.
3:00 p.m. ET. As bad as they've played, Georgia still has the opportunity to win this thing. BIG completion to the BIG #16 target in the red zone.
2:54 p.m. ET. Missed wide out by Mallet again, followed by stupid penalties force a punt from inside their twenty. Giving Georgia a short field to work with.
Chris Graythen/Getty Images
2:50 p.m. ET. mallet's about to come back out there. This where you earn your strikes
2:48 p.m. ET. TD Bulldogs!!! They're back in it once again. Good toughness and effort by King to break those tackles and go for the TD.
2:46 p.m. ET. 3rd and goal, up and coming. you gotta get six here. But you can't do that with needless penalties backing you up to the ten yard line.
2:44 p.m. ET. A NICE pass by Murray. A very good 46 yard completion. These aren't the best secondaries in the SEC. Both have been exposed plenty throughout this game. They have been a non factor the entire game.
2:37 p.m. ET. Another missed pass by Mallet under pressure and forced to punt away. Let us see if they can lock down and give the ball back to mallet
2:34 p.m. ET. Murray has been locking on to receivers all day, especially with that broken up fourth down play. The key is to look off that receiver. His decision making hasn't gone too well, either. That's what led to the interception in the first half.
2:33 p.m. ET. Key fourth down for Georgia here. And... they fail! Arkansas takes over on loss of downs.
2:29 p.m. ET. Georgia still showing some life with the third down conversion and the Ealey run into Arkansas territory.
2:25 p.m. ET. At the end of three, Arkansas leads 24-10. Arkansas looking as good as Halle Berry. Georgia is desperate now, need somebody to step up and make a play. Everyone know knows how much Green is missed in the passing game. Arkansas needs to keep doing what they do best. Score, score, and score again.
2:21 p.m. ET. Razorback TD!!!!!! The running back all by himself on a wheel route. Georgia defense looked bad with that zone defense. Not looking good for head coach Mark Richt. Back to a two possession game.
2:20 p.m. ET. HUGE screen play on third down for the razorbacks. All the way to the redzone. The offense is surely one of the most productive in the SEC.
2:17 p.m. ET. Another missed big yardage opportunity. This time, it's on the receiver. Got some butterfingers on him. It's ok,they made up for it with this tough 12 yard run.
2:15 p.m. ET. Georgia put together a three point drive, making it a one possession game. See if the Bulldogs still got some swarm in for the first half. They need it, with their lacking secondary play in this game. Mallet sure is an efficient passer.
Mike Zarrilli/Getty Images
2:10 p.m. ET. Bulldogs putting together a good drive here, on the fringe of the red-zone after starting deep in their own territory. Key long passes by Murray to his receivers.
This article is
What is the duplicate article?
Why is this article offensive?
Where is this article plagiarized from?
Why is this article poorly edited?

Arkansas Razorbacks Football: Like this team?