College Football Week Three: Live GameDay Blog and Pregame Observations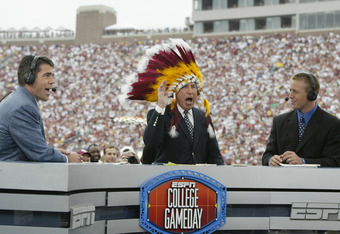 It's GameDay on Bleacher Report !
Craig Jones/Getty Images
You've heard of ESPN's College GameDay on TV? Well, welcome to Bleacher Report GameDay on the web.
Hey everybody, Rich Thomaselli, Deputy College Football Editor for Bleacher Report here. This morning we're doing something new and fun. From 10 a.m. EDT to Noon, I'll take us through the next two hours with some observations about today's game, about what they're talking about on the television version of GameDay, on other pregame shows and, well, you know, whatever pops into my head.
Then, a little after Noon EDT, I'll flip over to a new live blog and provide you with scores and updates from the big afternoon games.
So enjoy !
Picks time: I like Michigan, Ohio State, Penn State in the early games and, in the upset category, Maryland over West Virginia and, yeah, the Thomaselli Jr special, Georgia over Arkanas.
Thanks for reading everybody, switching over to the Live Scores blog. Have a great day !
My 5-year old just came upstairs and said he likes "the team with the red hat and the G on the side" to win. Georgia.
Is he on to something here?
Should I, you know, make a small friendly wager of, ahem, cookies with somebody???
Geez, what the hell happened to Cal last night ?!?!
Less than a week until Wall Street 2. Got. To. See. It.
Greed is good :)
Gotta believe Nebraska handles Washington today, but that can be a tough place to play. Pretty, by the lake. But tough.
Correction, we're live blogging UMass-Michigan and not Ohio-Ohio State. My bad.
GameDay talking about Reggie Bush giving his Heisman Trophy back. It's a shame, really. Don't get me wrong, I don't condone Bush breaking the rules and everything that went on with him and agents while he was at USC. But, you know, let's not kid each other here. He wasn't the first Heisman winner to break the rules -- proven or not -- and he won't be the last.
PS: one other thing on Michigan.
Lights? At Michigan Stadium?!? Wow. You know the Old Blues are pulling out what's left of their hair over this one. Stadium renovation with suites is one thing. Night games in A2 is another.
So if you're not near a TV today, or if you're watching one game and tracking others, we got it covered.
Starting at Noon (EDT), I'll switch over to a new blog to give you live scores and updates on some select games during the afternoon.
Throughout the day, we'll be live blogging some big games involving either great matchups or the top teams in the country, including Ohio-Ohio State, Alabama-Duke, Arkansas-Georgia, Nebraska-Washington, Florida-Tennessee, USC-Minnesota, LSU-Mississippi State, Clemson-Auburn, Texas-Texas Tech, Notre Dame-Michigan State, and Iowa-Arizona.
Anybody like Maryland today at West Virginia? I don't like the Mountaineers. They have fraud written all over them.
Interesting. Chris Fowler just said oddsmakers would make Ohio State a 4 1/2 point favorite over Boise right now and Alabama would be an 8 1/2 point favorite.
ESPN talking about whether Boise State should be penalized for Virginia Tech's loss to I-AA James Madison last week. One AP writer, out of Fort Wayne, Ind., still voting BSU No. 1, but for the most part the team lost points last week in the Coaches Poll. Herbstreit making interesting point by saying many coaches won't vote BSU higher than third no matter what.
Of course, if Michigan wins today against UMass, coupled with the season-opening win over UConn, the Wolverines will have a leg up on winning the New England championship. If only they can beat Bates College :)
Sorry. Full disclosure -- I covered Michigan for the Ann Arbor News and The Sporting News back in the Brian Griese-Tom Brady-Anthony Thomas years. U-M was my favorite college football team as a kid. So I love to tweak :)
Can't wait to watch Denard Robinson play again. He might be Michigan's most dynamic player in a while. Since maybe ..... who? .... Anthony Thomas? David Terrell? Braylon Edwards? Mike Hart?
Tough to say, but no matter what Robinson is just GOOD.
And, of course, Texas-Texas Tech.
Kirk Herbstreit is right -- Texas is going to have its hands full tonight at Texas Tech. Longhorns just 9-9 in their last 18 trips to Lubbock.
Sorry.
Had to get that last one in. I live 40 minutes from West Point and, well, I have respect and a soft spot for the men and women at the U.S. Military Academy.
Florida-Tennessee
Arkansas-Georgia
Nebraska-Washington
Boise State-Wyoming
Notre Dame-Michigan State
Iowa at Arizona
North Texas at Army
It's not a Saturday like last week, but still some decent matchups today that we'll get into as we go along here.
Here we go ! And, oh, shock of shocks .... ESPN GameDay is at yet another SEC site/game. Could the conspiracy theories be true? You know, about that big TV deal and all the money ESPN laid out to televise SEC games???
This article is
What is the duplicate article?
Why is this article offensive?
Where is this article plagiarized from?
Why is this article poorly edited?