Michael Jordan's 10 Greatest Commercials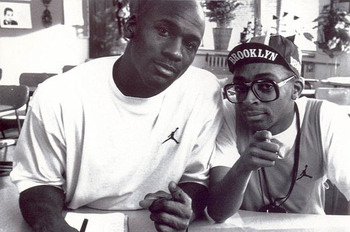 This can be a hotly contested list as there are so many different choices one can make. With 10 you get some breathing room, but there are many that will go forgotten over the years. Of course there's the "Be Like Mike" commercial among others to choose from.
I am writing this article with the assumption that there will probably be one or two of his top commercials I forget. Don't be afraid to let me know, as I would like to go back myself and relive a commercial from my childhood which brought me joy that I might forget.
Michael has endorsed Rayovac batteries, Gatorade, Wheaties, Nike, Coca Cola, McDonald's, Chevrolet, and Hanes off the top of my head.
Some of these commercials have been seen plenty of times, while in others I had no idea Michael was even involved with. Taking that in mind, I leave one extra video at the bottom that just missed the list.
Thus, here are the top 10 which are disputable as any list. I hope they bring back good memories of watching them in between Jordan destroying the opposing team during games.
10. Michael's Failure (1997)

Failure

This is the epitome of what makes Michael Jordan. No matter what failure or adversity he encounters, he is willing to do what's necessary to succeed. It's part of what has made him the best player to ever lace up a pair of sneakers. His pregame routine here shows him mentally preparing to destroy opponents.
9. Challenge Gatorade Commercial (1997)

Jordan sweating his product

Not a single word needed to be spoken during this clip. This was just a great Gatorade commercial. Michael Jordan has orange Gatorade sweat coming out of his pores and the slogan is: "Is it in you?" Gatorade was flowing through him plenty during his 72-10 and 69-13 back-to-back regular seasons in 1995-96 and 1996-97.
8. Jordan Versus Jordan (2003)

Jordan Against Himself

It was a matchup of the young athletic freak taking on the old, wily veteran in Washington, an example of how much the physical and mental aspects of a person can change over time. This was a great way of cementing the time line that Jordan's career had passed through.
I'm taking it that the youngster wins this game by pushing the older one to take on the North Carolina version of himself as he enters the building.
7. Air Jordan IV (1989)

Gotta Be The Shoes!

Money it's gotta be the shoes! A statement that lives on with all the connections verbally linked to Jordan. Mars Blackmon (Spike Lee) and Jordan are in another one of their classic commercials together as the Air Jordan was in its early stages of being promoted. I'm not as high on this commercial as others, but out of respect for the love people have for it, it has to be in the top 10, even if it's only for Jordan's truncated and simple "No Mars" reply.
6. I Wanna Be Like Mike (1991)

If I Could Be Like Mike

The catchphrasem whether you want to be him or not, was "Be Like Mike." It sticks with anyone named Mike or Michael in athletics and any basketball player who attempts to ascend to Jordan's greatness. It stuck around and was modified every time Jordan won a title. After he beat the Lakers (1991), Blazers (1992) and then Suns (1993), the chorus was updated with slightly different video clips.
5. Gentle Treatment Hair Commercial (1986)

Michael enjoying the soul glo!

I felt uh...beautiful. The words out of Jordan's mouth sum up a young and cheery M.J.
This is a video that came out of nowhere it seems. From back in 1986, you can see that Jordan was still getting his feet wet in this thing called promotions. Looking like something out of the movie Coming to America, this commercial supposedly is connected to Soul Train and had all the trimmings. All that is missing here is Don Cornelius in the actual footage.
4. Air Jordan XI Commercial (1996)

Jordan going the extra yard to take it to the rack.

This is a commercial many remember only for the shoe, one of Jordan's most popular kicks as he was storming through competition during his 72-10 season in these.
The commercial wasn't too shabby itself. Jordan defies the description of elevation as he finds himself stories above the ground after throwing it down with a jackhammer slam then holding on for dear life as he finds himself high above the floorboards. This might be the most memorable commercial of his second three-peat.
3. Larry and Michael Playing Horse (1993)

The classic game of horse.

The good old game of horse. It seems like everyone has played it at sometime in their lives. Well, Jordan and Bird decided to step it up to Big Mac status with the burger on the line. Bird being on top of things was able to withdraw dunks from the competition. I only wish we could have had a winner eventually.
Still, it's a classic video that was redone with the likes of LeBron James and Dwight Howard. Bird got the Big Mac from James and Howard, but he never got it from Jordan. Competition at its finest.
2. James, Michael, and Juanita Jordan Hanes Commercial (1992)

Father, Son and Wife talkin' undies!

There is so much going on here that whether you like this commercial or not, it will stay with you! I mean there is just something unsettling about this video. In some regards there is the comedic element that I can see from the Hanes department.
However, the usage of father, son, and the son's wife just gives a rather odd combination. The bright red briefs and the easy going jazz music are the cap off a strange and entertaining 30 seconds.
1. Air Jordan's Original Take-Off (1985)

Flight #23 in service to the rim.

The beginning to what became the global icon that is "Air Jordan." As illustrated by this video, Jordan's shoe literally took off once it hit the market. The actual in-flight announcement is incomparable for sports commercials. This is the commercial that made Michael "His Airness" and had kids of all ages flocking for his shoes. The NBA might have banned these shoes from being used in games, but that didn't stop the kids from looking stylish in them. A great shoe and a great commercial.
Keep Reading

Chicago Bulls: Like this team?