Lukes Detailed Night Of Champions 2010 Predictions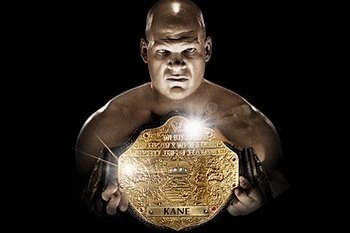 Copyright WWE
The quality of WWE PPV's in 2010 has been below average. Events such as Wrestlemania, Over The Limit, Fatal 4 Way, and Summerslam have been particularly bitter pills to swallow for a wrestling fan. That being said, Night Of Champions is now upon us, and it is an event which never seems to disappoint. Much like Summerslam was until this year.
But looking at the card alone, we have some very good potential matches lined up. With a few twists and turns and a bit of good booking this could be the PPV of the year thus far. That being said, we also have some matches that aren't so appealing. A certain unification match and an undecided tag team title match come to mind here.
So, on this first slide I will make my first prediction about the fate of the tag titles. Whoever WWE decides last minute Sunday night should face The Hart Dynasty will come up short. I mean, come on, how can you put together a tag team hours before the event and book them to win the titles?
It is my belief that tag teams should not be formed between singles competitors. The best tag teams over the years have consisted of wrestlers who trained to be tag team wrestlers at some point. The Hardy's, The Dudley's, Machine Gun's, Beer Money etc. This is the point WWE seem to miss. Tag Team wrestlers can become singles competitors but it very rarely happens the other way about.
Which is why I believe the opportunity should be given to The Dudebusters, who at least seem capable of putting on a good tag team contest. Tag team matches require double team moves, thats why TNA's tag division is superior to WWE's. Mind you, that is the only area TNA beat WWE in.
Anyway, onto the rest of the predictions...
Intercontinental Championship: Dolph Ziggler (c) Vs. Kofi Kingston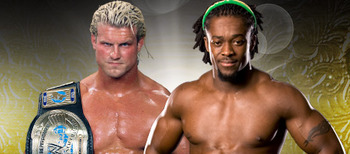 Copyright WWE
I know many people feel that these two have had too many matches and as a result the feud is becoming boring. I disagree. These two always put on a good match, and with the stipulation that Ziggler cannot be DQ'ed or counted out without losing the title, this could be match of the series.
I say its time WWE made Ziggler look like a credible champion, instead of having to rely on Vickie Guerrero week in week out. 'The Cougar' however, will more the likely still get involved some way. But I say let Dolph have the victory, at least, clean. He is a fantastic wrestler in his own right.
This match has started out the last few PPV's, so I have no reason to suggest it will not be the opening contest here.
Winner: Dolph Ziggler (Still Champion)
Big Show vs. CM Punk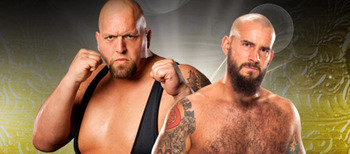 Copyright WWE
I, unlike others, have no problem having a non-title match at Night Of Champions. Why? Well firstly the moniker of the event is to have every title defended, which it will be anyway. Secondly, with the unification match there will be one less title and one less match on the card than usual anyway. Thirdly, it gets CM Punk on the card, and he is always worth watching.
I don't want to sound petty, but if CM Punk does not win this match then I will automatically fail the PPV in my eyes, no matter what happens elsewhere. CM Punk has been totally misused this year. He deserves to be in the main-event competing for the title as one of the top heels in WWE. But no, he has come off on the losing end of a feud with Rey Mysterio, in the process losing his hair which cost him a lot of momentum and credibility.
Now he is in a feud with the big show, and neither he nor any member of the SES has won a match against the giant yet , which is pitiful booking. Hopefully the SES will be over soon, so Punk can recreate the magic of 2009.
CM Punk needs to win here, by any means necessary, which I am sure he will resort to. Having him lose here would be the worst bit of booking of the year.
The match could be half decent to, with no Gallows or Mercury clogging things up. If Punk can make a match with the Big Show half decent it is an accomplishment.
Winner: CM Punk
Unification Lumberjill Match: Melina (c) Vs. Michelle McCool (c)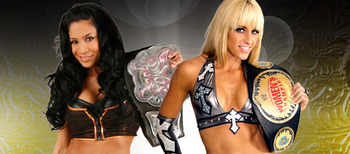 Copyright WWE
Why WWE? Why make this a lumberjill match? Here we have two of the best female wrestlers in the company who could put a bit of respect back in the divas division with a good 10-15 minute match. But no, that all seems to be a possibility of the past. The lumberjills are practically guaranteed to ruin this match.
Even if they do not get involved in the match (which they obviously will), they will devalue it simply by shouting and cheering at ringside. Its bad enough when the competitors scream, let alone 15 odd lumberjills. This match will have no continuity or hot spots simply because it will not be allowed to flow with continue disturbances from ring-side.
What moron at WWE creative thought this was a good idea? To add to the negatives, once the match is over and we have our new champion, there is bound to be a big diva punch up which there always is when lumberjills are involved. That will just finish off the misery for me.
As for who will win, well I cannot imagine co-unified Women's champions being allowed so I'll go with with Melina.
But hopefully after this match we will see an improvement in the divas. We should now see more variety in title matches in feuds which can only be a good thing. Lets face it, Smackdown only has 3 divas that can actually wrestle in LayCool and Beth Phoenix. I don't want to see a rematch between Kelly Kelly and LayCool again for a lifetime.
Winner: Melina (New unified divas champion)
p.s. Please keep the original Women's championship belt.
United States Championship: The Miz (c) Vs Daniel Bryan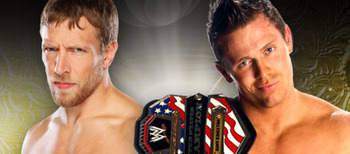 Copyright WWE
Many consider this to be match of the night in terms of importance and potential, which isn't surprising seen as the IWC worship the ground upon which Daniel Bryan walks.
In all honesty though, this could be a very good match. Unlike certain other people, I do not believe The Miz needs to be 'carried' to have a good match with anyone. His match against Cena recently proved how far he has come. I think that both men together could put in a potential show stealing effort.
Who will win? Probably Daniel Bryan, seen as he could use the US title more than Miz. Miz is also on course for a world title reign any time soon, so needs to drop the belt sooner or later. But the way Bryan has been booked so strong recently sort of makes my certainty of his win far less assured, which is a good thing, I like a match with an element of doubt. That is something that this PPV has in droves. I do not think there is any match which I am totally sure on at this PPV.
How will this end? I doubt Miz will lose by submission, so I see a roll up victory by Daniel Bryan after a spell of Miz dominance.
Winner: Daniel Bryan (New Champion)
World Heavyweight Championship: Kane (c) Vs. The Undertaker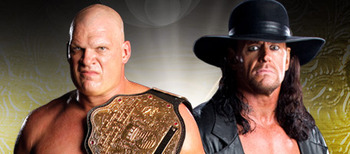 Copyright WWE
I notice the belt is back to being called world 'heavyweight' title now Mysterio has lost it and is out of the title picture.
This has been WWE's best feud so far this year, and this is the first meeting of these two since 2004. Kane has been booked this time around as the dominant brother, and everything about his match points to a Kane victory. He's even on the poster.
I think these two will put on a good match given the time and could steal the show themselves. This, being a no holds barred match, adds the possibility of weapon use to the match which creates a bit of variety in the card, which I feel previous PPV's have lacked.
I still think though that WWE may have a surprise in for us. I mean, whats the likelihood of Undertaker snapping in hells gate unexpectedly like he did against CM Punk? I think his chances of winning are small but certainly present.
I expect Kane to win here, setting up Hell In A Cell next month when Undertaker will get his revenge. How will the match end? I expect Kane to use under-handed tactics to get the win, merely because it gives Teddy Long an excuse to make the rematch in two weeks time.
Winner: Kane (Still Champion)
WWE Championship Six Pack Elimination Challenge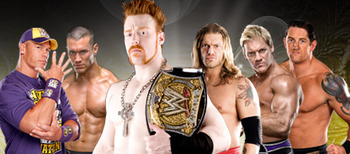 Copyright WWE
This is a very difficult match to predict. I have different views on who the winner should be depending on whether I look at it from my heart or my head. The prediction from my heart is the one I feel would be most beneficial to WWE. Why? Because that prediction would be Chris Jericho winning. Jericho has been on a big roll as of late in terms of highlighting some lackluster Raw's and producing great matches.
He has proved recently to me that he is the best all round performer in the business currently. I hope and prey that this is not his last match, he is too good and too much of a loss to WWE if he leaves. I think by giving him the win, Raw can potentially go back to how it was in late 2008, which was pretty damn good.
If I'm looking at it from my head I have to look at two men as contenders for winning this match. The first is Sheamus. A win here would do wonders for his credibility as a main event player. The second is Randy Orton. He has not held the title since last year, and some would say he deserves a decent reign with the belt.
It is rumoured that it will be Orton vs. Sheamus at Hell In A Cell next month, but cards are always subject to change and it need not be a title match.
Being a mathematician, I am going to do something I very rarely do. I am going to go with my ... heart.
I want Jericho to stay so badly and I feel he could do a better job than anyone at the moment as champion, and could create real must-see TV. I hate the idea of not seeing Jericho in WWE anymore, so I am installing my faith upon him to bring the gold home.
If he is to win, then I expect it will involve Cena and Barrett taking each other out and getting pinned in the process, Orton hitting RKO's on Edge and Sheamus, and Jericho blind-sighting Orton with the codebreaker.
Please stay Chris.
Winner: Chris Jericho (New Champion)
Keep Reading