Kevin Durant and the Oklahoma City Thunder Next in Line?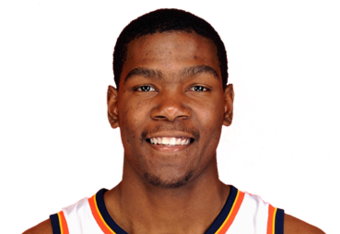 Damon Wayans: Uh... uh... no.

Now I'm not the one to pour water on hot oil, but the hyping of Oklahoma City Thunder has gotten out of hand. There have been blogs likening them to America's favorite professional team, Dallas Cowboys, which is somewhat more ostentatious than anything happening to do with substance.

Furthermore, I'm not sure if they're the NBA's Western conference heir once Kobe Bryant and Pau Gasol pull an ad-lib wave -- if to say they're done.

Just an opinion.

You see, about 1,000 miles west of the Ford Center -- which is downtown OKC -- is another young and promising team, led by last year's Rookie of the Year, Tyreke Evans, and that arguably has the top scoring big-man in waiting two years from now in Demarcus Cousins.

Of course!

So fans might want to calm down and backtrack their strong approval of a team that contrived 50 regular season wins, and pushed the world champions to six games in last year's western playoff first-round.

Okay, this is sort of a paradox -- because Thunder was spanking tails last season and, well, Sacramento Kings' own rendition of LeBron James was expecting a call from his team's P.R. department in query of May 18th (2010 NBA Draft Lottery).

But still.

I know, I know. You probably have admiring impressions about OKC's distinctive Point Guard Russel Westbrook-- a rare prototype at the 'one' nowadays, which otherwise can only be seen in Chicago, D.C. and Utah; or you may have an obsession pressing rewind on your DVR during live Thunder games to watch Kevin Durant do his patented shrug at the free-throw line.

That's all fine and dandy. Enjoy it. After all, it is "hip."

However, after an offseason of overhaul for the Sacramento Kings, they've finally punched their ticket for postseason action to-a-t. Their new nastiness inside, some swagger on the perimeter, and a head coach in Paul Westphal are basic premises to why.

In stating such, you may not like it but their future is bright, if not the brightest of the two.

Like me, we've all caught the latter of Mike Bibby, Vlade Divac and Chris Webber sharing the court, and it'd be nice to get back to that. But, in whole, that's not exactly why the recent urge of sudden-Kings-dom has took hold of me. I just saw something few haven't gave much credence to last season (being a Bulls fan).

Remember when the buzzer sounded after Tyreke Evans staked claimed in an ensuing 35-point resurgance to a Chicago Bulls team last December?

Epic, right?

Well, I just came across something of noting, something of unprecedence. He, and not so much Durant, wielded a team off high usage on the ball, and, despite a 20 percent three-point audition in two meetings against the Bulls, a highly rank defensive team in their own right, he scored and assisted and rebounded versus them and the other 29 teams like no rookie in recent memory -- unless you want to count LeBron James.

You couple that with Donte Greene, a reserve in Carl Landry, Jason Thompson (possibly reserve), Samuel Dalembert, Hasaan Whiteside (another eccentric Center), Beno Udrih amd Omri Casspi -- even Sam Presti(giacomo) will excuse himself from what was thought to be a masterful composition in OKC, for a legitimate 10-man rotation that is liable to create a litany of discouraging headlines dead against OKC faithfuls and mister Durant any day now.

More disclaimers (than stats):

2007-08 - Kevin Durant - Rookie

Steals - 1.0
Assists - 2.8
Rebounds - 4.4
Points - 20.3
80Games

2009-10 - Tyreke Evans - Rookie

Steals - 1.5
Assists - 5.8
Rebounds - 5.3
Points - 20.1
72Games

This article is
What is the duplicate article?
Why is this article offensive?
Where is this article plagiarized from?
Why is this article poorly edited?

Oklahoma City Thunder: Like this team?