The Hottest Dance Team Videos in Sports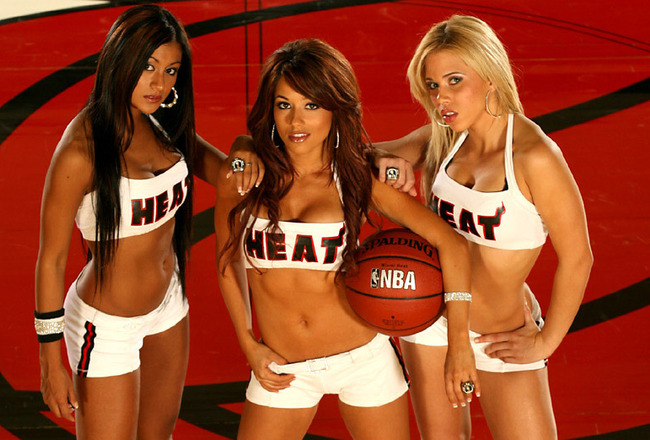 Sure, we all attend sporting events for to cheer on our favorite teams, but sometimes we need a little extra entertainment.
That's where the dance team comes in.
Whether you're watching an NFL game or college basketball, these lovely ladies make sitting through halftime bearable.
Where are the best dancers? Where are the most beautiful women?
Here are the top ten hottest dance team videos in sports.
10. Sacramento Kings
The Sacramento Kings Dance Team has been criticized in the past for being "too sexy."
You will hear no objections from us, ladies!
9. Nuggets Girls
The Denver Nuggets Girls do a little striptease for us in this video.
Don't get too excited, guys. There are kids in the stands!
8. Laker Girls
No matter how much we may hate the Lakers, we all find it difficult to hate the Laker Girls.
The Laker Girls are one of the most recognizable dance teams in the NBA...
And we can see why.
7. Viper Vixens
The Viper Vixens are probably the only reason you'd attend an Alabama Vipers game.
6. Ohio University
I had to include my Alma mater on this list.
O-U!
Oh Yeah!
5. ASU
The best thing about ASU's dance team is...
There are so many of them!
No matter where you look in this video, you'll see a beautiful dancer.
This is turning into a very good day!
4. UNLV
The UNLV Dance Team represents Las Vegas in this routine.
And the short shorts don't hurt either.
3. Phoenix Suns
The Phoenix Suns Dancers bring some attitude in this routine.
Yes Ma'am!
2. Miami Heat
The Heat Dancers are known for being the sexiest in the NBA.
We expect nothing less from Miami.
1. Dallas Cowboys
Now, these ladies are Dallas Cowboys Cheerleaders. Not dancers.
But we don't see any pom-poms, and this video is the winner.
Hands down.
Keep Reading