Bundesliga Vs. Premier League: Which League Has the Best Fans and Why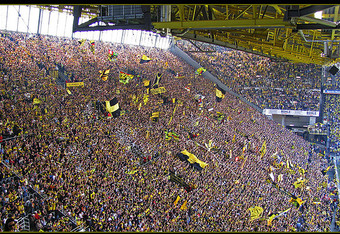 Südtribüne: Signal Iduna Park, Borussia Dortmund

Football Fans: A group of the noisiest, brightest, most exuberant people—some of whom appear at their teams' stadiums every weekend, and travel with their teams every European night, providing support through thick and thin, through wins and losses.
Fans can change the sway of the game. Their noise can be that little difference between a draw and a win.
The voices of fans can jolt the hierarchy of a club, bringing in the winds of change if the club is not going in a right direction. At the same time, their criticism of any particular player can push that player to be at his best.
The sheer power of fans has been behind the incredible stories of some of the most famous "stands" across the football planet.
These supporters can become the kindest and most hospitable of God's angels if you are supporting the visiting team—or they can turn in to menacing bullies, lurking in stands and prowling just around you.
A mere group of humans, but with mighty powers in their hands and voice.
Premier League fans are known for their commitment and ferocity—but as a Bundesliga writer, I think that Bundesliga fans are even better.
Attendance:
Statistics and figures provide an empirical method of demonstrating arguments—and can bring some interesting points to a discussion.
The following set shows the average attendance of these two leagues for the last season:
League Season Games Attendance Total
EPL 2008/09 380* 35,600 13, 527, 815**
Bundesliga 2008/09 306* 42,600 13, 024, 890**
*Bundesliga consists of 18 teams, and the EPL involves 20, which explains the difference in game totals.
**Due to the unequal number of games played, the the difference between the two leagues' total attendances is surprising.
If the figures of premierleague.com are to be believed, the average EPL attendance stands at 32691; however, if you follow the soccernet.espn.go.com stats you will end up with 34,150. I did my calculations generously and gave EPL an approximate average of 35,600.
Bundesliga is second only to the NFL in average attendance for a professional sporting league. The NFL tops the chart with mammoth average attendance of approximately 68,250.
The average attendance in Bundesliga is sure to improve even further this season as Kaiserslautern and St. Pauli make a return to Bundesliga through promotions.
In case you're wondering, La Liga held an average attendance of 29,000, despite the monster Camp Nou stadium which can hold 90,000 spectators. However in Spain you will find many clubs like Villarreal, whose stadiums can accommodate 35,000 football fans even though the population of the town itself is no more than 25,000.
Serie A drew an average attendance of 25,300 last season, and French Ligue 1 attracted an average attendance of approximately 20,000 for last season.
This list, "Average attendances of European Football Clubs for season 2008-2009," shows nine German clubs and three English clubs in the top twenty.
These facts speak to the amount of passion by Bundesliga fans, though one might say that the size of stadium does matter. Obviously, one may argue that since neither Anfield nor Stamford Bridge can hold more than 45000 spectators, the EPL would be significantly higher if those stadiums were the size of Signal Iduna Park.
But every match in Bundesliga is almost fully-packed, be it Bayern Munich or Hoffenheim, which is not the case in Premier League. The percentage of empty seats was much higher in the EPL compared to Bundesliga.
Why are Bundesliga fans so fervent about their teams?
Low-Cost Tickets with Maximum Entertainment
Die-hard supporters show their fandom by wearing their team shirt, buying wall posters of their club legends, downloading documentaries via the Internet, and buying the season tickets—or at least attending a few important games per season.
But English Premier League fans have to pay some extravagant amounts of money to buy season tickets to their favourite teams.
Arsenal tops the list, charging a staggering £1825 for the season tickets. The cheapest season tickets in the English Premier League are for Wigan Athletic, at £295.
The prices at which English clubs sell their season tickets are shown below:
Arsenal - £1,825
Tottenham Hotspur - £1,695
Chelsea - £1,210
Ipswich Town - £1,001 (Managed by Mighty Roy Keane in Championship)
Newcastle United - £975
Manchester United - £931
West Ham - £850
Fulham - £799
Liverpool - £785
Birmingham - £638
Manchester City - £632
No surprise, there are lot of London-based clubs leading the most expensive ticket queue.
If you are not a season-ticket holder but want to occasionally watch a match at the stadium, the average ticket price is £37.40. You will be required to pay slightly more if the match happens to be a derby or some important clash.
Manchester United's Old Trafford records the highest average attendance in EPL with 75,043. Watching a match at the best stand there, i.e. North/South Stand Centre, will cost you £49. The lowest ticket price leaves you at East Lower Stand at the rate of £27.
Manchester United recorded in a poll that 59% of supporters who had season tickets last season might not renew the season tickets for 2010/11 season, and 15% voted that they might give up going to Old Trafford entirely.
Signal Iduna Park, the home of Borussia Dortmund, has the highest average attendance in Bundesliga per season, around 70,000. Their last season's average attendance was recorded at 73,097.
What you pay to have season tickets for Signal Iduna Park? £150!
While Manchester United were short of season-ticket holders at the start of this season, Borussia Dortmund sold a record 51,200 season tickets. They continually broken their own record for four years running—they sold 50,000 season tickets last season.
Schalke 04 was second with about 43,000 average season-ticket holders, followed by Bayern Munich, who sold approximately 37,000 season tickets.
Watching a game at the Kop End at Liverpool, the most sacred stand in football history, will cost you £43.
Südtribüne, the "Holy Grail" of football stands, which can hold up 30000 people for 90 minutes, will cost you £11.
50+1 Rule Remains
Football is about the fans. The game is unimaginable without them. No game has any meaning without their support, and any involvement in a game is golden.
"50+1" is a rule in Bundesliga. To be honest, it is the secret behind the success of this league in every aspect. Economic balance, profitability, solvency of the clubs, and the dedicated support of the fans merge in this rule.
It is a testimony which enables Bundesliga to claim the title of "the league of harmony".
The rule ensures that, within strict rules, the club members should own 50 percent plus one share of voting rights, with a sensible wage-structure and cheap tickets at all levels. The club should also have few debt issues and a bright youth system with an emphasis on home-grown talent. That last rule is important for feeding the national team in the international stages.
The remaining 49 percent is made available to potential investors. This means that a bidder can own a maximum of 49% of shares in a club. This situation is not an ideal one for some Abrahimovics, Sheikhs, and Glazers, who own 100% of some clubs in the EPL, but on the other hand it ensures one thing for Bundesliga: no club will go in to a mountain of debt, and the health of the club will always be preserved for the foreseeable future.
That doesn't mean that owning 49% can't bring you big profits. Hoffenheim's major shares holder Dietmar Hopp is a software tycoon who has poured millions into the club to make the team competitive—yet he has made a profit at the end of every season.
Only two teams, Bayer Leverkusen and Wolfsberg, don't work under the "50+1" rule, because those two clubs were created under two companies and have a long-standing affiliation with them—Bayer Pharmaceuticals and Volkswagen, respectively.
Recently Matin Kind proposed changing the "50+1," rule since he wants to invest heavily in the club Hannover 96 in order to make it more competitive.
But he was slammed by all the parties involved. Thirty-two clubs voted against it, three clubs abstained from voting, and just one club—Hannover itself—voted for the proposal.
What proved to be the driving force behind DFL's decision to go against the proposal was the 100,000 signatures of fans from all the clubs, unanimously making a firm stand on a single point: "50+1 Must Remain!"
Could the English Premier League's governing body, FA, and its pivotal figure Scudamore, decide something purely on the strength of fans' signatures? I don't think so—and I'm ready to place my bottom dollar on that.
Breath-Taking Atmospheres in Huge Stadiums
Football games are all about creating a breath-taking atmosphere, which is impossible without fervent supporters.
Germany showers itself in a colourful display every weekend when football matches approach. The beating of drums, the friendly banter, the flags and banners and crates of beer—the thousands of swaying souls all swell one place to create an atmosphere that will only continue to grow with future generations.
If you are an outsider, you will be amazed when the traffic inspectors welcome you to the cities and tell you that, if you are coming for the football match, "for you, travel is free!"
Because of the low-cost tickets and low-fare charges, it's no wonder that people from outside Germany—including many from England—spend their weekends there. It's the experience of a lifetime that lives forever tattooed to the walls of the mind.
Bundesliga is the best-supported, friendliest league in all Europe—if not the world—because it caters primarily to fans.
"In Germany, every game has the feel of a league cup final," said the man on the road to redemption, Steve McClaren, who once led his Middlesbrough side to League Cup victory at Millennium Stadium. He is currently managing VFL Wolfsberg in Bundesliga, and was left stunned at the breathtaking view of the famous "Yellow Wall" at Signal Iduna Park when his side made a trip there few weeks ago.
This article was first published on Football Stryder blog. You can also read and comment there, here you can promote your Bleacher Report profile, while there you can promote your blog via comments if any.
This article is
What is the duplicate article?
Why is this article offensive?
Where is this article plagiarized from?
Why is this article poorly edited?