San Francisco 49ers' Week 3 Opponent: Kansas City Chiefs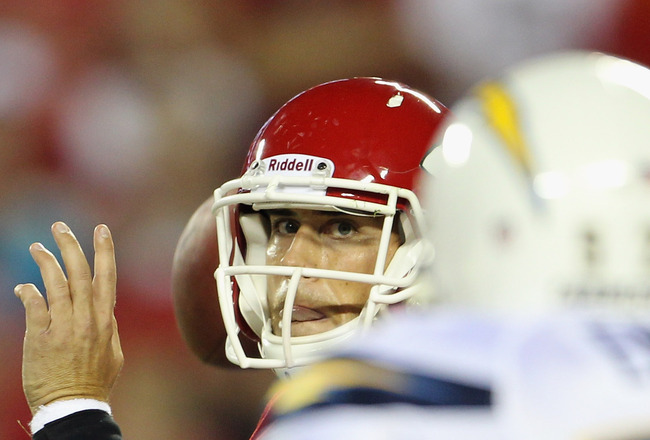 Jamie Squire/Getty Images
The San Francisco 49ers travel to Kansas city to face the Chiefs in their week three matchup this weekend. The boys of Arrowhead didn't exactly light up the NFL in 2009, but these fellas should not be taken lightly this year. Not at all.
Remember how San Francisco was supposed to roll into Seattle and demolish the Seahawks in week one? Well the Kansas City vs San Diego game was basically the Charger's version of the 49ers week-one fiasco.
The 49ers may have showed their true colors against the Saints Monday Night, but the result was still a loss. Moving forward this week, they cannot be caught looking back.
Add that the 49ers have traditionally not done well at Arrowhead and, well, you get the point. The Chiefs are 2-0; San Francisco is 0-2. I can't repeat that enough.
Coaching—Todd Haley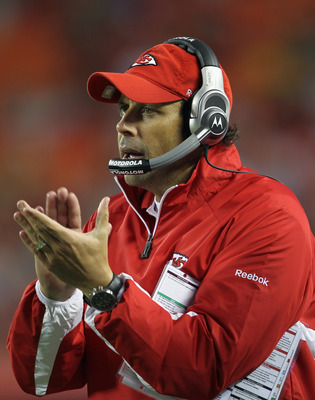 Jamie Squire/Getty Images
Kansas City has some good talent on their coaching staff. Todd Haley employs Charlie Weis as his offensive coordinator and Romeo Crennel for the defense.
Wies and Crennel have fairly impressive résumés, and ties to the Patriots dynasty of last decade. Haley has worked in several systems that have turned teams around, and it appears he's doing just that with the Chiefs.
What's his style? The NFL is still figuring that one out, but his style this year is to start 2-0.
Strategies: Singletary and company need to extinguish the stigma of being out-coached on a weekly basis. Specifically, they must be frugal with timeouts to preserve challenges.
Passing—Matt Cassel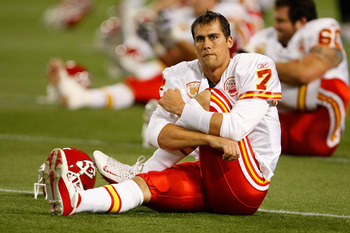 Scott Boehm/Getty Images
Matt Cassel took the road less traveled to become a starting NFL quarterback. It wasn't until 2008 that anybody outside New England knew who he was, and even then it was rare.
There's loads of potential in the young man, although questions about his durability have been known to pop up.
At 6-4 and 230 pounds, he's built to be the big arm with field vision, not a particularly squirrelly scrambler.
Strategy? Big target, so hit him.
Receiving—Chris Chambers, Dwayne Bowe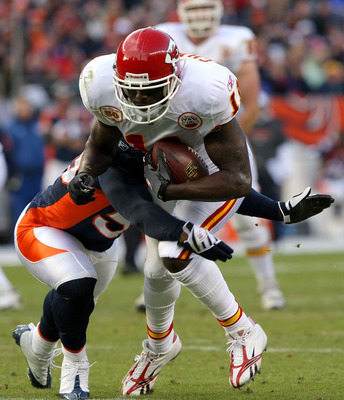 Doug Pensinger/Getty Images
Receiving isn't Kansas City's bread and butter, but it's nothing to shrug off. They're not too far off from the 49ers when it comes to running to set up the pass.
Chris Chambers is a big talent on a good frame. At 5'11, and 210 pounds, he's not the easiest to tackle.
Dwayne Bowe is even bigger at 6'2 and 220 pounds. He's a worrisome piece of their offense as well.
Proposed strategy? Don't jump routes without a blitz.
More Recieving—Leonard Pope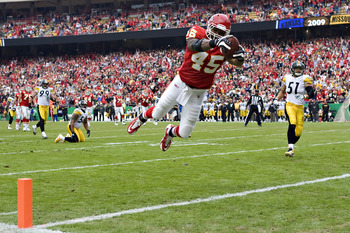 Wesley Hitt/Getty Images
The big tight end doesn't have impressive numbers over his career. 68 catches for 650 yards and 6 touchdowns in four years doesn't impress much. 6'8 and 265 pounds however, shows a different side of things. Jump-ball threats like Pope always make a defense nervous near the goal line.
Strategy? Don't stress, but don't ignore him.
Running—Thomas Jones, Jamaal Charles
Matt Sullivan/Getty Images
The Chief's running game seems much improved over last year with the addition of Thomas Jones. Throw in the elusive Jamaal Charles and you've got a serious one-two-punch combination in the backfield.
Charles had a 1,000-yards performance a year ago, where Jones has had five such season in a row with New York and Chicago. Between the two of them, there is definite potential for a balanced, ball-control possession game from their offense.
Strategy? This one is tricky. It's as if the 49ers are playing a doppelgänger who happens to be 2-0 instead of 0-2. Luckily, the 49ers have one of the league's premier run defenses, and a man named Patrick Willis. Stopping the run is always paramount, but not at the expense of giving up the big pass.
Basically they just need to do what they do, and put up a roadblock against the run early, so that the Chief's pass does not get to feed off their runs.
More Recieving And Running—Dexter McCluster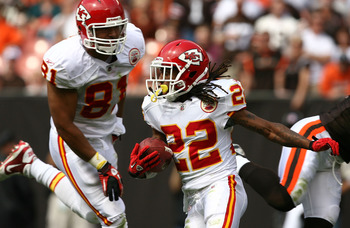 Matt Sullivan/Getty Images
Dexter McCluster is an x-factor here. At 5-8, 170 pounds, he's one of those small guys who gives you no target to hit. The 49ers mist be sure to wrap him up if they're going to keep him contained too.
Strategy? They'll know when McCluster is in the game, so put a vicious defensive back on him when he is.
Line—From Casey Wiegmann To Ryan O'Callaghan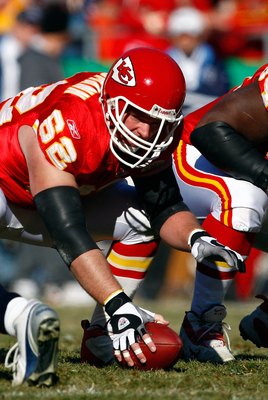 Jamie Squire/Getty Images
The average weight of a listed starting Kansas City lineman is 308 pounds. It would be smaller if it wasn't for Ryan O'Callaghan, who stands6'7 and weighs in at 330 pounds. O'Callaghan is listed as questionable with a groin injury, however.
Casey Wiegmann provides veteran leadership at center with 15 years of NFL experience. A crafty vet like Wiegman will be adept at recognizing and calling out 49ers blitzes, so they'll need to find a way to get him out of his comfort zone if they're going to get at Matt Cassel.
Possible strategy: give them a lot of looks in the middle, much like they did against Brees (only execute better.)
Defense—A 3-4 Doppelgänger?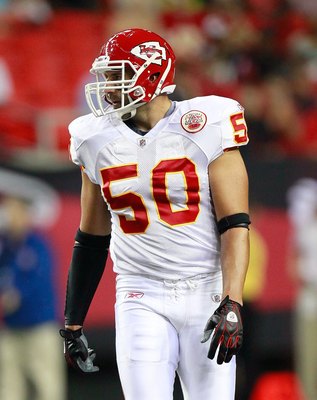 Kevin C. Cox/Getty Images
Mike Vrabel is no sprung chicken, but his 13 years of NFT experience are surely an asset to Kansas City. Tack on rookie Eric Berry and you've got an interesting and growing defense.
The Chiefs run a is a 3-4 defense, and it's the first true 3-4 the 49ers have seen this year. And here's that word again: doppelgänger. Their linebacking pass rush is reminiscent of San Francisco's, in the sence that there is no alpha dog to neuter, so the rush could come from just about anywhere.
Maybe Tamba Hali is coming in hot, maybe Derrick Johnson wants a piece of Alex Smith. Keep your head on a swivel out there kid!
Strategy suggestions? Don't get predictable, don't get complacent. Do what they do, but do it better. Be fundamentally better. Pick up blitzes and take screens and swings when need be.
Kicking—So Close, No Matter How Far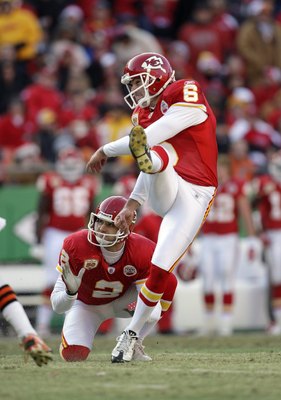 Jamie Squire/Getty Images
kicker Ryan Succop is in his second year. Last year he made 25 of 29 field goals with a long of 53. This guy is a totally mundane detail until you consider the last game. It's called football, and yes, every once in a while the prolate spheroid is kicked through goalposts for three points. Those three points can often be the difference in a game.
Strategy? The 49ers came within half-a-hand of forcing overtime Monday Night, so if they can keep up the intensity, they might be able to rattle this guy a little—block one, or force a miss.
Arrowhead Stadium—Bringing The Noise Again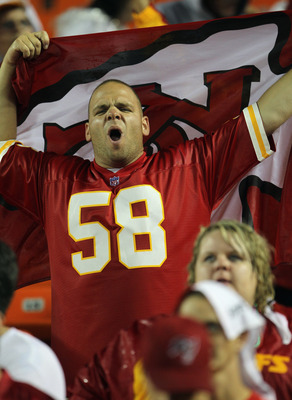 Jamie Squire/Getty Images
Seattle was loud, and that didn't help anything. Arrowhead will also be a loud and hostile environment, not exactly conducive to a visiting o-line functioning like Voltron.
"The Red Sea" has a capacity of over 81,000, so you know there's gonna be some energy. And nothing brings them out of the woodwork like a 2-0 start.
Strategy? No suggestions here. This game will be a measuring stick to see if they've fixed the noise related issues we saw in Seattle.
C'mon Man?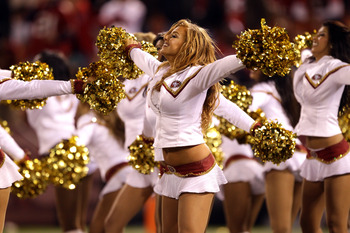 Ezra Shaw/Getty Images
We have one team attempting to become 3-0, and another desperately trying to dodge an 0-3 start. The personalities of these teams are similar, but they're riding waves of very different energies right now.
Somehow, the 49ers are a 2.5 point favorites going into a rowdy Arrowhead stadium against a 2-0 team. I don't get it.
To be looking at games as must-win so early in the season is not a good sign (not at all) but it might just be what they need to hot-wire their year.
Otherwise, when things look bad for the team, and your head wears heavy on your neck, just remember the cheerleaders. It helps. It really does.
Keep Reading

San Francisco 49ers: Like this team?