Week One Edition: NFL Glitz and Glamour The Good, Bad and Ugly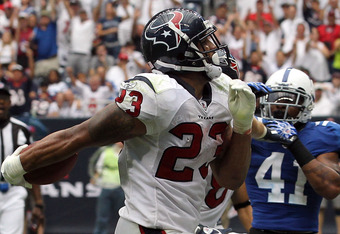 Arian Foster looked like a star in Week One
Ronald Martinez/Getty Images
This just in: The Rant has returned to Bleacher Report.
After 10 months of writing hibernation, better known as writers block, The Rant has returned to bleacher report rejuvenated like Charles Woodson on the Packers.
After a wild week one (doesn't it feel like we say this year in and year out?) the NFL landscape has changed yet again. Last season the Colts started 14-0 and were 15-1 lifetime against the Houston Texans, oops. Now the Texans are 1-0 and the Colts are 0-1.
Matthew Staffords gets hurt in week one and Shaun Hill leads the Lions to victory...or not? Megatron lets his one hand snag hit the ground and the Lions lose; is anyone really surprised?
Before I spoil anything else, LETS GET INTO IT!
THE GOOD
Mario Williams, Defensive End, Houston Texans- If anyone was watching this game they saw Super Mario take advantage of the Colts offense line; Williams finished with 4 tackles, one sack and 5 QB Hits. Williams and the rest of the Texans defensive line hit Manning early and often finishing with 10 QB hits. If week one was a sign of things to come for Williams, we will see the First team All-Pro Williams from 2007 & 2008.
Arian Foster, running back, THE RUNNING BACK Y'ALL, Houston Texans- 33 carries for 231 yards and 3 touchdowns. I think the stat line says it all. The Rants Fantasy Advice: TRADE FOSTER NOW! HIS STOCK WILL NEVER BE HIGHER! YOU MIGHT EVEN BE ABLE TO GET MICHAEL TURNER OR RAY RICE OUT OF IT.
The Kansas City Chiefs Defense and Special Teams- The Chiefs under defensive coordinator Romeo Crennel held Phillip Rivers and his high-powered offense to 14 points! Granted the Chargers are without Vincent Jackson but Legedu Naanee stepped up to the plate with the Chiefs hounding Antonio Gates. Electrifying rookie Dexter McCluster made fans think they were watching Dante Hall (Highlights incase you forgot). Chiefs fans cant hope but have some faith that General Manager Scott Pioli is finally getting things into gear.
Wes Welker, Wide Receiver, New England Patriots- You had to know this one was coming. Welker tears his knee into shreds in the last game of the 2009 season and is on the field scoring not one but two touchdowns in week one. By the way, Welker's went 85+ receptions since his last touchdown. Welker looked great out there along with the rest of the Patriots pass-happy offense. Expect this to be Welkers year.
Anquan Boldin, Wide Receiver, Baltimore Ravens- You cant help but love the way the Ravens are using Boldin, who has been in the shadow of Larry Fitzgerald the last few years. Boldin was targeted 10 times, catching 7 of those passes for 110 yards in the game against the Jets. More importantly, Boldin gave Joe Flacco options with Darrell Revis only able to cover one of the trio of wide receiver Baltimore employs. Boldin drew pass interference calls all over the Jets secondary and may be exactly what the Ravens needed on offense to get to the Super Bowl.
Michael Vick, Quarterback, Philadelphia Eagles- Lets hope we dont have a quarterback controversy on our hands. Kevin Kolb stalled throughout preseason and all throughout this game before getting knocked out with a concussion. Michael Vick immediately energized this team and gave them the spark they needed. If the Eagles go 2-0 and Vick looks like a better version of Week One, we will have a quarterback problem yet again in Philadelphia.
THE BAD
Antonio Cromartie, Cornerback, New York Jets- Cromartie is trying to receive as many pass interference calls this season as he has children: 27. Cromartie would be considered ugly if it wasnt for a nice interception he returned 66 yards. Dont forget his pal Revis who made a beautiful block on a Raven to spring Cromartie.
Mike Smith, Coach, Atlanta Falcons- In an otherwise great game by the Falcons, Smith raced down the sidelines to yell at a referee and bent over in pain as he looked like he tore a hamstring. As the ESPN crew would say, COMON MAN!
THE UGLY
Shonn Greene, Running back, New York Jets- I would like to put the whole Jets offense on this list but we will give Sanchez a few more games before we jump on his back. In a battle against one of the best run defenses in football, Greene failed. Greene finished with 5 carries for 18 yards with 8 yards coming on one of those carries. Not only was Greene not effective running the ball but he fumbled twice and had a key drop. Some new guy who goes by L.T. finished with 11 carries for 62 yards; maybe he should carry the load until Greene is fully ready. Expect Greene to bounce back sooner rather than later.
The San Francisco 49ers- I dont think anyone saw this coming as it was The Rants upset of the week. The Niners had plenty of hype going into the season and expected to take this one from the Seahawks easily but new coach Pete Carroll and company thought otherwise. The Niners failed to put the ball in the endzone early and the run game was never established. Alex Smith looked like the same Alex Smith everyone has been waiting to finally get over the hump. Michael Crabtree finished with 2 catches for 12 yards on eight targets; I dont think thats what the Niners were expecting for their star wide receiver. Patrick Willis, arguably the best linebacker in football, cant hold this defense up by himself. This could be the start of trouble....
And finally THE UGLIEST OF THEM ALL
The award of UGLY BETTY goes to...wait for it...surprise, surprise...
The Dallas Cowboys final play of the first half and second half. This first half play call may be one of the dumbest things have ever seen in my entire life. Okay, maybe that is a little extreme but I might have a strong case of this one. The Cowboys had to go an eternity to the endzone and with the score 3-0 in Washington, why not just knee the ball and get out of the situation. Instead, Dallas decides to throw the ball and the end result is 6 points the other way and the momentum shift of the game. Fans may want to blame Choice on this one but there are plenty of people at fault for this one. Additionally, the most hated man in Dallas, I mean, Alex Barron attempted either his best WWF move or was just trying to hug it out on the last play of the game. Holding Cowboys, Roy Williams touchdown nullified. Are the Cowboys Super Bowl pretenders or contenders? With all that talent, it remains to be seen.
Thats it for this weeks The Good, The Bad and The Ugly.
This article is
What is the duplicate article?
Why is this article offensive?
Where is this article plagiarized from?
Why is this article poorly edited?

Dallas Cowboys: Like this team?