Nike Pro Combat and the Worst College Football Uniforms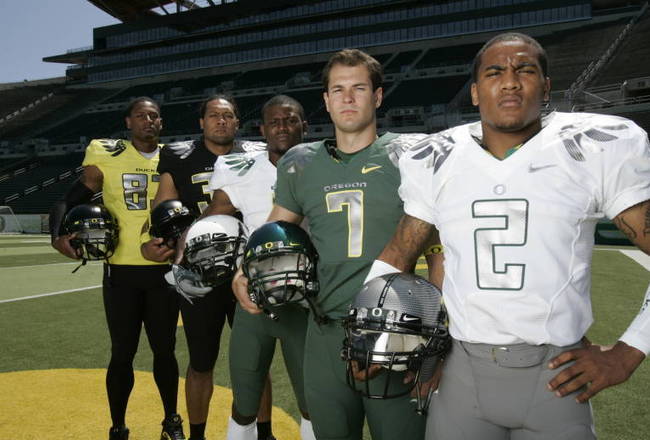 Since 2008, Nike has been producing uniforms as part of their Nike Pro Combat series for select teams in the NCAA. The uniforms were constructed to make the players faster, stronger, and better at their position using several different technologies such as Titanium D-Ring belts, Dri-Fit jerseys, Dri-Fit pants, and Zero Space Fit technology.
On paper, this was a great idea. However, something happened in the designing of these uniforms that made the idea seem stupid. Not all of these Pro Combat uniforms are terrible. Some of them are actually pretty cool. But because the majority of these designs stink, they have brought to our attention the clothes our favorite teams put on every Saturday.
A lot of the uniforms you are about to see have been around for awhile but thanks to Nike, they have taken more notice by the fans. Before the Pro Combat series, we all knew that Toledo and Iowa State looked terrible but we never truly cared to research the rest of the nation and take a thorough look until now. This is a list of the worse college football uniforms in the NCAA.
Enjoy!
25. LSU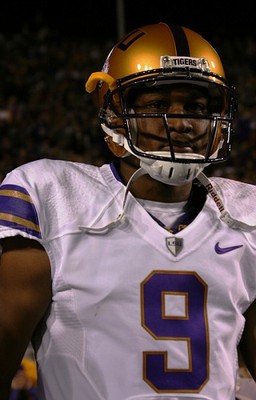 Back in November of 2009 in a game against SEC rival Arkansas, LSU stormed the field looking a little different. I guess the word little is an understatement, they looked bad. And not the version of the word bad that means awesome, they looked disgusting to Tiger fans from across the nation.
It is one thing to make a new uniform style but it is another to change the colors too. What is the purpose of making purple and gold so dark that you want to throw up when you look at it?
I am just glad that we will never have to look at those uniforms in Baton Rouge anymore. One time is one time too many for me.
24. Air Force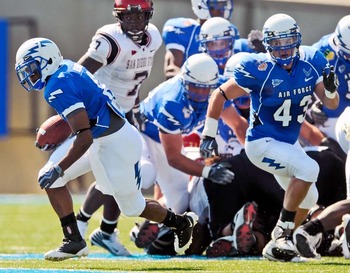 Can someone explain the lightning bolt? Does it make any sense to use a bolt of lightning instead of a falcon?
If someone can explain that one, I will listen but I have no reason to believe they even need that bolt. Regardless, the Air Force has one of the ugliest modernized uniforms in the nation. The helmet is white with a blue bolt and the jersey is the exact opposite while the pants are the same as the helmet.
What? Who made that decision?
23. Akron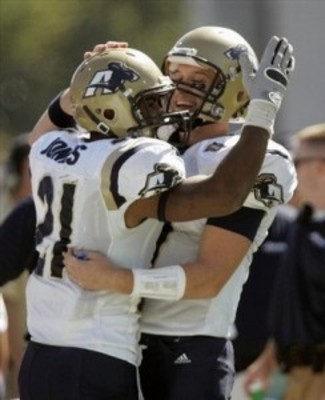 What is a zip?
I am glad you ask. A zip is the name of Akron's mascot which just so happens to be a female Kangaroo named Zippy.
Is there much else that needs to be said here? Or should I just let this one go and move on?
22. Missouri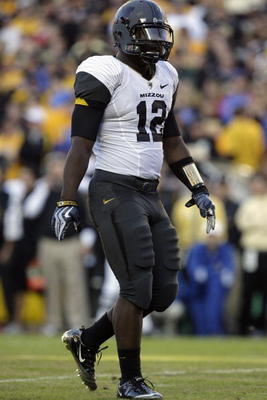 Wow!
That is what I say about this uniform designed by, you guessed it, Nike. I think it needs to be mentioned but putting a black logo on a dark grey helmet is not a good idea. It isn't even an idea, it is more like a drunken bet someone made with a buddy.
21. Bowling Green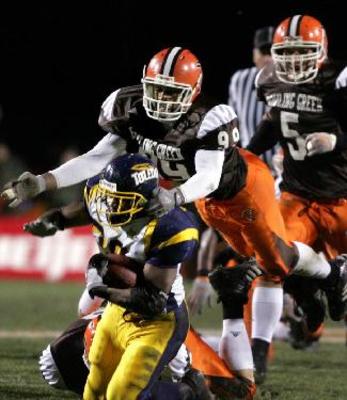 Thanks to Bowling Green, the Cleveland Browns look good. The decision to make your team colors brown and orange was terrible. And when you have the word green in your title, most people imagine something in that color, not the complete opposite.
The orange helmets are uglier than the nasty gold ones LSU wore last year. I guess someone doesn't really care what they look like in Bowling Green. I wouldn't let my worse enemy wear something like that to a Halloween party.
20. West Virginia
This is a very similar design to the Missouri uniform from 2009. The main difference is that this one looks worse because West Virginia doesn't look good in black.
Their school colors are blue and yellow. All Nike did was replace the blue with black or dark grey. How is that good looking?
Also, I could care less about shoes but when you look like Michael Johnson in 1996 sporting the gold shoes, you look stupid. Even he knows not to wear those ever again.
19. San Jose State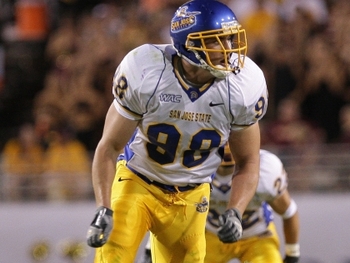 If you think this is bad, just wait until you see the next slide.
18. Toledo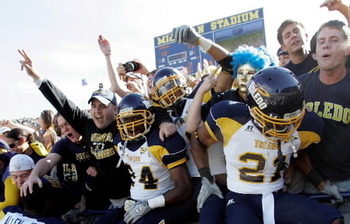 Toledo has found a way to make themselves look even worse than San Jose State. Now that is something I did not think was possible but they have figured it out.
I don't know if it is the jersey of a thousand colors or just the logo but something has to change in order for their uniforms to look normal.
17. Oregon State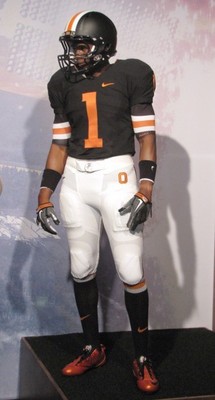 How did Nike outdo themselves for this one? Go ahead, take a few seconds to think of it and get back to me.
In the meantime, I will let you in on a little secret. The helmet is bigger than the shoulder pads. Look at that thing. I though these Pro Combat were suppose to be smaller?
Whatever they took away from the uniforms, they made up for it in the headwear.
16. Oklahoma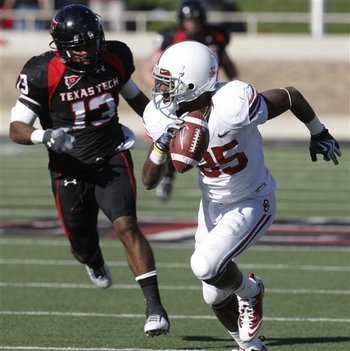 White on white on white. That is a great idea except for the fact that it sucks. That is never going to make sense to anyone except for Larry's school of the blind.
I watched the game where the wore those uniforms and I was hoping it would rain just to see how disgusting it would look once the mud and grass started to get everywhere.
In the words of Keyshawn Johnson, "Come on man!"
15. BYU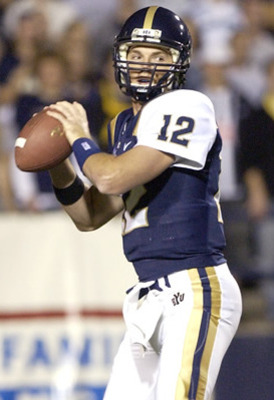 At what point is it OK to take a bad uniform and make it even worse? That is exactly what the BYU athletic department figured out when they developed this tragedy.
How do you make a school who's colors are blue and white and turn it into twelve shades of blue? The helmet is not even the same color as the jersey! What is going on in Utah these days?
14. Wyoming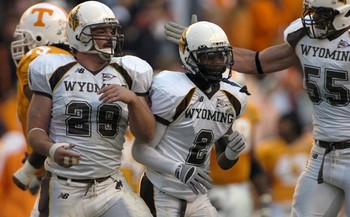 Until this season, I forgot about the Cowboys from Wyoming. These guys play Texas, Boise State, TCU, and Utah. It is one thing to lose a game, it is another to look like they do while getting beat down.
Just like Oklahoma, using the same color across the board is never, and I mean never, a good idea.
Is that brown or maroon? What about the logo on the helmet, is that a yellow background? What happened here?
13. Tulsa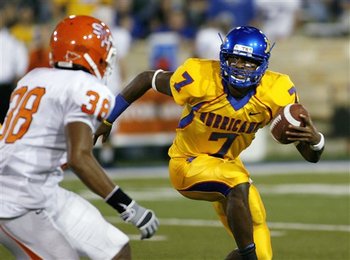 Like I am going to let Tulsa off easy for this one. I guess the guy in charge of designing these uniforms retired the previous year.
Seriously? Do they make these designs in a basement with no lights? I have seen WNBA teams with better uniforms and they use sponsors on their uniforms now.
12. Boise State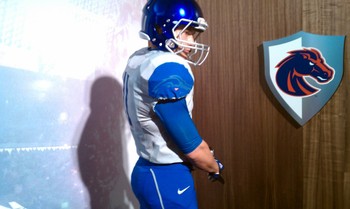 How can a team that plays football on a blue field in Idaho and have one of the worse uniforms to begin with get any worse?
It is simple, ask Nike. This design was made for one reason, to make Boise State look terrible on national television. I can not think of any other reason for this horrific uniform. Take a look at it and compare it to the regular uniforms. Now tell me this one makes any sense.
It is one thing for Nike to fool around with the colors and look but it is another to remove the logo from one side of the helmet completely only to replace the other side with a different and more obnoxious looking Bronco. Thanks Nike.
11. Florida State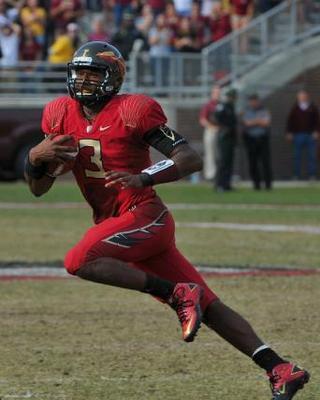 If you were looking for one of the reasons Bobby Bowden retired, I am pretty certain that this was high on the list. If it wasn't than I am sure he hated it as much as the rest of us did.
When Nike said it would be completely red, they weren't kidding. I fell as if Moses is going to show up at any minute. (Hint: He parted the RED sea.)
10. Iowa State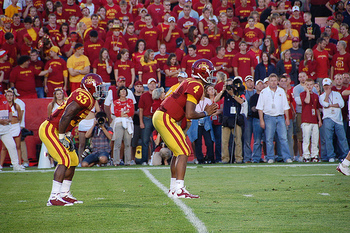 At first glance this looks more like USC than Iowa State. The difference is that, oh wait, there is no difference aside from the helmet. This is a clone of the Trojans uniforms. The only way to know you are watching the Cyclones instead of USC is usually because the Trojans are winning games.
I guess you are wondering how they make the list and not USC if they share the same uniforms. That is an easy answer, the logo. The ugly thing on the helmet has been changed throughout the years but it has never looked good. They should probably just remove it completely from the helmet and go with a yellow look. It can't be any worse that what we see now.
9. Ohio State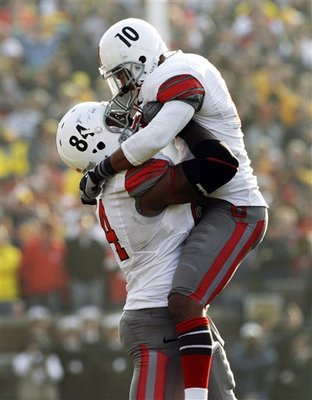 Nike calls this uniform "Earned" in honor of the 1954 National Championship Buckeye team. On the Pro Combat website it says, "The Buckeyes know that victory doesn't come free—it has to be earned."
Can anyone say duh? No kidding victory is not easy.
The designer must have ran out of ideas for slogans for this ugly uniform.
8. TCU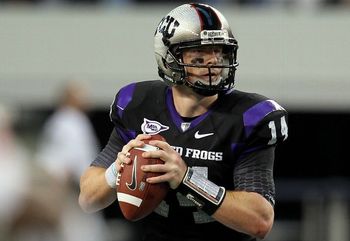 For a second, this was actually a great uniform. Nike had done such a great job creating this Dri-Fit jersey and pants that they forgot one important factor, the helmet.
I feel as if the designer rain out of time and had to quickly come up with something before the deadline. Is that suppose to be a frogs skin? Because it looks an awful lot like snake skin. It is bad enough we have to look at the "Don't Back Down" Pro Combat uniform but when you turn the helmet into a reptile, that makes things exponentially worse.
7. Virginia Tech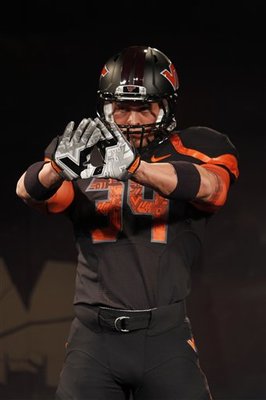 I guess the purpose of the gloves making the logo when you hold it a certain way is, well, I am not sure there is a purpose to it. While we are on the subject, what is the reasoning behind the black on black?
What is with these designers? Why is it necessary to change a uniform so drastically? Is it to get attention because if that's the case, the Hokies are very noticeable.
The worse part is the circuit board pattern all over the jersey. I understand that Virginia Tech takes a lot of pride on their scientific studies but come on now. That is just plain weird. I feel like I am watching Short Circuit.
6. Rhode Island
This uniform is just another bad idea gone wrong. The idea to use the Rams classic logo on their helmets went bad as soon as they put the light blue and white together.
There is nothing good about these uniforms except for the jersey itself. At least that part looks decent enough to be considered usable. Other than that, this is just awful.
I don't know if it is the coloring or just the way it is designed, I just know it is bad.
5. Syracuse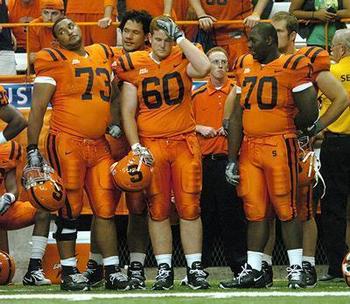 Once I stop laughing I will try to type something in this blank.
It might take me a little while, so just hang in there.
I still can not believe someone signed off on this uniform. Does anyone care what they look like anymore? There is no way to even begin to describe how terrible these uniforms are, so enjoy the picture and have a good laugh.
4. Colorado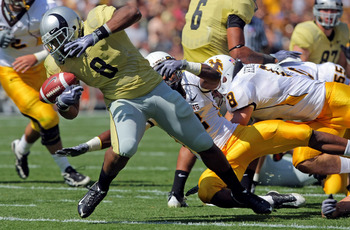 The following is a conversation I overheard between the athletic director and uniform designer.
Designer: I have a great idea for our jerseys this weekend!
AD: OK, let me hear it.
D: How about we get rid of the classic old school uniforms we use and replace it with something that screams, "We Are Colorado!"
AD: You have my attention. Continue sir.
D: OK, so we should take the gold and replace it with honey mustard yellow. Then we paint the helmets silver and add a black wing coming from the facemask. What do you think? You like it?
AD: No, I don't like it.
D: Oh, sorry.
AD: I love it!
3. Florida A&M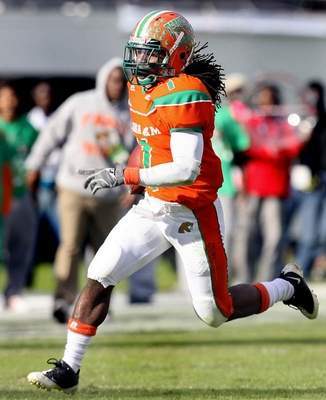 What is the last color that should ever be combined with orange? If you answered green than you are correct. However, Florida A&M failed to receive that message.
Instead of creating a uniform that could offset their school colors a little bit, they decided to jump head first right into the problem by splashing whatever combo they could think of to make this uniform.
2. Notre Dame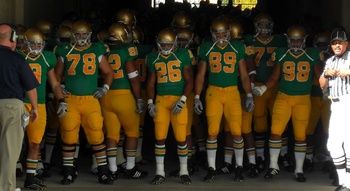 Knute Rockne once said, ''Instantaneously the Notre Dame regulars yanked off their blue outer sweaters and like a horde of green Gila monsters darted onto the field. From that moment on Notre Dame held the initiative, imposed its collective will upon the Navy.''
However, the Notre Dame Fighting Irish have not been too successful since that time when wearing the green jerseys. In fact, they have only won once in the past seven times they have worn the jerseys. And that leads me to my next point, what is the point of wearing them? They look horrible and no one is intimidated anymore.
If it ain't broke, don't fix it. If it is broke, change it fast.
1. Oregon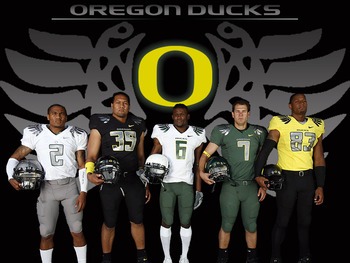 Thanks to the University of Oregon, I really didn't have to think about who the No. 1 team would be. They supplied me with too many reasons to say otherwise.
Take a look at the picture on the main slide or the one right here. How many different ugly uniforms can one team wear before someone tells them to stop?
Apparently the answer is 384. That is not a typo, they have 384 choices to choose from before a game. Wow, and I thought Paris Hilton had a big closet.
Keep Reading