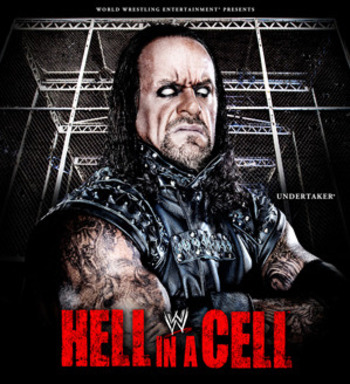 Wondering why the hell have I skipped the upcoming PPV, Night of Champions? Its because everybody is having their predictions of the outcome this Sunday so I thought I would look ahead to the future and automatically choose my predictions and the outcomes of Night of Champions by choosing which matches I think might go ahead come WWE Hell in A Cell.
Hell in a Cell didn't live up to its expectations last year but how could it? I mean, WWE PG means no blood so there was no way we could have seen The Undertaker smashing CM Punk's head into steel or Randy Orton decimate John Cena's skull using the steel, It just wouldn't be possible. However, even though this limited how far the superstars went I felt the show could have been made better and a Hell in A Cell is not a Steel Cage to the WWE Creators please read that because usually Hell in a Cell's are about climbing the Cell and doing mesmerising things. Just Imagine Kofi doing a Boom Boom drop from the Cell onto the Announcers Table.
So here are my predictions.
Comment and have your say!
Match 1: Hell In a Cell: World Title: Kane (c) Vs The Undertaker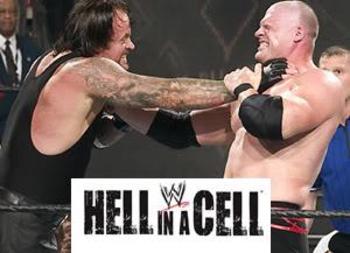 These two broken brothers have been separated as of late due to the cunning plan that was set in motion by Kane the Big Red Monster when it all began between the two. They were once known as ' The Brothers of Destruction ' but that is no more and now we have retribution on our hands from both the attack by Kane and the way Kane won at Night of Champions.
On an episode of SmackDown, Teddy Long grants The Undertaker another World Title shot much to the dismay of Kane. Kane says at Hell in a Cell, the Deadman will be no longer but Undertaker is quick to mention how he has been much more destructive then Kane will ever be. We see a real rivalry between the two starting to take shape and the match at Hell in a Cell will either be a success for Kane and end this duel or once again crown The Undertaker with the World Title and continue this fued of epic proportians.
Kane (c) vs The Undertaker
Kane is first out walking confidently with the World Title around his waist. Next is The Undertaker who looks different than usual.
The two square up in the demonic structure and look each other in the eyes without looking away. Immediately Taker takes down Kane and begins the match with the upper hand. Kane though begins to show his strength as Champion when he nearly pins the Deadman for the 3 count. Kane has Taker in the corner of the Cell and starts to kick his head in. But Undertaker is quick to reverse and hits the Chokeslam but Kane breaks into another gear. Using reckless intent and brutal technique at his own peril.
Kane goes on the outside and waits for The Undertaker who is slowly getting to his feet. Kane starts climbing the Cell but Undertaker grabs his arms whilst he is quite high up. From the other side Taker starts to push Kane's arms through and Kane is then stuck.
Undertaker goes to the outside and puts his arms around Kane...
Cole: What's Taker thinking about here.
Lawler: I don't know but whatever it is its going to be massive.
Undertaker holds Kane and then hits him with the last ride through the announcers table.
Cole: LAST RIDE, LAST RIDE ALL THE WAY FROM THE CELL.
Lawler: Its as if Taker just took Kane through Hell and back. My god!!!
Taker begins to drag Kane through the Cell and into the ring.
He begins to pin, 1, 2 and then Kane kicks out much to the shock of Taker.
Taker puts Kane in the position of a Tombstone Piledriver until the lights dim.
" YOU THINK YOU KNOW ME, YOU THINK YOU KNOW ME!!! "
Cole: What?
Cole: Oh My god its Edge! Oh My God!
Lawler: What's he doing? He's a Raw superstar.
Undertaker stares at Edge looking angered at the appearance by The Rated R Superstar.
Edge then gets in the Cell and watches from Ringside.
Undertaker drops Kane and just stares at Edge. Edge laughs and ignores this.
Taker is quickly rolled up by Kane but manages to kick out. Still confused he gets to his feet and notices that Kane isn't bothered about Edge's appearance.
Taker rolls out of the ring and stands in front of Edge. " What do you want? What are you doing? "
Edge ignores Undertaker who is then grabbed by his hair by Kane and thrown in the ring. Kane picks Taker up but is quickly put in the Callous Clutch. Kane is about to tap but Edge kicks Undertaker. Edge sees Undertaker flat out on the mat and goes to the corner. He taunts for a Spear and sprints towards Taker. Amazingly Taker leapfrogs over Edge and throws him into Kane. He then throws Edge over the rope and picks Kane up and delivers the...
Cole: TOMBSTONE PILEDRIVER, THE PIN,
1.....
2........
3.............. DING DING DING.
*Here is your winner and The NEW World Heavyweight Champion... The Undertaker!!!*
Undertaker grabs the title and lifts it aloft over Kane. He taunts and celebrates whilst behind him lurking was Edge. Suddenly Undertaker turns around and manages to stare down Edge. They square up and have the much portrayed title pose but then Kane grabs both of them by their necks and delivers a double choke slam. Its as if he came up from Hell.
Match 2: Intercontinental Championship: Kofi Kingston (c) Vs. Alberto Del Rio
The new and confident JBL like Alberto Del Rio has had quite a start to his WWE Career. Beating high flying sensation Rey Mysterio, Beating down fan favourites Evan Bourne and Christian, and leaving the famous Matt Hardy seething. Yes, Del Rio has done it all except one thing, that is becoming a Champion. Well he gets granted the ultimate oppurtunity due to Dolph Ziggler and Vickie having a disagreement and basically granting Kofi the title at Night of Champions Del Rio stepped up and beat Christian in a Number one contenders match to face Kofi at Hell in a Cell.
On episodes of SmackDown Del Rio plays mind games with Kofi even talking about his heritage being poor and unhealthy whereas his being rich and intelligent. This really comes into play and basically to the much used quote of Kofi being changed and a lot more destructive now then he was. This certainly does raise the bar in what will be an interesting rivalry.
Kofi Kingston (c) vs Alberto Del Rio
Del Rio comes out in a lowrider and is wearing a new attire. New colour and has a different look to him. He looks serious and actually ready for his first title match. Kofi comes to the ring next and looks straight at Del Rio who is laughing.
The match begins with Kofi really taking it to Del Rio who is quick to roll out of the ring to catch his breathe. He starts taunting on the outside but is quickly stunned when Kofi comes flying over the ropes and onto the body of Del Rio who is laid out flat. They are on the outside and really bringing it to each other. Kofi tries Irish whipping Del Rio into the barricade but is reversed and Kofi flys into the barricade clutching his knee which he delivers the deadly trouble in paradise with.
Del Rio grabs a mic...
" MY NAME IS ALBERTO DEL RIO. BUT YOU ALREADY KNOW THAT. YOU KNOW THAT IM THE NEXT INTERCONTINENTAL CHAMPION!!! "
He turns around and is dropkicked by Kofi but Kofi feels his knee once again hurt. They both slowly get in the ring breaking the 10 count. They swap blows and then Del Rio brings his thumbs to Kofi's eyes and tries the roll up but only gets the 2 count. Then Kofi is visually begging to deteriorate much to the delight of Del Rio.
Kofi is up and ready but still wants to battle through the pain but then when he goes to hit the boom boom drop on a downed Del Rio he is quickly put into an armbar in which he immediately grabs the ropes.
Del Rio waits and mocks Kofi with the Boom taunt. Kofi gets up and is back down when he is hit with the clothesline. Kofi however jumps up HBK style and starts kicking at Del Rio. He once again goes to deliver the Boom Boom drop but this time he is rolled up for the 3 count.
DING DING DING
*Here is your winner and the new Intercontinental Champion.... ALBERTO DEL RIO!!! *
Cole: We now have two new champions on a night of champions.
Match 3: John Morrison Vs Chris Jericho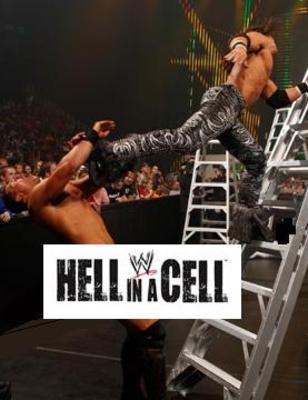 Before WWE Night of Champions Jericho walked out on WWE vs Nexus. The next week he would be punished by the GM by putting his title challenge at Night of Champions on the line against John Morrison. Morrison won and opened a vacancy in the 6 pack challenge. The next week Morrison had the opportunity to break into the 6 pack challenge and replace Chris Jericho. But Jericho wasn't having it and much to the sadness of the WWE Universe he would take out Morrison during his make or break match with Sheamus. Chris Jericho then stated he wanted to be in the 6 pack challenge and was granted this if he beat The Hart Dynasty in a Steel Cage match. Jericho won this and won a 2nd shot at title gold that Sunday. Morrison though was left out and out of the picture once again. But Morrison wasn't going to watch Jericho fight his spot and Morrison would take it upon himself to brutally take down Jericho and even put Sheamus in a pinning motion to pin the ' Best in the world at what he does '.
The next month Jericho was raging. He was angered by the decision Morrison made to purposely eliminate Jericho. Jericho said it was worse than the Montreal Screwjob and he was pondering whether or not he should continue in the WWE. Morrison interrupted him during this and said if you are annoyed with me well than face me at Hell in a Cell. Jericho accepted but then had something to say. " On my terms John, Its not just going to be any match, No! The match will be a... Falls count anywhere match. Now John, Are you In or Out? " Morrison grabbed his mic and issued a threat to the career of Chris Jericho. The Monday Night Delight vs Y2J. The veteran high flyer vs the young talent.
Chris Jericho vs John Morrison - Falls Count Anywhere.
Jericho walks out to a quite good reaction from the fans but ignores this and walks sternly to the ring staring down every aspect of the arena. He gets in the ring and gets pumped up. Morrison music hits and everybody is in anticipation of a big push for the high flyer and yes it was a push when Morrison turned up behind Jericho on a ladder after the lights had dimmed and immediately hit Jericho with a shooting star and the match had begun. Morrison of course had the upper hand extraordinarily well beating Y2J. The two superstars were on the outside and were trading blows. Morrison grabbed a steel staircase and threw it into Jericho's face. Jericho fell down on the outside. Morrison saw an opportunity and started to climb the ladder. But from behind Jericho grabbed his legs whilst halfway up and put him in and unbelievable walls of Jericho. Morrison was tiring and feeling the strain and was being asked by the ref whether he wanted to give up. His answer was a shy NO and so the match would continue and so would the Walls.
Morrison managed to grab the ring ropes and swing his body around and kick Jericho in the face. Jericho fell onto the Announcers table looking really injured. However Morrison ran. He ran up the arena and waited. He sat down and laughed with the fans and started to taunt. Jericho began to catch breathe and maybe conciousness looking around for Morrison. He ran backstage where Morrison wasn't and Morrison quickly changed his placing. He ran down the arena and round the curtains to meet a bunch of superstars. Out of nowhere came a raging Jericho who hit Morrison with a steel chair. Jericho had Morrison pinned but the ref was all the way in the ring trying to run back in time. Morrison had kicked out by the time the ref had got to the back to count.
Jericho starts to get annoyed at the ref but isn't paying attention when from behind Morrison throws him into a buffet table. Jericho goes flying and so does the food that was laid out. Morrison poses and starts flexing his pecs but out of nowhere Jericho hits the codebreaker.
Both superstars are laid out knocked out to be exact and the match starts to gain its breathe. Suddenly both superstars gain energy and start continuing this match of the year candidate. Morrison Irish whips Jericho into a door in which he lays flat on it. Morrison kicks Jericho through it and we see the Raw Interview room. Josh Matthews and John Cena are in there and taken back when the two superstars come flying through the door. Cena laughs and starts clapping. Morrison takes this badly and gazes at Cena. Cena stands up and lowers his hat in a cautious way. Morrison is quickly rolled up by Jericho but has no success. They both start to walk around and walk through the backstage area. They are on a row of stairs whilst the cameras go back to ringside...
" I CAME TO PLAY! " Miz's theme hits and so does his figure when he comes out with the Mitb briefcase. He walks to the ring and looks as if he is to do a promo. Morrison can hear the fan reaction and is wondering what is going on. Taking his eyes off Jericho he is quickly suplexed onto a stair by a dazed and unenergized Jericho who is really tiring. Miz starts talking about when he could cash in his Mitb briefcase and ignores the fact that on the tron the match is being shown. He says the spotlight is on him but then Morrison looks into a camera and shouts at him to get out of the ring and stop stealing the show. Miz seems to be convinced by this for a moment but laughs and sits down next to Michael Cole with the briefcase to watch.
Morrison and Jericho square up near doors leading to the outside of the arena and then smash through the doors to a mountain of shocked faces within the arena. This match begins to seem a lot like the Umaga vs Jeff Hardy match but instead of a Truck there is a...
Lawler: A Fire engine? Why is there a Fire engine outside Cole?
Cole: I don't know what on earth is going on.
Morrison sees this and also sees a little car in which he climbs. He grabs Jericho aswell onto it and lays him out flat. Morrison climbs the Fire Engine and looks mad. He then hits an awe inspiring picture perfect Starship Pain onto...
Cole: Oh my God. He has crashed through the roof of that car. Jericho opens it up and grabs Morrison and locks Morrisons legs around the Fire Truck's wheel. He then locks in the Walls of Jericho and Morrison taps.
DING DING DING
* Here is your winner, CHRIS JERICHO!*
Cole: That might just be a Match of the century let alone match of the year. These 2 amazing athletes really put their bodies on the lines in what will be an iconic night to remember. Morrison must still be hurting from that move off the truck. But next is a match we have been waiting for......
WWE U.S Championship: Daniel Bryan (c) Vs Wade Barrett
WWE NXT is where it all began for these 2 young superstars with a lot of potential. When you talk about potential you see yourself looking at the Nexus. The group that have put the Raw locker room in a state since the invasion at Raw Viewers choice night when John Cena (Main victim of the Nexus) took on CM Punk in a match that would be remembered for all the wrong reasons. The wrong reasons were the Nexus. These 6 superstars: Wade Barrett (Leader), Justin Gabriel, Heath Slater, David Otunga, Skip Sheffield and Michael Tarver. Now at Night of Champions Wade Barrett was involved in the 6 Pack Challenge that would probably crown a new Champion. But a new champion was not Barrett as he was eliminated by John Cena after being locked in the STF. Barrett was raged but seemed to understand that he was punching above his weight too much. He said, " I realise that I have been punching above my weight a bit as of late and leaving Nexus as backup but there is a superstar who is really punching above his weight. A superstar that I left in a heap back in NXT. That man is now the United States Champion, Daniel Bryan!" Immediately Bryan came out looking at the 6 heels smiling. " Wade you do know all you had to do is ask. Ask me nicely if I would put my title on the line against you." Barrett looked perplexed. " Well if you really think that's what I want well then fine. I will challenge you... " No Barrett ask nicely don't challenge me" said Bryan comically. " Don't try any funny stuff on me because I know that you know that you can't beat me and at Hell in a Cell I will prove that!" Who will be the U.S Champion? The British Bear Knuckle fighter or the American Dragon?
Daniel Bryan (c) vs Wade Barrett
Lights flicker and the GM has news. Michael Cole reads it out, " And I quote.. The general manager says, If Barrett and Bryan are to lock horns for a second time and reunite their differences that was once on NXT well than we have to even things out. You see Barrett has the Nexus in his back pocket. So Nexus, You are lumberjacks!" a large number of boos come over the arena and Nexus are shown backstage laughing. " However! Daniel Bryan was asked earlier to pick superstars he would like as lumberjacks aswell. So Bryan has picked 5 superstars to act as lumberjacks aswell. Let the games begin!" Cole gets down from the computer and into his seat.
Daniel Bryan comes out first with the U.S Title around his shoulder. He looks very confident and in shape to do battle. Justin Roberts reads out Bryan's picks.
* Ladies and Gentleman please welcome the first lumberjack of this match.... EVAN BOURNE!!! *
Evan Bourne comes racing out full ahead of steam and salutes the fans and is quick to show his appreciation to Daniel Bryan.
* The 2nd lumberjack is.... MARK HENRY!!! *
Mark Henry comes out with his usual taunting and nods at Bryan from ringside.
* The 3rd lumberjack is.... R-TRUTH!!! *
He comes out singing his new song and dancing around.
*The 4th and 5th are.... SANTINO MARELLA AND VLADIMIR KOZLOV *
Cole: These guys? I told you Bryan was crazy King.
Lawler: Hey don't put down Santino remember the deadly finisher of his. Cheer up Cole.
Cole: Well if he had any sense he'd just give back the title to the rightful owner, The Miz!
Next out are the Nexus who look at the other lumberjacks enticingly waiting for a fight.
Bryan says wait. He says sorry to Santino but he's not been picked he picked Kozlov though. He says meet my newest Lumberjack...
Darren Young!
Darren Young comes out smiling and pointing at The Nexus.
Barrett then comes out and we see the match begin. Barrett has the upperhand and so does the Nexus in this title match. Nexus's Tarver is casually taunting at Mark Henry creating tension between the two. As the match continues we start to see Bryan's athletic ability show much to the dismay of a raging Michael Cole,
Cole: Look at him he actually thinks that hurt Barrett
Lawler: Well it certainly stunned him look.
Lawler was right it had stunned him and actually laid him out flat with the dropkick. Bryan climbed the turnbuckle and was ready to fly when he was pushed off by Slater who is then taken out by Truth and then a brawl really does begin on the outside. Henry is battling with Tarver and decimates him quite frankly. Gabriel and Darren Young lock horns, Sheffield stays quiet due to the injury and The brawl gets very hostile.
However whilst all this is happening in the ring Barrett has just hit Bryan with a spinebuster that has knocked some confidence out of Bryan. They both get to their feet and stare each other out. They lockup and Barrett just overpowers Bryan everytime. But then Bryan manages to kick Barrett right in the chest and the match gets tough. Both superstars part of the NXT show have a lot to show and they do so when Barrett is about to deliver the Wasteland but Bryan manages to somehow push Barrett down and lock in the Crossface which Barrett clampers around the ring trying to grab a rope. Finally Barrett manages to grab the ropes and manages to take a break from all the action. He gets up and is quickly suplexed by Bryan who is at full speed. He gets up and tries a camel clutch but Barrett manages to get free.
Barrett attempts to clothesline Bryan but fails and is once again put in the crossface in which he starts tapping to the delight of the WWE Universe.
DING DING DING
* Here is your winner and still the US Champion,....
Title shot to the back of Bryan's head by....
Grabs a mic....
MY NAME IS ALBERTO DEL RIO. BUT YOU ALREADY KNOW THAT!!!
Cole: Well what on earth is happening. The Intercontinental Champion just took out the U.S Champion what was that all about. Anyway Yes mistakenly in my opinion Daniel Bryan has retained the U,S Championship. But next is a match we have all been waiting for especially you King.
WWE Unified Womens Championship: Lay-Cool (c) Vs Melina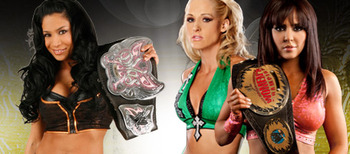 A rematch for the now Unified title but this time Melina will have to take on both champions, The WWE Divas Champion Layla and the Womens Champion Michelle Mcool. Which Diva will still be standing at the top of the divas division by the end of the night?
WWE Unified Womens Championship: Lay-Cool (c) vs Melina
Melina is first out and looks adoringly hot tonight. Next out is Lay-Cool doing their usual stuff.
The match begins and Melina has the upperhand whilst taking on Mcool. Clotheslining her and hitting her with a hurricanrana. Melina has full control of this short match but short but sweet. Melina hits Layla off the apron and tries the rollup on Mcool but only gets the 2 count. So Melina begins to kick her way through the match taking out Mcool and making her tag in Layla. Layla actually begins to seem like a fighting champion hitting a backbreaker on Melina to her own success and delight. She starts to celebrate and Mcool wants to be tagged in. Immediately Mcool has Melina in position for the Faith Breaker but then...
Cole: Oh My God ! BETH PHEONIX HAS RETURNED.
Melina seizes an oppurtunity and turns it into her own finisher and into a pin. 1... 2....3.
DING DING DING
*Here is your winner and the new WWE Unified Womens Champion... Melina*
Melina jumps out of the ring to celebrate with Beth Pheonix. But Beth smiles and then runs into the ring and delivers the Glam Slam.
Cole: Well what a night of action we have seen and its not over yet.
Lawler: No its not because Next is the ultimate match.
WWE Championship Match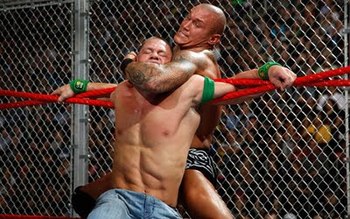 3 Superstars, One Champion, One Hell in a Cell. And One last chance..... THE VIPER RANDY ORTON, THE NEVER BACK DOWN ATTITUDE FROM JOHN CENA AND THE CELTIC WARRIOR SHEAMUS. Something has got to give.
The Cell lowers down.
DING DING DING
*This next match... Is a triple threat Hell in a Cell match and it is for the WWE CHAMPIONSHIP!!!! *
Cena's first out as he looks at the WWE Universe fired up as always. This time he has a pyro to go with him to make this night that much special. He gets in the ring and throws his Shirt off and is ready.
Next to the ring is Sheamus. Not to mention as pale as ever but also as dangerous as ever after single handedly beating down The Hart Dynasty the Monday Night of this week.
Next is the favourite THE VIPER RANDY ORTON. Who walks to the ring with a sense of seriousness as always.
*INTRODUCING FIRST THE CHALLENGERS, FIRST, FROM WEST NEWBURY MASSACHUSETTS, WEIGHING 248 POUNDS, JOHNNNNNNNN CENAAAAAAAAA!!!!! *
Lawler: The Cenation is in the building tonight
* INTRODUCING NEXT FROM DUBLIN IRELAND, (BOOS) WEIGHING 256 POUNDS, HE IS THE CELTIC WARRIOR! SHEAMUSSSSSSSS!!!! *
Lawler: But I don't quite think Ireland's in here tonight.
*AND FROM ST LOUIS MISSOURI, WEIGHING 245 POUNDS, HE IS THE WWE CHAMPION!!! RANDY ORTONNNNN!!!! *
Cole: Orton has been deadly. The viper set to do battle in this massive momentous match up.
DING DING DING
The match begins with all superstars staring one another out. Cena and Orton stare down Sheamus as if to signal a 2 on 1 to start off with but then Orton clotheslines Cena out of nowhere. Sheamus sees an opportunity with Orton's back turned he tries rolling him up only to get kicked by Cena. The 3 superstars start locking horns and doing magnificent moves such as a triple suplex. Sheamus though quite unbelievably has the momentum on his side and takes things to the outside when he meshes Cena's head on the Steel. He then goes to the outside where Orton follows him. Orton does the RKO pose and attempts the finishing manoeuvre but Sheamus manages to hit him with the Irish Curse. Cena starts climbing the cell from the other side where both superstars cannot see this. Orton hits Sheamus with a backbreaker and turns and looks straight at Cena who's on the top of the Cell. Orton leaves Sheamus lying on the floor and climbs.
Both superstars get on top of the structure and lockup. They both push each other and keep looking over the edge. Cena hits a fishermans suplex and gains momentum on top of the cell. He looks at Sheamus who has got into the ring. He ponders whether to get down or stay up and then he looks up to be hit with...
Cole: RKO. RKO. RKO. That was one of the biggest Ive ever seen.
Orton looks down to see Sheamus tiring next to a turnbuckle and like Cena ponders. But out of nowhere he manages to open the two floor panels that connect the ring to the roof of the cell. He opens these 2 up and looks strangely at Cena. He looks at Sheamus and then throws Cena down but then Sheamus catches him in one of the biggest sites in memory of WWE and hits him with the High Cross. Then he is ready to pin when....
*TIME TO PLAY THE GAME!* * TIME TO PLAY THE GAME*
Lawler: ITS TRIPLE H OMG!!!!!!!!!!!
Cole: HE'S BACK THE CEREBRAL ASSASSIN HAS RETURNED.
Striker: You can sense the electricity this arena has been set on fire.
Triple H walks to the ring angry and stares at a nervous Sheamus. He gets in the ring and hits Sheamus around the chest. He does the DX Chop and punts Sheamus. Sheamus dazed is then hit with a Spinebuster and then a PEDIGREE!!! HHH grabs Sheamus and drags him backstage making this a 1 on 1 contest.
Cena is just getting to his feet in the ring whilst Orton stays on the top still with the sinister smirk on his face. He gets down and into the ring and faces up to Cena. Orton hits the backbreaker whilst Cena hits the 5 knuckle shuffle and this match goes two and fro.
Orton locks in a leglock around the steel post which Cena is in agony. He then drags him across the apron and delivers the DDT only to get a two count. Orton angry runs on the outside and up the cage once again but this time Cena comes after him. They lock horns and then this BIG BIG MOMENT HAPPENS....
Cole: Cena has Orton up ready to deliver the Attitude Adjustment. AA OMG NO WAY OMG.RKO OMG. THAT WAS BIGGEST MOVE IVE EVER SEEN. ORTON HITS THE RKO FROM AN AA FROM CENA. HOW ON EARTH DID HE DO THAT HOW ON EARTH. 1... 2 ... 3.
DING DING DING
*I CAME TO PLAY*
Cole: OH MY GOD. THE MOMENT HAS ARRIVED. CAN THIS NIGHT GET ANY BETTER? HERE WE GO.
WWE Championship: Randy Orton (c) Vs The Miz
DING DING DING
SKULL CRUSHING FINALE
1.... 2..... 3
DING DING DING
*HERE IS YOUR WINNER AND THE NEW WWE CHAMPION, THE MIZ!*
Cole: FINALLY THE MIZ IS THE WWE CHAMPION. FINALLY THE MIZ HAS DONE IT AND BECOME THE WWE CHAMPION!
Lawler: I can't believe this night has been historic. We have had new Champions, Comebacks and a new WWE Champion!!!
Cole: Thank you for joining us on this momentous night. Thank you and good night.
Full Results
World Heavyweight Championship - The Undertaker def. Kane to become the World Champion
WWE Intercontinental Championship - Alberto Del Rio def. Kofi Kingston to become Intercontinental Champion
Falls Count Anywhere - Chris Jericho def. John Morrison
WWE U.S Championship - Daniel Bryan def. Wade Barrett to defend his U.S Title
WWE Unified Womens Championship - Melina def. Lay-Cool to become WWE Unified Womens Champion
WWE Championship - Triple Threat Match - Randy Orton def. John Cena and Sheamus to defend his WWE Title
WWE Championship - The Miz def. Randy Orton to become WWE Champion.
Thanks
THANKS FOR READING!!! HOPE YOU LIKED IT.
Please comment if you would like me to continue doing articles like this and I will be ready with my Bragging Rights. Thanks once again.
Keep Reading