Top 5 Most Underrated/ Overrated Tampa Bay Buccaneers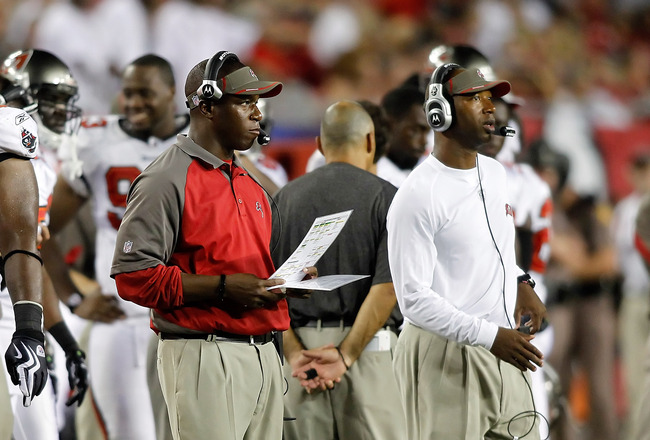 J. Meric/Getty Images
Here we are in the second year of the Raheem Morris regime, and there is a lot of optimism going on at the Pirate Ship. The Tampa Bay Buccaneers engineered a youth movement with hopes of one day returning to their past glory of hoisting the Lombardi Trophy. They started off their season with a victory over the Cleveland Browns on Sunday, and will continue to build on their success against their NFC South rival, the Carolina Panthers.
There were some great performances on Sunday from those who are criminally underrated, and there are still those players who have too much hype that produces few results. So without further ado, Bleacher Report presents the Top 5 Most Underrated/Overrated Tampa Bay Buccaneers.
Fifth-Most Underrated: DE Tim Crowder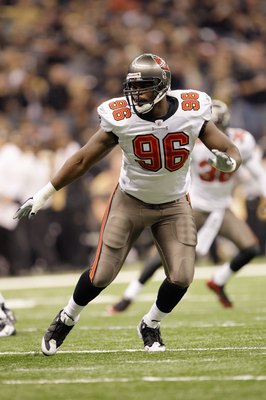 Jamie Squire/Getty Images
The fourth-year defensive end from Texas is quietly developing his craft on this young team. Although he hasn't started many games in his career, he has made quite an impact whenever he is on the field. Going back to his days with the Denver Broncos, Crowder has always been around whenever there is a big play to be made. Even though he hasn't started many games (he did start in four last year), he is sure to provide a big assist to high-priced draftees such as Gerald McCoy on the defensive line.
Fourth-Most Underrated: OLB Geno Hayes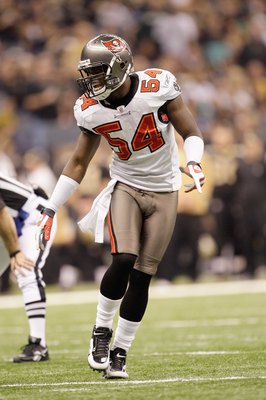 Jamie Squire/Getty Images
Geno Hayes really came on strong late in the 2009 season, as did the Bucs. He started in 13 games and recorded three sacks. He doesn't get a lot of publicity like veterans such as CB Ronde Barber, but Hayes is coming into his own, especially on run-stuffing plays. If he can continue to pursue the ball handlers the way he did last week, he won't be underrated much longer.
Third-Most Underrated: G Keydrick Vincent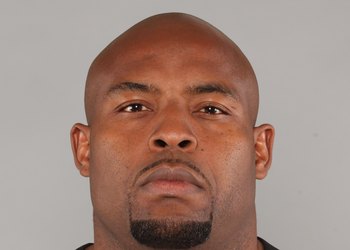 NFL Photos/Getty Images
Vincent may have played on five teams throughout his career, but he has started 80 out of 98 games. He has played with Pittsburgh, Baltimore, Arizona, and Carolina, so he brings a pedigree of success to the young Bucs. Also, he is a veteran who has anchored the offensive line for most of the strongest running games in the NFL, and the Bucs are leaning on him to help clear the path for their running crew led by Cadillac Williams.
Second-Most Underrated: DE Stylez White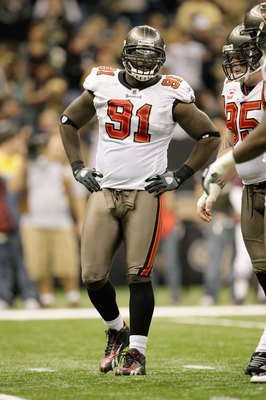 Jamie Squire/Getty Images
Stylez White came on with a fury in his rookie season, totaling eight sacks and establishing himself as a presence to be reckoned with on the defensive line. Morris is relying on him to assist DE Gerald McCoy and the rest of the Bucs defense with his ability to create havoc for opposing quarterbacks. As the Bucs win more, people will recognize White for his talents instead of just having a cool first name.
Most Underrated Buccaneer: Sabby Piscitelli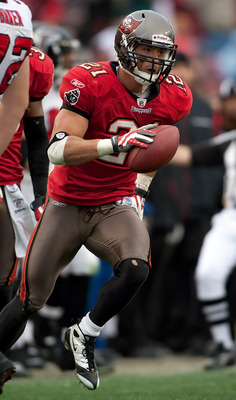 J. Meric/Getty Images
Piscitelli makes plays! He really came on the scene last year, starting in 15 games and registering 80 tackles. He is a big assistance to Pro Bowl CB Ronde Barber, and can be used in both coverage and running plays when the Bucs need someone deep in the box. Sabby is one of the diamonds in the rough who will shine as the Bucs come back to prominence.
Fifth-Most Overrated: RB LeGarrette Blount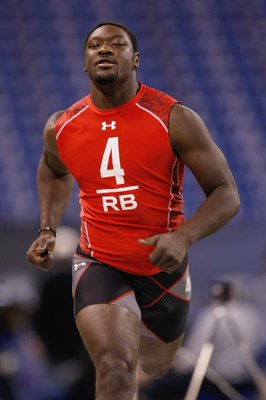 Scott Boehm/Getty Images
All punching jokes aside, it really says a lot about a player when he's already on his second team in his rookie season. He probably would've been a high draft pick if it wasn't for his character issues, but apparently the Bucs are willing to give him another chance.
I don't see him being any help to the running game, as he has a case of fumble-itis and will have a hard time adjusting to the NFL game. He received a lot of unwarranted hype last year, and if anyone expects him to be the sidekick to Cadillac Williams they are sorely mistaken.
Fourth-Most Overrated: RB Cadillac Williams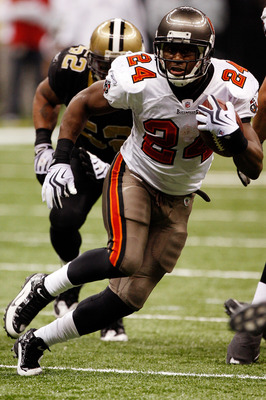 Chris Graythen/Getty Images
Speaking of Cadillac, I think it would be nice for him to revisit the 1,000-yard mark some time in the near future. Yes, he had a great rookie season, but has done nothing of note since, and people need to recognize that. He has been consistently hurt, and when he is in the lineup, he has done little to make anyone believe he will become a Pro Bowler anytime soon.
Also, he has trouble finding the end zone. A lot of people attribute that to the Bucs still finding their way on offense, but eventually the blame has to be shifted toward Williams. It may be time to put the Cadillac in the garage permanently!
Third-Most Overrated: QB Josh Freeman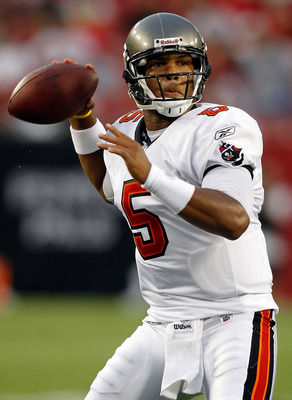 J. Meric/Getty Images
I know that it is just his second season and he hasn't started a full year yet, but for those people who are labeling Freeman the next great one, I'd say hold your horses. Freeman just doesn't have the "it" quality that great QBs possess. If Morris is shown the door this year, you can bet Freeman will find himself on the bench.
Why? He waits too long to get rid of the ball and can be easily flustered in the pocket. Although the Bucs won last week, it was against the Browns, and who can't beat Cleveland? Freeman will run for yards, but not to the point where defenses have to spy on him. Opponents will simply let him just make mistakes on his own.
Bottom line: Josh Freeman is Jason Campbell 2.0.
Second-Most Overrated: CB Aqib Talib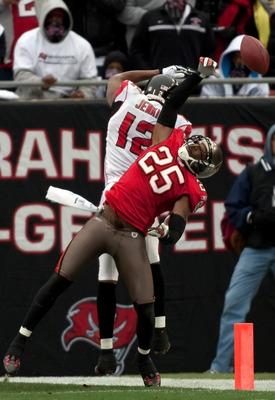 J. Meric/Getty Images
A true head case if there ever was one. Yes, Talib is a talent, but he is too much of a locker room risk for a young coach and a rebuilding franchise. He has consistently found himself in trouble off the field, and even when he is on the field, he lacks the discipline of a Ronde Barber. The Bucs thought he would be the heir apparent in the secondary, and although he makes a lot of interceptions, Talib gambles way too much and gets burned easily.
I believe that if a Bill Cowher-type does come to coach this team, I can guarantee that Talib will no longer be on this roster. That's a fact!
Most Overrated Buccaneer: TE Kellen Winslow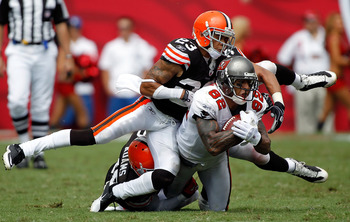 J. Meric/Getty Images
Winslow might be a great talent while producing great stats, but that doesn't mean he is a winner on the field. Since having that breakout season a few years ago in Cleveland (who didn't), Winslow has regressed in his production. Even after coming over to Tampa Bay not much has changed. He is supposed to be a target for Josh Freeman who can get into the end zone, but he hasn't shown that ability to lead this offense. Perhaps if he focused less on his mouth and more on his game the Tampa offense can actually get into the end zone more than once a game.
Keep Reading

Tampa Bay Buccaneers: Like this team?