College Football Power Rankings: Top 25 Wide Receivers Heading Into Week 4
South Carolina WR Alshon Jeffery
Mike Zarrilli/Getty Images
Tonight's anticipated Pittsburgh-Miami matchup will be a great start to what is shaping up to be an exciting fourth weekend of the 2010 college football season.

The game pits two of the better pass catchers in the country, Miami's Leonard Hankerson and Pitt's Jonathan Baldwin, against each other in what is sure to be an entertaining contest to watch.

Hankerson and Baldwin are just two of the many exciting wide receivers who will be on display this weekend. So let's take a look at how college football's wide receivers stack up as we inch closer to Saturday.
1. Ryan Broyles: Oklahoma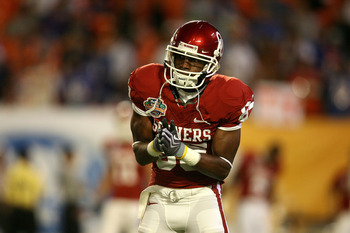 Oklahoma WR Ryan Broyles
Doug Benc/Getty Images
Broyles has been the definition of consistency even though his Sooners squad has struggled at times against inferior competition.

The 5'11" junior is coming off a 10-catch, 116-yard performance in a 27-24 win over Air Force.

Broyles currently leads all BCS receivers with 31 catches.
2. Michael Floyd: Notre Dame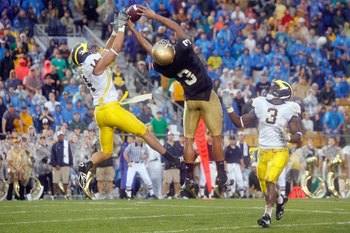 Notre Dame WR Michael Floyd
Gregory Shamus/Getty Images
Before the season started, I had Michael Floyd ranked as my top overall receiver in the country and considered him to be one of the 10 best prospects for the upcoming 2011 NFL Draft.

The 6'3" 225-lb. junior is a physical specimen that possesses as much natural ability as any receiver in college football, however, Floyd has yet to come up with a true breakout game yet.

Floyd finally found the end zone against Michigan State this past Saturday. But the receiver's two TDs weren't enough as the Irish fell to the Spartans 34-31 in overtime.
3. DeVier Posey: Ohio State
Ohio State WR DeVier Posey
Jamie Sabau/Getty Images
This past weekend, DeVier Posey faced off against his older brother, Ohio cornerback Julian Posey, when the Bobcats traveled to Columbus for what the Posey family dubbed "The Posey Bowl."

The younger Posey ultimately came out on top, catching five balls for 62 yards in the 43-7 blowout.

DeVier may only have 13 catches in Ohio State's first three games but his speed and big play ability have been somewhat harnessed since the Marshall and Ohio games were basically over by halftime.
4. Greg Childs: Arkansas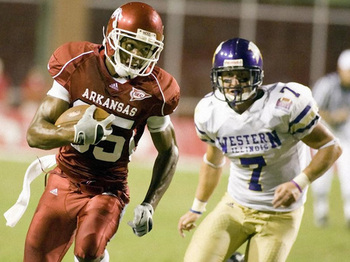 Arkansas WR Greg Childs
The best wide receiver in the SEC doesn't play in Georgia or Alabama.

No, the conference's top pass catcher happens to play for the Arkansas Razorbacks and his name is Greg Childs.

It's true Childs doesn't have the national recognition of A.J. Green and Julio Jones, but he has great talent.

After a 12-catch, two-TD showing in a Week 2 victory over Louisiana-Monroe, the 6'3" junior made the game-winning grab in the team's win over Georgia last weekend.
5. Justin Blackmon: Oklahoma State
Oklahoma State WR Justin Blackmon
Christian Petersen/Getty Images
Dez who?

Justin Blackmon has sure made Oklahoma State fans forget about former star receiver Dez Bryant.

After catching just 20 balls in 2009, the junior receiver has burst on the Big 12 scene and currently leads the nation with 431 receiving yards and eight receiving touchdowns.

The 6'1" 205-lb. Blackmon has put up at least 125 yards and two TDs in each of the Cowboys' first three games.
6. Alshon Jeffery: South Carolina
South Carolina WR Alshon Jeffery
Mike Zarrilli/Getty Images
Freshman running back Marcus Lattimore has been the star of South Carolina's offense so far, but it's wide receiver Alshon Jeffery that's been the one keeping opposing defenses honest.

Jeffery has caught 19 balls for over 300 yards thus far.

The only problem for the 6'4" sophomore is that he's yet to find the end zone in South Carolina's first three games, but that should change very soon.
7. Julio Jones: Alabama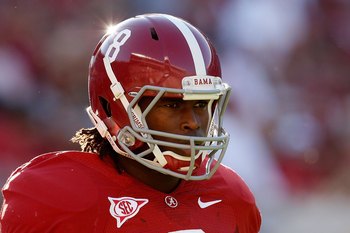 Alabama WR Julio Jones
Kevin C. Cox/Getty Images
Is 2010 the year Julio Jones finally lives up to the hype?

Considering the junior already has one foot out the door, Alabama fans better hope so.

So far, Julio has looked solid, making 15 catches and scoring 2 TDs, but it's tough to tell if he's truly ready to come into his own considering most of his heavy lifting has come against San Jose State and Duke, two weak opponents.

If Julio wants to be the elite receiver many claim, he has to come up big this Saturday against Arkansas. But Razorbacks cornerback Ramon Broadway is no pushover though.
8. Dwayne Harris: East Carolina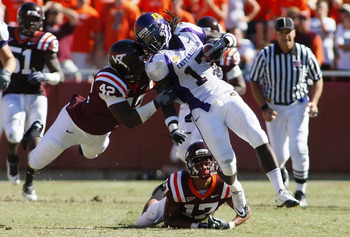 East Carolina WR Dwayne Harris
Geoff Burke/Getty Images
Dwayne Harris, once a coveted dual threat quarterback recruit out of Tucker high school in Georgia, has had a remarkable career at East Carolina and now looks to be on pace to cap it off with a great senior season.

The 6'0" 200-lb. Harris, who finished with 83 catches in 2009, has already hauled in 23 passes in the Pirates' first three games.

Dwayne's best performance of the season came in last weekend's loss to Virginia Tech when he caught 10 balls for over 100 yards and a TD.
9. Ronald Johnson: USC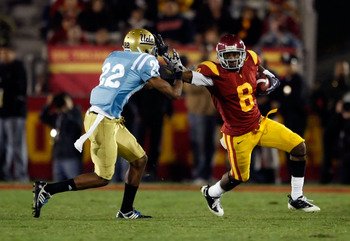 USC WR Ronald Johnson
Jeff Gross/Getty Images
Ronald Johnson started the season off strong with a three-TD showing in USC's season opener at Hawaii, but the senior has since faded a bit as the Trojans offense has struggled somewhat recently.

Johnson, who is making a case to be recognized as the best senior receiver in the country, now stands with 15 catches for 180 yards and four scores as Pac-10 play begins.
10. Darvin Adams: Auburn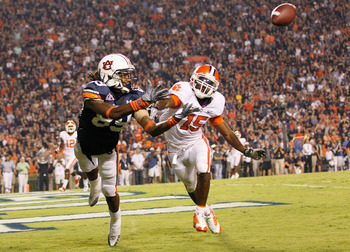 Auburn WR Darvin Adams
Kevin C. Cox/Getty Images
After a relatively quiet first two games, Darvin Adams exploded with a five catch, 118-yard effort in Auburn's thrilling overtime victory over Clemson this past Saturday.

Tigers quarterback Cam Newton needs a go to receiver this year and Adams, who nearly had a 1,000-yard receiving season as just a sophomore in 2009, looks to be the top candidate to fill the position.

Adams has just 10 catches on the season thus far, but expect him to be a bigger part of the offense as the passing game continues to open up.
11. Damarlo Belcher: Indiana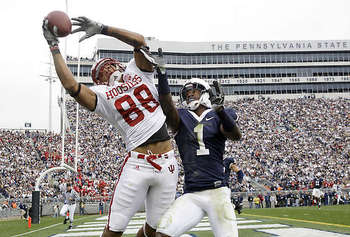 Photo Courtey of Herald Times
Indiana's Damarlo Belcher may be one of the best-kept secrets in America.

It's tough to get recognition playing for the Hoosiers, a team that has notoriously struggled and finished near the bottom of the Big Ten standings on a yearly basis, but if there's anyone that deserves the credit—it's Belcher.

The 6'5" 215-lb. junior is a big target, who has averaged nine catches for over 100 yards and a TD in Indiana's first two games of the season.

It will be interesting to see if Belcher can handle the step up in competition once Big Ten play gets started.
12. Jeff Fuller: Texas A&M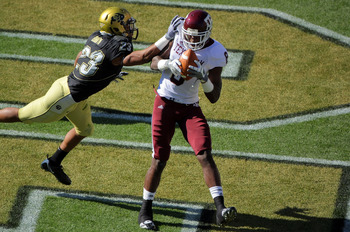 Texas A+M WR Jeff Fuller
Doug Pensinger/Getty Images
The Aggies were a team to watch heading into the 2010 season and a big reason why was wide receiver Jeff Fuller.

Fuller, a 6'4" 215-lb. junior, is one of the best receivers the Big 12 has to offer this season and he is one of quarterback Jerrod Johnson's trusted targets.

Fuller has already hauled in 18 of Johnson's throws for a total of 280 yards, and his three receiving touchdowns rank third in the conference at the point in this season.
13. Austin Pettis: Boise State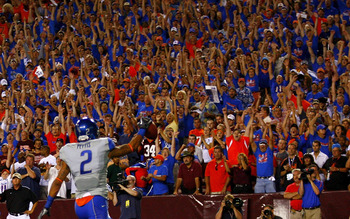 Boise State WR Austin Pettis
Geoff Burke/Getty Images
Austin Pettis was the hero of Boise State's opening weekend win over Virginia Tech as he nabbed Kellen Moore's last minute touchdown pass to give the Broncos a 33-30 victory.

Pettis followed that up with a bit of a quieter performance in Boise State's 51-6 domination of Wyoming this past weekend, catching three passes for 88 yards including a 58-yard first quarter TD reception.

Expect Pettis and fellow receiver Titus Young to be vital keys in Boise State's upcoming matchup with Oregon State.
14. Jermaine Kearse: Washington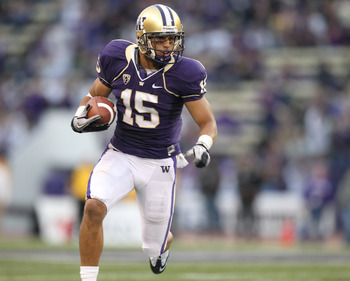 Washington WR Jermaine Kearse
Otto Greule Jr/Getty Images
Surprisingly, so far the bright spot of Washington's offense hasn't been senior quarterback Jake Locker, who struggled mightily against a talented Nebraska defense this past Saturday.

Instead it's been junior wide receiver Jermaine Kearse, who has helped take a lot of the pressure off Locker by hauling in 16 of his passes.

Kearse's 338 total receiving yards and five receiving touchdowns currently lead the Pac-10 conference.
15. Tavon Austin: West Virginia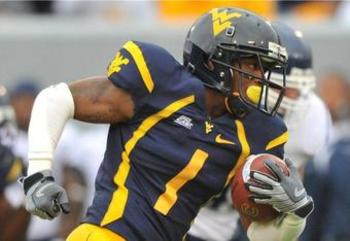 West Virginia WR Tavon Austin
Tavon Austin looked like he could be West Virginia's true breakout star coming into the 2010 season and so far the explosive sophomore has yet to disappoint the Mountaineer faithful.

Austin has made 21 catches for 281 yards including a big two-TD performance in West Virginia's win over Maryland this past Saturday.

Tavon has also been a factor on special teams as well, averaging over 20 yards on seven kickoff returns.
16. Juron Criner: Arizona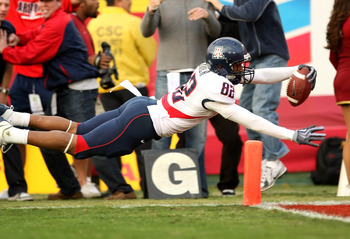 Arizona WR Juron Criner
Stephen Dunn/Getty Images
Juron Criner has come back to Earth after starting off the season with a bang against Toledo, catching 10 balls for 176 yards and a TD in a 41-2 blowout.

Criner has only been able to manage two catches a piece in Arizona's two follow up games, however, he's also been able to come up with a catch of 40 plus yards in every game he's played in.

The 6'4" 210-lb. junior had to be taken out of the Iowa game due to turf toe, but expect Criner to be back at full strength as quarterback Nick Foles' go to option for the rest of the season.
17. Jonathan Baldwin: PITT
Photo Courtesy of Matt Freed/Pittsburgh Post Gazette
At 6'5", 230-plus pounds, Jonathan Baldwin stands as one of the biggest and most imposing pass catchers in all of college football.

Baldwin, who is one of the most dangerous weapons in the Big East, will have to deal with some inconsistent quarterback play this season, but expect him to come up big when counted on.

The junior receiver has averaged five catches for 85 yards and a TD in Pittsburgh's first two games. And Baldwin should continue to improve as he and new quarterback Tino Sunseri develop a strong rapport.
18. Jereme Brooks: Utah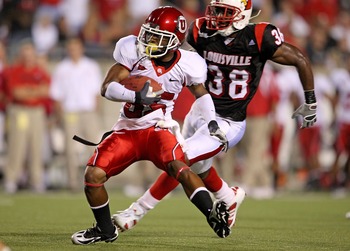 Utah WR Jereme Brooks
Andy Lyons/Getty Images
Jereme Brooks may not be one of the biggest receivers on the field, but that doesn't make him any less dangerous in the eyes of opposing secondaries

The 5'7" Brooks has been one of the most consistent players for Utah during his college career and reminds some of former Ute and current Carolina Panthers receiver Steve Smith.

Brooks already has 15 catches for over 250 yards and four TDs this season and he should be one of Utah's main assets in their run at a Mountain West title.
19. Niles Paul: Nebraska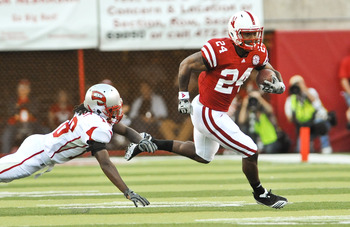 Nebraska WR Niles Paul
Eric Francis/Getty Images
It's true Nebraska hasn't been throwing the ball all that much this season. The Cornhuskers have just 54 total pass attempts, which ranks last out of all the Big 12 teams.

That means senior wide receiver Niles Paul really hasn't gotten a chance to shine yet.

Paul, who has seen his fair share of ups and downs while in Lincoln, has been on the receiving end of 10 of those 54 passes but he has just 144 yards to show for it.

As freshman quarterback Taylor Martinez continues to become more comfortable, Paul should see a few more balls headed his way.
20. Bert Reed: Florida State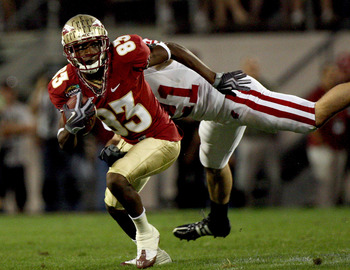 Florida State WR Bert Reed
Sam Greenwood/Getty Images
Florida State's Bert Reed could be one of the fastest receivers in the ACC and he used that speed to blow by BYU this past Saturday, catching nine balls for 89 yards and absorbing a few big hits along the way.

The 5'10" 165-lb. junior looks like he's becoming one of quarterback Christian Ponder's favorite targets.
21. Marvin Jones: Cal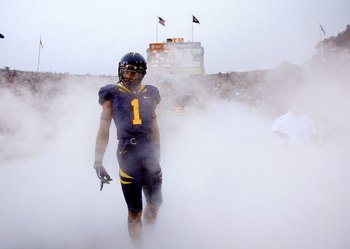 CAL WR Marvin Jones
Ezra Shaw/Getty Images
The California Golden Bears as a whole didn't look all that impressive in a 52-31 loss to Nevada last Friday in Reno. But the one player who certainly shined in the defeat was wide receiver Marvin Jones.

The 6'2" 200-lb. junior hauled in 12 passes for 161 yards against the Wolfpack and is currently on pace to catch over 80 balls for 1,300 yards this season.
Cal will need Jones to come up big once again if they want to knock off Arizona on Saturday night.
22. Leonard Hankerson: Miami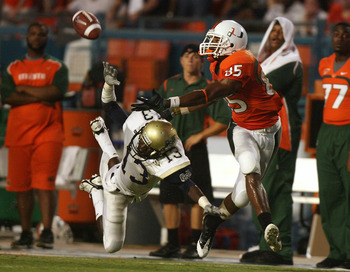 Miami WR Leonard Hankerson
Doug Benc/Getty Images
Miami has an important test against the Pittsburgh Panthers tonight and they'll need their senior wide receiver Leonard Hankerson to be a big factor if they hope to bounce back after a loss to Ohio State.

The 6'3" 200-lb. Hankerson is the leader of a talented Hurricanes receiver group and has already caught 13 passes for over 200 yards and 2 TDs in Miami's first two games.
23. Lyle Leong: Texas Tech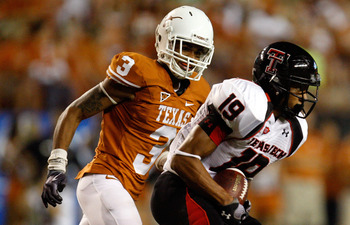 Texas Tech WR Lyle Leong
Ronald Martinez/Getty Images
Texas Tech's offense struggled mightily in last weekend's loss to the Texas Longhorns but that didn't stop Lyle Leong from scoring his sixth receiving touchdown of the year.

Leong's receiving totals have continued to decline in each game since his 11-catch, 142-yard, three-TD performance in the season opener against SMU but expect him to get back on track in the coming weeks against the shaky secondaries of Baylor, Oklahoma State, and Colorado.
24. Chad Bumphis: Mississippi State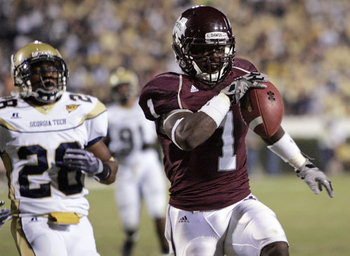 Mississippi State WR Chad Bumphis
With Dan Mullen running the show, Mississippi State isn't exactly known as a passing powerhouse these days, but that hasn't stopped wide receiver Chad Bumphis from making an impact.

The 5'10" 195-lb. sophomore had a big start to the year with a four catch, 100-yard, two-TD performance in a season opening win over Memphis but he has taken a bit of a step back since.

With some more consistent play at the quarterback position, Bumphis could be a real weapon for the Bulldogs this year.
25. DeAndre Brown: Southern Miss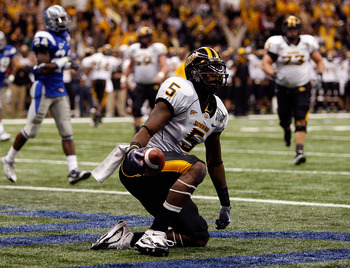 Southern Miss WR DeAndre Brown
Chris Graythen/Getty Images
DeAndre Brown looked like he was going to be the star of the lower conferences this season but so far he's failed to make the impact many expected from him.

That's not to say Brown's been bad, because that's certainly not the case. He's caught 12 balls for nearly 200 yards and two TDs. But the 6'6" 240-lb. Calvin Johnson clone needs to step his game up and become a more consistent weapon for this dangerous Southern Miss team going forward.
A.J. Green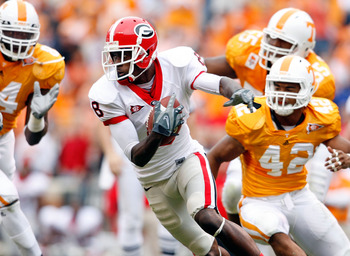 Andy Lyons/Getty Images
No worries, we didn't forget about the Georgia star.
He'll be ranked next week as he returns from his four-game suspension just in time to square off against a weak Colorado secondary.
Keep Reading