Former Trojan Reggie Bush Forfeits Heisman: Classy Move By a Disgraced Hero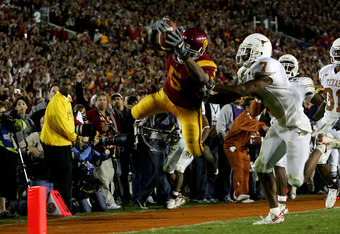 Lisa Blumenfeld/Getty Images
On January 3, 2006, Reggie Bush was on top of the sports world.
A nation-leading 8.7 yards per carry average, 1,740 yards rushing, and 19 total touchdowns. A Heisman trophy award. Add in he was on a team that had already been anointed as one of the greatest of all-time.
Then, the 2006 Rose Bowl. Bush played well, but watched his USC Trojans fall in an upset to Vince Young and the Texas Longhorns.
January 3, 2006 was the high point of Reggie Bush's dominance.
Since then, Bush has proved to be no more than a platoon back in the faster, deeper NFL.
While he earned a Super Bowl last January, he touched the ball only 10 times in the triumph. For comparison's sake, he earned 24 touches in the Rose Bowl.
But not only has Reggie Bush failed to live up his collegiate success during his professional career, he has been forced to suffer the indignity of watching his fantastic collegiate accomplishments become tarnished.
The Investigation
An investigation initiated by a report by Yahoo! Sports turned up evidence that Bush had received improper benefits during his career at USC.
The NCAA responded by stripping 14 victories from the USC program during the 2004 and 2005 seasons, taking away 30 football scholarships, and retroactively stripping Bush of his eligibility during his Heisman winning season.
Then, Bush faced the biggest embarrassment of all. Losing the award that was his hallmark individual achievement as a college athlete.
The Saints running back had long tried to avoid the inevitable. He rarely commented on the controversy and was criticized by some observers for a perceived lack of contrition.
But try to put yourself in his shoes. Bush dominated the 2005 season. Not only was he the best player in the country, he was the biggest player in the country as well.
Television highlight countdowns were dedicated to him. ESPN considered his selection as the first overall pick in the upcoming NFL Draft to be a mere formality (of course, that didn't exactly go according plan either).
For the past two seasons in college football, Tim Tebow was a sports superstar, more popular and well-known than many NFL Pro Bowlers. Bush was Tebow before Tebow.
The Heisman was the culmination of that magical season for Bush. A way to quantify his impact on the sports zeitgeist, and to reward him for his numerous achievements.
Now, he would be forced to publicly admit that the entire year would forever be tarnished. That his college career would, first and foremost, be remembered for a player that broke the rules and got caught—a player that couldn't keep his hand out of the cookie jar.
Relinquishing the Award
Yesterday, Bush owned up to the truth.
Instead of waiting for the Heisman Trust to officially strip him of the coveted award, Reggie Bush decided to return his Heisman Trophy.
For the first time in the 75-year history of the award, the title of "Heisman Trophy Winner" will be vacated.
It was the right thing to do.
Bush was not the first player to receive gifts while in college and will surely not be the last.
But his actions were undoubtedly illegal under NCAA rules. And if a player should have been ineligible during his Heisman season, then the award simply cannot remain in his possession.
On the other hand, college football fans are lucky. Because despite the fact that the record books will lack any mention of Bush, they still have the memories of one of the most exciting players of all time.
They'll remember his 260-yard performance against UCLA in 2005, when he truly seemed like a future Hall of Famer.
They'll remember the times he would run backwards ten yards, only to turn the play into a 40-yard gain. They'll remember his blazing speed, his end zone tumbles, and even the famous "Bush Push" that gave USC a victory over Notre Dame.
Despite the stain, Bush's achievements will never be forgotten.
Since he gave up his award with dignity, fans can now accept Bush's career as a tarnished, yet unforgettable glimpse at one of the most physically-gifted collegiate players in the modern era.
Maybe one day, Bush will give fans a professional season that will match the heights of his collegiate career.
But even if he doesn't, Bush has given the sports world enough excitement and pure dominance to ensure that he will always be remembered in a positive light, to some extent.
Not even a vacated Heisman can change that.
This article is
What is the duplicate article?
Why is this article offensive?
Where is this article plagiarized from?
Why is this article poorly edited?

USC Football: Like this team?