Baltimore Ravens Wednesday Wish List, Week 1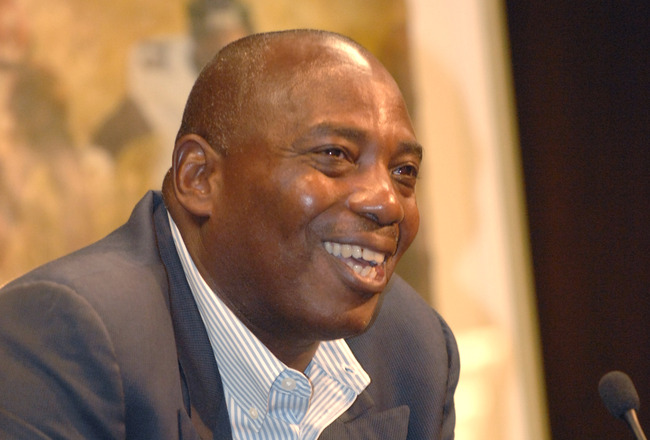 Mitchell Layton/Getty Images
Hey guys, welcome to the first of 16 or (hopefully) more installments of the "Wednesday Wish List" that will take place following the Ravens' games this season heading into the next week.
If you're looking for a simple game recap, you won't find it here—instead you'll find one fan's musings on the game a few days removed from the immediate jubilation or lack thereof following the game.
This week, the topic is, of course, the much-anticipated matchup between the Ravens and the Jets.
If you ever wondered how teams win ugly in the NFL, you should use the Super Bowl-winning 2000 Ravens as your case study.
If you wanted to be more current, however, you could use the cheat sheet provided by the Ravens and Jets this past week on Monday Night Football. Both sides played pretty ugly games, to be sure, with only a few potentially game-changing plays, most of of them going the Jets' way...except those by way of penalty.
Ozzie Newsome did a great job getting the Ravens ready for the season, and that really shone through yet again in this game. But a few things deserve special mention.
Offensive Game Ball: Anquan Boldin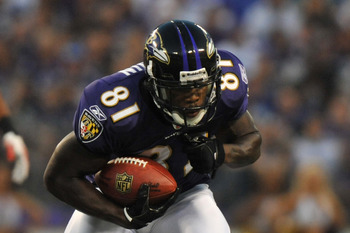 Larry French/Getty Images
Some of the superlatives that follow aren't, but this one was pretty easy.
Ozzie Newsome's prized offseason acquisition, former Arizona Cardinals WR Anquan Boldin, had a monster first game wearing the purple and black, catching seven passes for 110 yards against the vaunted Jets defense, including two huge catches in a third-quarter drive that ultimately provided the winning points on a Billy Cundiff field goal.
It was a somewhat surprising decision, but Jets head coach Rex Ryan chose not to take Boldin out of the game by beaching him out on Revis Island all night, and the Ravens took advantage of one-on-one coverage against the Jets cornerbacks, particularly on third down.
Wish List Final Thought: Please stay healthy, Q. Great game, and here's hoping you're on the field all season.
Offensive Goat: Joe Flacco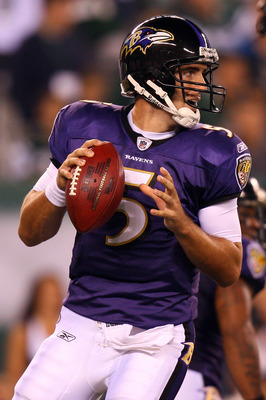 Andrew Burton/Getty Images
In a close game against a talented (if undisciplined) Jets team, the Ravens had several opportunities to take a decisive lead, beginning with Todd Heap's drop in the end zone in the first quarter.
Still, if the offense is going to get ticking, it can't turn the ball over. The Ravens were extremely fortunate that the Jets failed to capitalize in any significant fashion off three turnovers, two by Joe Cool.
Furthermore, while it did not end up mattering, Flacco flat-out missed a wide-open Le'Ron McClain for a touchdown immediately before Willis McGahee's 1-yard TD plunge. In another universe the Jets could easily have stuffed that play and held the Ravens to three points.
If the Jets had shown any offensive life all night, they would have scored when their first drive began in the Ravens' red zone (11-yard line to be specific). The stadium would have been positively rocking for the entire first half, making the job at hand that much more difficult.
Despite the issues, Flacco was clearly the better QB on the field even with his errors, and he made several big-time throws against last year's top defensive unit.
Wish List Final Thought: Hold the ball when you get sacked, Joe. It seems like it pops out way too much, and if you do that against the Steelers, James Harrison or LaMarr Woodley will be running it back the other way for six. I like the guts standing in there, but the ball had to come out practically before the play started on a three-step drop, and if you hold it...hold the ball.
Defensive Game Ball: Haloti Ngata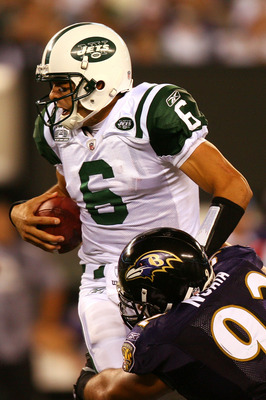 Andrew Burton/Getty Images
This mammoth defensive tackle had to show up for the Ravens to stuff the Jets' ground attack as it consistently did all night. Without the run game clicking, the Jets' offense looked pedestrian at best and flat-out pathetic at worst.
Not only did Ngata consistently stack up the Jets' elite offensive line with ideal two-gap technique, he freed up Ray Lewis to make his trademark plays.
The big fella even got in his pass rushing on the night when he bull-rushed his way to Mark Sanchez on a critical third down for the sack (pictured), one of many third down stops by the defense on the night.
Wish List Final Thought: Pretty much the same as Q—please stay healthy, Mr. Ngata. It all starts up front for the Ravens defense, and you're the only guy that is irreplaceable.
Defensive Game Ball, Part Two: Ray Lewis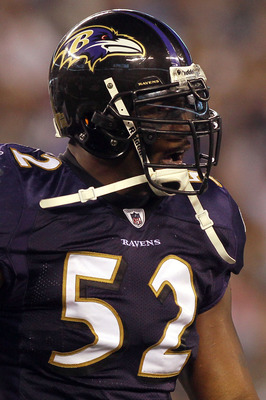 Jim McIsaac/Getty Images
In the future I'll usually have a defensive goat at this spot, but not this week. The entire defense was absolutely lights out, headlined by Ngata, as discussed on the previous slide, and by all-everything linebacker Ray Lewis.
Lewis constantly checked to the correct defenses and repeatedly blew up opposing blocks that prevented the Jets' talented stable of running backs from getting any sort of reliable rhythm on the ground.
The Jets' most credible offensive threat on the night was future Hall of Fame RB LaDainian Tomlinson, who ran for 62 yards on 11 carries, but this was padded by a couple of longer runs when the aging back flashed some of his form from his Charger days. Other than a couple of big runs, the Jets were completely unable to muster any offense.
Lewis remains the brains of the Ravens defense on the field and proved once again why he will be a slam-dunk Hall of Famer.
Wish List Final Thought: Dear Ray, never leave us...
Unsung Hero: Matt Birk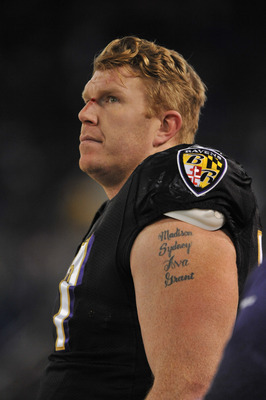 Larry French/Getty Images
It wasn't a flashy job, but here's an interesting statistic for you: Joe Flacco was only sacked twice during the game, the first of which came on the Ravens' first play from scrimmage and can be attributed to Flacco holding on to the ball rather than throwing it away when the Ravens' offensive linemen cut-blocked the Jets' D-line.
The offensive coordinator will rightfully get a lot of credit for calling a great offensive game and adjusting to what the Jets were doing defensively. However, Ravens center Matt Birk is the guy who made the protection adjustments and was charged with keeping track of where the formidable Jet blitz was coming from.
On multiple occasions on key third downs, the Jets came with an overload blitz that was expertly picked up by the offensive line, leaving Flacco with all day to find open receivers. Not a job that shows up on the stat sheet, but a lesser center (maybe one that didn't go to Harvard) couldn't have done it.
Wish List Final Thought: Pray that someone comes along after Birk retires that can do what he just did tonight and make it work, never mind do it well. Smart centers as physically gifted as Birk don't come along too often.
Wish Answered: Zebras Go Our Way for Once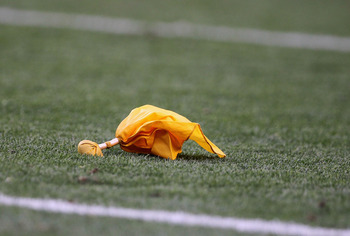 Doug Pensinger/Getty Images
It has been positively forever since the Ravens were clearly the more disciplined of the two teams on the field, whatever the matchup, constantly plagued by penalties in key situations. This time they were the beneficiaries of no fewer than 14 penalties called against the Jets.
Sure, some of that is the Jets' relative lack of discipline, particularly from Jets CB Antonio Cromartie, who accounted for four of the penalties. But part of that came from the savvy Ravens veterans taking the younger Jets guys back to school, and the zebras called a tight game.
Wish List Final Thought: It's about time we didn't feel that sense of impending doom every time there was something yellow on the field.
Wish Unanswered: Where's the Offense?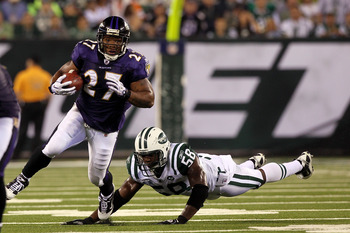 Jim McIsaac/Getty Images
Look, I'll be the first to admit that I'll take a win any way I can get it, particularly in a scary road opener in prime time where the Ravens have traditionally struggled. But it was ugly.
Ray Rice had 21 carries for a mere 43 yards, and while Willis McGahee did score the game's only TD on a 1-yard run, his cumulative yardage total for the night was actually negative (minus-two on six carries). Furthermore, Flacco's periodic errant throws did seem to hold the offense back a little bit.
Now it's only the first game, and against the Jets defense, an ugly win is still a win, but l'll believe the Ravens actually have this offense thing figured out when I see it.
There were definitely flashes, but the Patriots lit up the division rival Bengals in Week 1 for 38 points, and the Ravens travel to Cincinnati in Week 2 (1 pm, CBS). If the Ravens are really the elite offense they claim to be, they should score more than 10 points in that game.
Closing Thoughts: Great, but Do It Again
Elsa/Getty Images
After Week 1, many are already hailing this game as vindication of what they already believed: The Ravens are an elite team with Super Bowl potential this season.
However, that overlooks that Bengals QB Carson Palmer seems to have the Ravens' number in head-to-head matchups, and that the Bengals, though they looked bad in Week 1, will already be something of a desperate team, with both the Ravens and the Steelers (remember them?) off to 1-0 starts.
Losing a division game to the preseason division favorite AT HOME would already put the Bengals in a two-game hole.
Lastly, the Ravens secondary looked great against the Jets, but Mark Sanchez was pretty much "Captain Checkdown" in this game, targeting his wide receivers only three times, which is pretty much inexcusable against a banged-up Ravens secondary (by the way, the normally sure-handed Jerricho Cotchery had two drops).
Injured CB Lardarius Webb will likely return, and former Seahawks CB Josh Wilson will have had another week in the Ravens' system, for much-needed boosts against a deep Bengals receiving corps headlined by T.Ocho.
Wish List Final Thought: An ugly win is still a win, and I'm not going to complain because the bottom line is that the Ravens won the game. But there's always room for improvement, especially when you're going up against last year's division champ on the road.
Thanks everyone—hope you enjoyed.
Keep Reading

Baltimore Ravens: Like this team?