Fresno State-Utah State: Previewing This Saturday's WAC Opener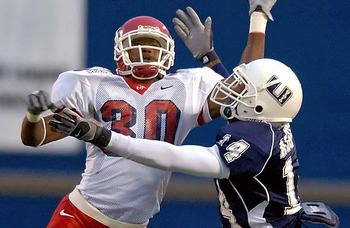 After a season-opening win at home against Cincinnati, the Fresno State Bulldogs look to keep that momentum even after a bye week as they travel to Logan, Utah to take on Utah State.
The Aggies are 1-1, and they opened their season on the road in Norman, Oklahoma and looked more than impressive against Oklahoma in a seven-point loss. It's a loss that is looking even better after the Sooners ran all over Florida State this past weekend.
As for the Bulldogs, they're coming off a win against Cincinnati that they desperately needed. Those non-conference games were games that Fresno State wasn't winning in recent years. They had what looked to be wins last season against both Cincinnati and Wisconsin but let both get away.
The Bulldogs would have probably liked to have played this past weekend instead of having the off week, but with the injuries they sustained, they needed the off week to try to get their players healthy.
They will face a Utah State team that has been a thorn in their side over the past few seasons with the last two games coming down to the wire.
Fresno State Will Be Without...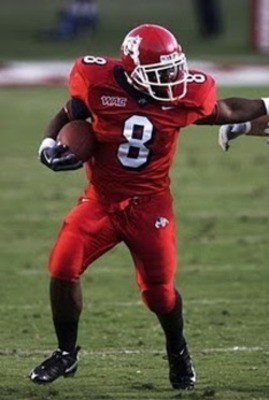 Running back Robbie Rouse (ankle and shoulder) and wide receiver Devon Wylie (foot), who will miss the game for the Bulldogs with different injuries.
Replacing Rouse at running back will be any one of the three running backs on the roster behind Rouse. The Fresno Bee's Daniel Lyght said head coach Pat Hill mentioned A.J. Ellis but would not rule out the possibility of Michael Harris and Tracy Slocum getting touches as well.
What might hurt Fresno State in the long run is losing Wylie for the entire season, which, according to Bryant-Jon Anteola of The Fresno Bee, is entirely possible. Anteola says the Bulldogs could turn to true freshman Jalen Saunders or sophomore J.J. Stallworth to replace him.
Utah State Will Be Without...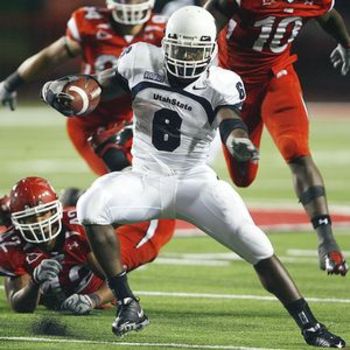 Running back Robert Turbin and wide receiver Matt Austin, both of whom are out for the season with knee injuries. They will also be without wide receiver Stanley Morrison.
It seems the Aggies haven't missed Turbin much, running up 275 rushing yards against Idaho State this past week and doing so with seven different players.
Fresno State Will Win If...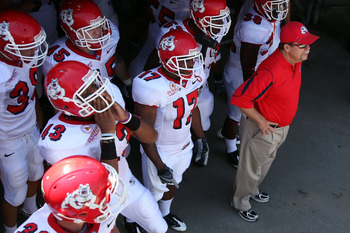 Stephen Dunn/Getty Images
They can jump out to an early lead. The Bulldogs need to have more of a running game than they had two weeks ago against Cincinnati; granted, Robbie Rouse wasn't 100 percent.
They got behind early against the Bearcats but did a great job in coming back and getting the win.
Defensively, they need to keep the pressure on Utah State quarterback Diondre Borel. He's been one guy that the Bulldogs have had problems with in the past. If they can put pressure on him like they did on Cincinnati's Zach Collaros through the entire second half of their season opener, it may force Borel to throw on the run.
One thing they need to be on the lookout for is the deep ball. The Bulldogs are weak in their secondary and could get beaten deep by the Utah State receivers.
The last thing is quarterback Ryan Colburn needs to stay interception-free. He did a great job of that in their opener, and he needs to do that again this weekend. Don't give the Aggies any more possessions than they can get. Doing that will keep the momentum on Fresno State's side.
Utah State Will Win If...
Utah State needs Diondre Borel to come up big—kind of like the performance he put up against Oklahoma without the interceptions. Borel completed 17 of his 36 passes for 341 yards and two touchdowns, but the aforementioned three interceptions might well have been the difference in the Aggies pulling the upset.
He can cause a team problems with not only his arm but also pulling the ball down and taking off. Fresno State struggles against the run, and it's where Utah State can take advantage.
With the Bulldogs not having Robbie Rouse in the backfield, they'll have a lot of inexperience at running back, so it may force quarterback Ryan Colburn to throw the ball upwards of 35 to 40 times on Saturday.
If the Aggies can key in on their receivers, not get beat deep, and keep everything in front of them, they can keep Fresno State from going up and down the field. Get a solid pass rush on Colburn and force him to make a decision.
They need to take hold of the momentum and not let it go.
Prediction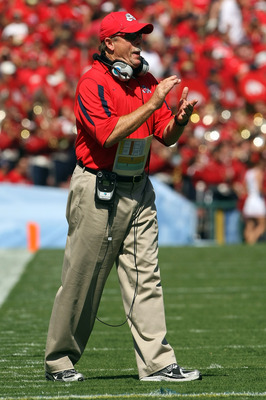 Stephen Dunn/Getty Images
Fresno State is a much more sound football team on both sides of the ball, and with Colburn having one more year of experience, that should be enough for Fresno State to sneak out of Logan, Utah with a victory.
Fresno State 31, Utah State 21
Keep Reading