New York Jets: Five Things They Did Right in Their Week 1 Loss To the Ravens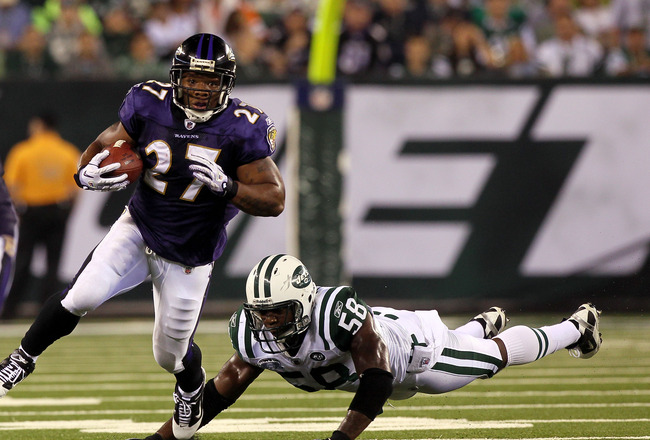 Jim McIsaac/Getty Images
After an embarrassing and shameful season-opening 10-9 loss to the Ravens last night, The Jets don't seem like the team everyone expected them to be.
Many of the players mentally were not engaged, as seen with Dustin Keller stepping out of bounds short of a first down with 42 seconds remaining in the game, and with Braylon Edwards' running-into-the-kicker penalty, which ultimately allowed the lone touchdown of the game.
Besides the mental mistakes, the Jets' offense was very poor, producing only 176 yards and six first downs.
The Jets' defense had issues as well. Namely in the secondary, the Baltimore Ravens attacked the Jets' newly-acquired defensive back Antonio Cromartie and rookie Kyle Wilson timelessly, managing 248 yards through the air.
With all of these negatives from the Jets, there were still some positives to take from this game going into Week 2.
Read on to see the five things the Jets actually did right in their Week 1 loss to the Baltimore Ravens.
Mark Sanchez Did Not Throw a Single Interception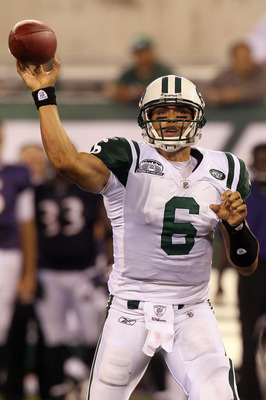 Jim McIsaac/Getty Images
Although Mark Sanchez only completed 10-of-21 passes for a mere 74 yards (surprisingly only his second worst performance in his young career), he still managed not to give up an interception.
Interceptions plagued Sanchez in his rookie season, as he threw the ball to opposing defenders 20 times compared to only 12 touchdowns.
If there is one positive to take from Sanchez's ugly performance in Week 1, it is the fact that through all the struggles, he managed to avoid his worst problem of his rookie season, which could be a sign of his maturity.
The Ravens' defense was vicious and not too many quarterbacks will put up impressive numbers against them this season, so the fact that Sanchez was able to avoid throwing an interception should be looked at as something done right.
Jets' Defense: Held Baltimore to Only 49 Rushing Yards on 35 Carries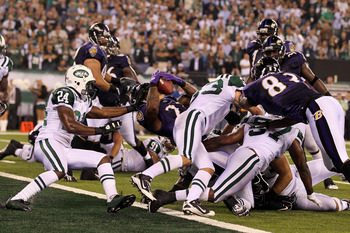 Jim McIsaac/Getty Images
As much as you can say about the Jets secondary, their rush defense was still superb in last night's 10-9 loss to the Baltimore Ravens.
Allowing less than 50 yards on 35 rush attempts for an average of only 1.3 yards is extraordinary.
And consider that much of this effort was done without the Jets' leading tackler, Kris Jenkins, who left the game in the first quarter with a knee injury.
There were, however, many defensive penalties. The Jets were on the field for two-thirds of the game and they gave up 21 first downs, but the Jets' rush defense in Week 1 was certainly something they did right.
Jets Defense: They Won the Turnover Battle, 3-1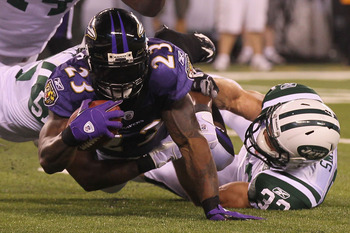 Jim McIsaac/Getty Images
The Jets' defense forced two fumbles and had one interception, winning the turnover battle against the Baltimore Ravens three to one.
Eliminating turnovers is critical to winning games and the turnover battle is a statistic that is often used by analysts and coaches to measure the games likely winner.
The Jets can blame their Week 1 loss to the Ravens for countless reasons, but their limitation of turnovers and their victory in the turnover battle was something the Jets did right.
Special Teams: 1.3 Yards Average on Punt Returns, Including a Forced Fumble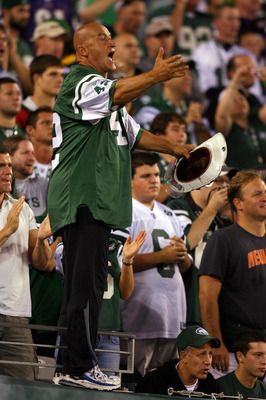 Andrew Burton/Getty Images
Special teams coordinator Mike Westhoff's unit was up to par in the Jets' Week 1 defeat.
The Jets' special teams unit was quick down the field, hard-hitting and aggressive, which limited the Ravens' opportunities to move the ball down field.
On the Jets' first punt, their special teams unit was able to force and recover a fumble, ultimately leading to a chip-shot field goal to give the Jets a 3-0 early lead.
Besides for the running into the kicker penalty (which can be categorized under their mental lapses) by the Jets' Braylon Edwards, the Jets' special teams unit was strong against the Ravens.
Jets' Rushing: Averaged 5.5 Yards Per Carry
Jim McIsaac/Getty Images
Evidently undermined by Mark Sanchez's weak effort, the Jets' running game was actually pretty solid.
Newcomer RB LaDainian Tomlinson led the way for the Jets rushing attack with 62 yards on only 11 carries.
He could be viewed as the only bright spot for the entire Jets' offense in Week 1.
The rest of the Jets' rushing attack was supplemented by a 22-yard run by Brad Smith.
Featured young running back Shonn Greene failed to show up for the Jets in Week 1, rushing for only 18 yards on five carries. However, much of his performance can be attributed to his clear notion of being unengaged and mentally out of it (fumbled and dropped several passes).
If the Jets want to put some points on the board this season, they will need to lean more heavily on their rushing attack, which actually did something right in producing more than five yards per carry in their Week 1 loss.
LaDainian Tomlinson looks like himself of old and seems rejuvenated. The Jets ground-and-pound philosophy must be executed more in Week 1, regardless of whether QB Mark Sanchez chooses to show up or not.
Keep Reading

New York Jets: Like this team?