NFL: Oakland Raiders: Looking Past The Score, Its Better Than You Think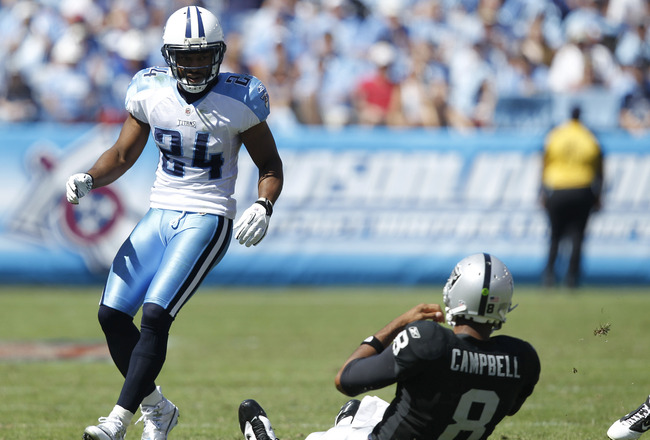 Hope he is not getting comfortable.
Joe Robbins/Getty Images
A loss in the first week of any NFL season is not always an accurate assessment of how a team will perform for the remainder of that season.
When it comes to the Oakland Raiders ,after nearly a decade of double digits losses , there is no benefit but there is a lot of doubt.
We are about to take an honest look at the Highs and the Lows
All is not lost Raiders Nation
The QB Situation and The Offensive Line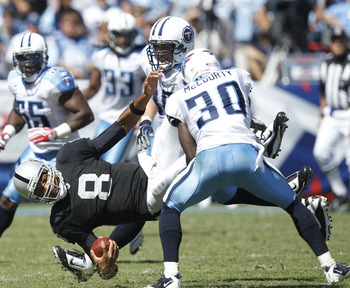 Joe Robbins/Getty Images
Since Rich Gannon, has Oakland had a starting quarterback that would have started on any other team?
IF you say anything else but No, you may be suffering from a concussion. If your not suffering from one, smack your self repeatedly in the head until you can use that as an excuse. and don't dare mention Kerry Collins.
No disrespect to Jason Campbell but anyone other than J Russ is an improvement. My 14 year old brother could handle an NFL O better then J Russ.
I believe that when Jason Campbell is provided some NFL quality protection he will make the Oakland Raiders offense respectable again. He was 22/37 for 180 yard 1 TD, 1 INT.
The key is keeping him upright. Gradkowski provided a spark at the end of last season but ended the season on IR. IF Campbell is to have any success he is going to need a little protection.
On many plays during the 1st quarter of the game, many Titans players where seen running free at Campbell's blind side.
The O-line looked horrible more so then they looked good. The line was a concern going into the season and that concern was reinforced yesterday.
Darren McFadden Running With Purpose and The WR's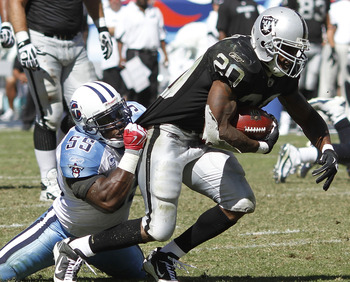 Joe Robbins/Getty Images
Who was that that was wearing Darren McFaddens jersey yesterday?
This man was breaking tackles, making defenders miss in the backfield on his way to a an 18 carry 95 yard game. He averaged 5.3 yards per carry yesterday
He also used his hand to snag 6 passes for 55 yard and a 9.2 yard per catch average.
McFadden showed a glimpse of his potential with his performance yesterday. He did this behind a porous offensive line.
If the line can get it together McFadden looks to have a break out year.
Wide receivers? I don't think any of them played yesterday. I watched the whole game and don't recall seeing any on the Raiders side.
The Defense Shall Set Them Free.....Im Dead Serious....Look at The Numbers.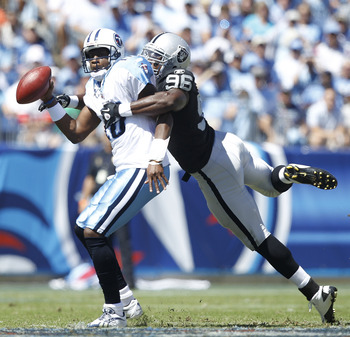 Joe Robbins/Getty Images
Aside from the Touchdown run of 76 yards by Chris Johnson and the 56 yard Touchdown reception of Nate Washington the defense looked very solid.
Remove the big run and last years leading rusher had 26 Carries for 66 yards. That is a 2.5 yards per carry. If it was not for that 76 yard run the airwaves would be a buzz over the Defensive units stellar performance.
The Raiders secondary gave up 154 yards, 56 on the Nate Washington TD catch. Take away that 56 yards and the Titans where 12/16 for 98 yards.
So What Does It All Mean
Jed Jacobsohn/Getty Images
Overall the Raiders do look to be in good shape.
The D played a solid game, fatigue probably had more to do with the two big plays more then lack of personnel.
The Offense is a definite work in progress
McFadden was more then solid. When given space and even when not he made it work
At first glance it looks like the Raiders of old but when you go inside the numbers the team is heading in the right direction
Keep Reading