New York Yankees vs. Tampa Bay Rays Live Blog: CC Sabathia, David Price Showdown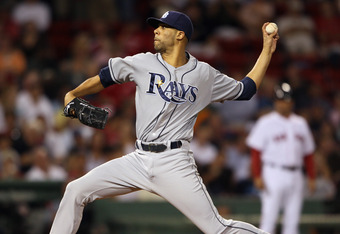 Tonight's start not only has the AL East division lead riding on it, but Cy Young hopes as well
Elsa/Getty Images
It doesn't get any better than this.
A 19 game winner.
A 17 game winner.
The best two teams in baseball.
Did I forget to mention they play in the same division?
What about the part that they are only 1/2 of a game apart for the division lead?
What about the historical significance that no two teams have had this many wins and been this neck-and-neck for a division race in MLB's 100 plus year history?
Think about it. In all these years of the Yankees and Red Sox pounding it out, they have not been this good together in the same season.
Enter the 2010 Tampa Bay Rays.
It has been an exciting season for the Rays. Their fast start. Their starting pitching.
They haven't gone away.
National pundits said they'd fade, at least a little bit. And when the Rays had their first rough stretch of the season, critics were quick to think this was the team they should be expecting.
But the problem is, the Rays haven't gone away.
Just ask the Red Sox.
If not for the Rays, the Red Sox would be contending for the AL Wild Card. Instead of setting up their post-season rotation, they are playing the "spoiler" role in late September.
And now, the Yankees and Rays start a three game series with the division on the line.
Every game matters. Every pitch matters. Every checked swing, every non-call, every managerial move will be dissected to the "nth" degree.
Post-season baseball has come early.
The Yankees and Rays have another chance to duke it out next week. In all, the Rays and Yankees play each other in 7 of the next 11 games. But which team needs to strike the first blow more? Which team has the upper hand coming into this series? Who is most likely to shine when the lights are at their brightest?
Here's a quick breakdown:
What Team Needs The Series Win The Most: Tampa Bay Rays
Both sides could really use this. The Yankees were just swept by the Texas Rangers. A series loss to the Rays could be damaging. But the truth is, the Yankees get another crack at the Rays next week. Even more, those games are at Yankee stadium.
The Rays need this series win because it will be easier to win at home, than at Yankee stadium. Sure, the Rays have the AL's best road record. But it would be much better to have that confidence going into Yankee stadium with the division lead, rather than trying to win on the road AND play catch-up.
Which Team Has the Upper Hand Coming Into This Series: Tampa Bay Rays
The Rays are at home, they are starting to regain their health, and currently boast the deepest team in baseball. The Yankees are 4-6 in their last 10 games, and while they have Cy Young contender CC Sabathia in Game 1, they are relying on youngster Ivan Nova for the biggest series of the season to date. Phil Hughes may have hit a late-year wall, having given up 5 ER or more in two of his last three starts. As the Yankees have also been watching his innings limit, he had his last start skipped and time will tell if he comes back rusty or refreshed.
Who Are The Potential Difference-Makers:
1) Ben Zobrist - few players have been hotter than Zobrist in the past week. He drove in two runs in each of the three games against Toronto this weekend. Six of his last seven hits have been for extra bases. Despite not showing as much power as last year, Zobrist has quietly had a productive season in other ways, ranking 5th in the AL in walks and 10th in stolen bases. If his power re-emerges for this series, the Rays may once again be unleashing "Zorilla" on the defending champs.
2) Robinson Cano - Due to the injuries to Nick Swisher and Brett Gardener, Yankees manager Joe Girardi is moving Cano up to #2 in the batting order. Will moving up Cano mess with his approach at the plate? Or will he continue to tear the cover off the ball? Cano's ability to produce at the top of the order will help their run producers do their job.
3) James Shields or James Yields - Shields has already pitched seven shutout innings against the Yankees in a previous start. But he also leads the AL in home runs allowed. Shields has been a boom or bust type of pitcher this year. Which Shields come up in the final game of this series could very well determine who takes home a 2-1 series win in this three game set.
4) Ivan Nova - It's not easy to pitch in New York and so far, this 23-year-old has more than held his own. In 4 starts, Nova has compiled a 2.92 ERA. No one is expecting a CC Sabathia-type performance, but if he can give the Yankees 5 or 6 innings of 3 ER or less, the Yankees will definitely like their chances in game two.
Tonight's Lineups:
Yankees
Jeter ss
Cano 2b
Teixeira 1b
A-Rod 3b
Thames dh
Posada c
Kearns lf
Granderson cf
Golson rf
Sabathia p
Rays
Upton cf
Bartlett ss
Crawford lf
Longoria 3b
Zobrist rf
Pena 1b
Rodriguez 2b
Aybar dh
Shoppach c
Price p
Bottom 11th: All it takes is one. Reid Brignac, who was only in the game because of the Crawford ejection, completes a great game from both sides, and gives the Rays their first division lead in over a month. To anyone who watched this one, I hope you enjoyed what probably was the best game of the season.
If you've been watching this one, you've seen a doosy. Best sporting event of the day.
Top 11th: Balfour works around an opening single to get out of the inning. Someone has to score eventually, right? Right?!?!
top 11th: Grant Balfour is the Rays new pitcher. Has been an excellent set up man this year, but is still working his way back after returning from the DL. 2-0 count against Granderson isn't good.
bottom 10th: Hawpe didn't have a read on either of the last two fastballs. They were not great pitches. They had great location, but hittable. Hawpe just missed. Rays probably missed their best chance of the game to win. At this point if the Rays will win it will be on a mistake pitch.
bottom 10th: Joyce has a .948 OPS vs righties this year.
bottom 10th: Since the Yankees are bringing in a right-handed reliever to face S-Rod, the Rays should counter by bringing in Matt Joyce.
top 10th: everyone knew Gardner was running, why was their not a pitch out? Doesn't matter as Benoit catches Gardner breaking for third. Rays have a chance to end it again going into the bottom of the 10th.
top 10th: And things start to get interesting in the 10th. Brett Gardner, nursing a sore wrist, still has good legs, and is being used to pinch run after Benoit gives up a one out walk.
bottom 9th: Did Crawford do the right thing? Couldn't the Rays have used his defense in LF? Did the umpire give Crawford a short leash? It's a close game, division is on the line...I'm sure this will be debated.
bottom 9th: finally some theatrics! Crawford gets ejected for arguing balls and strikes. Was it a strike? yeah. Has the umpire been calling that pitch tonight? Not really. Seems like there's an argument to be made for both sides.
top 9th: Mark that down as a no. Soriano retires the top of the Yankees order 1-2-3. Will we have a bottom 9th walk-off or a extra inning affair? Someone has to score eventually, right?
MNF question: Maybe instead of recording TV shows the Jets could learn how to convert a 3rd down? 0-6 tonight.
Top 9th: MLB saves leader Soriano enters the game. Does there become some concern if Soriano blows back-to-back games?
Bottom 8th: Sabathia works himself out of a late-inning jam without giving up a run. Is this the best pitching match-up of the year?
Bottom 8th: Upton's night includes 2 pop ups to Teixiera and a 'no-chance-of-hitting-that-pitch' strikeout here in the 8th.
Bottom 8th: Rays execute small ball, bunting Rodriguez to second. Sabathia then makes mistake of hitting Shoppach. Runners on first and second and 1 out.
Bottom 8th: Correction...I thought Sabathia wouldn't be sent back out for the 8th. Could that be an unwise move by Girardi? Last time the Rays Price battled an ace (Cliff Lee), the Rangers left their stud in too long and the Rays would score 5 runs off of Lee in his last inning.
Top 8th: And that caps off a dominant start from David Price. On a full count Price gets Swisher to ground out to Longoria. In a tie-breaker, Price outduels Sabathia (8 shut-out innings to 7) but what a start by both pitchers. Why isn't Price getting more Cy Young consideration? Nationally he seems to be ranked 3rd or 4th.
Top 8th: Ray killer Nick Swisher pinch hitting. Can Price close out the inning?
Top 8th: Error to begin the inning? No problem. At least nothing a 6-4-3 double play can't solve. Price continues his dominant start.
Bottom 7th: Gold glover 1B Teixiera robs Pena of a base hit. Could be a difference-making play tonight.
bottom 7th: Sabathia is saving his best for last. Struck out Crawford on a 95mph fastball for the first out, his highest velocity on the night.
Top 7th: How many pitchers have a better fastball than Price? Working himself out of a two on, one out jam, Price uses his fastball to pop up A-Rod and get a fly out to center from Thames. Heading into the bottom of the 7th with the same score that we came to the park with.
Top 7th: First signs of trouble from Price after he gives up a single to Cano and a walk to Teixiera.
This article is
What is the duplicate article?
Why is this article offensive?
Where is this article plagiarized from?
Why is this article poorly edited?

Tampa Bay Rays: Like this team?