U.S. Open Men's Final 2010 Live Blog: Rafael Nadal vs. Novak Djokovic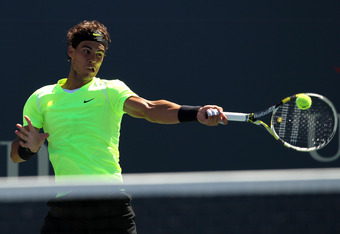 Al Bello/Getty Images
Featured Columnist Adam Fromal here, live blogging the Rafael Nadal-Novak Djokovic match as we get to see who will claim their first U.S. Open title here in Flushing Meadows.
Join me for the next few hours as we talk everything from Nadal's place in history to who has control of the match.
Will this be Djokovic's second career Grand Slam or will it complete the trophy shelf for Nadal? We're about to find out!
_________________________________________________________________________________________
Alright tennis fans, I've got to sign off and go study. Oh the joys of being a college student. But for all of you who read this, thank you for the time you spent with me tonight. If anyone has any more conversation topics or questions, please leave them and I'll get to them as soon as I can.
Once again, a congratulations to Nadal, a true champion!
Also, a heartfelt congratulations to Novak Djokovic. He played his heart out but in the end, he just didn't have the game to stick with the Spaniard.
Djokovic's forehand goes long and Nadal has done the impossible! He becomes just the seventh man to complete the career Grand Slam! What a match and what a tournament for the No. 1 ranked player in the world. He has truly ascended to the top of the tennis world.
And we have our first (and maybe last?) championship point!
Djokovic hits a drop shot that bounces off the net and points his fingers towards the heavens as Nadal FINALLY can't get to one of his shots. Even in defeat, Djokovic is a character.
Another epic point, a great example of how he plays every point like it's his last. 30-0 Nadal!
There's the Face again! There's no letting up from Nadal.
As predicted, Djokovic holds serve there and will focus all his energy on somehow stopping the Nadal machine.
And Nadal goes up 5-1 in the set! Prediction: Djokovic holds serve here but can't break Nadal. Nadal wins the set and the match 6-2.
Djokovic hits one into the net and yells at his racket in disgust twice as it's clenched between his hands. Nadal now has a game point to go up 5-1 in the set. The Spaniard has now gone 45 straight points without an error.
Nadal gets three more break points against Djokovic to go up a double break in the set and converts on the second of the three when the Djoker hits the ball directly into the net. Two games away from the title!
Nadal takes a 3-1 lead and the engraver should start getting to work on the trophy. Nadal's name needs to be on there pretty soon.
Also from Sanju P: "The rain break midway in the match helped him a lot as it was close to a 1.5 hr rain break and helped him regroup. The momentum was with Rafa in the second set when match stopped. I am however shocked that Rafa is creating enough chances to earn break points but not converting ..5/23 is a poor record for Rafa :-)"
And Nadal has broken Djokovic in the fourth, and dare I say final, set. This ones about to be over folks.
I feel bad for the tennis ball after the beating Djokovic just gave it.
From Sanju P: "Doesn't this match give us the feel of the Verdasco-Rafa Semi in AO, 09. Same bitterly fought first 3 sets, lot of passion and intensity
However Nadals break point conversion is very poor in this match"
Djokovic looks done. He appears to have given up. All indications point towards a career Grand Slam for the Spaniard. Which brings the question: where will a win here place Nadal among the all time greats? I still think he's behind Bjorg, Federer, and Sampras.
Nadal with back-to-back-back huge serves! One an ace, two de facto ace. Djokovic can just put his hands up in the air in despair and question anyone's ability to return the serves. The set belongs to Nadal!
I literally just had to stand up and applaud at Djokovic's effort on the last point.
We just saw the fifth rally in the match that lasted over 20 strokes. Wow. . .
Djokovic finally wins a service game without going to deuce, but he still has to somehow break the unbreakable Rafael Nadal in this next game to avoid a two sets to one deficit.
I guess this has to be considered a successful game for Djokovic? Even though he lost the game he did get two points. . .
It takes until 0-15 in the eighth game of the set, but Djokovic finally got a point off of Nadal's serve.
Djokovic saves five break points in the 10 minute game and holds his serve! I can see this being a turning point in the match as Nadal threw everything he had at Djokovic and it didn't work.
This article is
What is the duplicate article?
Why is this article offensive?
Where is this article plagiarized from?
Why is this article poorly edited?