Oakland Raiders Not Far From Super Bowl Contention If They Keep Their Core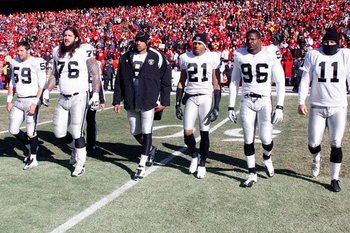 Al Davis has done himself a great, big favor by letting Tom Cable go. Cable only needs to not let the door hit 'em where the lord split 'em and take his boys wit 'em.
Cable's boys were a definite detriment to the Raider cause of making the playoffs this year. It's funny how the very thing that gets a head coach hired (offensive line) is what ultimately gets him fired.
It is my belief that Hue Jackson with his high powered offense will remain in Raider Nation as the head coach. That will be the stability the Raiders need as the players master the Xs and Os of their positions.
With the talent already on the team, the Raiders are not very far off from Super Bowl contention. Just a few off season moves are needed to turn the Raiders into that contender.
But they must first keep their core players together.
Turn the page for a closer look.
Nnamdi Asoumugha: Bring Him Back!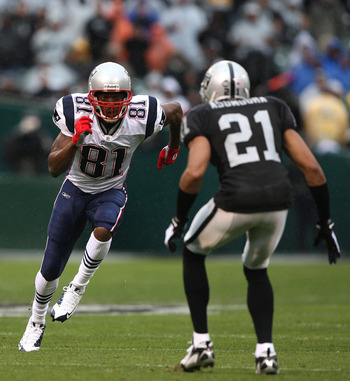 Jed Jacobsohn/Getty Images
This resign is priorty 1 this off season.
Nnamdi Asomugha is about 75 percent of the Raiders pass defense. Teams don't even bother to throw his way so free safety can cheat over toward the opposite corner's side.
Asomugha's coverage skills also mean that the Raiders can blitz it they want because he doesn't need help.
He was all that the Raiders had before the acquisition of Richard Seymour. The Raiders have since added Rolando McClain and Lamarr Houston with Matt Shaughnessy and Tommy Kelly improving.
Free safety Michael Huff has really come on this year so the secondary is almost complete. If Asomugha stays, all that's needed in Raider Nation is corner to play opposite Asomugha.
The Raiders have to keep him first though.
Richard Seymore: Bring Him Back!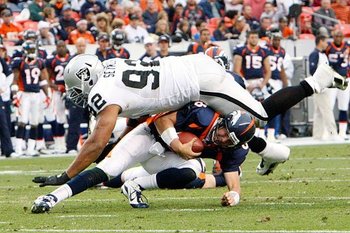 This is priority 1A for the Raiders this off season.
Seymour will join Asomugha in Hawaii for the Pro Bowl in a few weeks as he is one of the few elite players on this Raider team. His play isn't the only thing that will be considerably missed if he leaves the Raiders.
Seymour is a leader that truly makes those around him better.
He's worth this year's first rounder if he stays.
Zach Miler: Bring Him Back!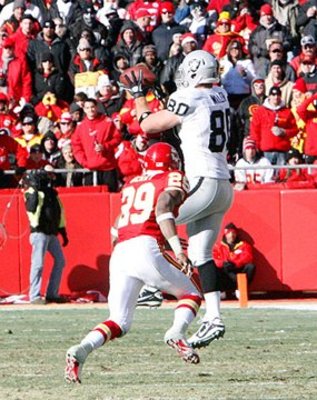 This resigning is priority 1B.
Raider Nation was able to see how different the Raider offense is without Zach Miller when he was injured this year. There is a glaring drop in both red zone production and third down efficiency without him.
Quarterback Jason Campbell is much more comfortable with Miller there in those situation. There's nothing like knowing the man you are throwing the ball too is going to catch it.
There aren't a whole lot of those people at the receiver position for the Raiders.
Michael Huff: Bring Him Back!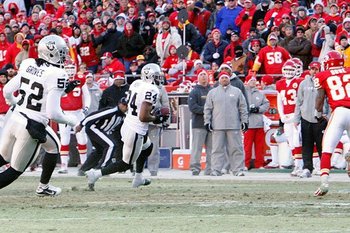 Michael Huff is the is priority two to bring back.
He has found his niche in Raider Nation and has become a very important part of this Raider team. He's not quite up there with Asomugha, Seymour, and Miller but still a must keep.
I thought Huff should have been moved to corner at the beginning of the year because of his tackling but he improved it this year. Huff finished the season with 92 tackles, 4 sacks, three interceptions, and 10 passes defensed.
That's a full figured free safety stat line for a season.
Huff is just a cut below the Pro Bowlers now.
Chaz Shilens: One More Year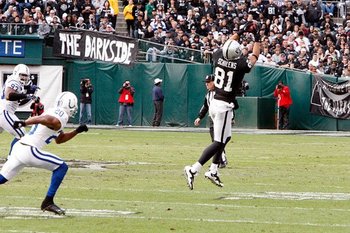 Chaz Schilens should get one more year.
Many may not like it but there is no off-season surgery scheduled so his rash of injuries appears to have come to an end. I see him as that chain moving, 70 catch per year receiver the Raiders need.
The Raiders already have enough money tied up in the receiver position anyway. I just don't see Davis opening his check book for another receiver as there are other places to spend that money.
I do predict a healthy, 1,000-yard season for Schilens.
You can see that he was starting to get in sync with Campbell in the last game of the season. My prediction is also based on the fact that Schilens has an entire off-season with him.
He's worth holding out hope for just like McFadden was.
Samson Satele: Follow Cable Out The Door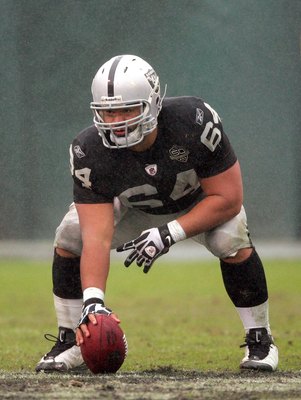 Ezra Shaw/Getty Images
The Raiders have established their identity of a physical team that bullies opponents. The only problem with that is they get bullied by the more physical teams in the league.
That is due in large part to the holes in the middle of the Oakland Raider offensive line. Satele is a huge part of why the Raiders can't run inside against the more physical teams in the league.
He is constantly blown back against the larger, more physical nose tackles. Running backs Darren McFadden and Michael Bush need a guy that can at least get a few stalemates in there.
Quarterback Jason Campbell needs a pocket that he can step up into with stepping into something. Satele has not done his part to see that Campbell, McFadden, or Bush have that.
Time for Samson to go.
Cooper Carlisle: Follow Cable Out The Door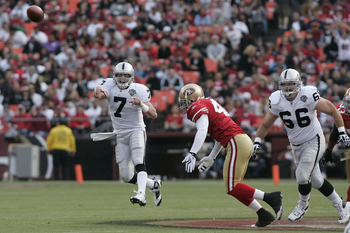 David Paul Morris/Getty Images
Cooper Carlisle was another big part of the problem in the middle of the Raider offensive line. He also appeared to be playing on skates in the run game while giving up sacks in the pass game.
Carlisle was good but he now appears to be staying in the game to pick up a check. He wouldn't have been a starter for any other team in the NFL this year as Cable lost his job for enabling him.
I hope he retires and enjoys it.
Bruce Gradkowski: Please Follow Cable Out The Door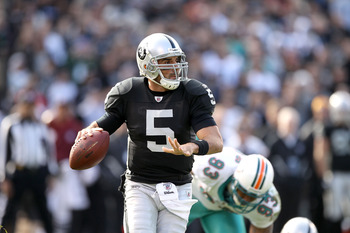 Ezra Shaw/Getty Images
Bruce Gradkowski needs to go.
He was made into a cult hero in Raider Nation for his comeback wins in relief of Jamarcus Russell. Raider Nation fell in love with Gradkowski, believing he is better than Russell but how much better is he?
Russell also had a couple of comeback wins last year in relief of Russell. Gradkowski's career quarterback rating is 65.9 while Russell's is 65.2.
Cable gave Jason Campbell, a career 82.6 passer, a very short leash while giving Gradkowski a long rope to hang both himself and Cable with. I believe this is the biggest reason Cable is no longer in Raider Nation.
Barely better than Russell isn't good enough for any other NFL team so why the Raiders. Cable should have played the percentages and stayed with Campbell throughout.
Now he can take his boy wherever he wants.
Jared Veldheer: Move Him!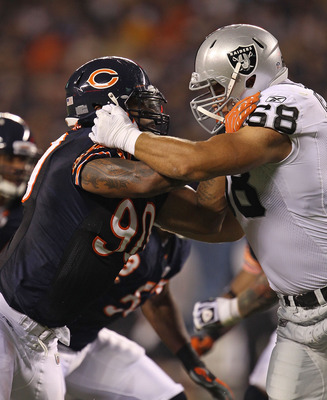 Jonathan Daniel/Getty Images
Jared Veldheer is and immensely talented offensive lineman.
He just doesn't have the right body and skill set to be a franchise left tackle. He especially can't be a Raider left tackle because Raider quarterbacks need to hold the ball longer for the vertical routes to break open.
He's not so bad against pure speed but struggles with power rushers and guys with pass rush moves. His short arms hinder him as the longer defensive ends simply slap his hands down.
He struggled in his first game at center but looked like a best in the middle against the Broncos in their first game. Veldheer gave up 10 sacks in his season at left tackle in just 11 games.
"He's only a rookie!"
Really?
What rookie future franchise left tackle gives up 10 sacks in his first year?
Bruce Campbell: Play Him!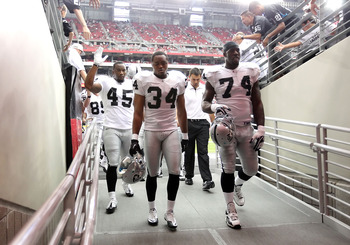 Christian Petersen/Getty Images
No wonder Cable is gone.
He moved Bruce Campbell to right guard to give his baby Veldheer a shot at left tackle. Then he refused to play Campbell in favor of Cooper Carlisle, who constantly gets blown back.
Almost every time a Raider quarterback gets sacked, the replay shows Carlisle looking back at the quarterback. Almost every time a Raider running back get thrown for a loss, Carlisle is at least two yards behind the line of scrimmage.
Why not see what the bigger, stronger, faster and younger man can do?
I have yet to see his uniform dirty.
Jared Gaither: Bring Him In!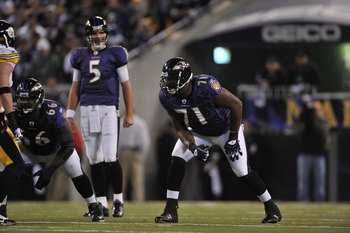 Larry French/Getty Images
The Raiders were in talks with the Baltimore Ravens about Jared Gaither at one time. The talks broke down before this season but he is soon to be a free agent.
Before the season I wrote an article about bringing in Gaither and Raider Nation wanted Veldheer. They amazingly still believe in a man that gave up 10 sacks in 11 games this year.
Bruce Gradkowski and Veldheer are the two most popular players on the team. I hear more good things about them than I hear about Darren McFadden and Nnamdi Asomugha.
Therefore I hear more good things about them than what they do. Those of you the don't want Gaither and want Veldheer please take a close look.
As we know, Veldheer gave up 10 sacks this season.
Many in Raider Nation speak of the potential he showed while giving up these sacks.
Gaither gave up five sacks in his first two years in the league.
I thought that was how you show potential.
What I also like is the fact that Gaither did it in Jackson's vertical offense in Baltimore. That means that he is used to giving his quarterback a heartbeat longer and he knows the system.
I think the move is pretty likely because Gaither is a Davis type of guy at 6'9, 340 pounds.
The bottom line is he makes the Raider offensive line much better.
Champ Bailey: Bring Him In!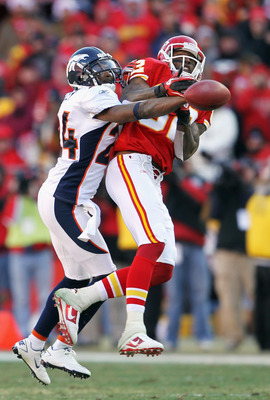 Jamie Squire/Getty Images
Bailey has nothing coming in Denver.
His contract is up and it looks as if the Broncos are in rebuilding mode without Bailey. The Raiders are in need of a corner opposite Asomugha to hold his side of the field.
I believe Champ Bailey is that guy.
Sure he's 33 years old but he still has it.
The Broncos put Bailey on Chief receiver Dwayne Bowe in week 13 and he completely shut him out. Bowe didn't have a single solitary catch for a single solitary yard.
Remember the last corner we got from the Broncos? (Willie Brown)
This one only does the Raiders good if Asomugha stays.
Overview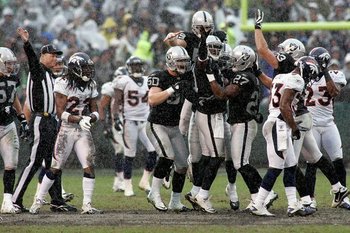 The run defense should be better next year due to the improvement of McClain at middle linebacker. Tommy Kelly seamed to improve against the run during the season and should be okay next year.
Raider Nation is hopeful that defensive end/outside linebacker Trevor Scott comes back at full strength. He was a good edge setter from the outside linebacker position.
Using the draft to address the defensive tackle and outside linebacker spots is a good idea either way. I'm going to go out on a limb and say Chaz Schilens will get rid of his injury bug next year.
I also expect bigger and better things from Jacoby Ford and Louis Murphy.
The aforementioned off season moves can very well turn this Raider team into a dynasty. However, the most important thing for the Raiders at this time is to keep their the core players in Raider Nation.
It could be the difference between 5-11 and Super Bowl contention. Needed free agents won't go to Raider Nation knowing their core players weren't kept happy anyway.
If those core players stay, the Raiders are not far off.
Keep Reading

Oakland Raiders: Like this team?