NY Giants Week 1 Recap ( Part1): Perry Fewell's New Look Defense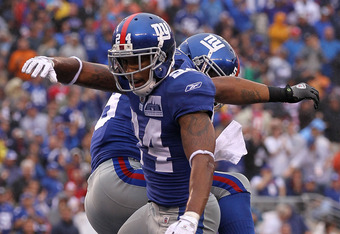 Chris McGrath/Getty Images
Week 1 is over and Giants fans can breathe a sigh of relief. Big Blue pulled out an ugly but decisive win in the inaugural game of the new stadium. While it's a nice way to start the season, I think there are still some serious concerns that came up during this game.
The big question of the day was: could Perry Fewell's defense improve on last season's horror show? After watching them in action today I'd say short answer "Yes", long answer "Probably, but…". We'll start with the positives.
It was great to see Kenny Phillips on the field again and he looked solid, as did fellow "U" alum Antoine Rolle. In fact, the secondary was a real strength during the game both in the passing and run game.
A late 2nd quarter TD notwithstanding, Terrell Thomas was the defensive star of this game. Four solo tackles and a pick don't fully tell the story of his contribution on the field. His open field tackle of Steve Smith, which sent him end over end, was incredible. Building on a decent year in 2009, he looks poised to challenge for a permanent starting spot.
Corey Webster (5 tackles, 2 passes deflections) had a relatively quiet day, but in a "no news is good news" sort of way. All and all the secondary looked revitalized and hungry.
There also seemed to be signs of life on the defensive front. Fewell lined up multiple personnel packages on the front four, which were the hallmark of the championship defense. The motor seemed to be there too, as I watched guys working with intensity on every play.
The standout here with 4 tackles, 2 sacks and a forced fumble is Mathias Kiwanuka. While he always been a solid contributor, Mathias has never quite lived up to his first round draft pick. When Osi and Strahan were entrenched starters and Tuck began to blossom, he seemed to get lost in the shuffle. With the starting job wide open and this being a contract year, it'll be interesting to see if this is the year he can turn the corner.
As a final note on the defensive line, I have to bring up the sack and QB rush by Barry Cofield. That push up the middle is so important to a pass rush. If the quarterback has room to step up and away from pressure, the defensive ends will almost never get there in time. When you throw in mobile or pocket savvy guys like Tony Romo, Donovan McNabb or Drew Brees you get, well…the 2009 season. It's just two plays but if that's a sign of things to come, the Giants might be in pretty good shape.
Finally we come to the linebackers. This is a unit that has been in flux leading right up to kickoff. While the defensive line shares some of the credit, the linebackers held a very good running team to under 100 yards on the ground. Goff seemed much more comfortable at his position and Bullock played like he knew the system for years. The center of the defense held fast against the run and the seam pass, which killed this unit a year ago. If Goff can remain consistent, this current line-up should be very productive. It's disappointing to see that Clint Sintim apparently hasn't progressed enough to see meaningful time on the field considering the physical tools he possesses.
So that's my 453 word short answer on the whether the defense has improved or not. The stat sheet is on fire and the defense (for the most part) executed in all three levels of the defense. Unfortunately, I did mention a "but…", and here it is: the team we beat was not a real test.
I know that nine out of ten pundits gave a hundred reasons why the Giants are overrated and were destined to lose. (In fact, after watching the anger that Warren Sapp displayed in trashing them on the pre game show I wonder if someone on the team called the police on him a few months ago).
Make no mistake though, this is a very mediocre team that ended last season with a 4 – 1 bang after not accomplishing much more than that for the first eleven games. The fact that this was a game for as long as it was makes me a little uncomfortable. A loss here would have been a more meaningful than the win today.
The Panthers run as vanilla an offense as any in the league. It's possible that the only thing written on Matt Moore's wrist flap is Run, Run, Pass. To paraphrase (the hilarious) Carl Banks on the radio broadcast, when the Panthers have to pass, there's a sign out there that says "Free Food" for the defense. All of those sacks came when no one had to even think about defending the run.
He's a decent quarterback with one legitimate target. It would be a disaster if the secondary didn't have a multiple pick game.
I think there are some questions that won't get answered until the Giants face quality opposition. How will the secondary hold up against elite receivers and 3-5 wide looks? When will Aaron Ross be healthy enough to contribute?
Also from what I saw, the Giants are going to have to rely heavily on a 4 man pass rush. Many of the blitzes sent at the Panthers were pinched inside and picked up by their offensive line. There doesn't seem to be a fifth guy who can be sent on a blitz from the 'backers or secondary to consistently rush the passer. If that continues happen these corners are going to be tested heavily.
How will the linebackers fare against the better tight ends in the league? This has been a problem for the Giants for years, even when Pierce was here. In our division alone, we have three of the best tight ends in the league who create match up nightmares for the most athletic linebacker.
I haven't even mentioned the horrendous special teams play which doesn't seem to be going away. There is absolutely no way this defense can hold if they have to defend a short field on every series. (I don't know what the solution is on that front, but if it continues it will without question cost them games.)
I think what we can take from this game is that it's a step in the right direction and there's reason to be cautiously optimistic going forward. There's a lot to improve on but I think even more to build in the coming weeks. Next week at Indy will really be the litmus test, but I have my fingers crossed.
Tomorrow I will post my breakdown of the offensive performance and why I think the injury to Kevin Boss forced the Giants into an overdue change in direction. Until then, stay BLUE!
This article is
What is the duplicate article?
Why is this article offensive?
Where is this article plagiarized from?
Why is this article poorly edited?