Bears Win, But Feels Like They Lost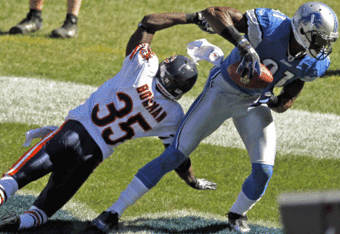 Lions receiver Calvin Johnson brings down a pass over Bears defender Zack Bowman in the final minute. The catch was nullified. (Scott Strazzante/Tribune)

For the home opener the Bears came out in their road whites for some reason. After this game I say stick to the home navy blues. The Bears started off with a good first drive. Devin Aromashodu with a bad drop though that would've resulted in seven points instead of four. Then I thought the defense had a solid first series with a three, and out setting the tone for how they would play the whole game. I thought the tackling looked good, and the secondary was in position, and made good plays.

The second series was bad obviously. It was looking good for awhile but then a big penalty, and an absolutely ridiculously bad decision by Cutler. How he didn't see all that congestion in the middle of the field is dumbfounding. The blocking was good so it was all him. He's not going to change anyone's mind about being a waste of talent if he continues to do stuff like that! Than on defense Bears defensive End and big off-season free agent pick up Julius Peppers had a bad roughing the quarterback hands to the head penalty. as a veteran he needed to be smarter than that. Two huge penalties and a bad decision highlight that second series on both sides, and would be a constant theme all game long along with some bad turnovers.

The third drive on offense was going great. The line was blocking well and they were moving than Greg Olsen coughed it up. Nothing more you can say about it. He's got to hold that ball better. He just doesn't take on contact well. Bears should probably have had14 points at least at that point. Mistakes are not going to fly against a good team. Now the defense bailed them out again.

Bad fourth series for the Bears. Bad throw on third down for Cutler that looked like he was a little shaken up by the Vanden Bosch hit prior. Williams did a poor job with his help. Olsen's chip carried Vanden Bosch toward the middle and instead of sealing off the inside he gave it to him to roll off the chip and into Jay. That's got to stop! Williams looks like he's the weak link on the line when he should be the strength. Nice defense on the series following again. More good tackling. Very encouraging. Davis with another bad penalty on this team win the return following the Bears latest defensive stop. Discipline appears to be an issue. Coaching is usually the culprit for that.

On the next series another bad penalty by the Bears this time on Manumaleuna who had a pretty un-impressive game. Good throw to Aromashodu to bail them out of that bad holding infraction. Its looking like Aromashodu is going to be a favorite target at least early on for Cutler. The next throw to Knox showed trust-ability where Jay threw to a spot. On Fortes first fumble it was a nice swing pass, but he has to keep that ball tucked high and lower the shoulder on the submarining tackler. There was an opportunity on the defensive series following the fumble to get the ball back, but Manning drops a sure interception.
That call was a bad one on the booth review on the Jhavid Best touchdown from what I saw. There was nothing on that review that indicated the ball clearly crossed the plain. Should not have been overturned. Good play by free safety Chris Harris to clean that play up, and stop him, but for it was for not.

Wiliams again shows me he's a bust! Again a bad penalty. The thing that made it even worse than just a penalty was he actually pulled him down into the back leg of Cutler. Its clear he needs to have help constantly or he may get Cutler seriously injured. The good part on that drive was obviously the big play on the screen. That's going to be a big weapon for the Bears all season it appears. This game probably should have the Bears up big at half but left them actually behind by four points because of bad penalties, and even worse turnovers. At the half it looked like Detroit may not be as talented as the Bears, but are better coached as they were the more disciplined, and fundamentally sound team. I do like the fact that Mike Martz seems to be adapting the offense to his personnel with a lot of action to Olsen, and multiple planned rollouts with Jay Cutler.

On the Peppers big play sack and fumble caused, there was another undisciplined penalty by the teams captain. This kind of thing has been passed off, and ignored for far too long. Its time Lovie stopped the enabling, and held these players accountable for those types of things. I just hope despite the record or the end results of this season that this is being taken note of by the decision makers of this team. If fundamentals, and discipline are executed the Bears should have been up by at the very least two scores at halftime,but lack of it had them down by one instead.

The second half obviously started to our advantage minus their number one quarterback, and it showed. Good first series by the Bears. I thought Peppers was clearly held on the hump move that Reggie White made famous or that could have been another quarterback down. So long as Peppers keeps knocking starting quarterbacks out of games the Bears should be in good shape this season. Otherwise the other three guys on the line better step it up. So far anyone not named Peppers on the defensive line hasn't gotten pressure on the quarterback against a line that has just as many if not more questions that the Bears do.

On the first offensive possession there were good things, but again another fumble fortunately recovered by a heads up Lance Louis. This had better get stressed. I like the fact Mike Martz yanked him, and replaced him with Taylor. The message has got to be sent that that won't be tolerated.

The second defensive series was a thing of beauty. They were aggressive and dominate. Nice blitz, and rush on the right side drawing the quarterback into the arms of a blitzing Urlacher. The Bears are playing the screen play to perfection. The cornerbacks were playing press a lot. Something they didn't show at all in pre-season. Looks like the Bears were telling the truth about holding scheme back. Pressing the corners is something I've felt they should have been doing all along with the big Corners they have and the zone based scheme. Bowman to this point in the game has done a magnificent job shutting Calvin Johnson down.

On the second offensive series of the second half featured a nice tight end screen to Olsen. This shows Martz is willing to be innovative, and flexible with personnel, and not force system down their throats. Good coaches do this. Martz is without a doubt an elite coach. Cutler than got sacked which wasn't good, but he did a good job holding on to the ball as he was nearly stripped by Ndomukong Suh. There's still too much pressure. That needs to be cleaned up. There was also confusion on the route between Johnny Knox, and Aromashodu on the play after. Then more pressure on Cutler who just got rid of the ball to avoid another sack on the series. Bears wasted a good opportunity to take advantage of great field position which was a constant theme the entire second half. This series probably wouldn't have been as big of a deal, but with all the mistakes early this just killed the teams momentum.

On the next defensive series a great play was made on the run on first down for a loss. Than they gave up the first pass to Calvin Johnson, but even on that play Bowman was stout against the Lions best offensive weapon. Bowman just continuing to shine as an NFL cornerback. The play did give them a third and two. Ultimately the series ended with the Bears stuffing the run on third and short. The Bears were very good on third downs, a huge concern coming into this game.

The third series of the second half started out with two unspectacular runs by Chester Taylor. Nice improvisation by Cutler on third down to keep the drive alive with a run. Than back side pressure on a sack that had initial good blocking but Omiyale released his man too soon assuming the ball would be out. Looks like Cutler held on to it too long on the play. Also looks like it could've been challenged for having Cutlers arm in forward motion, but was not challenged which had me scratching my head on a huge play like that at that point in the game. Another questionable decision by Lovie Smith to not challenge. Than the Bears were very fortunate to get the ball back on incidental contact between Tillman, and Johnson resulting in Johnson falling down, and Tillman being alone for the pick.

The fourth offensive series began well with a nice run by Forte who showed the speed, and explosiveness to turn the corner on a long gainer down the right sidelines to end the third quarter. I think so far all the concerns about whether Martz will run the ball or not in this game shows he will be more than willing to do so. In this drive Cutler's mobility shows why he can be an elite quarterback as most quarterbacks would probably have been sacked twice on the drive by now. Instead his athletic ability put the Bears in a very manageable third, and short on an important fourth quarter possession down one point in a divisional game at home. Another mis-read by the wide receiver had Cutler throwing the ball in the end zone while Knox headed to the sideline resulting in a punt to end an important series.

Bears start the series on defense with another huge play by Lance Briggs. So far this defense looks like it will be formidable, and will make big plays this season. The sack, fumble caused, and recovery by Briggs set up the offense in good shape at the one, and failed to get the score. Not a statement you want to make at home in the fourth quarter in your opening game against a divisional foe. I did agree with going for it. My feeling on the reason why is they had Detroit's offense backed up, and with the way the Bear defense was playing to me was worth the risk. I felt with the lead the Lions would play it safe and run conservative plays that would result in a punt, and give the Bears the ball back in great field position at worse. That's exactly what happened. I just disagree with the calls. Three run plays that worked in the Lions favor. I thought rolling out Cutler at least once would've been nice with a run pass option. As I mentioned the Bears defense did a nice job holding to get the ball back to the offense as it had this entire game.

There was a sack in the ensuing drive, and was another instance of Frank Omiyale initially pancaking his guy to the ground, but not staying with the block. He allowed his man to get back up and get in the play. Still Cutler needs to get that ball out. Looks like he's still learning to play in that timing offense a little. That internal clock that gets talked about needs to get properly set. Still if Omiyale doesn't give up on the block that's not a sack. That made it third, and long, and a short pass play later a punt on yet another huge possession with time running out on the Bears chances. The defense came up huge again to give the ball back on yet another chance to take the lead and win the game. No first downs allowed the entire second half by the defense up to this point in the game. That's getting it done.

The next drive starts with another holding call on the line backing them up on a huge possession. After Cutler missed badly on a dig route to Knox they get a huge 17 yarder to Taylor for a manageable third, and three which was converted on a pass to the right hash for an eight yard gain to Olsen on what appeared to be a quick hitting hitch route of some sort. Than a huge holding play by Detroit on Aromashodu got the ball to a manageable field goal. After a nice run play by Chester Taylor bringing the ball to a very make-able field goal distance the Bears than have another bone headed play by Roberto Garza on a false start to bring it back for a five yard gain which was followed by a three yard loss on a run play that was met as the handoff was made. Garza was un-impressive Sunday I thought. He needs to pick it up. Than in an unexpected move the Bears throw a long pass to the end zone on a pattern to Matt Forte of all people on a back shoulder throw that Forte made a spinning adjustment to in the air for a spectacular catch to take the lead for good 19 to 14. He was shaken up on the play, but was fine as he just had the wind knocked out of him. The Bears tried for a two point conversion, but failed on the second dropped pass in the end by Aromashodu.

Next possession for the Lions had some nervous moments as they got their first down on a long gainer along the left sideline when Shaun Hill connected with Johnson for a jump ball. Than two more first downs latter the Lions had the ball at the Bears 25 yard line and a jump ball pass in the end zone to Calvin Johnson that appeared to be a touchdown, but was ruled to be incomplete as Johnson lost the ball on the way down as it hit the ground. It was than reviewed in the booth, and the ruling stood as the Bears let out a huge sigh of relief. Why Johnson wasn't doubled there is a mystery. Either Manning was late getting there or for some reason they left him one on one with Bowman who gives up 5 inches and 8 more inches vertical jump to Johnson. After a couple of incomplete passes to the end zone the Bears squeaked out a very un-impressive win that could have had the Bears in a position to try, and score with less than 25 seconds in the game had that ruling not been in place. To say the Bears were fortunate is putting it mildly. That's a bad rule that should be changed next season along with the tuck rule.

In conclusion there were good things as well as bad. The offense looked good and potent at times, but than again it looked stagnant. This was truly a strange game. One that should have had the Bears winning by three touchdowns, but in the end had them probably being fortunate to win it on a technicality on a ruling that in my opinion needs to be modified as I mentioned. The defense dominated the whole second half not allowing a first down till the last minute and a half or so. That's impressive Shaun Hill or not. Than Detroit drives all the way down on basically jump balls all the way down-field to Johnson. Its a win, and the defense looked good, but there still needs to be less mistakes. The offense is new, and the line played their very first game together as currently constructed in a new complicated system with a new man scheme as opposed to last seasons zone blocking one. They get a mulligan on this one, but had better make improvements in the next game or it could be an ugly loss to the Cowboys in Dallas.
This article is
What is the duplicate article?
Why is this article offensive?
Where is this article plagiarized from?
Why is this article poorly edited?