Dallas Cowboys vs. Washington Redskins: Live Blog, Stats, Analysis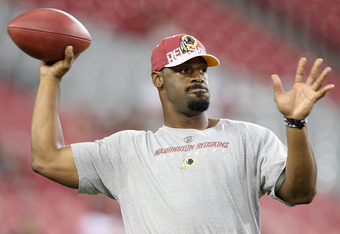 Christian Petersen/Getty Images
Hey everyone. I'm Eric Holmberg and this is my second season as a Washington Redskins Featured Columnist here at the bleacher report.
I'll be joining you for tonight's marquee rivalry match-up between the Dallas Cowboys and Washington Redskins.
We'll talk about the game, obviously, but this won't be a play-by-play live blog.
If you hang around, join in down in the comments section, it should be a lot of fun.
It might be fitting to end with something I said about an hour ago, at 11:02 ET, before he cost his team a Week 1 win against a bitter rival:
"Things I would let Alex Barron hold: A baby, fine china, a crystal vase, a Faberge egg, a wedding ring
Things I would not let Alex Barron hold: Football players"
A huge thanks to everyone who stopped by the live blog tonight and a special thanks to everyone who joined in the conversation in the comments section.
We also learned that Alex Barron is the worst offensive lineman in football. When you start the most penalized player in the last five years, the ending shouldn't have been surprising. Brian Orakpo was too much for Barron to handle. He got Barron with his speed early, dipping his shoulder and working back inside and then on the final play, overwhelmed Barron with a strong bull rush.
The Redskins showed no offensive capacity. McNabb threw some shaky passes and could only find Santana Moss and Chris Cooley. McNabb ends up going 15-for-32 for 171 yards. But, the defense played really well, mainly due to the aggressive blitz schemes of Jim Haslett. DeAngelo Hall looked inspired, stealing the limelight early and scoring a touchdown off a Tashard Choice fumble recovery right before the end of the first half.
So what did we learn? Well, neither team played very well. The Cowboys committed 12 penalties for 91 yards. Every time the Cowboys looked like they had grabbed the momentum, they committed a penalty or made a dumb play. Even though the Cowboys ran the ball with efficiency, 20 carries for 98 yards from their three running back, they were forced to pass late in the game. Romo goes 31-for-47 for 282 yards and one touchdown.
Cris Collinsworth: "I'm not sure Alex Barron is on the team by the time the plane lands."
WOW! A hold on the last play of the game by Alex Barron negates a game-winning touchdown throw to Roy Williams.
It was actually Carlos Rodgers who ran to the sideline.
NOOOOOOOO! A huge hole in the middle of the field for 31-yard gain by Miles Austin. Safety on that side completely vacates center of the field.
Back-to-back almost interceptions by Romo, who said he was bad at the end of the game?
Carlos Rodgers is Ike Taylor's long lost brother. Another dropped interception.
Wow, what a turn of events. DeAngelo Hall is injured and the Redskins get charged their third and final timeout. Just 34 seconds left.
Romo completes two passes to Dez Bryant and now the Cowboys are at the DAL 47. Again, as soon as they get something going, Miles Austin gets called for a false start. What a terrible mistake. The Cowboys really don't deserve to win.
Really questionable call by Mike Shanahan. A missed field goal gives the Cowboys the ball near midfield and only needed a field goal to tie. If you punt, the Cowboys still have to drive 70 yards to get in field goal range. Eveything works out and punter Josh Bidwell gets the low snap and they convert. But, the Cowboys can still win it with a touchdown. Doesn't seem to make sense with risk/reward...the punt seemed like the safe play. Anyway, 49-yard FG good by Gano.
Redskins 13-7
At the two minute warning, and it's probably a good time to ask the big question, what did we learn tonight? Think Jerry Springer's "Final Thought," what have we discovered about the Redskins and Cowboys, in a poorly played game, that we didn't know before?
And the crowd starting to sense victory. Clinton Portis with a really nice 18-yard run all the way down to the DAL 34.
Redskins convert on another pass to Cooley for a first down. Under four minutes, as McNabb getting important passes completed to keep the drive going.
A wobbly pass by McNabb to Moss, but the Redskins get a big first down. 4:40 left
Not a good sign for Redskins' fans: Cris Collinsworth said the play of Donovan McNabb reminds him that the Ravens won a Super Bowl with a defensive formula.
We just went all the way to Level 10 on Bill Simmons Backhanded QB Compliment Scale...in Week 1:
The Backhanded Compliment Scale for QB's goes like this:
1.0: (Shrugging)
2.0: I mean, he's not a train wreck or anything.
3.0: You could do worse.
4.0: You could definitely do worse.
5.0: You know, he's really not that bad.
6.0: I'll tell ya, he's NOT that bad.
7.0: Say what you want about the guy, but he makes plays.
8.0: He's not pretty, but he's pretty effective.
9.0: You could make the playoffs with this guy.
10.0: Look, if the Ravens could win a Super Bowl with Trent Dilfer
Things I would let Alex Barron hold: A baby, fine china, a crystal vase, a Faberge egg, a wedding ring
Things I would not let Alex Barron hold: Football players
Oh no...Alex Barron holds Brian Orakpo on 3rd-and-11. He's the worst--a drive-killer.
Does anyone know if the 3-4 is less successful against the run? I feel like there are reasons it would be: you have fewer defensive linemen, the guards can often get into the second level unfettered to block the linebackers. I was just wondering if anyone knew the answer, because the Redskins have given up 98 yards rushing (20 carries) between the three Cowboys' running backs.
DeMarcus Ware with his first sack of the season and the momentum seems to have changed.
Last season, the Redskins found a lot of creative ways to lose games. Bad teams have a knack for doing that. It's not a new idea, but the sequence that Al Michaels just described brought that back into my mind. It's been a game where the Cowboys have made too many mistakes. They gave the Redskins an extra chance to score in the third quarter with a stupid penalty. The botched field goal now gives the Cowboys life. I hope that this game doesn't turn out like a lot of last year's games. Where a good team would finish off a struggling opponent and the Redskins would suffer defeat.
End of the third quarter.
Crossing route by Miles Austin in front of DeAngelo Hall and past Reed Doughty and the Cowboys get on the scoreboard with 1:41 left in the third quarter.
Redskins 10-7
This article is
What is the duplicate article?
Why is this article offensive?
Where is this article plagiarized from?
Why is this article poorly edited?

Washington Redskins: Like this team?