U.S. Open Mens Final Live Blog: Novak Djokovic, Rafael Nadal Battle for Title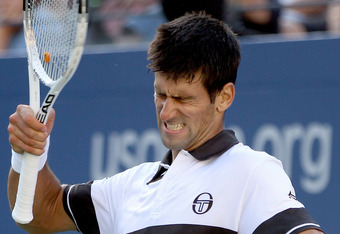 Matthew Stockman/Getty Images
Hello! It has all been leading up to this. The tennis world was rocked yesterday when Roger Federer was taken out by Novak Djokovic in a five-set thriller after being down match point, and when Rafael Nadal graduated to his first U.S. Open final ever. He will be going for the career Grand Slam today. Enjoy the blog.
If you have any questions or comments post below or email them to sblumnyc@gmail.com
The blog is below.
Good match here! Cannot believe that the Djoker is playing this well.
Update 6:30: TENNIS WILL BE MOVED TO TOMORROW! THANKS. MEN'S FINAL WILL BE PLAYED AT 4:00 P.M.
Still waitin' for the next update, yo.
THE USTA HAS ANNOUNCED THAT THE WEATHER SITUATION HAS NOT IMPROVED, AND THAT A NEW UPDATE WILL OCCUR AFTER 6 P.M.
AND YES, ALL CAPS IN NECESSARY. THIS IS VERY IMPORTANT, AHHHHHH!
A recap of weather this tournament:
1. It rained a lot during the first two days of qualifying, not to mention wind and and coldness.
2. The four days of the main draw event was brutal with heat up to near 100 degrees.
3. It rained for about 20 minutes on the first Friday. It was assumed that Hurricane Earl would wash out the whole day, but it was eventually played to completion.
4. Windy all the last week, not to mention cold at night.
5. Rainy Sunday in New York today!
Please note that after the rain has stopped, it will take about one hour to dry the courts! There is also a rumor that if it doesn't stop raining by 6:30, the match will be postponed until tomorrow. Again, that is just a rumor.
I mean a USTA update, and we are still waiting on it.
I got a good feeling a new update will be posted at 5:30.
There is a possibility that if the rain does stop, they start for a while, then it might start raining again. Possibly another Monday final?
There have been no updates since 4:30. Still hoping that the rain will stop in the next 15 minutes.
The USTA announced that 48 more minutes of rain is likely, they will then dry the courts and begin play shortly thereafter.
Big day in sports today. Football season getting started, FIBA Gold Medal Game, and of course, the U.S. Open Men's Final.
You got to believe that this delay is greatly appreciated by Novak Djokovic who will take any rest he can after his near four hour marathon with Roger Federer yesterday.
Again leave comments below or e-mail them to sblumnyc@gmail.com. They will be put in the blog.
The question was, "Does Federer's loss yesterday solidify the end of his dominance in this sport?"
It looks like there are a lot of followers now! Good! Let's get a little debate/discussion going as we wait out this delay! Question, Does Federer's loss yesterday solidify the end of his dominance in this sport?
More updates will come as soon as they are announced by the USTA.
My bad, the completion of the women's doubles final will be moved to Louis Armstrong Stadium.
WEATHER UPDATE VIA U.S. OPEN.ORG:
1. Light rain will be in the area for the next 45-60 minutes.
2. Upon drying the courts the women's doubles final will have to be completed on Arthur Ashe Stadium FIRST. They are at 5-4 in the FINAL set.
3. The Men's Final will begin 20 minutes after that. So we are looking at one to two hours here of delays.
Alright, well there will be a small break, and the next post will be at 4:23 p.m.
Again the matchup for today's final at 4:30 p.m. will be Novak Djokovic vs. Rafael Nadal. Nadal is 14-7 against Djokovic, but is 2-6 on hard courts.
There is a 30% chance of rain for today. The only problem with outdoor tennis is that even the slightest drizzle makes courts unplayable.
The weather is damp and slightly rainy here. It is not clear as to if tennis will be delayed. Stay posted for more updates.
This article is
What is the duplicate article?
Why is this article offensive?
Where is this article plagiarized from?
Why is this article poorly edited?