Green Bay Packers vs. Philadelphia Eagles: Live Blog, Stats, and Analysis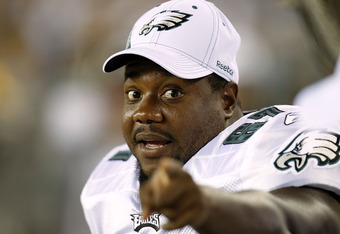 Jeff Zelevansky/Getty Images
What's good NFL Fans? I'm Lou DiPietro, NFC Team Leader and Philadelphia Eagles Featured Columnist here at B/R, and below is the text of my live blog for the Week 1 tilt between the Philadelphia Eagles and the Green Bay Packers at Lincoln Financial Field in Philly.
FINAL SCORE: 27-20 Green Bay
The Kevin Kolb era truly began, but lasted all of one half as Kolb sustained a concussion. The Birds mounted a huge second half comeback under Michael Vick, who had 278 yards of total offense, but it wasn't enough. With the loss, the Birds join the Sunday Night Football loser at 0-1, one game behind the Giants and the winner of that later game.
Away we go!

____________________________________________________________________
Final leaders:

Vick 16/24, 175 yards, 1 TD
Vick 11 carries for 103 yards
McCoy 5 catches for 47 yards
And Trent Cole led the D with six tackles, including his first sack.

Goodnight from Stamford/Philadelphia!
And that'll do it in Philly. Final score: Packers 27, Eagles 20. The Birds made it a lot closer than it should have been, and now we'll have six days of quarterback controversy talk before the Eagles head to Detroit next Sunday.
Whatever you do, you can't blame Reid's play calling or his clock management. They did what they had to do to get the ball back, and just didn't get the job done on 4th and 1.
And he didn't get it done. So close, yet so far away, and that'll wrap it up.
Two runs, 20ish yards...Vick can just do so much on offense that it's frustrating when he doesn't. That last one put him over 100, his ninth career 100 yard game. That's more than anyone on the Eagles roster, sadly.
Eagles D forces the punt, and now it's crunch time. Michael Vick has 4:13, 75ish yards and no timeouts to make himself a hero.
Buck and Aikman are talking about how Kolb will be the starter next week, but there will be a lot of convo about how well they've played under Vick.
I agree, but if Kolb sucks it up against Detroit next week...I think even Andy's gonna have to admit he was wrong.
So we get an Akers field goal, and it's a 7 point game with just under six to go. The defense needs one more big stop...can we get it done?
Shoulda ran that one again, Vick. Oh well.
In other news, Pam Oliver was just shown behind Andy Reid, and she looked like a wet beagle. Time for a new hairdo, Pamcakes.
Big third down completion to Shady! The offensive line made some great blocks there, with both Herremans and Cole getting downfield to help McCoy rumble for almost 30 yards on 3rd and 9.
Great pressure by the front four, and Nate Allen plays centerfield for his first career interception! The Birds are mounting a huge comeback, but will it be too little too late?
Bobby April is really earning that paycheck.
TOUCHDOWN MACLIN! Great throw by Vick, great head fake on Traemon Williams by Maclin, and a great camera shot of Sav Rocca's sarcastic clapping.
27-17, and Vick is responsible for 201 yards of total offense.
If I'm Andy Reid, the Kolb era is over.
Great defensive play by Nick Barnett there, despite Joe "Fernando is my Boy" Buck's intimation to the opposite. And now we have a sack on Vick...red zone struggles continue!
Brent Celek sighting! Great throw from VIck to Celek, and the Eagles are driving here.
I already dread listening to WIP later, because Kolb is going to get murdered.
Stuff just happened there.
I was distracted by an actual good football game on the other TV down here. Sorry bout that.
Well, Michael Vick obviously did learn a thing or two, but that was the time to run it.
Follow that up with a brilliant special teams move by Eldra Buckley, leveling Traemon Williams on a fair catch. You go Eldra!
I'm not one to bitch, but with all the flags I've seen today, I can't believe the refs missed Wells holding Ernie Sims there.
Then again, the secondary can't find Greg Jennings either, so whatever.
Oh, wait, there's the weekly special teams miscue. Moise Fokou just did something useful!
And there it is! Shady rumbles in for the Birds' first TD of the season, and we have hope.
I'm pretty sure we also have a quarterback controversy.
TOUCHDOWN SHADY! Of course not, it's a penalty for holding on Clay Harbor. Know who wouldn't have done that? Alex Smith.
In other news, Jason Peters is now hurt. I'm not sure how this is a bad thing.
Oh, wait, King Dunlap is the third tackle.
Last Play: 1-10-GB 33(5:11) M.Vick scrambles left end pushed ob at GB 2 for 31 yards (N.Collins).
See?
Since Kevin Kolb's brains are scrambled right now, someone might want to take notes for him about how to run an offense. And when I say that while Michael Vick is in the game, you know how disappointed I am.
DeSean Jackson lives! Way to hang in the pocket by Vick, as he got clobbered by Clay Matthews, who apparently goes to the same barber as the Wild Samoans.
This article is
What is the duplicate article?
Why is this article offensive?
Where is this article plagiarized from?
Why is this article poorly edited?

Philadelphia Eagles: Like this team?