U.S. Open Men's Final 2010 Live Blog: Rafael Nadal vs. Novak Djokovic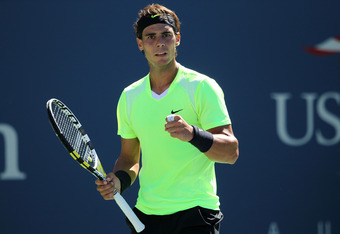 Nadal Charges Towards A Career Slam
Nick Laham/Getty Images
"Rafael Nadal is the greatest player ever." That's an opinion that will gain momentum if the 24-year-old Spaniard can complete the career Slam and become the first player to win the French Open, Wimbledon and the U.S. Open in the same year since Rod Laver 41 years ago.
Standing in his way is the 23-year-old, hardcourt specialist, Novak Djokovic of Serbia. Djokovic, who reached his second Open final by outlasting Roger Federer in five sets yesterday (5-7, 6-1, 5-7, 6-2, 7-5), is looking for his second Major championship. "The Joker" hasn't always been the favorite of the New York crowds, and he stunned them by staving off two match points in the fifth set and derailing the Federer-Nadal dream final.
Nadal and Djokovic have met 21 times as professionals, with Rafa holding a 14-7 advantage. However Nadal has been dominant only on clay, and Djokovic has won seven of their 10 hard court meetings, including three straight-set victories in 2009.
However, Rafa will be favored having tweaked his serve to produce more pop and improving every match of the Open. Also in his favor is the fact he has yet to drop a set all tournament, while Djokovic is coming off a grueling five setter that may leave him physically and emotionally drained.
Djokovic may be doing rain dances in the locker room before the match. The weather is threatening to grant Novak a reprieve from taking the court only 20 hrs after he beat Federer.
If both players can bring their best, and the weather holds, it will be an athletic final full of fleet feet and tremendous shot-making.
I'll be breaking down the action and giving constant updates on the weather and play on this live blog!
Breaking news: The Men's final will be on tomorrow at 4PM... Hopefully I'll be on then!!
Random rain delay thought: The Djokovic-Nadal final may not be as historically significant as if Federer was involved. But Federer is 29 now, and we need to accept that no longer in his prime. Djokovic has been in the upper echelon of the tennis world for a couple years (ranked #2 in February of this year), and it may be that he will emerge as Nadal's major rival over the next few years...
Rewatching the Fed-Djoko semifinal... not enough has been made of Djokovic's outfit. I think The Situation is his fashion advisor...
The suspense is killing me! Let's crack a Stella and get this show on the road!
Weather reports indicate there will be a couple hour rain break between 5-7ish. Look for Djokovic to play slowly and hope to extend the match into Monday.
Weather Update from USOpen.org:
Based on the latest official weather report from the US Open Meteorologist, the forecast calls for 45 to 60 minutes of light rain after which we expect to dry the courts and begin the Men's Singles Final in Arthur Ashe Stadium as well as complete the Women's Doubles Final in Louis Armstrong Stadium
Key for Nadal:
Energy: Nadal needs to claim the reigns on this match early by coming out with lots of energy and emotion. If can come out fast and get up a quick break, the sometimes volatile Djokovic may lose heart.
Keep serving big: Nadal has been consistently in the 130s all tournament and has only dropped two service games all tournament. If that keeps up against Djokovic, who returned masterfully against Federer in the semis, Nadal may coast to a win.
Play fast: Nadal needs to get in as much tennis as possible between weather delays. If he can get out to a big lead, it may not matter how much rest Novak gets as a result of rain.
Keys for Djokovic:
-Go big or go home: Djokovic needs to keep points short by serving big and taking cuts from the baseline when he gets the chance. He has to protect his serve by getting in plenty of first serves. Simply, he must find away to dictate the action and keep from running around too much on long points.
-Let the backhand rip: Nadal loves to spin the ball from his lefty forehand and force his opponents to hit high backhands. Novak has the backhand to take advantage if he can get his feet in position to take the ball early and drive it down the line.
-Mix it up: Djokovic might want to consider mixing in a healthy dose of chipping and charging the net off of Rafa's second serve, and varying his ground strokes. He needs to mix speeds and angles to keep Nadal from finding a rhythm.
- Make it rain: Not Lil' Wayne style, I mean literally find away to get rained off the court. What Djokovic needs more than anything is another day of rest after 3 hr 44 minutes on the court with Federer less than 24 hours ago.
Rain has suspended play in the Women's Doubles Final. When the rain stops, that match will be moved to Louis Armstrong Stadium to keep the Men's final on schedule.
This article is
What is the duplicate article?
Why is this article offensive?
Where is this article plagiarized from?
Why is this article poorly edited?