2010 FIBA World Championship: Team USA Conquers Turkey, Wins More Than Gold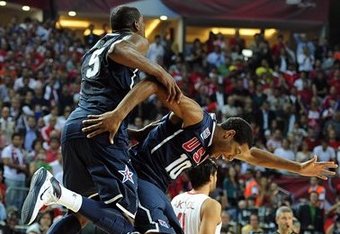 As Kevin Durant, Team USA's all-time leading scorer in a World Championship, headed for the bench one last time, his smile stretched from Istanbul to Oklahoma City. That contagious euphoria spread from Kevin Love and Derrick Rose all the way to Danny Granger.
Durant embraced Mike Krzyzewski and moments later cradled his tournament MVP trophy. His 22-point average for the tournament made him a slam-dunk pick for the award. When his teammates turned to him Sunday night to carry the offense, the 2007 NBA Rookie of the Year responded with 28 points.
These NBA toddlers had grown up so fast and come so far in six weeks. The weight of the expectations sometimes beleaguered them. On other occasions, it lifted them to greater heights. As the final horn signaled the joyous confirmation of the 81-64 win, the 12 men who had brought glory to themselves and a nation danced in a fitting circle.
Finally, they could celebrate the trenchant conclusion of a torturous 16-year wait. Krzyzewski and Jerry Colangelo collaborated to tackle a reclamation project three tournaments in the making. Winning Olympic gold in 2008 was the first part of the job. This was the other half.
The tournament's lone remaining undefeated squads sparred until a despotic second-half yielded a true world champion. Turkey, the 18th ranked program in the world, had never medaled. The United States had not taken home the first prize since the middle of Bill Clinton's inaugural presidential term.
Krzyzewski, now 49-1 in international competition, can clear his schedule next summer and savor the No. 1 ranking he helped the U.S. regain. He ranks as the first American sideline chief to win Olympic gold and a World Championship.
The United States subdued the mayhem early with an enthusiastic start. Thousands of Turkish fans had packed the Sinan Erdem Dome to commemorate history with waves of ear-splitting noise. Durant silenced the crowd with a pair of early three-pointers. Turkey's coach Bogdan Tanjevic could only shake his head in disbelief. How could anyone expect to stop that?
Hedo Turkoglu labored after an eight-point first period. He scored just eight more the rest of the way. Omer Asik and Semih Erden struggled to find an inside rhythm. Ersan Ilyasova was 2 of 9 shooting for the game.
When Krzyzewski needed an exclamation point in the final 20 minutes, Rose and Lamar Odom provided it. Much maligned after an 0-for-4 stinker Saturday night, Rose rewarded his coach's decision to keep him in the starting lineup. He drove for a lay-up on the opening possession and starred in the third quarter. He bricked seven of his 11 looks but found a way to make those four connections count.
Odom, a heralded veteran voice, drained some huge jumpers and attacked the basket en route to 15 points and 11 rebounds. Andre Igoudala and Rudy Gay combined for nine rebounds. They kept a number of loose balls alive.
Perfection eluded these Americans, but that was never the point. As the Star Spangled Banner blared, the players understood. More than a gold rush, this was the pursuit of respect realized.
Yes, these millionaire athletes play for Nike and other sponsors, but those three letters on the front of each jersey mattered. No one who watched this tournament can deny the abundance of national pride. It existed in spades.
Along the way, the U.S. B team earned an A grade. Turkey represented the last roadblock to redemption. Durant and his dirty work crew smashed through the wall and completed a mission that befit the group's average age.
A Double-Gold Standard and a Tall Task
Had the Americans lost, a swarm of smarmy sports columnists who did not watch a minute of this tournament would have asked, "What's wrong?" That attitude is one answer.
This competition has mattered most here when the U.S. failed to win. How many non-basketball enthusiasts knew the team last won in 1994? The hot topics this week—Tom Brady's accident, blowout college football games, and exhaustive NFL quarterback comparisons—proved that. This momentous victory should give the country of 300,000,000-plus something else to talk about.
The Americans reclaimed the throne but not without heaping helpings of heartbreak, disgrace, and humiliation. The Redeem Team flexed superiority in Beijing. This one faced a tougher challenge.
Sans any of the 2008 players and with recent history against him, Krzyzewski was tasked with molding a grade-B unit with no previous camaraderie into a gold medalist team. Colangelo sought continuity when he took the program's reigns after the Athens atrocity, but the absences of Kobe Bryant, LeBron James, Carmelo Anthony and others forced an on-the-fly roster construction.
Many of the newbies had been in the pipeline for a few years, but Chauncey Billups and Odom were the only two with substantive international experience. Colangelo faced another headache when injuries and insurance issues eliminated David Lee, Robin Lopez, Brook Lopez and Amar'e Stoudemire from roster contention. Krzyzewski had hoped to game plan around the talents of those big men.
When Javale McGee, Kevin Love, Tyson Chandler, and Odom became the best fours and fives available, making Durant and Igoudala attractive options at power forward, Krzyzewski instead built his syllabus on speed and athleticism. These Americans would need to pressure the ball, create turnovers for easy open-court baskets, collapse defenses and drill perimeter shots to avoid the consolation bracket.
The potential warts were obvious before this group played any games. The youngsters, many of whom suited up for 20-to-30 win squads last year, lacked the requisite big-game experience and winning pedigree that permeated the Dream and Redeem teams. The undersized, perimeter-oriented lineup was expected to jack up some questionable shots.
There were plenty of those.
Turnovers would become a problem with several key cogs playing out of position. Billups, a point guard in the NBA, started at shooting guard. Igoudala teamed with Odom in an unconventional starting frontcourt. The unselfish nature of the competitors also led to some unnecessary extra passes.
Krzyzewski had to convince Durant that deferring was a form of vainglory. He instructed the star forward to look for his shot early and often. Durant's isolation swagger kept the team close during its many offensive lulls.
The inexperience caused a dramatic fluctuation in floor opportunities for many contributors. Stephen Curry and Chandler played three non-descript, garbage-time minutes against Lithuania. Both removed their warm-ups midway through the first period but did not keep them off for long. Curry manned the point on consecutive possessions, while Chandler managed one foul and no other recorded statistics.
Love and Granger did not see the court until the last minute.
The Americans swished 18 of 38 three-pointers versus Angola, but what would happen when those long-distance shots hit the back iron? How would they attack Turkey's aggressive 2-2-1 zone? How would they get the ball inside?
None of those questions matter now.
The World Catches Up After 1992
Charles Barkley elbowed an Angolan forward in Barcelona because he said he feared he would be stabbed with a spear. The U.S. crushed Angola that night in its first Olympic action with all-pro players. The Dream Team won by an average of 46 in the ultimate show of global superiority. Most hoops aficionados still consider that the best collection of talent ever assembled.
Since that fabled, undefeated run, the rest of the world began to make the necessary adjustments and advancements. Team USA's rarefied air developed a sour aroma in 2002. Just two years prior, Lithuania came within a shot of eliminating the Americans from a Gold Medal chase. In Indiana, with George Karl at the helm, Team USA folded. That sixth place belly-up performance highlighted the world's emphatic message.
Two players born outside of the U.S. could run an effective pick-and-roll. Many of them could defend and execute in the half-court. These blossoming international outfits did not bastardize the NBA style. Instead, they found ways to circumvent disadvantages and mismatches. In the one-and-done format, opponents did not need to stockpile comparable athleticism or talent to topple the enviable empire.
The wrongful image of all foreign players as clumsy Eastern Europeans who specialized in getting dunked on and turnovers was obliterated long ago. Overseas ballers proved they could hang, and in some cases fly, with the top NBA stars. Pau Gasol and Manu Ginobili became two of the best players on the globe. Others cracked All-Star rosters and hoisted trophies.
Sure, plenty of Darko Milicic duds have embarrassed themselves stateside, but how many hyped American players have done the same? Despite some haughty protestations, the world's finest did converge.
It was up to the Americans to respond. A star-laden group did so in 2008. This one made another statement in Turkey.
U.S. Averts Potential 2011 Disaster
A silver medal, or worse, could have spelled catastrophe next summer. A defeat necessitated a top seed in the 2011 Olympic qualifier in Argentina. A lockout would render all NBA players ineligible for that competition. Krzyzewski can forget that nightmare scenario.
The Americans are London bound. The rest will sweat out Olympic contention in regional tournaments. For the first time in a while, the world is the one playing catch up.
Krzyzewski, Colangelo, Durant, and his first mates should carry those smiles all the way to the Istanbul airport. For the first time since 1994, when the Americans fly home, the Naismith Trophy will make the trip, too.
This article is
What is the duplicate article?
Why is this article offensive?
Where is this article plagiarized from?
Why is this article poorly edited?