NFL Week 1 Round-Up Live: New England Patriots Roll; Texans Top Colts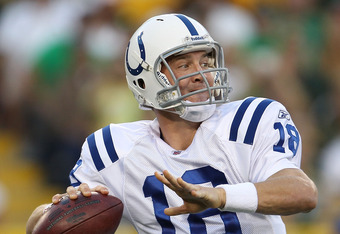 Jonathan Daniel/Getty Images
Welcome to the start of the NFL Season. OK, well, the Sunday start of the NFL season. I'm Marc Pruitt, using the clever handle of Tim Wood to provide random musings and observations about Week 1 games; highlights, lowlights, and maybe even a few predictions. Hope you've got the chicken wings, pizza, brats, and beverage of your choice ready for a full slate of games this glorious Sunday afternoon.
Philadelphia still has a punishing defense.
Michael Vick already been on the field frequently during first quarter for the Eagles.
Is is just me, or do the Eagles uniforms not look quite as green this year?
I also think it will come down to Green Bay and New Orleans in the NFC this season. Aaron Rodgers has developed into one of the premier quarterbacks in the league.
Interesting to see how Pete Carroll does in his return to the NFL.
Ochocinco with a nice performance in a losing effort today: 12-159-1. Both he and T.O. were targeted 13 times. Carson Palmer plays nice with them today.
Rashard Mendenhall bails out the Pittsbugh Steelers. 15-9 overtime win. Week 1 without Ben out of the way.
Tebow: two rushes for two yards in NFL debut. That's better than Brady Quinn's performance today.
Wee Wes Welker with a great performance coming off reconstructive knee surgery: 8 rec., 64 yards, two TD's. Good to see.
Miami gets ugly win at Buffalo 15-10. A "W" is a "W", however
Peyton Manning throws for 433 yards and three TD's. Colts lose. 57 pass attempts? Not going to work in the NFL
And that touchdown that wasn't just cost the Lions the game. Shame. Great drive engineered by the immortal Sean Hill.
Apparently, Calvin Johnson didn't "Complete the process of the catch"...tremendous play that might be wiped out
Give Arian Foster the game ball, Gary Kubiak. 33-231-3
ok, I'm not much of a Jay Cutler fan, but what a great play he just made to Matt Forte for the go-ahead score. Bears lead Lions 19 -14 with 1:32 left. Detroit with one first down in the second half. Ouch.
Cutler: 372 yards, two TD's
Forte: 151 receiving, 50 rush, 2 TD's
Nice rebound from a broken thumb during the preseason for Tampa quarterback Josh Freeman. 182 yards passing, two touchdowns. Bucs lead Browns 17-14 in fourth
Stafford out with shoulder injury. Lions defense (defense?!?!?!?!?!?!) stuffs Bears during goal-line stand. Detroit leads 14-13 late in fourth quarter
Coach on the hottest seat after Week 1: Lovie Smith
Jim Caldwell looks as lost as a five-year old watching "Lost".
Giants are literally running away from the Panthers. Ahmad Bradshaw scores, Giants lead 31-16 in the fourth.
Arian Foster having a studly deay....190 rush yards, two touchdowns. Texans lead Colts 27-10. Colts still can't run the ball. Joseph Addai is not the answer.
Tom Brady is having about as much trouble with the Bengals defense as John Nash had in first grade math. 247 yards passing, three TD's. Not even traffic accidents phase this guy
Eli is finding his groove. So is Hakeem Nicks. Anybody have Nicks on their fantasy team? Three TD's for Mr. Nicks.
You can have TO and Ochocinco. I'll take Jordan Shipley. Ha. 31-17 Pats
Peyton Manning is the best quarterback I've ever seen. That includes Joe Montana and John Elway. No one is smarter on the field than he is. He will make a tremendous coach/analyst/GM when his playing career is done.
This article is
What is the duplicate article?
Why is this article offensive?
Where is this article plagiarized from?
Why is this article poorly edited?