New York Giants Vs. Carolina Panthers Live Blog: Hakeem Nicks Is Exploding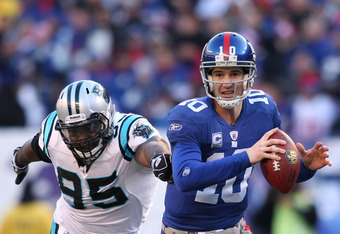 Can Eli Get Revenge Against Carolina?
Nick Laham/Getty Images
Well Giants fans the time for conjecture is over, the 2010 NFL season is upon us. With kickoff scheduled to start at 1 PM in the new $1.6 billion Meadowlands is now open for business. '
The Giants face off against the Carolina Panthers, which is fitting since the Panthers were the team that demolished the Giants team in the last game in the old Meadowlands before it too was demolished. The Giants are not only hungry to open up their new stadium with a win, but to avenge the final loss in the old stadium as well.
This game should bring some answers to several offseason questions that have permeated both the Giants and Panthers. Can Matt Moore be an effective starting quarterback? Is the Panthers' Steve Smith healthy?
How will the Giants running game look with Ahmad Bradshaw as the lead stallion? How will the Giants defense under new coordinator Perry Fewell look?
That's it folks. Giants had way too many turnovers, but Matt Moore made sure that didn't matter. The Giants run game looked weak, the pass game had strong moments, and the defense got off to a great start.
also matt dodge is a horrible punter. Good night!
Clausen looks like a lost duckling.
Matt Moore looks like he is going to cry.
great strip sack by Osi Umenyiora, Moore might be hurt. Clausen anyone?
Fumble by Bradshaw. Giants Football. Classic Giants Football.
The Panthers sideline looks dejected and lifeless.
Bradshaw owns the fourth quarter.
another turnover for Moore. Is this kid aware he has millions of dollars on the table right now? mess this up he will be a backup, do well and he could get matt cassell money.
This ladies and gentleman is what we call "Giants Football." No wins come easy, we always have to keep it close. Even when dominating a team, we can't outscore them by too much. Do enough to win, but still make life difficult for everyone involved.
How this kid even made the team I have no idea.
The Giants don't want another turnover, that three and out was not surprising.
Matt Moore has looked terrible today. He had a few nice moments, but three endzone interceptions is a team killer. He wont get benched this week, but the temperature on his seat just got bumped up a few degrees.
KENNY PHILLIPS!!!! His second huge play of the day. What a great validation to all the hard work he put in to overcome the odds to start today.
Clausen time might be coming sooner than people think.
All three of Elis picks today come from perfect passes that receivers should have caught.
Bad introduction for Ramses Barden, off his hands right to Charles Godfrey.
Giants will run a ball control offense to kill the clock.
Three horrible throws in a row by Moore close to the goal line in the fourth quarter, not a good sign.
Terrell Thomas adds a pick to his already incredibly impressive day. Huge play for the Giants.
Bad throws by Moore this close to the endzone.
Bruce Johnson's idea of covering this game has been pass interference. bench him now.
Corey Webster's ball skills are exceptional.
This article is
What is the duplicate article?
Why is this article offensive?
Where is this article plagiarized from?
Why is this article poorly edited?

New York Giants: Like this team?