Oakland Raiders Vs Tennessee Titans: Live Play-by-Play Analysis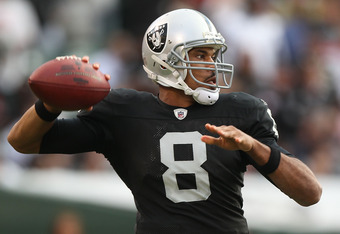 Jed Jacobsohn/Getty Images
Oakland Raiders vs. Tennessee Titans current score: 24-3, Titans.
Raider Nation! Are you ready for some football! We've all waited a long time for this day and now it's time for the Raiders to take the field against the Titans.
I'll be keeping everyone updated during the game. We're about twenty minutes away from kick off, stay tuned and get ready for some live blogging Raider Style and Tre Style!
Thanks everyone for joining the blog today. Let's hope we do better next week. Special thanks to all the members of the Raider Nation and Will Danielson for having the comment of the day. Raiders vs Rams next week.
If you guys had to give away game ball today who would get it? And if you had to give away a royal Rick James Slap to the face who would get it?
Titans just got a first down, should be able to run time out now. Not a good start for the Raiders.
Campbell doesn't look comfortable at all.
Well Richard Seymour looked solid today. McFadden looked like a great offensive threat. The O line needs to do better if the Raiders offense wants to turn things around.
Raiders stop the Titans on the drive and take a time out to stop the clock?
Raiders turn it over on downs.
Raiders drive stalls on third down. Looks like they will be going for it on fourth down.
Cambell hits the ground again. Third and ten for the Raiders.
Campbell needs to learn how to slide. Raiders at the Titans 14 after DMC rush.
For those watching, what do you think our biggest problem was today?
Just saw a mascot eat a hot cheerleader.
I realize it's not easy watching this as a Raider fan, but we must move on to next week. No need to panic. It's only one game, I really don't think and can get any worse than this one.
This game is over but the Raiders must try and come out with some positives. It's only the first game of the season. Still plenty of football left to play. Raiders must fix everything.
Touchdownnnnnnn Raaaaaaiders! DMC witha TD catch.
McFadden goes for half a yard on first and goal. Raiders thinking comeback perhaps?
False start Raiders. 10 penalties today.
DHB with a Catch! Pro Bowl Baby! Ok maybe not.
Raiders moving the ball well now, perhaps three quarters too late and 38 points too late.
Campbell doesn't look good at all today.
Miller with another catch. Always gets drilled hard after catch, but bounces back up.
Still no catches for DHB. First down Murphy.
McFadden runs for a first down.
Figurs rocked on the kickoff return.
Touchdown Titans again. After this game the Rams might not be an easy win anymore.
This article is
What is the duplicate article?
Why is this article offensive?
Where is this article plagiarized from?
Why is this article poorly edited?

Oakland Raiders: Like this team?