Cleveland Browns Vs. Tampa Bay Buccaneers Live Blog: Jake Delhomme Debuts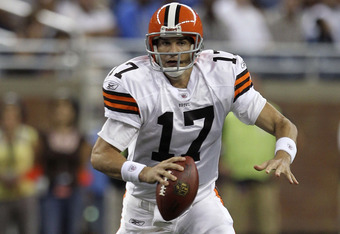 Leon Halip/Getty Images
Hello, this is Brian DiTullio, NFL Featured Columnist and former Cleveland Browns Featured Columnist.
I'll be live-blogging the opener versus the Tampa Bay Buccaneers.
This should be our first look at Joshua Cribbs returning in 2010, and we'll get to see what Jake Delhomme looks like in a regular season game under Eric Mangini and Brian Daboll, with Mike Holmgren's watchful eye above all.
Tampa Bay features Kellen Winslow II, Josh Freeman and a very young stable of wide receivers. There's also Cadillac Williams, so we can't forget him
I expect a run-heavy offense from both teams, but who know what kind of surprises the coaches will throw out for Week One. It should be a good time.
Sit back, have fun, and I'll offer some play-by-play, analysis and observations as the game progresses.
I'll be monitoring comments as we go and will respond as quickly as I can.
That wraps up the live blog for the Browns-Bucs game. This game was a tale of two teams, and it didn't have a happy ending. Poor clock management when it counted, poor decision-making by Delhomme and breakdowns all over the place. This team has a lot of work to do.
It's over. The Browns couldn't get out of bounds. Browns 14, Tampa 17.
Evan Moore takes advantage of Tampa's Prevent Defense for a long catch to bring the Browns to their own 33 yard line. 13 seconds left.
Well, great pass by Delhomme, great catch by Robiskie but he's out of bounds. *Sigh*
Oh boy, the Browns get the ball back with 34 seconds left. No timeouts left now and the Browns are pinned on their own 11 yard line.
Well, another defeat snatched from the jaws of victory. Mangini once again didn't utilize good clock management skills with under two minutes to play, the Detroit game last year being the other standout in that category.
Under a minute to play, the Browns once again featuring poor clock management, inept play-calling in the second half and a complete breakdown of the right side of the offensive line.
Fourth and three from the 20, Womack false starts. It's criminal we decided to go with this guy after last year. This poor play is no surprise. The Fourth down pass is incomplete, nowhere close to a receiver. Checkmate, Tampa.
Delhomme is hit as he throws. The protection has just completely broken down. Womack may as well be selling hot dogs.
Offsetting penalties. Redo second down, there's 1:40 left.
Delhomme throws the ball away on first down after a brief scramble and does the same thing again on second down. A flag is down.
The rain is pouring down now, and Hillis catches a first down pass and the Browns are out to the 13 yard line.
If Delhomme is hurt, the Browns have to put Wallace in. If you think about it, the new dynamic may throw the defense off enough the Browns can score the winning touchdown and not give Tampa enough time to come back.
Short pass play to Hillis doesn't give them much gain and Delhomme is slow getting out from behind center. There are no good things to report out of this. We are at the 2 minute warning.
Eric Barton recovers a fumble on the goal line. The Browns were putting together a very respectable goal line stand in the process. Maybe this will help swing the momentum back. Browns ball on the 2
The Bucs offense is looking steadily better and the Bucs have 3rd and 1 from the Browns 30 yard line. Cadillac Williams rumbles to the 10 yard line and the meltdown is in full force.
The latest interception by Delhomme is going to bring some kind movement from the coaching staff. It has to. You can't let your starting QB just melt down like this, especially when he has a recent history of doing it.
Jake Delhomme is not looking good. Not sure if it's his toe or his confidence, but these are the kinds of throws that got him benched last year.
And we're back after a technical glitch. The Browns are pinned deep in their own territory and Delhomme is going for a deep pass from the 5-yard line. Pass is incomplete.
Touchdown Tampa! Taking advantage of the Browns missing secondary, Freeman throws long and deep into the end zone, Haden is beaten and the Bucs take the lead. Browns 14, Bucs 17.
Freeman gets the first down with a 12-yard pass to Straughter. The Browns secondary just didn't come out for the second half. They weren't giving these plays up in the first half. Coverage broke down again on the following play, but Freeman overthrew the receiver.
Looking at the scoreboard, I see the Bengals are starting to make a comeback against New England. Hmmm, interesting. In other news, Freeman throws the ball away. and it's 3rd and 10 from the 47.
Browns are forced to punt and the Bucs return it to the Browns 47 yard line. This game is starting to get that "slipping away" feeling to it. I may have to drink another beer.
Jerome Harrison returns, but doesn't get much on his first play, then is taken down for a loss as the Browns playcalling and right side of the offensive really start to become questionable.
This article is
What is the duplicate article?
Why is this article offensive?
Where is this article plagiarized from?
Why is this article poorly edited?

Cleveland Browns: Like this team?