Final Grades: Every 2010 St. Louis Cardinal Player, Coach, and More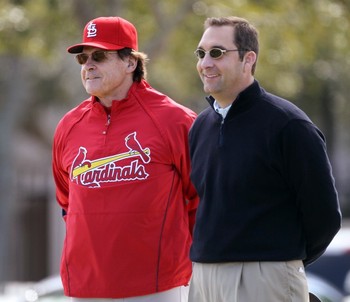 It's no secret that this was a disappointing season for the St. Louis Cardinals. 2010 saw many ups and downs, but in the end, the Cardinals missed the playoffs, and that's what matters.
This offseason will be all about helping the Cardinals get back to playing meaningful October baseball in 2011. But to perfect the future, we must analyze the past. In this case, the very recent past.
So, who do the Cardinals need to bring back to make 2011 successful?
Welcome to my handy guide. Here, I'll look at how each and every Cardinal performed in 2010, and a brief look at what their future holds, whether with the Cardinals and beyond. Then I assigned each a helpful final grade for judging their performances.
So, you can continue reading this introduction, or click ahead to the good stuff.
Bold Led Team
Bold Italicized Tied for Team Lead
*Asterisks* Led League

Bryan Anderson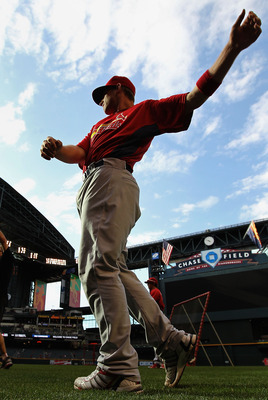 Christian Petersen/Getty Images
Key Stats: .281/.314/.344, 4 RBI
After spending three years in the Cardinals farm system, Bryan Anderson finally made his much anticipated big league debut this year when backup catcher Jason LaRue went down with a concussion.
He got into four games before being sent back to Memphis.
For the season, Anderson batted .270/.341/.448 with a career high 12 homers and 42 RBI in 82 games for Triple-A Memphis, and batted .281 in 15 games with the big club.
Anderson did show some weakness in St. Louis. He struck out (7) far more than he walked (1), but he hit a pair of doubles, and at the young age of 23, Anderson still has plenty of time to develop into the catcher the Cardinals envisioned when they drafted him.
Final Grade: C

Mitchell Boggs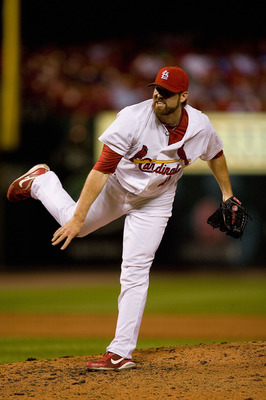 Dilip Vishwanat/Getty Images
Key Stats: 2-3, 3.61 ERA, 1.292 WHIIP, 52 K
For Mitchell Boggs, 2010 was a season of self-discovery. After competing for a starting job in Spring Training, Boggs pitched out of the bullpen, and became a reliable pitcher capable of racking up strikeouts in key situations, and might have thrown his hat into the competition for closer as soon as Ryan Franklin decides to retire.
With a devastating fastball that occasionally reaches the high 90s and a slider that leaves even the most experienced major league veterans shaking their heads, Boggs is the poor man's Aroldis Chapman.
Thanks to his sharp slider, Boggs dominated righties this year, holding them to a .238 batting average and posting a K/BB ratio of 3.23, a significant step up from his 0.71 mark against lefties.
If Boggs can figure out the left handers, don't be surprised to see this hard-throwing 27-year old locking down Cardinal wins in the future.
Final Grade: B+
Chris Carpenter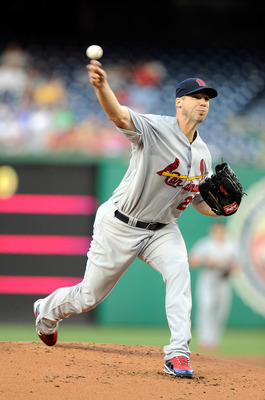 Greg Fiume/Getty Images
Key Stats: 16-9, 3.22 ERA, 1.179 WHIP, 235 IP, 179 K
When leading the league in game started and finishing second in innings pitched is considered an off year, you know you're good.
Chris Carpenter did exactly that in another All-Star season. He also ranked top ten in the league in wins, batters faced, and BB/9, as well as having the dubious distinction of second most hit batsmen.
In reality, Carpenter was as great as usual, although his command suffered a bit this year. When compared to last season's campaign, Carpenter's 2010 is somewhat disappointed, but overall, it should be appreciated as another masterful pitching performance from one of the greatest Cardinals aces ever.
Final Grade: A-

Allen Craig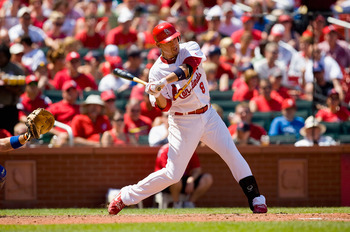 Dilip Vishwanat/Getty Images
Key Stats: .246/.298/.412, 4 HR, 18 RBI
After hearing of Allen Craig's minor-league expenditures in 2009, many Cardinals fans were eager to get the reigning Hitter of the Year up with the big club.
Although Craig broke camp with the big club, he struggled from the start, going 1-for-21 to start his career. Despite opening the season in the bigs, Craig didn't manage his first homer until July.
However, after the ugly stretch to start the season, Craig seemed to figure things out, batting .290/.340/.495 to finish the season, including a big 3-5 day with a walk-off single against the rival Cubs.
If he's not included in a a trade, Craig will probably be back with the 2011 team as a fourth outfielder.
Final Grade: C-

Daniel Descalso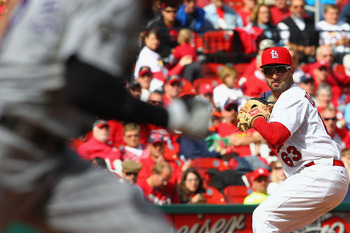 Dilip Vishwanat/Getty Images
Key Stats: .265/.324/.324, 4 RBI
Daniel Descalso certainly had an interesting major league debut, although he might not have made his presence known for those of you keeping your own scorecard.
On September 22 against San Diego, Descalso stepped up to the plate as a pinch-hitter, forcing Padres manager Bud Black to make to move to his bullpen, which then prompted Tony LaRussa to pinch hit Nick Stavinoha for Descalso. Without ever making a plate appearance, Daniel Descalso officially became a member of the St. Louis Cardinals family.
Those of you who are interested in the Cardinals farm system may remember Descalso from a year ago, when he set Double-A Springfield on fire with a slash-line of .323/.396/.531 with eight homers, 23 doubles, and three triples in 73 games in before receiving a well-deserved call-up to Memphis.
This year, making his first appearance in the bigs, Descalso showed off some versatility. Despite being a second baseman by trade, he made his first major league appearance at third. His versatility could prove very valuable if he hopes to make the club as a backup infielder out of Spring Training next year.
Final Grade: C-
Dave Duncan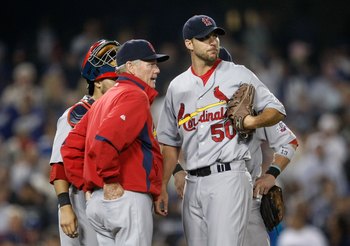 Jeff Gross/Getty Images
After nearly leaving the Cardinals this offseason, mastermind Dave Duncan came back and showed why he may be one of the greatest coaches in baseball, or even sports, history.
After returning for his 30th season as a pitching coach, Duncan helped several Cardinals pitchers take a big step forward, and also returned one former ace to Cy Young form.
2010 saw the emergence of Jaime Garcia, a rookie lefthander, who flourished under Duncan's tutelage. In his first year back from Tommy John surgery, Garcia joined the starting rotation and posted a stellar 2.70 ERA.
Duncan also oversaw the return to form of Brad Penny, who was having a spectacular season before he was derailed by injury, and Jake Westbrook, who came over from the Indians at midseason and became the sort of groundball pitcher Dave loves.
Finally, and most importantly, 2010 saw continued development of Adam Wainwright, who won a career best 20 games and 2.42 ERA, both good for second in the league. Wainwright led the Cardinals in almost every measure of greatness, and, under Duncan's guide, has become one of the best pitchers in baseball.
With Tony LaRussa signed for next year, it is almost guaranteed that Duncan will join him next year.
Final Grade: A-
Pedro Feliz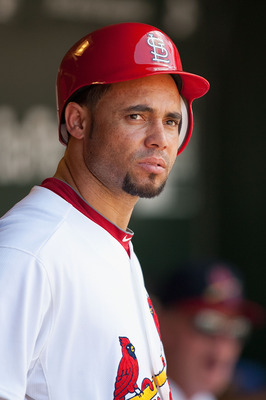 Dilip Vishwanat/Getty Images
Key Stats: ,208/.232/.250, 1 HR, 9 RBI
After losing rookie David Freese to injury, and growing tired of the atrocious play of Felipe Lopez at third, the Cardinals went out and acquired third baseman Pedro Feliz from the Astros.
A simple look at his stats will tell you that the deal didn't exactly work out for the Cardinals.
Feliz, who has played in two World Series with the Giants and Phillies, crumpled under the pressure of a pennant chase, driving in just nine runs in 40 games with the Redbirds.
Although Feliz's defense was solid as usual, the acquisition of a no-hit, good-field third baseman was baffling for a team that had no trouble preventing runs, but needed help scoring them. In retrospect, the move to get Feliz was probably made out of desperation.
As for Daniel Carpenter, who the Cardinals traded to acquire Feliz, the 24-year old finished off a top-notch season as the closer for Class-A Lancaster and Palm Beach, posting a 2.53 ERA with a 1.180 WHIP and 20 saves in a season split between the St. Louis and Houston organizations.
Hopefully, this trade won't come back to bite the Cardinals in the backside.
Final Grade: F-

Ryan Franklin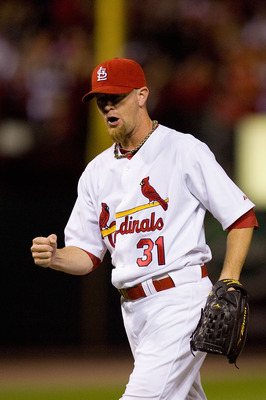 Dilip Vishwanat/Getty Images
Key Stats: 27-30 SV, 3.46 ERA, 1.031 WHIP, 42 K
In a tumultuous season fraught with moments that had Cardinals Nation holding its collective breath, Ryan Franklin quietly turned in another solid season.
His 1.031 WHIP led all Cardinals pitchers, and although he didn't put up gaudy stat lines, he got the job done for a team that had trouble winning the close games.
Although he didn't quite live up to last year's standards, Franklin put up a quality 3.46 ERA, which, when further examined, was probably skewed by a few rough games. He had a 2.67 ERA in save situations, but Tony used him more often when the game wasn't on the line, despite his .185 batting average against in situations of high or medium leverage.
Franklin's contract is up at the end of next year, and he has contemplated retiring after his current deal ends. If he chooses to walk away from the game, the Cardinals have a bevy of young arms waiting to step into the closer's role.
Final Grade: B+
David Freese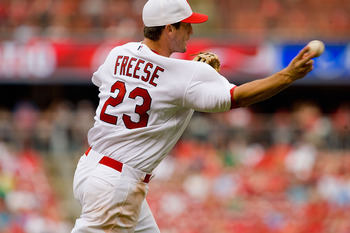 Dilip Vishwanat/Getty Images
Key Stats: .296/.361/.404, 4 HR, 36 RBI
Before David Freese went down, the Cardinals looked like the favorites to win the Central. After losing him for the season, they were a drastically different team.
With Freese in the starting lineup, the Cardinals were 37-27 (.579), but without him, they were 50-50 (.500). Freese's biggest impact was in high-pressure situations, where he came through more often than not, batting .327 with runners in scoring position.
That's why not replacing Freese with Joe Crede, or some other offense threat, rather than Felipe Lopez and Pedro Feliz, was the second biggest mistake the front office made.
Next year, the Cardinals expect Freese to be fully healthy, and he'll be the heavy favorite for the third base job heading into Spring Training, barring some sort of acquisition.
Final Grade: A-
Jaime Garcia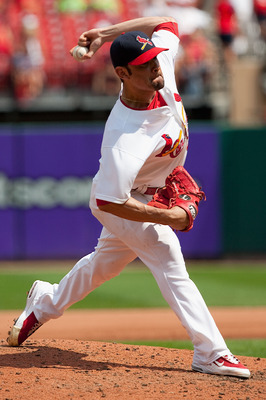 Dilip Vishwanat/Getty Images
Key Stats: 13-8, 2.70 ERA, 1.316 WHIP, 132 K
Of all of the surprises, both good and bad, that the Cardinals experienced this season, Jaime Garcia may have been the least expected, and also the most welcomed.
Looking for a complementary arm for their duo of aces, the Cardinals added Brad Penny, who joined a four-man rotation heading into Spring Training. Garcia battled with Kyle McClellan and veteran Rich Hill for the fifth spot.
Heading into the competition, I was a staunch supporter of McClellan, who had been nails in the bullpen in 2009. I'd hoped that he'd make the transition well into a starting pitcher. In fact, I looked at Garcia, who was coming off Tommy John surgery, as the underdog in the three-man competition.
Here's what I wrote:
"Garcia has a slim chance of making the Opening Day roster, but could fill in down the line, should McClellan or Hill go on the disabled list. Until they do, this is still a two-man competition."
Luckily for myself and the St. Louis Cardinals, I was way off the mark. Although McClellan's 1.38 ERA was tops among Cardinals pitchers this spring, Tony LaRussa wisely chose to keep McClellan in the bullpen, where he's most effective.
Garcia was one of the top pitchers in baseball. His 2.70 ERA was good for fourth in the league.
It's amazing in how just a few months, Garcia went from being the underdog for the fifth starter's role, to a favorite for Rookie of the Year.
Final Grade: A+
Tyler Greene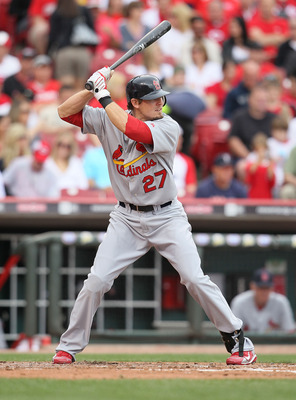 Andy Lyons/Getty Images
Key Stats: .221/.328/.327, 2 HR, 10 RBI
In a season where the Cardinals had mediocre play from the infield, Tyler Greene stepped in... and was just as mediocre.
Stepping in for Felipe Lopez and
He struggled at the plate hitting just .221, and actually managed to have a slugging percentage lower than his on-base percentage despite just drawing 13 walks.
He also had trouble defensively. His .934 fielding percentage won't cut it, and if Greene wants to contribute to next year's team, he has plenty of time to figure it all out between now and Spring Training.
He's not eligible for free agency until 2016, so he'll probably be a Cardinal for quite some time, unless he's included in a trade.
Final Grade: D+
Mark Hamilton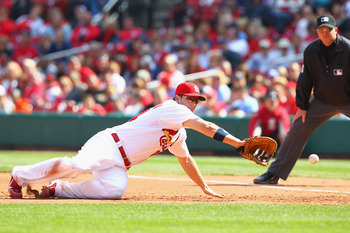 Dilip Vishwanat/Getty Images
Key Stats: .143/.200/.143
Mark Hamilton only got 14 September at-bats with this year's squad, so I'll use this space to focus on his overall season performance.
Spending most of his time at Triple-A, Hamilton was impressive, hitting .298/.391/.582, with a career high 20 homers, in just 81 games. The downside for Hamilton is that he's never played a position other than first base, and, although he's very solid defensively, there's not an opening at first base for hopefully the forseeable future.
Hamilton has a shot at a bench job coming out of spring, but it's more likely that he's included in some sort of trade package by next July. He'll be 26 in 2011, so the Cardinals will have to capitalize on his value soon.
Final Grade: B+
Blake Hawksworth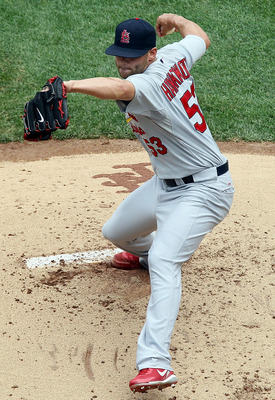 Jim McIsaac/Getty Images
Key Stats: 4-8, 4.98 ERA, 1.638 WHIP, 61 K
After posting a 2.03 ERA a season ago, Blake Hawksworth came into 2010 as a pleasant surprise looking to build on a solid season.
Instead, he found himself forced into a starting role, and struggling.
As a reliever, Hawksworth was mediocre, but acceptable. His 2.36 K/BB and 4.25 ERA were passable, although they left something to be desired.
However, in eight starts, Hawksworth really struggled. His K/BB ratio dropped to 1.33, and his ERA jumped over a run and a half, to 5.83. It's pretty clear that Blake Hawksworth was a different pitcher when he came out of the bullpen.
Hawksworth already has locked up a role in the bullpen, barring a sort of breakdown between now and Opening Day. Time will tell if he can hold on to that role, or even advance to playing the part of major league starter.
Final Grade: C-
Steve Hill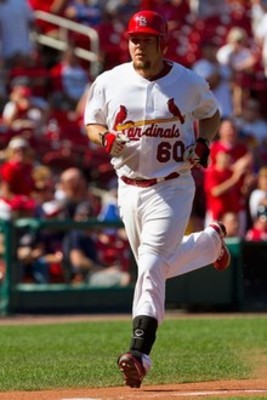 Key Stats: .333/.333/1.333, 1 HR, 1 RBI
Steve Hill's call-up to the big leagues was purely happnenstance, a matter of scheduling. As a result, he only got 3 at-bats. He sure made them count.
Because both Bryan Anderson and Robert Stock were previously occupied with games for Triple-A Memphis, while Hill's Springfield team had an off day, the Cardinals brought up Hill to replace Jason LaRue.
In the ninth inning of his big league debut at Busch Stadium against the Cubs, Hill became the eleventh Cardinal to go yard in his big league debut, and the first since Hector Luna in 2004. He joins, among others, Ken Boyer and Wally Moon.
This season, six rookies have gone deep in their debuts: Jason Heyward, Starlin Castro, Daniel Nava, J.P. Arencibia, Luke Hughes, and Hill. He also became the 33rd player to homer in his first game as a Cardinal.
His home run launched a ninth-inning rally for St. Louis, who managed to score five runs that inning to cut the deficit to two, before Hill stepped up again and this time grounded out with the tying run on second to end the game.
After the game, Hill was sent back to Springfield.
Since he only appeared in one game, Hill still has a chance to become the fourth Cardinal to homer in his first two career games next season, joining Keith McDonald, Leon Wagner, and Joe Cunningham. No Cardinal has homered in his first three games.
Despite being fifth among catchers in the Cardinals system, Hill has great potential. In just 102 games, split between Springfield and Memphis, Hill hit .271/.345/.529 with 24 homers and 92 RBIs, excellent numbers for a catcher. At the ripe age of 24, and with an opening for a backup catcher, Hill could be on his way to a role as a right-handed bat off the bench, or could be dangled as trade bait by the Cardinals this offseason.
Final Grade: B+
Matt Holliday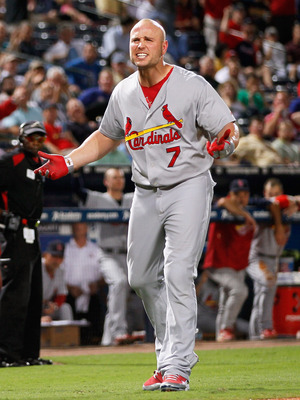 Kevin C. Cox/Getty Images
Key Stats: .312/.390/.532, 28 HR, 103 RBI, 186 H, 45 2B, 9 SB
When the Cardinals acquired Matt Holliday last year, they expected him to be a strong compliment to Albert Pujols. After resigning him this winter, the Cardinals found that Holliday nearly eclipsed Pujols as the team's top hitter.
In fact, Holliday's .312080537 average just edges out Pujols's .311754685 for the team lead in average. Holliday also led the team in hits, and a strong finish brought him within one of Philadelphia's Jayson Werth for the league lead in doubles.
According to WAR, this was Holliday's second finest season, behind only his monster 2007 season, which may be one of the most underrated this decade.
By continuing to prove that he can be a consistent MVP candidate outside of Coors Field, Holliday may be setting himself up for the fast track for the Hall of Fame. One day, we may be talking not about Holliday's Hall of Fame chances, but whether or not he goes in as a Cardinal.
Final Grade: A+
Jon Jay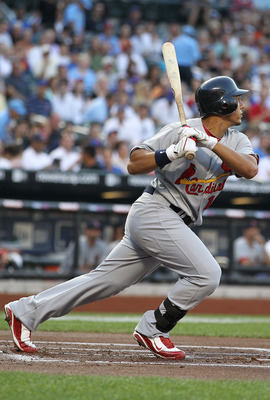 Al Bello/Getty Images
Key Stats: .300/.359/.422, 4 HR, 27 RBI
In a year of surprises, the most surprising Cardinal really shouldn't have been much of a surprise at all. Jon Jay had the athleticism. He had the track record, batting .321 last year with Memphis. All he needed, it turns out, was the chance.
After moving between the minors and St. Louis early on and posting a .302 average in his first 43 at-bats. Tony LaRussa gently began to work Jay into the lineup, and after a scorching July he was batting .383, prompting the Cardinals to trade All-Star right fielder Ryan Ludwick, leaving Jay to take over the starting job.
After being handed the keys to the Corvette, Jay promptly crashed into the nearest streetlight.
After batting .431 in July, Jay followed up with a .266 August and .218 and September/October.
Despite his overall strong season, Jay showed to be a streaky hitter. He's still clutching the steering wheel now, but one slip-up or a free agent signing and Jay will find himself relegated to the bench again.
Final Grade: B+
Jason LaRue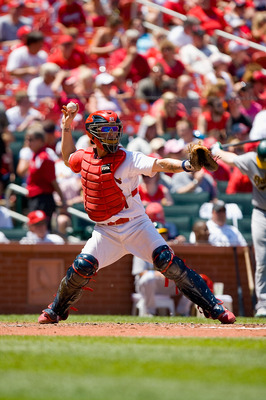 Dilip Vishwanat/Getty Images
Key Stats: .196/.274/.321, 2 HR, 5 RBI
After his late-game home run against Colorado led the Cardinals to the division title last year, Jason LaRue's season was looking bright.
Sadly, his season and career were both tragically ended during the infamous brawl with the Cincinnati Reds, in which Reds pitcher Johnny Cueto, pinned against the backstop, lashed out and kicked several players, including LaRue.
On August 19, LaRue went on the disabled list with a concussion stemming from the Cueto incident. A month later, LaRue announced his retirement from baseball, citing ongoing postconcussion symptoms.
Although LaRue contributed little to the 2010 Cardinals other than taking up a roster spot, Cardinals fans' hearts go out to the Fu Manchu-ed catcher whose Texas-bred heart was almost big as his oversized Hummer.
Final Grade: D+

Tony LaRussa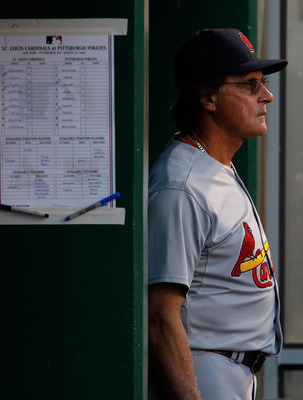 Jared Wickerham/Getty Images
After a season filled with disappointment, many were quick to blame Cardinals manager Tony LaRussa as the source of St. Louis's misfortune.
However, a simple look through of the numbers will show that LaRussa did a fine, even admirable job of managing.
For example, the Cardinals were not as far from winning the division as many may have you believe. Despite being five games behind Cincinnati, the Cardinals had a Pythagorean Expected Win-Loss record of 91-71, while the Reds had an expected record of 92-70. Clearly, the Cardinals and Reds had similar seasons, but runs just didn't come at the right times for St. Louis.
Some might even go ahead and blame that on LaRussa. After all, isn't it his job to make sure the team scores when they need to? As Joe Morgan would say, isn't it LaRussa's job to make sure they "manufacture runs"? In fact, the Cardinals seemed to excel at that very thing, placing fifth in baseball in number of "productive outs", i.e. outs that produce a run or advance a baserunner. If you believe in that sort of thing, LaRussa was darn good at it.
So, did LaRussa live up to expectations in 2010? No. But was he the only reason the Cardinals missed the playoffs? Definitely not.
He's already signed his contract for 2011, and it gets more likely every year that he'll end his career as a Cardinal.
Final Grade: B-
Kyle Lohse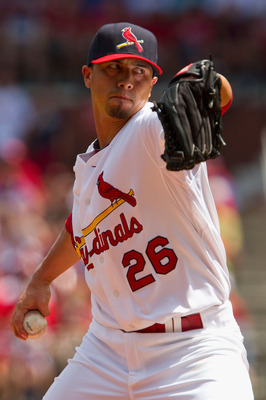 Dilip Vishwanat/Getty Images
Key Stats: 4-8, 6.55 ERA, 1.783 WHIP, 54 K
A few years ago, with Chris Carpenter on the DL once again, and Adam Wainwright just beginning the transition to starter, Kyle Lohse became a savior for the Redbirds, going 15-6, along with a 3.78 ERA. The wins and ERA were both career bests for Lohse, who reached double digits in the win column for the first time since 2003 with Minnesota, and it was the first time that his ERA dipped below four. St. Louis management saw fit to reward him with a 4-yr/$41M extension.
This year, that mistake finally reached its nadir, as Lohse struggled with injuries and consistency for the second straight season, pitching in a career low 18 games, and posting a career high 6.55 ERA.
To be fair, Lohse hasn't been the same since he was hit trying to lay down a bunt against the Royals' Ron Mahay last year. Things got even more frustrating for the righty when he was diagnosed with exertional compartment syndrome, an extremely rare arm condition that requires surgery. ECS is common in the legs of runners, but Lohse's case may be the first in a pitcher.
Hopefully, Lohse can see some sort of return to form in 2011. If not to his 2008 form, at least to a semblance of the effective pitcher he was in the early 2000's with Minnesota.
Look on the bright side, Cardinals fans: Todd Wellemeyer was just as effective for the 2008 Redbirds. Thankfully, they didn't sign him to an extension.
Final Grade: D-
Felipe Lopez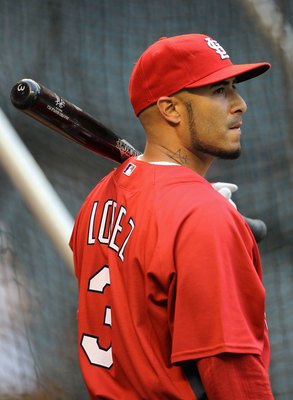 Christian Petersen/Getty Images
Key Stats: .231/.310/.340, 7 HR, 36 RBI
Back in Spring Training, the Cardinals were pretty set around the infield. Albert was Albert, David Freese had locked up the third base job, and Skip and Brendan were coming of .303 and .292 seasons, respectively.
Then the Cardinals signed Felipe Lopez.
I'll admit, at the time, it seemed like a great deal. A million dollars for a player who had batted .385 after joining St. Louis down the stretch in 2008, and knocked the cover off the ball in 2009? Heck, I might be willing to pay some of the contract to get it done.
Unfortunately for both Lopez and the Cardinals, he was pretty terrible.
His .231 batting average and .310 on-base percentage, combined with Tony LaRussa's insistence on putting him in the leadoff spot, meant less runners on base for Albert Pujols. He did succeed at getting men on base - for the other team. His .920 fielding percentage made Cardinals fans cringe whenever the ball was hit near him.
Unsurprisingly, the Cardinals cut him near the end of the year. Also unsurprisingly, for the third straight season, he was much better with his second team, batting .267/.313/.467 in a couple of games with the Red Sox.
Final Grade: F-
Ryan Ludwick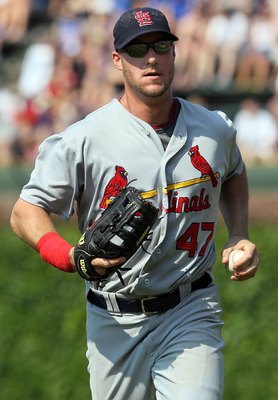 Jim McIsaac/Getty Images
Key Stats: .281/.343/.484, 11 HR, 43 RBI
I'll get this off my chest from the start: Trading Ryan Ludwick was one of the biggest mistakes the Cardinals have made in years. (If you're looking for more on that, check out the slide evaluating John Mozeliak and the front office.)
But when he still donned the Birds on the Bat, Ludwick was as clutch as they come. He got off to a strong start batting .451 with runners in scoring position heading into mid-June. He also batted .476 with runners in scoring position and two out, leading in the majors.
Those numbers tailed off going into July, and by the end of the month Cardinals management saw fit to trade Ludwick to the San Diego Padres in a three-team deal that netted Jake Westbrook. In San Diego, Ludwick clearly struggled.
He'll be eligible for arbitration this year, and it remains to be seen whether the Padres will bring Ludwick van Bathoven back for another chance.
Final Grade: B+
Mike MacDougal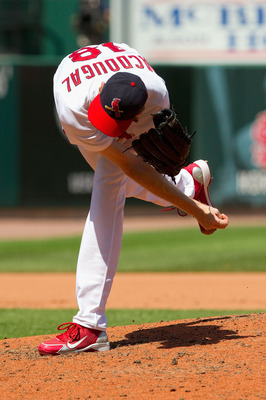 Dilip Vishwanat/Getty Images
Key Stats: 1-1, 7.23 ERA, 1.875 WHIP, 14 K
In a surprise move, the Cardinals added fireballer Mike MacDougal on July 7.
Making his Cardinals debut on July 28 after a stint with Memphis, the righty picked up a win in his first game as a Redbird, coming out of the bullpen in an 8-7 victory.
He finished out the month having made three appearances and allowing no runs.
Unfortunately, the dog days of summer caught up with MacDougal in August, as he surrendered 11 runs in just 8.1 innings, including six in a brutal one-and-two-thirds outing against his former Washington teammates to end the month.
He got back on track in September, allowing just one run through his first 6.1 innings, before finishing the season on a low note, allowing three runs to the Pirates in his last game.
MacDougal's contract will expire at the end of the season, and the Cardinals will probably let him walk. If he does return, it would probably be on a minor league deal.
Final Grade: D-
Evan MacLane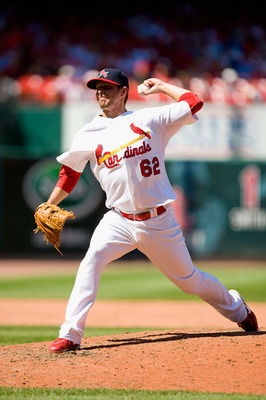 Dilip Vishwanat/Getty Images
Key Stats: 0-1, 9.00 ERA, 2.000 WHIP
We saw very little from MacLane in his big league debut this year (he only faced four batters, giving up a walk-off homer to Chris Ianetta in the horrendous "Collapse in Colorado"), so I'll focus on his minor league performance.
MacLane has come a long way since he was a young Mets prospect in 2004, when at the age of 21 he went 10-4 with a 2.44 ERA. Since then, he was traded for Shawn Green, spent time in the Arizona and St. Louis organization, and finally made his debut this year at the age of 27.
His big league debut was short, only coming in when the Cardinals were running short on relief pitchers. Only making one mistake isn't so bad, but he's an extreme long shot to make the team out of Spring Training next year.
Final Grade: C-
Joe Mather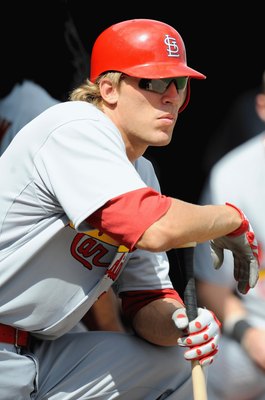 Rob Tringali/Getty Images
Key Stats: .217/.242/.283, 3 RBI
Since arriving in the majors in 2008, "Joey Bombs" has certainly had an interesting major league career. After batting .315 with 12 homers in Triple-A, he received a well deserved call-up. As a starter in his debut, he got his first hit, and the game-winning RBI in the seventh inning.
He finished that season with a .241/.306/.474, showing Cardinals fans that this fun-loving Idaho boy could slug it.His swing-for-the-fences attitude and outgoing demeanor had him a favorite for an outfield spot going into 2009.
Instead, he was the last player cut from the 25-man roster. A combination of injuries and inconsistency made 2009 a miserable year for Joey, as he batted .188 with just 4 homers in 59 games, the same span he took to hit twelve long balls in 2008.
In 2010, Mather made a strong return from injury, spending 91 games with Memphis, and hitting .275 with ten homers. He played 36 games in the big leagues as well, even receiving the loss in the 20-inning game against New York.
At the age of 28, Mather has gained cult status in St. Louis, but if he doesn't speed things up soon, he could find himself struggling to get a big league job.
Final Grade: C-
Kyle McClellan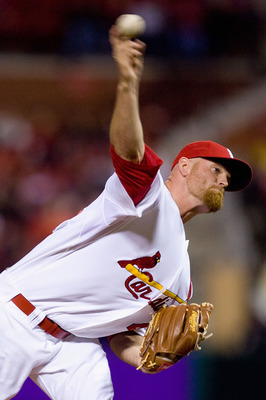 Dilip Vishwanat/Getty Images
Key Stats: 1-4, 2.27 ERA, 1.075 WHIP, 60 K
When camp opened, I was rooting for Kyle McClellan to win the fifth starter's spot.
After all, he had an impressive sophomore season out of the bullpen, and he had an excellent spring. I fully expected him to be added to the starting rotation.
Luckily for myself, I was wrong.
Not only did Jaime Garcia, the man who beat McClellan for the job, have an amazing season, but McClellan was also amazing, with a 2.27 ERA and 1.075 WHIP, making him one of the National League's premier setup men.
At the age of 26, McClellan looks like he has established himself as an ace reliever, contributing 1.8 WAR to a team starved for relief pitching.
In fact, McClellan's season could've been even better. Despite his great season, he had a career high nine home runs allowed, which can be mostly attributed to a 11.7% HR/FB rate, which, if he qualified, would be the tenth highest in the league. Several of his homers cleared the fence by less than ten feet.
If McClellan eliminates, say four of those homers, he could have an ERA as low as 1.43. With a bit of improvement, and a fair amount of luck, McClellan could be an All-Star in a year or two.
Final Grade: A-
Mark McGwire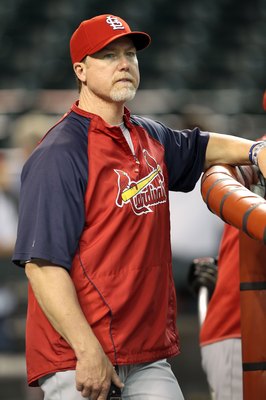 Christian Petersen/Getty Images
In his first season as Cardinals hitting coach, Mark McGwire wasn't disappointing. He just wasn't what anyone suspected.
Anyone who watched McGwire's career knows his story. A prodigious slugger who loved the long ball, but never hit for a high average.
However, this year's Cardinals team was a polar opposite of McGwire, placing second in the league in batting average, but sixteenth in slugging. Only Albert Pujols hit more than 30 homers.
In one regard, however, Cardinals hitters were like McGwire - they were very streaky. Like the former slugger, St. Louis hitters had a hard time keeping their batting averages stable. In fact, the only Cardinals regular who had a batting average over .300 for more than two months was Matt Holliday.
Overall, McGwire was nothing special as a hitting coach. I admire him for overcoming adversity in the media at the season's opening, and not letting him affect his job, but it wouldn't make much of a difference if McGwire returns next year.
Final Grade: C+
Aaron Miles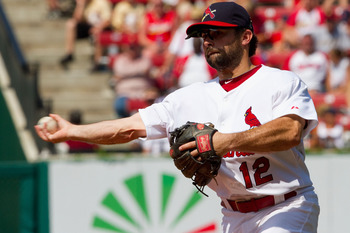 Dilip Vishwanat/Getty Images
Key Stats: .281/.311/.317, 9 RBI
As much as the Cardinals need Aaron Miles, Miles needs the Cardinals. Outside of St. Louis, Miles seems to be unable to hit. But in the Gateway City, Aaron seems to be a hit machine.
In his four seasons with the Redbirds, Miles has hit .288, a far cry from the .185 mark he put up with the 2009 Cubs.
By contributing to a World Series championship, as well as sabotaging the rival Cubs, Miles is approaching cult hero status in St. Louis.
He can play all the infield and outfield positions, so it would be beneficial for the Cardinals to bring him back on a one-year deal for next season, unless they find a better option.
Final Grade: C+
Trever Miller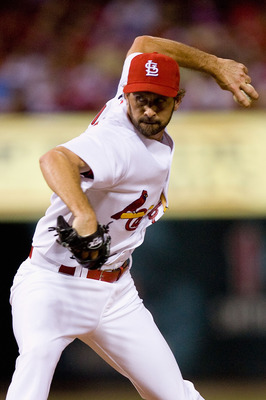 Dilip Vishwanat/Getty Images
Key Stats: 0-1, 4.00 ERA, 1.278 WHIP, 22 K
After a career bests with a 0.962 WHIP and 2.06 ERA in 2009, the Cardinals rewarded Trever Miller with a two-year extension.
In the first year of his multi-year deal, Miller struggled to stay healthy. He pitched the fewest innings since 2000, when he split time between the Phillies and Dodgers, and the fewest games since 1999, when he was a 26-year old reliever for the Astros.
However, when he was in the game, he didn't disappoint. His 4.00 ERA isn't good in the context of the league, but for Miller, it was the fifth best showing in a 12-year career. His HR/9 and H/9 were the second best of his career, only bested by his 2009 and 2008 seasons, respectively.
Miller will return to the 'pen in '11, and hopefully he can stay on the field longer. Being a contract year, this 2011 season may be make or break for the 37-year old Miller.
Final Grade: C+
Yadier Molina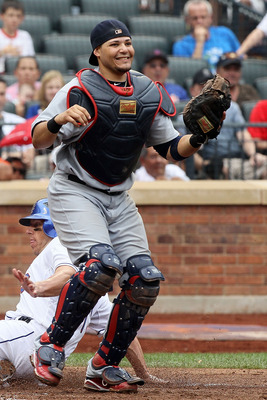 Jim McIsaac/Getty Images
Key Stats: .262/.329/.342, 6 HR, 62 RBI
In his seventh season in the league, the 27-year old Yadier Molina continued to make strides, making his second straight All-Star Game, and is also a favorite for his third straight Gold Glove.
Although his .262 batting average was his worst since 2006, Molina was much better after the All-Star Game, batting .315 in 57 games before being shut down with a few weeks left in the season.
Also notable is that Molina batted .316 out of the sixth spot in the order. If Tony LaRussa keeps him there next season, he could experience continued success.
Molina was his usual stellar self on defense, leading the leagues in assists, total Zone Runs, and caught stealing % among catchers, despite missing 26 games due to injury. He also finished second in putouts, games and caught stealing.
Most surprisingly, or perhaps least for those who have watched Molina play, he was fourth among all position players with 1.7 defensive WAR.
And, despite only playing seven years in the big leagues, Molina is already eighteenth among active players for defensive WAR. In fact, Molina and Carl Crawford are the only player younger than 30 in the top 30. The only other 30-or-younger player in the top 20 is Albert Pujols.
He's under contract for next year, and if he continues to make strides on offense, it would be incredibly surprising in Molina, a fan favorite, is not offered a multi-year deal by the Cardinals.
Final Grade: B+
Jason Motte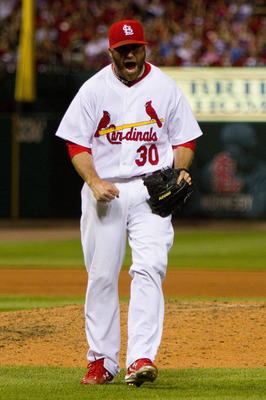 Dilip Vishwanat/Getty Images
Key Stats: 4-2, 2.24 ERA, 1.127 WHIP, 54 K
After losing his job as closer just one game into the 2009 season, Jason Motte spent the 2010 season working to get back there.
In his second full season, Motte lowered his ERA, WHIP, H/9, HR/9, BB/9, and raised his K/9 and K/BB. He struck out 54 batters, equal to last year's total, while pitching four fewer innings. With Ryan Franklin set to retire after this upcoming season, Motte is the favorite to replace him.
He certainly has the stuff, with a fastball that frequently reaches the high-90s, a developing curveball that showed great improvement last year, and a menacing beard and goggles.
Should Motte turn in a similar season next year, he'll have the closer's job all but sown up.
Final Grade: A-
John Mozeliak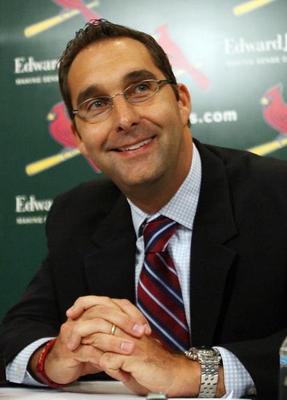 Over the course of the 2010 season, General Manager John Mozeliak saw his offseason moves pan out or fail, and along the way made a few moves of his own. Here are the grades for his individual moves, as well as his overall grade:
Resigning Matt Holliday, 7-yr/$120M: A-

Resigning Holliday was the most important and surprising move the Cardinals made this past offseason. Most writers and executives agreed that the Cardinals outbid themselves for Holliday, but he certainly proved himself this year, nearly leading the league in doubles and posting MVP numbers all around.

Resigning Jason LaRue, 1-yr/$950K: C-

With Yadier Molina still under contract, the Cardinals resigned LaRue simply for his veteran presence and his ability to make a handful of starts if Molina got hurt. Molina stayed healthy until the last month of the season, but by then, LaRue had sustained a career-ending injury.

Signing Brad Penny, 1-yr/$7.5M: B

If not for Penny's injury, this would have been one of the best moves of the offseason. For his first few starts, Penny seemed to be a Cy Young candidate, and could even be considered a favorite. He slowed down a bit in a rough outing against Cincinnati, but still managed great numbers before going down with a season-ending injury against the Angels.

Signing Felipe Lopez, 1-yr/$1M: D-
Coming out of the offseason, this was hailed as, far and away, Mozeliak's best move of the offseason. Although it looked good at the time, Lopez played miserably all season. The only reason the grade is this high is the bargain price Lopez came at.

Signing Randy Winn, 1-yr/$1.1M: C
Although Winn didn't push the Cardinals to the playoffs, acquiring him wasn't such a bad move. He came off the bench for several big hits, but the offense wasn't able to push him home. Winn reached base 40 times, but only scored 16 runs. It's unlikely, but possible, that Mozeliak would pursue
Signing Aaron Miles, 1-yr/$400K: C+
Signing Aaron Miles may have been the most successful of Mozeliak's short-term deals. He played all of the infield and outfield positions, giving the Cardinals an extremely versatile player who could pick up hits down the stretch. Although Miles didn't really help the Cardinals out, he did have a successful individual season with the Redbirds.
Signing Mike MacDougal, 1-yr/400K: D
Mozeliak brought MacDougal on board with a minor league deal, but he spent most of his time in the majors, unsuccessfully. Although the deal was good in theory, MacDougal couldn't return to his 2009 form.

Trading Julio Lugo for cash: C-

This move was especially regrettable because of the way Felipe Lopez played. Trading Lugo to make room for Lopez. Although Lugo wasn't great for Balitmore, he would have certainly been an improvement over Lopez, and would have been a cheaper option as well.

Acquiring Jake Westbrook and minor leaguer Nick Greenwood for Ryan Ludwick: C-
Whether or not this deal pans out long term has yet to be seen. If the Cardinals resign Westbrook, the deal comes out looking slightly better. If not, then slightly worse. This grade is an average of those two possibilities. In trading Ludwick, the front office left the offense without a serious clutch hitter outside of Pujols and Holliday, and they certainly struggled for it.

Acquiring Pedro Feliz for minor leaguer David Carpenter: D-
Because of the cost and the return, this was probably the worst deal Mozeliak made. By trading minor league closer Carpenter, who was having a good season, for Pedro Feliz, a no-hit third baseman with aging knees, the Cardinals lost a possible asset, and gained nothing in return. To compound the situation, Joe Crede, a much better hitter and a very good fielder, was available all season, but the Cardinals didn't show any interest.
Overall Grade: C-
Although the Holliday contract seems to be a smashing success, many of Mozeliak's short-term deals didn't pan out. Trading away Ludwick may have handicapped the Cardinals for the rest of the season. Although no single move was the downfall of the Cardinals season, it's possible that Mozeliak was too focused on Holliday and other big names to fill out the entire roster.
He received a three-year extension this year, and I look forward to seeing him redeem himself this offseason. If he resigns Albert Pujols, he will be a hero in St. Louis, no matter what other moves he makes.

Adam Ottavino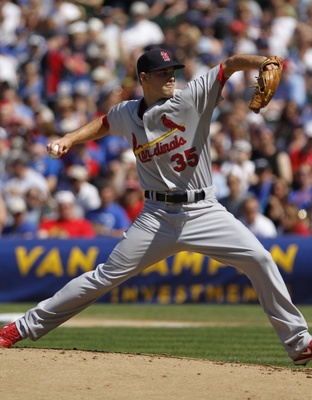 Key Stats: 0-2, 8.46 ERA, 2.060 WHIP, 12 K
At the young age of 24, Adam Ottavino has introduced himself to Cardinals fans, and will hopefully be a part of the Cardinals plans in future years.
Ottavino is more than a good prospect, he is a dependable person. After receiving his signing bonus as a first-round pick in 2006, he used his signing bonus to help repay his scholarship at Northwestern University.
Hopefully, the Cardinals can count on the same type of dependability from Ottavino in the future. He made his debut on the road at Wrigley Field, and for a rookie, was impressive, giving up four runs in 5.2 innings. Pretty good for a player making his major league debut smack in one of baseball's best rivalries.
Ottavino still has much room to improve. His 3.97 ERA with Memphis isn't what the Cardinals expected when they drafted him at the end of the first round, and his 8.46 mark with the big club can definitely be improved.
For now, Ottavino is a Cardinal. Don't expect him to break camp with the Redbirds next year, but he'll probably see some time in the majors.
Final Grade: C-
Matt Pagnozzi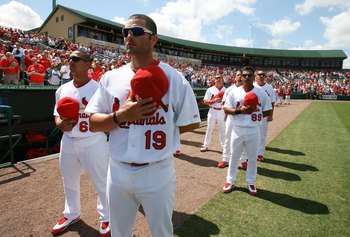 Doug Benc/Getty Images
Key Stats: .359/.405/.487, 1 HR, 10 RBI
If there was any member of the organization who emerged in 2010, it was Matt Pagnozzi.
After batting .242 with Memphis for a large chunk of the season, most compared Pagnozzi to his uncle, Tom, who endeared himself with Cardinals nation by playing his entire 12-year career here.
The similarities are there. Tom won three Gold Gloves and made an All-Star Game despite a career batting average of .253. Matt, however, might been even more of an extreme through his major league career.
Through eight years of minor league ball, Pagnozzi has a lifetime average of .214, yet his defensive prowess has enabled him to advance all the way through the farm system, getting his first hit this year.
For a player who was expected to be anemic offensively, Pagnozzi sure made an impression with his bat.
With starter Yadier Molina on the DL, Pagnozzi got a bulk of the remaining starts, and simply tore the cover off the ball, getting 14 hits in just 15 games.
With Jason LaRue retiring, the Cardinals will have an opening for a backup to Molina. If the Cardinals choose to stay in house, Pagnozzi has to have put himself on the short list for favorites.
Final Grade: A-
Albert Pujols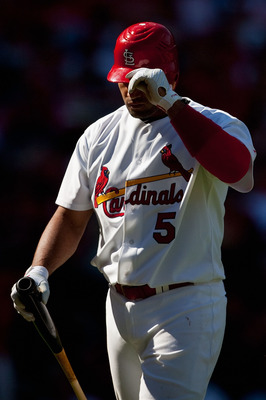 Dilip Vishwanat/Getty Images
Key Stats: .312/.414/.596, *42 HR, 118 RBI*, 14 SB, *115 R*, 350 TB, 103 BB, *82 XBH*
Simply reading the stat line above can give you a pretty good idea of what Albert means to the Cardinals.
He led the Cardinals in every single offensive category possible, even stolen bases. He even led the league in several categories, of which I have listed just a few. For the sixth straight year, he led the National League in WAR, equaled only by three players, Babe Ruth, Rogers Hornsby, and Willie Mays.
Of course, Albert is a great offensive player. What separates him from the rest of the league however, is his defense. With another fine defensive season, Pujols moved to eighth among active players in Defensive WAR.
To further cement this is the fact that Pujols is the only 30-year old in the top 15, and one of only four players in the top 50 who've spent the majority of their careers at first base. He is simply a revolutionary fielder at first base. The only player who comes close to equaling him is Todd Helton, and it has taken Helton seven years longer to master his craft.
Of course, the major story of this offseason is whether or not Pujols will sign an extension that would keep him a Cardinal for life. It's more likely that he will than he won't, and I can't see the Cardinals not resigning him. When you have a player who could be the greatest player ever, money is not an issue.
Truth is, I've often philosophised about life with and without Pujols. I won't run you through my own theories, but I pose all Cardinals fans this question: Would you rather have Pujols, an all-time great, for life, or win another World Series during his career?
It's possible that both could happen, but I know which one is more valuable to me.
Final Grade: A+
Brad Penny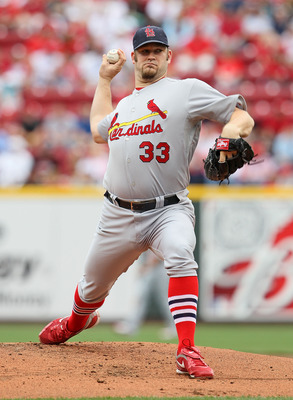 Andy Lyons/Getty Images
Key Stats: 3-4, 3.23 ERA, 1.293 WHIP, 35 K
Brad Penny came into the season facing a myriad of questions. Somehow, he exits leaving even more mystery in his wake.
Although Penny started off the season as a Cy Young candidate, going 3-0, with a 0.95 ERA. He looked like the missing piece to the puzzle, the third starter the Cardinals were desperately seeking to complement their two aces.
From there, things went downhill, as Penny lost his next four starts, and his ERA steadily rose to 2.73, culminating in an ugly start against the Reds.
In his final start of the year, Penny saw everything go haywire. He allowed four runs in three innings, yet somehow was in line for the win when he came to the plate against former Cardinal Joel Piñeiro in the bottom of the third.
With the bases loaded, Penny got a pitch to hit, and didn't miss. He deposited Piñeiro's first pitch into the outfield bleachers.
After straining an oblique during that game-winning grand slam, Penny didn't throw another pitch for the remainder of the year.
Realistically, Penny had probably already aggravated his oblique before the homer. He showed signs of pain in the Cincinnati start, and maybe it's better than the Cardinals found out about it then rather than later.
Penny probably won't be back with the 2011 Cardinals, and with his recent injury problem, he could have a hard time getting any sort of raise this offseason.
Final Grade: B
Colby Rasmus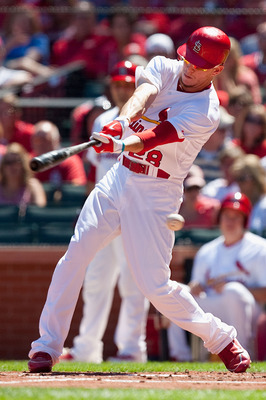 Dilip Vishwanat/Getty Images
Key Stats: .276/.361/.498, 23 HR, 66 RBI, 12 SB
Amid rumors that he wished to be traded, Colby Rasmus managed to continue his development as a future All-Star, raising his on-base percentage by nearly 50 points. Rasmus also got loose on the bases, swiping 12 bags. His developing combination of power and speed has some comparing him to a young Andre Dawson or Bobby Bonds, both of whom went on to very successful careers.
If Rasmus keeps it up, he could find himself on a very similar career path. At the young age of 23, Colby already has 39 homers, just two behind Bonds's pace, and four behind Dawson's.
The only place where Rasmus regressed is his defense, which went from spectacular to so-so. In 2009, he led the league in errors by a centerfielder as a rookie, but also led the league in Total Zone Runs, which, at the age of 22, was extremely impressive.
However, this year he led the league in errors once again, but his 1.7 WAR, good for seventh in the league in 2009, dropped to -0.9. In fact, the only stat that didn't drop was his fielding percentage, which is becoming less valued every season.
On another note, anyone who believes Rasmus is going to be traded is, in the case of Cardinals fan, happily mistaken.
All they've got to do is read this quote by Rasmus himself, on the rumor he asked for a trade:
"I never did that," Rasmus said. "I don't know where that's coming from. I just want to play baseball and have fun. ….I love being here. I love the fans. I'm moving forward and just trying to play hard and I'm happy we won today."
Or, from John Mozeliak:
"A lot of times players, out of frustration or for whatever reason, may go into a meeting and come out saying some things they may regret," Mozeliak said. "But a lot of times, you have to understand, these things never get out there. In this particular case, it's been festering for a while. But I can assure you, Colby's not going to be traded. I can also assure you that some of the things he's dealing with are typical growing pains that young players go through. When I look at the talent he brings to the table, and when I think about how I could replace that, I realize that would be a very difficult task ahead."
Assuming Colby continues to develop, don't be surprised when he makes his first All Star Game next summer. We could see a 35-homer season out of him one day. The future is very bright, and the Cardinals should make sure that Rasmus spends it in St. Louis.
Final Grade: B+
Dennys Reyes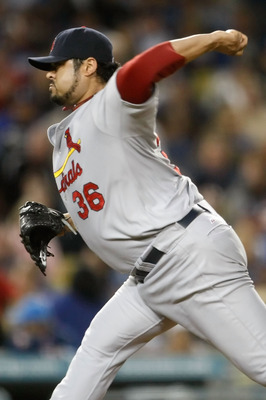 Jeff Gross/Getty Images
Key Stats: 3-1, 3.55 ERA, 1.447 WHIP, 25 K
For much of the past decade, Dennys Reyes has been one of baseball's most underrated relief pitchers. Playing for eleven different teams since entering the league with the Reds in 1997, Reyes has been a master of left-handed specialists, holding lefties to a .238 average.
In 2006, Reyes reached his peak, posting a 0.89 ERA with Minnesota, only allowing a .148 average to lefties.
So it wasn't a surprise when the Cardinals, starved for left-handed relief, added Reyes and Trever Miller in 2009. Neither player disappointed, posting 3.29 and 2.06 ERAs, respectively. Management brought both back for the 2010 season.
Although Reyes had the lower ERA, in my opinion, it was Miller who has a better chance of returning for the 2011 team. Unless Miller retires, which at the age of 37 is totally possible, he should be the more sought-after player.
Despite the difference in ERAs, Miller had a lower WHIP, one of the most important statistics for lefty specialists, who may only come in to face one or two batters. Reyes also allowed one more walk per nine innings than Miller, as well. In fact, Reyes walked at least one batter in nearly a third of his appearances.
I'll be surprised if the Cardinals bring him back in '11, but if he regains his 2006 form, it would be quite a pleasant surprise.
Final Grade: C-
Brendan Ryan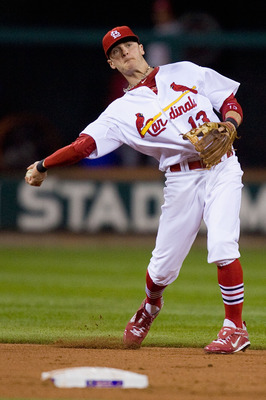 Dilip Vishwanat/Getty Images
Key Stats: .223/.279/.294, 2 HR, 36 RBI
After a surprising 2009 campaign in which he batted .292 and gained the starting role at shortstop, Brendan Ryan's 2010 season was disappointing offensively, but once again stellar defensively.
On the offensive side, both his batting average and on-base percentage dropped by at least 70 points, and his slugging percentage dropped over 100. His surprising 3.4 WAR in 2009 dropped to 0.9, and most of that was from defensive ability.
On the defensive side of the ball, Ryan was spectacular, as expected. While his .292 average was unexpected in 2009, his 5.41 range factor was not. The Cardinals have long known that Ryan possesses all of the tools to contend for a Gold Glover at short, and this year was no exception.
Although his range factor and fielding percentage dropped, as well as his defensive WAR, he still led the National League in assists and led all infielders in Total Zone Runs, with 15. His defensive WAR (1.6) was tied for fifth in the league. To top it all off, even though his range factor dropped by nearly .4, it was still second in the league, just behind Troy Tulowitzki.
Although the Cardinals are looking for an offensive upgrade in the infield, it seems more likely that it will be made at second than short. For now, Ryan's defense keeps his job safe.
Final Grade: C+
Fernando Salas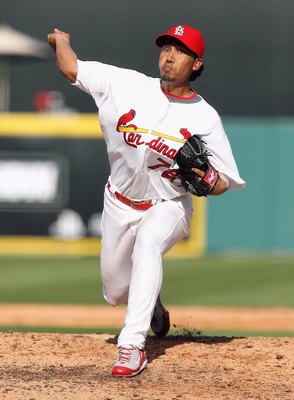 Doug Benc/Getty Images
Key Stats: 0-0, 3.52 ERA, 1.402 WHIP, 29 K
After a strong season as closer with Triple-A Memphis that saw the young Mexican native post a sub-1.000 WHIP, Fernando Salas made his major league debut this year at the age of 25.
After impressive strikeout numbers in 2008 and early this season, Salas continued that pace in the bigs, striking out 8.5 batters per nine innings.
Tony LaRussa was very prudent with the young fireballer, only bringing him in for 27 games.
There's a bit that Salas can improve on, beginning with his 1.2 HR/9. If he wants to be a major league reliever, he has to cut down on the long ball.
Salas is the wild card of the 2011 Cardinals. Very little is known about his future. Depending on what type of spring he has, he could be back with the Cardinals to start the year, or could get continued seasoning in Memphis as the closer.
Final Grade: B
Skip Schumaker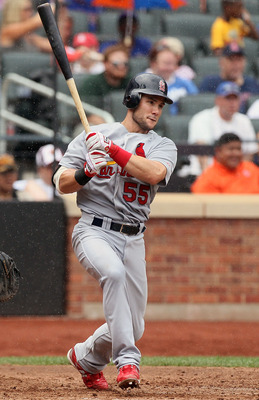 Jim McIsaac/Getty Images
Key Stats: .265/.328/.338, 5 HR, 42 RBI
It was the best of times, it was the worst of times.
- opening line of Charles Dickens's "A Tale of Two Cities"
For Cardinals second baseman Skip Schumaker 2010 was a tale of two seasons.
Schumaker started off poorly, batting .212 in April/March, leading Sports Illustrated's Joe Posnanski to name him one of baseball's worst everyday players, placing him in the unpleasant territory of Yuniesky Betancourt.
In May, he raised the number to .271, and stepped it up to 2009 form in June, batting .311. Through the break Schumaker held a .255, which wasn't exactly the three straight seasons of .300+ he'd had from 2008-10, but it at least kept him out of Yuniesky Betancourt territory.
Schumaker came out of the break similarly slowly, batting .246 in July, but recovered much more quickly, batting .303 in August, before finishing the season up with a .255 average in September/October.
Got all that? If you have a calculator handy (or read Schumaker's stat line), you might be able to figure out that adds up to a .265 batting average on the year.
Through the whole season, Schumaker only did one thing extremely poorly - hit, or rather tried, to hit lefties. Skip was 16-for-76 against lefthanders, adding up to a .211 average. His inability to hit lefties has long been a source of ire for Cardinals fans, but it may have finally reached its nadir.
Trade rumors have linked the Redbirds to Marlins' second baseman Dan Uggla, one of the game's premier hitters. Although the Cardinals aren't favored to acquire Uggla, don't be surprised if the Redbirds make some sort of move to upgrade the second base position, leaving Jared Michael Schumaker as simply an extra piece to the puzzle.
Final Grade: C-
Nick Stavinoha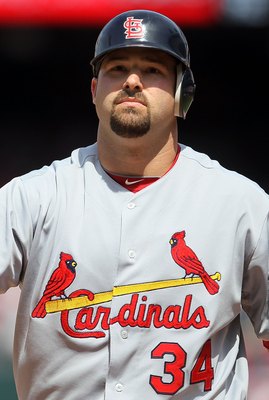 Jim McIsaac/Getty Images
Key Stats: .256/.286/.339, 2 HR, 9 RBI
Now 28 years old, Nick Stavinoha may have finally gained some sort of certainty in his role with the St. Louis Cardinals.
Playing in a career-high 76 games this season, Stavinoha showed some of his trademark power off of the bench, as well as providing one of the highlights of the Cardinals season.
Allow me to set the stage: Colby Rasmus has just drawn a walk in the Cardinals' fourth game of the season, against the Brewers. Both teams are 2-1, and Milwaukee leads 4-3. Future Hall of Famer Trevor Hoffman is on the mound, and there are two outs in the top of the ninth.
I listened along as Mike Shannon excitedly called one of the most thrilling home runs of the season, as Stavinoha launched the next seat into the left field bleachers.
After batting .390 this year in Triple-A, it's clear that Stavinoha has mastered minor league pitching. Next season will be his chance to prove that he deserves a spot on the bench, and is more than just a "Quadruple-A" type of player.
Final Grade: B-
Jeff Suppan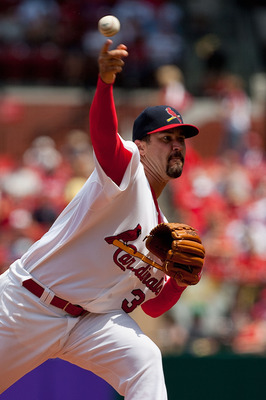 Dilip Vishwanat/Getty Images
Key Stats: 3-6, 3.84 ERA, 1.493 ERA, 33 K
After being released by the Milwaukee Brewers, Jeff Suppan found release of his own this season in St. Louis.
With Milwaukee, Suppan was dreadful. His 7.84 ERA was one of the worst in the league, and by May, he had been relegated to relief duty. Even then, he wasn't able to succeed. During May, he had a 6.46 ERA, and after another dreadful outing against the Cardinals on June 6, the Brewers cut ties with Suppan.
The Cardinals picked him up, and from then on, he was a different pitcher. His ERA was a full three runs lower, and he managed to finish of the season on a very high note, pitching six shutout innings against the Rockies.
Although the Cardinals probably won't offer Suppan a contract, his surprising turnaround could net him a deal elsewhere.
Final Grade: C
Adam Wainwright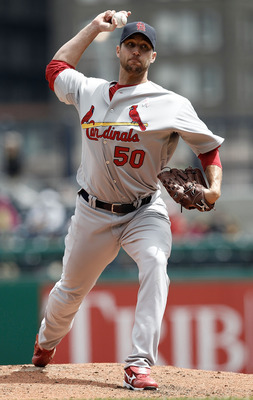 Jared Wickerham/Getty Images
Key Stats: 20-11, 2.42 ERA, 1.051 WHIP, 213 K
A year after leading the league in innings pitched and wins, as well as games started and batters faced, Adam Wainwright bested even himself, setting new career bests in wins, ERA, strikeouts, and WHIP, throwing his name near the top of a crowded National League Cy Young race.
In fact, he became the pitching version of Albert Pujols, leading the Cardinals in almost every statistical category, and even placing sixth overall in WAR.
At this point, we all know that Adam Wainwright will return to join Chris Carpenter and Jaime Garcia to form one of the most vaunted rotations in baseball.
Right now, the only worry about Wainwright's future is when a contract extension with St. Louis will get worked out.
Final Grade: A+
P.J. Walters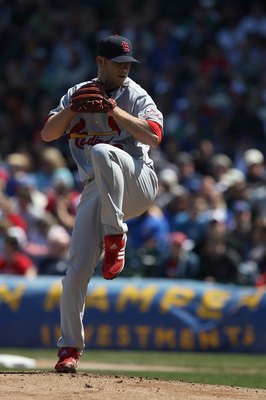 Jonathan Daniel/Getty Images
Key Stats: 2-0, 6.00 ERA, 1.400 WHIP, 22 K
P.J. Walters was a spot starter this year for the Cardinals, spending most of his time with Triple-A Memphis. He made two starts in three stints with St. Louis. In his two starts, Walters was 2-0 with an ERA of 3.94, and his ERA out of the bullpen was 7.20.
Despite this, he was very good with Memphis, going 8-5 with an 3.81 ERA and WHIP of 1.252. He had his best season since 2007, which was split between Single-A and Double-A. Obviously, there is plenty of room for improvement.
Walters and his wife went through a horrible ordeal this past offseason when they lost their newborn daughter. She battled for her life for almost 2 months with heart, kidney and intestinal ailments before finally succumbing. It's fair to say that P.J. had much heavier issues weighing on his mind this season than pitching.
I wish P.J. and Brittney the best in the future, and hopefully we see him up with next year's team. At the young age of 25, he could be a long reliever for Cardinal teams of the future.
Final Grade: C-
Jake Westbrook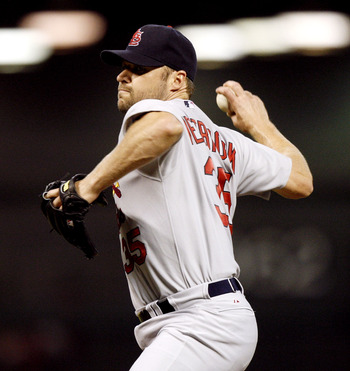 Bob Levey/Getty Images
Key Stats: 4-4, 3.48 ERA, 1.253 WHIP, 55 K
Give John Mozeliak credit. Although moving Ryan Ludwick is one of the most disenheartening moves of the decade, it did bring the Redbirds workhorse Jake Westbrook.
After coming to St. Louis, Westbrook bested his career highs in K/9, K/BB, H/9, BB/9, and WHIP, meanwhile becoming one of the top groundball pitchers in baseball under the tutelage of Dave Duncan.
In fact, after moving to the National League, Westbrook became one of the league's top groundball pitchers. If he had enough innings to qualify, his amazing 62.8% ground ball rate would've been second in the league. Only Atlanta's Tim Hudson was better.
Westbrook's abilities shone in St. Louis, and both side have expressed mutual interest in Jake returning on a multi-year deal. If he does come back, the move to acquire him seems that much better in hindsight.
Final Grade: A-
Randy Winn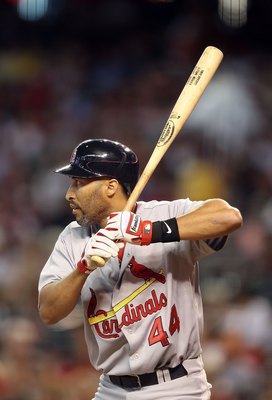 Christian Petersen/Getty Images
Key Stats: .250/.311/.382, 3 HR, 17 RBI, 5 SB
Although 2010 was a disappointing season for the Cardinals, the most disappointed man on the team should be Randy Winn, and with good reason.
Winn entered and exited the season as the leader in games played without having ever reached the postseason (1,717), but things looked up for Randy. After all, he had just signed a deal with the World Champion New York Yankees.
The deal was met with much criticism from Yankees faithful, and Winn struggled under the immense pressure of the Big Apple, batting just .213, before the Yankees decided to cut him.
Not a problem for Winn, though. He signed with the Cardinals, who were an absolute lock to win their division. Right?
We all now how that turned out.
Things were made even worse for Winn when the second, third, and fourth players on the dubious list I mentioned earlier, Michael Young (1,508) Aubrey Huff (1,479), and Mike Sweeney (1,454), respectively, all made the playoffs while Winn sat home.
It's really unlikely that Winn will return for 2011, with Allen Craig and Jon Jay both looking for major league jobs. He'll probably continue his quest for the playoffs elsewhere.
Final Grade: C+
Keep Reading

St Louis Cardinals: Like this team?