Alabama Vs. Penn State Football: Live Blog, Stats, Analysis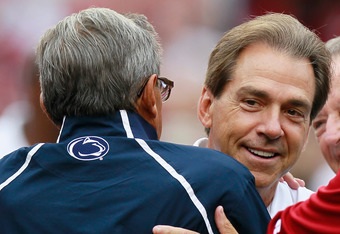 Kevin C. Cox/Getty Images
Brett Stephen, Featured Columnist, here to bring you live insight into a great match-up in Tuscaloosa, AL as defending National Champion Alabama Crimson Tide defend against Penn State
136456E9-8C4D-1CBF-CB43-F7F227AF14291.03.01
10:15 p.m. ET: Thanks for checking in. Please follow me on Twitter @brettstephen
10:14 p.m. ET: Boise State is a good team, but anyone that thinks that they could compete with Bama is crazy.
10:13 p.m. ET: Boise State's key win is meaningless now that James Madison has beaten VA Tech.
10:11 p.m. ET: Love the SEC chant by the crowd!
10:09 p.m. ET: Really? Resorting to trick plays now? Come on PSU.
10:09 p.m. ET: What a great job blocking on the outside but a great effort by Newsome to get that first down.
10:07 p.m. ET: Herbie...a B-? I give that grade a D-! The kid threw for less than 50% and produced 3 points.
10:03 p.m. ET: Little late for a QB change Joe Pa
10:00 p.m. ET: Richardson still turning nothing into a gain. Great runner!
9:59 p.m. ET: Wow! That girl didn't do Bama cheerleaders any justice!
9:55 p.m. ET: Shutout gone. Will Bama come back and ice it on this possession?
9:51 p.m. ET: Gut check for Bama defense....can you keep your shutout?
9:50 p.m. ET: Young man...control yourself!
9:48 p.m. ET: Good news for PSU and Bolden is this will be the best team they see all year.
9:47 p.m. ET: Bolden is not showing much accuracy here tonight.
9:44 p.m. ET: Can PSU put anything on the board?
9:39 p.m. ET: I'm afraid that's it Nittany Lion fans.
9:37 p.m. ET: No stopping that kid!
9:37 p.m. ET: 5 PSU defenders and Richardson still didn't go down.
9:32 p.m. ET: Great patience from McElroy. Great catch by Maze.
9:31 p.m. ET: Good job on the sneak.
9:28 p.m. ET: Did Erin Andrews just say that Richardson bench presses 460 lbs? That's absurd for a RB.
9:27 p.m. ET: Richardson is a monster!
This article is
What is the duplicate article?
Why is this article offensive?
Where is this article plagiarized from?
Why is this article poorly edited?

Alabama Crimson Tide Football: Like this team?