NASCAR Live Blog: Air Guard 400, Richmond International Raceway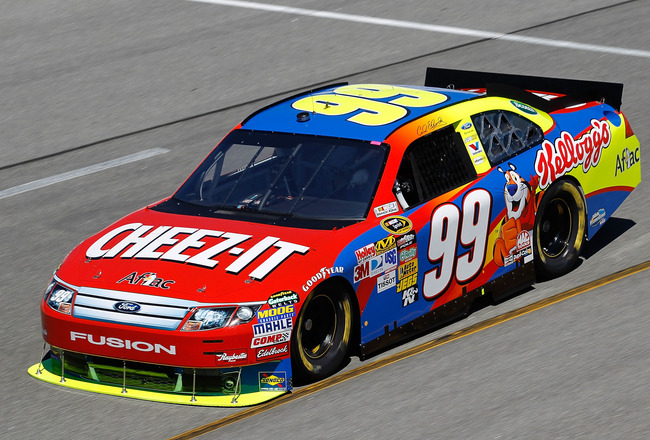 Carl Edwards is sitting on the pole tonight.
Todd Warshaw/Getty Images
Welcome one and all to the official Bleacher Report live blog for tonight's NASCAR Sprint Cup Series race, the Air Guard 400 at Richmond International Raceway. I'm Christopher Leone, and I'll be your host for tonight's coverage.
Richmond's the final event before the Chase for the Sprint Cup, but with 10 out of 12 competitors already locked into the playoffs, tonight's event may not be all that dramatic on that front. Greg Biffle needs only to finish 42nd to lock himself in. Clint Bowyer's only gotta place 28th. Not too difficult, especially when Bowyer's finished 18th or better in every start he's made at Richmond.
So grab your favorite beverage, put on ABC, and let's go...
Alright, it's about time to put a lid on this thing. We're just killing time right now. I'd much rather have had these guys on and talking during, you know, the college football earlier in the night.
I hope you enjoyed my supplementary live blog on tonight's Air Guard 400 at Richmond International Raceway. I'll be ranking the 12 Chase drivers in my weekly Power Rankings slideshow in the next couple of days. Look out for my Fantasy Pick'Em column in the middle of the week as usual, and more NASCAR and IndyCar coverage here and on my own site, OpenWheelAmerica.com.
On behalf of all of us at Bleacher Report, thanks for following, and see you soon!
This might be the year for Kyle Busch. He and Dave Rogers work together so well. He did a good job of racing his teammate clean and not wrecking them both. He's a more patient driver than he was during the debacle with him and Steve Addington a couple of years ago.
The announcers also mentioned this interesting tidbit earlier in the broadcast: at the eight Chase tracks that hosted events earlier this season, Rowdy has scored the most points. Makes you think.
Interviewing the Chase drivers now. Harvick's glad to be there, but do you really think he's excited about that 200-plus point swing that puts him in third?
New top 12 rankings: Hamlin, Johnson, Harvick, Kyle and Kurt Busch, Stewart, Biffle, Gordon, Edwards, Burton, Kenseth, Bowyer. Five drivers in this year's Chase - nearly half - haven't won yet this year. I wonder if that's a record.
14 cars will come home on the lead lap, the last of which will be Matt Kenseth. Solid runs by Marcos Ambrose (fifth), Juan Montoya (seventh), and A.J. Allmendinger (eighth) make the finishing order interesting.
Kevin Harvick will say goodbye to his points lead tonight with a top-10 finish, while Denny Hamlin will take a 10-point lead over Jimmie Johnson into New Hampshire.
You want to talk about a momentum shift? Hamlin finished 43rd last week after his motor gave out and wasted a solid run. But this week, they've begun to rediscover whatever it was that had them up front for much of the early going this year.
Kyle's going to need a lot of help from the lapped traffic to get back up there.
Marcos Ambrose in fifth? I'm feeling really good about my fantasy picks right now.
Kyle's driving style suits his position perfectly - he's driving far deeper into the corner than Hamlin and may be able to muscle it in below his teammate in the final ten laps. You have to wonder if Joe Gibbs is considering F1-style team orders.
Here we go, Kyle's starting to make it interesting. Does his brother, about to be lapped, help him out by blocking Hamlin?
39 to go and Kyle Busch is getting up there with Hamlin. Interesting stat - seven of the past nine Richmond races, the winner of the race has not led the most laps. Twice, the race's top lap leader has been Hamlin.
Good night for Gibbs - Hamlin and Busch are 1-2, while Logano running some of the fastest laps out there in sixth. Almost a full mile an hour faster than Hamlin in the lead.
Bowyer's dropped back to fifth but his Chase position is well in hand with 54 laps to go. He'll probably need to be wrecked if he's to fall out.
Montoya takes the lead! Short pitting allowed him to make up enough ground in this long green flag run to take the lead. Meanwhile, Bobby Labonte has a pit fire that will certainly end his day.
Newman has a poor pit stop as they struggle with the right rear. If their chances at sneaking into the Chase were on their death bed before, Dr. Kevorkian just hooked them up to the euthanasia device.
We're seeing lead-lap cars begin to make pit stops, with Tony Stewart and Jamie McMurray among those to stop before leader Denny Hamlin.
Glad to see Verizon's IndyCar-oriented commercial getting some airtime. One of the better racing-related ones you see nowadays. "I need a nickname..."
To be fair, it's hard to come up with a nickname for a guy named Will Power.
Meanwhile, Dale Jr. pits. Four laps down in the mid-30s. Not Hendrick's night, really. Gordon remains the last car on the lead lap in 18th and Martin is down one in 20th.
We're in the final 100 laps of the race now. Hamlin laps Biffle, who's going down four now. Meanwhile, Busch is one of the fastest cars on the racetrack right now.
Recently, somebody asked me why I've been putting Jeff Gordon so low in my power rankings compared to his position in the points. Well, tonight's a great example of why. We haven't heard much from him in a while in this race - I haven't had to think about him since the bumping with Harvick in the very early stages of the event. He's running 18th. I Googled it. (No, I'm not being paid to say that, I just discovered it tonight and it's incredibly useful.)
There have been a few pockets of good racing tonight, but I've been feeling really uncaptivated by tonight's event. Perhaps it's because of the lack of expected Chase drama, or maybe ESPN's presentation, or a few recent IndyCar races that I've seen that have been really fun to watch, but that's how I feel.
I will say this, however: this event is NOTHING like the 2009 IndyCar event at Richmond, which was basically a parade that was won in the pits. The leaders have gotten nice and racy when they've been close... but...
You know what ABC ought to do? Start an online game where fans pair each Chase driver with a "Dancing with the Stars" contestant every week. You have to pick a different driver/contestant every week, and get points based on their performance. Winner gets a sizable chunk of cash. Who's with me?
Wondering where your driver currently is running? Sick of relying on the ABC broadcast ticker? Here's a helpful tip. You can find out instantly by simply typing your driver's name into Google and searching. The first display will be a NASCAR.com link telling you their position and how far into the race they are.
This article is
What is the duplicate article?
Why is this article offensive?
Where is this article plagiarized from?
Why is this article poorly edited?