Oregon vs. Tennessee: Live Blog, Stats, Analysis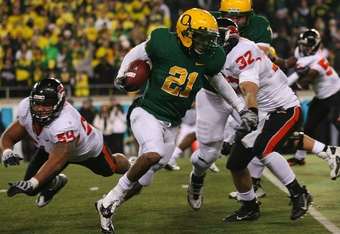 Oregon RB, La'Michael James
Tom Hauck/Getty Images
National Featured Columnist, Joel Barker here, live blogging the Oregon - Tennessee game.
Despite the ongoing rebuilding effort, Tennessee still has plenty of pride on the line and a win over a top 10 team would do wonders for new coach Derek Dooley. No. 7 Oregon, on the other hand, is trying to build a national championship resume and a win on the road in Knoxville would be impressive even if the Vols are rebuilding. Join me for the next three hours or so, as we talk Oregon - Tennessee football, live here on the Bleacher Report.
Follow me on twitter, @joelabarker, for insights throughout this and all other games.
_______________________________________________________________________________________
11:44 pm EDT: It was a tale of two halves. The young, inexperienced, depth-less Vols finally lived up to expectations in the second half. Oregon was just way too talented for this Tennessee team to have any realistic shot at winning this game. Oregon is legit, folks. Make no mistake about it. Tennessee will get better as the season goes on, but the Ducks rule the night in Knoxville. Thanks for stopping by and commenting throughout the evening. It was a long one! Good night.
11:35 pm EDT: ESPN's least-liked broadcasting crew lived up to its reputation. Play-by-play man, Mike Patrick was a pro, as he always is, unless he mentions Britney Spears. But Holly Rowe really struggled on more than one sideline report and Craig James continued to be a joke.
11:33 pm EDT: Even though this one was over long ago, it is officially finished now. Oregon wins 48-13. The Ducks have plenty of big wins to come this year and the Vols certainly have some more losses coming. But this was a valiant effort by a completely outmanned team in the first half, and a remarkable display by one of the top teams in the country in the second half.
11:21 pm EDT: Oregon score another touchdown. This time with its B-team. RB Remene Alston runs it in. Oregon leads 48-13.
11:17 pm EDT: Oregon puts its B-Team in the game to run some clock. Valiant effort by the Vols early, but this Oregon team is easily a top five team. They are quick and have playmakers all over the field.
11:14 pm EDT: Tennessee center, Cody Pope is still down on the field. Poor kid has had a rough week. He was taken to the hospital on Tuesday with a severe stinger, got hurt in the first half and now looks to have gotten his bell rung.
11:09 pm EDT: Well, this one sure got ugly fast. It's just the mark of a young team in rebuilding mode versus a legit, top ten team. Vols fans better get used to seeing games like this because that schedules only going to get harder in the SEC.
11:04 pm EDT: Kenjon Barner with a 79 yard punt return for a TOUCHDOWN OREGON! This one has quickly become a laugher. What a tale of two games this one turned out to be. First and second halves couldn't be more different. Oregon leads 41-13.
11:00 pm EDT: Wow, Holly Rowe. That was about the worst sideline report I've ever heard. Stumbled all over that one.
10:55 pm EDT: Touchdown Oregon... again! Thomas to Tuinei for a 31-yard touchdown reception. Oregon leads 34-13.
10:51 pm EDT: That's the end of the third quarter. The Vols put have up a valiant effort, but the depth and talent of this Oregon team has begun to rule this game.
10:44 pm EDT: After the Vols punt, Oregon will have the ball at their own 41.
10:43 pm EDT: The Vols come up with the stop. They'll have to get it going on this drive. There's still plenty of time, but they have to move the ball forward. The needless penalties are killing them.
10:39 pm EDT: If the Vols can't come up with a big defensive play or a stop against this Oregon offense on this drive, this one is probably over with. Tennessee is doing nothing on offense.
10:29 pm EDT: Cliff Harris, 76 yard, interception return for a TOUCHDOWN OREGON! And the route is probably on, now. That's a crusher for the Vols. Tennessee had a nice drive going until a horrible pass play, falling away from the play by QB Matt Simms. Oregon leads 27-13.
10:21 pm EDT: And that's probably your ballgame, folks. What a run, along with some horrible tackling by the Vols, for La'Michael James. Wow! Oregon is up 19-13--pending a booth review. He came close to going out of bounds, but I think he stayed in.
10:18 pm EDT: Vols fans can't be happy with three batted passes for QB Matt Simms. Two of those batted passes came on that last drive and that's probably what caused the drive to stall.
10:17 pm EDT: Oregon will start the next drive at their own 28 yard line after the Tennessee punt.
10:10 pm EDT: Tennessee will start at their own seven yard line after that punt. It is imperative that the Vols secure the ball down here. A turnover now and it's "Katy, bar the door" as my dad used to say.
10:08 pm EDT: BIG STOP! Oregon was getting really comfortable in that glorified hurry-up offense that the Ducks run. Oregon will punt. 11:43 remaining in the third quarter.
10:07 pm EDT: Now they get it. Tennessee is playing some quality stall-ball with a "cramp" after that play.
10:06 pm EDT: Here comes Oregon again. This is that fast offense we've heard so much about for a week. Vols defense can barely get set.
10:03 pm EDT: Tennessee set to kickoff to Oregon to open the third quarter. Here we go. Oregon will have the ball at their own eight yard line to open the half.
10:01 pm EDT: Tennessee RB Tauren Poole had 140 yards rushing on 15 carries in the first half. Wow!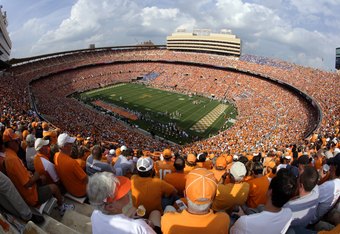 9:42 pm EDT: HALFTIME. That was an incredible first 27 minutes for the Vols. Those last three minutes might come back to haunt the Tennessee faithful against a talented team with depth in the second half. Be back in the third quarter. Enjoy Halftime.
This article is
What is the duplicate article?
Why is this article offensive?
Where is this article plagiarized from?
Why is this article poorly edited?

Tennessee Volunteers Football: Like this team?