10 Impediments to a Dream Lakers-Heat NBA Finals Matchup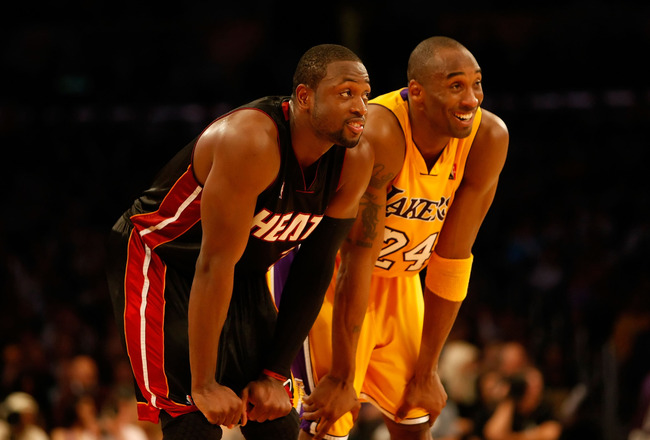 Jeff Gross/Getty Images
There is a rumor going around that the NBA is fixed.
I've never cared for, nor believed this rumor to be true.
Those who believe that David Stern has the results of each NBA season in his back pocket, point out that Tim Donaghy was able to write an entire book on the shady dealings of the NBA.
These are also the words of a compulsive gambler, who would say anything to get the attention off of him.
Those who still believe his allegations feel that we are headed toward a ratings juggernaut Lakers- Heat Finals.
Think about it. If the NBA was fixed, would they have sent the boring Spurs to the Finals four times in the last eleven years? A Spurs Vs anyone Finals is not the way to get ratings.
If the NBA was fixed, wouldn't the Lakers have faced the Cavaliers in the Finals last year? That match up would have sent ratings sky-high.
Rigged or not rigged, it does seem to be probable that the Lakers and Heat meet on the NBA's biggest stage. The road to this highly anticipated series will not be easy however, as many obsticals lay ahead for both teams.
Here are some of the most probable situations that could de-rail this dream like Finals match up.
A Large Laker Loss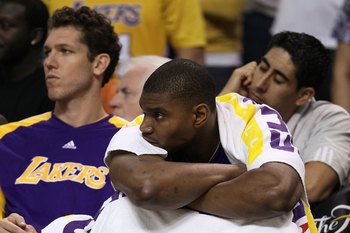 Elsa/Getty Images
Injuries are a large factor of any NBA season, and this year they could very well determine if our Lakers-Heat dream match up can come to fruition.
The Los Angeles Lakers have done well in acquiring depth over the last few off seasons, but even so they cannot afford to lose one of their Big Three come Post Season time. While losing a player like Barnes or Artest could be considered a set-back, these are the three players the Lakers can't be without come Playoffs if they expect to make it back to the Big Show.
3. Andrew Bynum- The Lakers have shown they can still advance without their Center before, but the times could get tougher this coming Post Season. Teams like the Dallas Mavericks and Oklahoma Thunder have been adding and improving their front court, putting more pressure on Andrew to be healthy.
The Lakers have many talented shooters and creators, but they rely on the inside dominance of Gasol and Bynum to win most match ups in the post season. For L.A. to make it back to the Finals for the fourth straight year, they're going to need this kid to be near 100 percent healthy.
2. Pau Gasol- The Lakers were not making it to the Finals Pre-Gasol, it's as simple as that.
Pau is the perfect second option for a player like Kobe Bryant, and his enormous contributions can often go un-sung. Gasol averages a cool double-double while blocking shots, and creating havoc in the painted area. The absence of Pau Gasol in the Playoffs would throw the scoring load back onto Kobe Brant. This would cause the Lakers to adjust their entire game plan for defeating opposing teams, and most likely cause losses while the team gets up to speed. The absence of Gasol also takes L.A's great post advantage away, and leaves glaring holes on the inside defensive landscape.
Any way you look at it, no Pau=No Finals=No Dream Match up.
1. Kobe Bryant- This is obvious right?
I don't give a lick how talented and deep and blah blah the Lakers line up looks, without Kobe you might as well forget about the Finals. If KB were to go down with a serious injury the Lakers would still be a Playoff team, but not a Finals team.
They would most likely achieve no better than a No.6 seed entering the post season, and fall within the first two rounds without the best closer in the game. While Kobe Bryant has proven himself to be a Warrior in terms of playing through injuries, some injuries simply cannot be played through, and that's why his absence is still possible.
The Heat Become The "Luke Warm"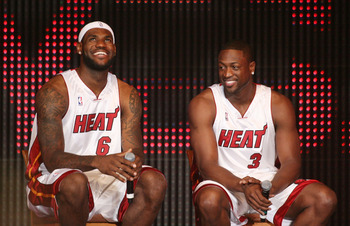 Marc Serota/Getty Images
Injuries are just as possible for any team and any player in the NBA, and this factor could prevent Miami from being as "Hot" as The Heat are capable of being.
The Heat are now also a deeper team than many predicted, but they too come with a select few players who can't be missing come Playoff time.
3. Chris Bosh- Bosh comes in at number three as Bynum did, because it may still be possible for the Heat to at least make the Finals without him. You still have your two main superstars in Wade and James, who will carry the team on their backs for many a game. Losing Bosh hurts the Heat when they are matched up with teams like Boston, Orlando, or L.A. These teams have formidable front courts, and the Heat would have one heck of a time defeating any of these teams in a seven game series without Bosh in the post. The Heat would have to rely solely on Joel Anthony in the painted area, and let's face it, that isn't going to cut it.
No Bosh= A largely decreased chance of reaching the Finals.
2. Dwyane Wade- It was close determining who was number one and two respectively, but it came down to Wade for me.
The Heat is truly Wade's team, and he's earned that title year in and year out. Losing Wade's sharp shooting and ability to create game winning plays out of seemingly nothing would be a huge blow to the Miami Thrice. It would also leave the Heat without their natural leader, possibly hurting motivation and performance in crucial situations.
1. Lebron James- Lebron takes the number one "Can't get injured" spot simply because of the statistical anomaly that he is.
If the unfortunate event of losing Wade should happen, you still have on the best stat filler in the game. You also still have a top tier Power Forward backing him up. Lebron showed us he could take a very average team to the Finals in 2007, and with Bosh he could manage this feat again.
If you lose someone like Lebron you still have a dominant player in Wade, who also has Bosh in his corner. The main problem with this, is Wade is not the stat filler that James is. A Wade/Bosh combo would be enough to take on most of the leagues teams, but with a lack of a legit Center and Point Guard they would fall against many playoff bound teams in a seven game series.
The Heat would still win big without Lebron, but the playoffs would be quite another story.
The Rise Of Rajon Rondo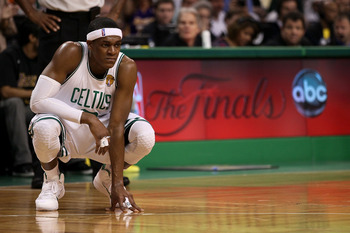 Elsa/Getty Images
The Celtics may have started 2008 as The Big Three, but those days are long gone.
Enter Rajon Rondo, and the Fab-Four.
When Rondo entered the NBA, his offensive game was very suspect. He has always been able to connect the dots to his teammates, but opposing defenses rarely chose to guard him due to his inability to hit a jump shot.
While he'll never be Ray Allen, his shots are starting to fall. I saw Rondo hit a number of huge shots during the Finals(fade away three in game 7's closing seconds), and frankly it's starting to worry me. He's already a blur on the fast break and a pest on defense, imagine if he could hit his free throws and a consistent jump shot!
I see Rondo continuing to grow as a player and a shooter, and this alone could put the Kai-bosh on a Lakers- Heat match up. There is no way Chalmers could contain Rondo at either end of the court, and the Heat would be left very exposed by his quickness and court vision. I hear more and more these days that the Heat could start Wade or even Lebron at the one guard spot, but riddle me this;
How would that work against the Celtics?
If you move Dwyane Wade to the one, then Ray Allen will have a field day on whoever guards him. If you put Lebron at the one, then who is going to guard Paul Pierce?
Any way you slice it the Heat will have problems with the Celtics. If Rondo continues his improvements it could spell doom for the Heat this post season.
Carmelo Heads To Orlando
Andy Lyons/Getty Images
No one is sure where Carmelo Anthony will end up at the moment, but I can tell you that it probably won't be Denver.
The Bulls seem to be the front runners in landing Melo, but let me propose another scenario.
What if he landed on the Magic's roster?
Orlando has in fact expressed interest, but nothing concrete has been said at this point. I thought of what the roster might look like in Orlando if they landed Melo, and it's Paranormal Activity scary. Even forgetting the other three positions, you team up the leagues best defender (Howard), with one of the leagues top scorers (Melo). Add in a healthy Jameer Nelson and possibly Rashard Lewis, and this line up scares me more than the Heat's.
Once the Magic and Heat met in the Playoffs, life would get tough for Wade and Company. For starters, Howard would be a match up nightmare for Joel Anthony. Carmelo Anthony would constantly draw a double team, and would free up the Magic's perimeter shooters.
The best part about this player swap, is that each superstar would know their role.
Howard would understand that Melo was there to score in volume, and Anthony would be able to rely on Howard to shut down the lane and throw down lob passes.
This circumstance may seem like a long shot, but if it comes through it would spell major trouble for the Heat's Championship chances.
Durant Brings The Thunder
Chris Graythen/Getty Images
Nearly every Oklahoma City player has continued to improve around their star Kevin Durant.
Their depth and defense has given the Thunder a great shot at winning a large number of games. The only problem they face currently, is they will continue to only do as well as Kevin Durant lets them.
The young Oklahoma City Thunder stunned the basketball nation when they took the Lakers to six games this last post season, and they look to improve upon that next playoffs. It wasn't so much the scoring of Durant that amazed most people, but the suffocating defense of the Thunder squad as a whole.
They pestered the Lakers offense on every play, and utilized the full court pressure to force errors at many turns. The problem the Thunder ran into, was an absence of Kevin Durant's normally deadly accuracy. Kevin fell into a shooting slump against the Lakers under the bright lights of the playoffs, and the team suffered because of it. Offensive weapons James Harden and Russell Westbrook proved effective, but not enough to match the Lakers in point production.
This coming post season the Thunder will be back to take another stab at things with a little playoff experience under their belts. If Kevin Durant can find his stroke in the post season (Very likely), the Thunder have as good a chance as anything to prevent a Lakers-Heat Finals.
The Trail Blazers?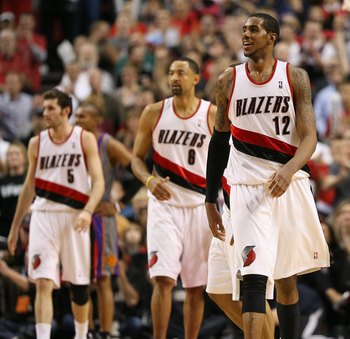 Otto Greule Jr/Getty Images
As a Laker fan, I hear fresh batches of trash talk ever year from a variety of teams fans. On this note, I must say the Blazer fans are some of the most consistent voices each year.
Every year I get:
"Lakers can't win in the Rose Garden!" and "If Roy was Healthy in the Playoffs, we would have upset the Lakers."
Both very bold statements, the prior being completely untrue. (See Lakers win in the Rose Garden without Kobe Bryant last season)
The latter statement has yet to be proven, but is certainly a possibility.
The Trail Blazers are equipped with a number of deadly weapons in Brandon Roy, LaMarcus Aldridge, Andre Miller, the emerging Batum, and the possible looming threat of Greg Oden. If all of these players can stay on the court together they could prove to be a thorn in the side of any Western conference hopeful.
While the Lakers can in fact win in Portland, it has proven to be a difficult task. If the Lakers were to be paired up with the Trail Blazers at any point during the post season, the defending champs could find themselves fighting for their playoff lives. If L.A were to lose their home court advantage, the Blazers would have a serious chance of defeating them in the series and preventing a media hyped finals.
The Lazy Lake Show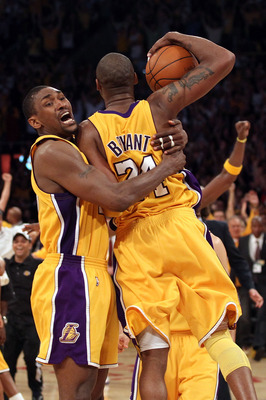 Christian Petersen/Getty Images
One thing many NBA fans loathe about the Lakers, is their ability to "flip the switch" come playoff time.
The Lakers are accused of getting "lazy" sometimes during the regular season, and frankly some of that criticism is warranted. The Lake show does tend to take their foot off the gas sometimes when they feel as if everything is in control. Other teams in the NBA have stretches that they seem to mail it in also, but the Lakers are the only team that can flip that switch back on to perform in the post season.
The risk the Lakers run by doing this nearly every season is the possibility of their strategy backfiring. If L.A were to run this risk again this coming season, there is always the possibility that they are not able to gather enough momentum going into the post season.
This habit of the Lakers also poses a risk of them losing home court advantage throughout the west. This Laker squad has proven to be good on the road, but they are nearly unbeatable at home. Losing home court to a team like the Blazers or Thunder could prove disastrous to the Lakers chances of returning to the Finals.
The Heat Become Complacent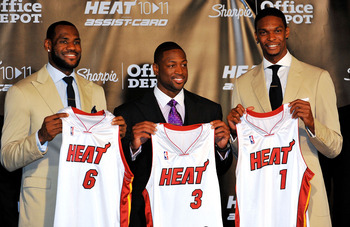 Doug Benc/Getty Images
The complacency factor goes double for the Heat as far as I'm concerned.
There is a good chance the Heat will get on a roll at some point during the season, and may start to feel as if they can coast into the playoffs.
This is dangerous thinking.
The Lakers have done well at pulling off this sort of thing, but that's because of their experience playing together as a team. The Miami Heat would have a hard time "flipping the switch" come playoff team due mostly to their lack of experience together.
The larger threat that also looms is missing out on the East's number one spot. I'm sure the Heat will be able to pull off some impressive road wins at one juncture or another, but I'd drop their odds of winning a playoff series if home court belonged to the Boston Celtics or Orlando Magic.
They must secure the number one Eastern conference spot to have a shot at making the finals this year, and the number one threat to that objective is regular season complacency.
I would assume that the Heat would be pretty motivated to prove themselves this year, but with players like Lebron and Wade in your starting line up you have to worry that they may develop a "we win when it matters" attitude.
One of the largest factors in the Heat meeting the Lakers in the finals, is which court they play on in the series before it. I give them a good chance with home court. Without the home cooking advantage it's going to be a dog fight for the Miami Heat, and it could prevent them from reaching the big show.
One Bad Boy Too Many
Jim Rogash/Getty Images
The last two off seasons a trend has developed of the Lakers recruiting the NBA's bad boys.
After being crushed by a physical (and often times illegal) defense of the Boston Celtics in the 2008 Finals, the Los Angeles Lakers were lableed "soft". Andrew Bynum was out with an injury, Pau Gasol was getting bullied by Garnett, and no one could body up on Paul Pierce to keep him off the free throw line.
In early 2010 the Lakers swapped out swing man Trevor Ariza for bad boy Ron Artest. Many speculated Artest would disrupt chemistry, play poorly, and cause the Lakers a chance at a repeat championship.
...And we all see how that prediction went.
Artest may have suffered from an offensive stand point, but chemistry was never an issue. Ron also locked down many superstars during the playoffs (Durant, Pierce), holding them well below their usual averages. Any way you look at it, the Artest experiment was a success.
Now the Lakers have decided to add tough guy Matt Barnes to the roster as well. Barnes also brings grit, a three point shot, and a tenacious defensive appetite. He also brings with him headlines.
Just recently Matt Barnes was arrested for an alleged domestic violence allegation, although nothing is certain at this point. Between the two of the bad boys you can be assured that more headlines will follow over the course of the next season. The only question is:
How will it affect the Lakers?
If Artest and Barnes can keep their personal issues off of the court, the Lake Show should have no problem playing cohesively as a team. The worry is that one or possibly both of these lock down defenders could bring their issues into the locker room, and create chemistry problems with the rest of the team.
I personally don't think the latter is likely. Barnes seems to be focused and determined to win his first ring just like Artest was, and I don't foresee any problem that would be large enough to disrupt the Lakers mind set as a team.
The risk still remains however, and Phil Jackson will have a lot on his plate this year. If Phil can continue to work his magic with troubled players, everything should be fine. If this combination of bad boys proves to be a little too much to handle however, it could cost the Lakers a chance to get back to the big dance.
The Clash Of The Titan's Egos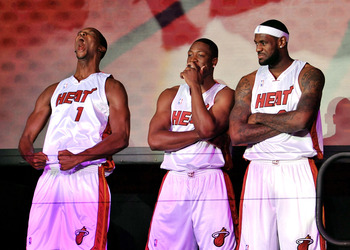 Doug Benc/Getty Images
The Miami Thrice signed with Miami for less money with the intention to share the spotlight.
But can that feeling really last?
If you take a look at all the possible Ego speed bumps, this Heat squad could be in for a turbulent ride. For this section I will take a look at what can go wrong from each of the Huge Three's perspecitves.
Chris Bosh- I'm finally on a team with a legitimate shot at winning a title, this is good. Time to go to work.
Okay we're winning games and having fun, this is what I signed up for.
Okay the team is doing well, but all I hear is fuss about Lebron and Wade. I'm working my tail off here too ya know.
This is getting ridiculous now. I know I'm not the centerpiece here, but everyone treats me like I'm the step child of the bunch.
I won't stand for this anymore. I'm a centerpiece caliber player. If the Heat don't give me more touches and more media exposure I'm going to push for a trade. If they don't trade me, then I'll just mail in my performances.
Lebron James- Now I have some players on my team I can actually pass to, this is a good thing. Time to get out there and show Cleveland what they are missing.
Winning games feels good, but I've felt this before. I feel like the public accepts me here, but I was fricken worshiped in Ohio. Dwyane seems like he will always be the favorite here, I mean he did bring them a title.
What's happening to my image? My stats are lower, my shots are reduced, and I'm now known as Dwyane Wades side-kick?
Okay this seemed fun at first, but how am I going to be a global icon being the number two option? If we can't get a title in the first two years I may bolt to NYC where I'll be appreciated.
Dwyane Wade- I can't believe I got Lebron on this team! Now my shooting percentage can go back to normal. Time to go to work for title number two!
Man it's nice to win games consistently, adding these guys was a great idea.
Okay so my stats are taking a hit, but stats aren't everything right?
Okay now my stats are really down, and Miami seems to be falling a little too hard for Lebron James.
I really don't care if we win the title this year or not. Either way I'm going to look for a way out of town. I knew bringing Lebron to town would bring wins, I just never thought the public would start to like him more than me.
This doesn't feel like my town anymore.
---------------------------------------------------------
Now obviously I'm not in these guys heads, but these scenarios are definitely possible. All three of these guys are used to being the guy, and may not adjust as well as they may have thought to the new game plan.
I understand it worked well for Boston, but that should be thought of as the exception, not the rule.
The playing levels with Shaq and Kobe went south when their feuding got bad, and the same thing could happen with the Miami Heat.
NBA Favorites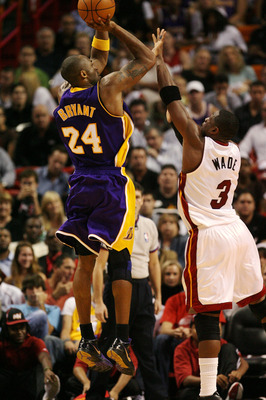 Doug Benc/Getty Images
No matter how many things I listed in this article, the Lakers and the Heat are the NBA's favorites to make it to the NBA finals.
There are many ways that these teams hopes can be derailed. The talent on both rosters alone however could negate all of these potential problems. All evidence supports that this Dream Match up will be something we will have to hope for all season long.
But isn't that the fun of watching?
Keep Reading

Miami Heat: Like this team?