Florida Gators Vs. South Florida Bulls: Live Blog, Stats, Analysis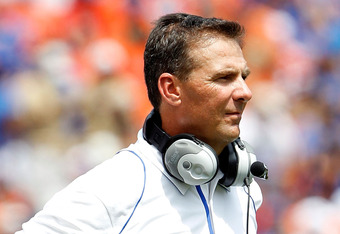 Head Coach Urban Meyer of the Florida Gators
Sam Greenwood/Getty Images
Join me as we talk anything and everything about the game.

3:36PM: This one is over, folks. Thanks for tuning in. Gators - 38, Bulls - 14.
3:32PM: Brantley has played much better than week one, but that's what you get when you correct the QB-Center exchange problem.
3:28PM: Florida 38, USF 14
3:27PM: TD pass to Jordan Reed. I think Deonte Thompson may never get thrown to in the end zone ever again.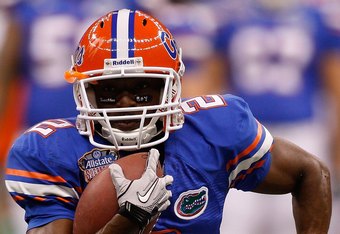 3:23PM: Esteban, thank you for following and leaving my first comment! :)
The Gators started slow again, but found a way to get into a rhythm. That being said, Coach Meyer and Addazio have to continue developing the offense.
3:21PM: Pouncey looks like he's going to pass out. He did much better today, but still has room for improvement.
3:19: Debose needs to catch that ball. Perhaps he hangs out with Thompson too much.
3:17PM: Time to burn off the clock and head to the locker room, Gators.
3:13PM: Brantley is surgical with his passes.
3:10PM: The OBC and South Carolina Gamecocks are about to take down the Georgia Bulldogs. You know Spurrier absolutely hates UGA.
3:08PM: Florida 31 USF 14
3:07PM: Time for Sturgis - bad back and all.
3:06PM: The Bulls will not go quietly into the night. Third and goal....
3:03PM: Gator fan better hope that Demps only has a cramp and not a hamstring.
3:02PM: Demps starts the fourth quarter for the Gators. Smart move, Coach Meyer.
2:59PM: Time for "The Old Boys From Florida". Fourth quarter coming - Florida 28, USF - 14
2:58PM: Seriously, have you ever seen anyone run as fast as Demps? If he kept running he would be in Tallahassee by FSU's kickoff. I know - it's in Norman.
2:55PM: The fourth quarter could be epic for the Bulls, or season-defining for the Gators.
2:54PM: Smash-mouth football. The Bulls haven't quit, nor should they. Florida 28, Bulls 14
2:52PM: Jenkins went for the pick and the Gators ended up giving up 50 yards. Now the Bulls are threatening.
2:52PM: If you haven't heard of Shariff Floyd yet, remember the name. He's a future NFL player.
2:51PM: OK Gator Nation, you can breathe now. Too early for the Gators to hit cruise control, but the game is in hand now.
2:49PM: Florida 28, USF - 7
2:48PM: Justin Trattou just picked off an early Christmas present. Why did B.J. Daniels throw that ball?
2:47PM: B.J. Daniels just ran 50 yards to gain four. He earned his scholarship in this game today.
This article is
What is the duplicate article?
Why is this article offensive?
Where is this article plagiarized from?
Why is this article poorly edited?

Florida Gators Football: Like this team?